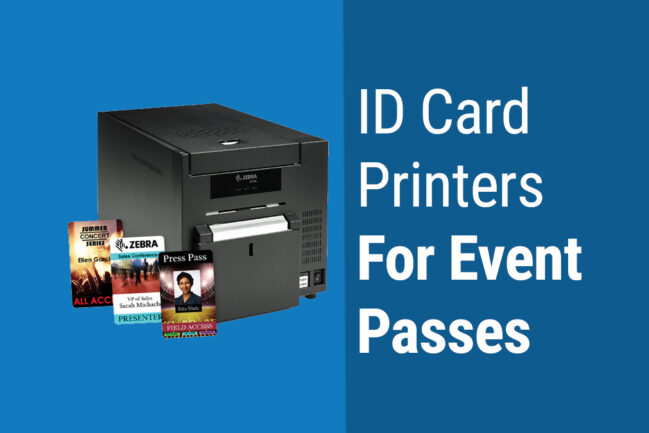 Planning an event can be stressful. Venue hunting, budgeting, guest invitations – there's so much to do. The last thing you need to worry about is your guest's ID badges not arriving in time. Fortunately, we can help with that.
Our ID card printers let you print cards whenever you need, and wherever you may be. Event card printers allow you to make those last minute changes and print cards right up until the event begins – and even during the event if need be.
In this post, we're looking at the ID card printers we recommend using to print your event passes. At the end of the post, we're comparing the printers to help you decide which is best for your needs – so stick around to get matched up with your perfect printer.
Before we dive in, here's why you need badges for your event:
Instantly identify who's on-site and easily spot anyone that shouldn't be there
Clearly distinguish visitors from staff and volunteers
Create a safe and secure environment
We always recommend using an oversized ID card printer to print your event passes, as these printers print to cards that are larger than your standard CR80 size card. With oversized cards, the extra space can be used to add important event information and designs. It's the perfect chance to add your logo and raise brand awareness.
Now that we've discussed why you need ID badges for your event, let's dive right into the top ID card printers for event passes.
---
Top ID Card Printers For Event Badges
Swiftcolor SCC-4000D
The Swiftcolor SCC-4000D card printer prints high quality oversized cards for any event. Delivering an unmatched 1200 dpi print resolution, the machine allows you to give every guest a VIP experience. The most impressive feature of the SCC-4000D printer is that it delivers a full colour 3.5″x5.5″ badge in just 2 seconds. With such quick print speeds, you could be printing and issuing hundreds of cards in minutes.
Best bits:
Prints a full colour card in 2 seconds
Prints in an unrivalled 1200 dpi resolution
Supports USB and Ethernet connectivity
Perfect for:
Instantly printing high quality cards for special events.
---
Zebra ZC10L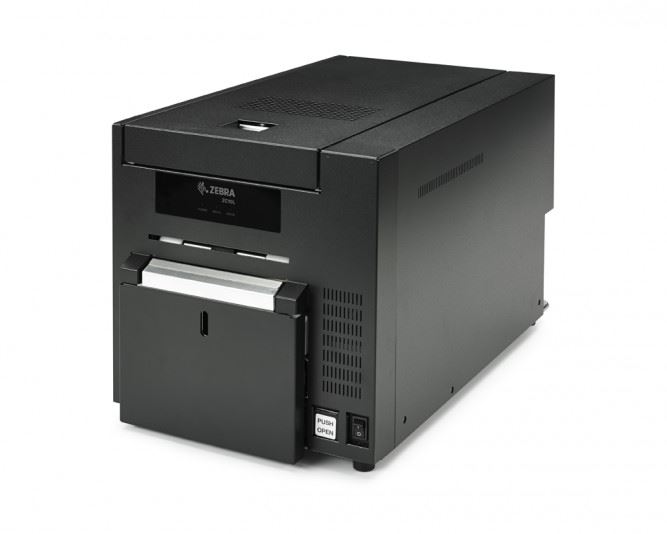 The Zebra ZC10L large-format printer prints large format cards for all occasions. The machine is the only direct-to-card printer on the market that can produce full, edge-to-edge colour cards in one swift process, saving time and increasing productivity. What's more, the Zebra ZC10L large-format direct-to-card printer has its own range of compatible media kits, with kits containing oversized cards and YMCO ribbons, providing you with all you need to get printing.
Best bits:
The only direct-to-card printer that can print full colour, edge-to-edge cards in one process, increasing productivity
Compatible media kits contain all you need to start printing cards
Prints a full-colour card in 18 seconds
Perfect for:
Increasing productivity and printing high quality oversized badges for all occasions.
---
Magicard Rio Pro 360 Xtended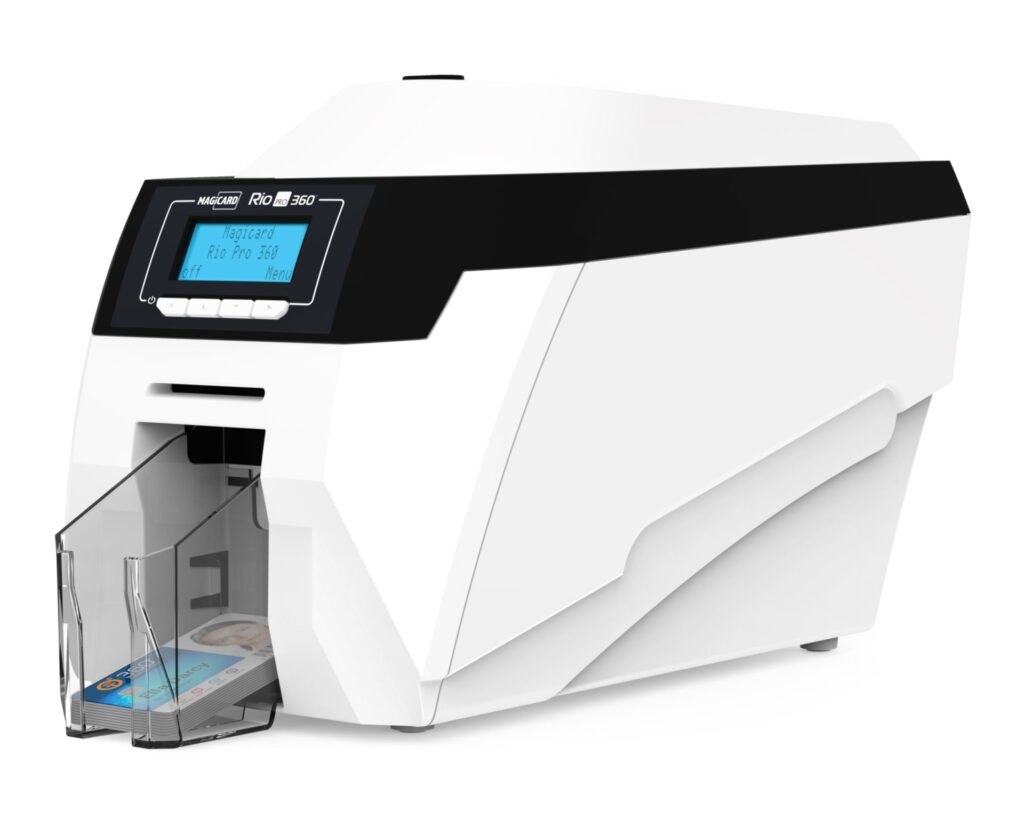 The Magicard Rio Pro 360 Xtended printer prints extra-long plastic cards for event ticketing, labelling, security badges and more. Specifically designed to print cards up to 140mm, the Rio Pro 360 Xtended creates high quality long-format cards for all requirements. Using International Colour Consortium (ICC), the printer fine-tunes colour profiles and delivers true-to-life results on each printed card. This long-format event card printer also comes with advanced security features to deliver highly secure cards, every time.
Best bits:
HoloKote built-in as standard
Compatible with Mac and Windows systems
3 year manufacturer warranty
Perfect for:
Printing extra long, long-format cards for events and security badges.
---
ZC10L vs SCC-4000D vs Rio Pro 360 Xtended: Which Is The Right Printer For Your Event Passes?

---
Give every guest the VIP treatment with Digital ID
Your guests work hard. They want value – starting with a great quality ID card they can keep as a memento long after the event has finished.
You'll always receive value when you buy with Digital ID. Every ID card printer purchased with us comes with free card design software, free delivery and free support for the first 30 days to ensure everything is up and running ok.
We've already helped tens of thousands of companies choose the best ID and access control solutions for their needs. Now, we'd love to help you.
Give us a call on 0800 988 2095 or email us at sales@digitalid.co.uk to speak to a member of our expert team today.
Our experts will be happy to listen to your requirements and match you up with the best printer for your company.