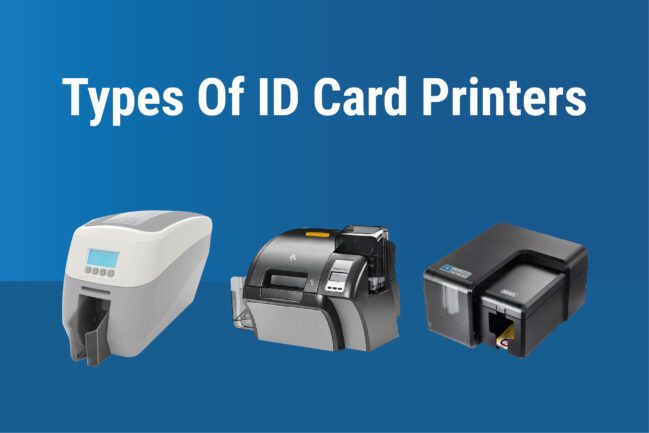 When printing ID cards, it's important to choose the right type of ID card printer for the job. Just like there are different types of printers for printing onto paper, there are a few different card printer options to choose from, too.
In this post, we're discussing the 3 main types of ID card printers available and what each type of printer can do for you. Let's begin.
---
What are the types of ID card printers?
Direct-to-card printer
Retransfer printer
Inkjet printer
Want to know more about the process of printing cards? Here's how ID card printers work.
---
Direct-to-card printers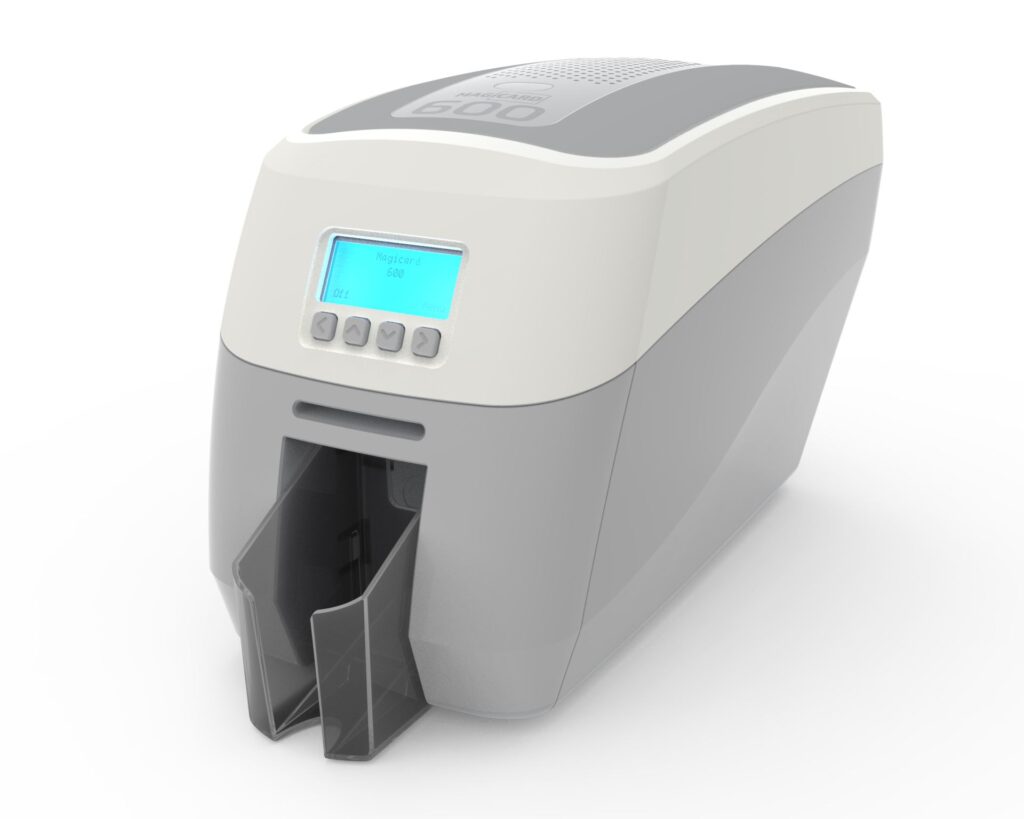 Also known as DTC or dye-sublimation printers, direct-to-card printers are the most common type of ID card printer, used to produce photo ID cards, loyalty cards, membership cards and more.
Direct-to-card printing does exactly what it says: print directly to plastic cards. The machine's print head and ribbon work together to print designs straight onto the card, making direct contact. DTC printers support edge-to-edge printing, meaning a small white border is left around the edge of the card surface.
Direct-to-card printers are ideal for printing simple card designs onto plain plastic cards with no internal chips. We don't recommend using a direct-to-card printer to print onto access control cards or smart cards, as the raised chip of these cards could damage the printhead, and cause a blemish to the print.
Direct-to-card printers have lower up-front costs than retransfer printers, which is just one reason why the UK's best-selling ID card printer, the Magicard 300, is in fact a direct-to-card printer.
To summarise, you should consider a direct-to-card printer if you:
Need simple card designs with basic photos, logos and text
Want to keep upfront costs down and the cost of consumables such as printer ribbons to a minimum
Don't need to print to a form of access control card
We recommend: The Magicard 600, successor of the 300
---
Retransfer printers
Retransfer printers deliver a higher definition print quality, producing cards that are 3 times more durable than those printed with standard DTC machines.
These printers use a two-step reverse transfer printing process to securely bind the design to plastic cards. First, the design is printed onto an overlay film via the ribbon. The overlay is then fused to the card's surface using a combination of heat and pressure, leading to increased durability.
Retransfer card printers print over-the-edge, so there is no border left around the edge of the surface, ensuring printed ID cards have a truly professional look. These printers can also print complex card designs containing block colours.
Retransfer printing is ideal for printing onto access control cards and smart cards containing a raised chip. The printhead does not make direct contact with the card, therefore there is no risk of the chip causing any damage to the printhead. This is why most printer manufacturers offer a lifetime warranty on the printhead of these printers.
Retransfer ID card printers tend to have higher up-front costs than direct-to-card printers, however, offer much more value.
To summarise, you should consider a retransfer printer if you:
Need to print onto access control cards
Want ultra high-definition image quality
Require over-the-edge card coverage
Want a long-lasting ID card that doesn't fade over time
We recommend: The best selling Fargo HDP5000
---
Inkjet printers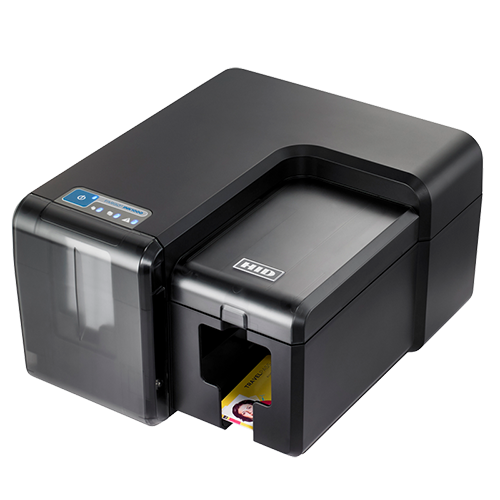 Inkjet ID card printing is a newer technology. It makes printing onto plastic cards as easy as possible thanks to the use of simple snap-in cartridges rather than printer ribbons.
Inkjet printing onto plastic cards offers a fair middle-ground between direct-to-card and retransfer printers, with strong print speed and over-the-edge printing in one user-friendly machine.
For example, the Fargo INK1000 inkjet card printer is capable of printing high-definition text and imagery onto plain plastic cards and access control cards.
To summarise, you should consider an inkjet ID card printer if you:
Want your printer to be extremely user-friendly
Require high-definition image quality
Do not require holographic and secure watermarks
---
So, which printer is best for you?
The right ID card printer for your company will depend entirely on your individual needs.
Direct-to-card printers are ideal if you're printing onto blank plastic cards, whereas retransfer ID card printers are more suitable for printing stunning designs to access control cards, and inkjet plastic card printers offer a middle-ground between the two.
Check out our updated buying guide for a step-by-step breakdown of everything you should look for when buying an ID card printer.
Rest assured whether it's a single-sided printer you need or dual-sided printing is more up your street, we guarantee to have a plastic card printer for all requirements.
Receive free extras when you purchase your printer through Digital ID
All plastic ID card printers bought through Digital ID come with essential extras worth £250+ for free. That includes free design software (only compatible with Windows), free 30-day support and free delivery.
You can browse our full range of photo ID badge printers here. Whether you need to print staff ID cards, student badges, membership cards, loyalty cards or visitor passes, we're sure to have a printer for you.
Get in touch on 0800 988 2095 or at sales@digitalid.co.uk to find your perfect printer today. Our expert team will be happy to discuss your ID card printing requirements and find the best machine for you.
We look forward to hearing from you.
Related: Best ID Card Printers of 2022