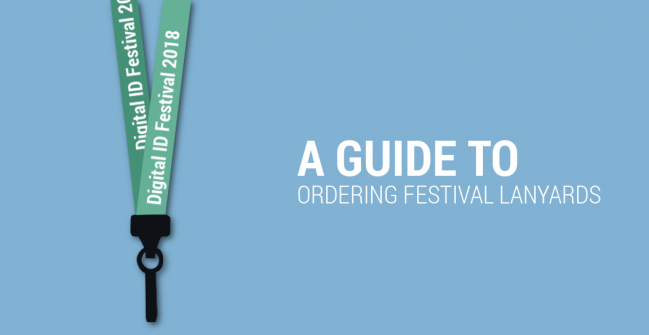 A Guide to Ordering Festival Lanyards
We can provide a range of high quality festival lanyards to help identify staff and key personnel at these events. Some also choose to provide the lanyard and ID badge to each visitor as well.
Festival lanyards are a form of personalised lanyard and offer multiple benefits to the user. You can see a list of such benefits by clicking here.
This is very important for festival goers as it means they can easily find a member of staff if they have a query or need help.
If every visitor is given a badge it also means only people with a valid ticket can enter the site.
It's crucial in ensuring that only authorised personnel can gain access to restricted areas.
All of this helps to maintain a safe environment and makes sure everything runs smoothly.
Prefer to get an instant quote? Click the link below.
Types of Festival Lanyards
There are several types of festival lanyards which we can supply in bulk for large music festivals, sporting or family events.
Our most popular is the Dye Sub & Polyester finish. This type of lanyard uses a smoother and silky type of polyester material, which helps to give a more professional look and feel.
In terms of colours, you can add as many as conceivable, and we also match to Pantone colours.
We also offer a selection of different clips depending on what you need them for.
These come at different costs so it also depends on your budget.
A few of the clip options include:
Metal J Clip – Ideal for attaching a set of keys or a badge.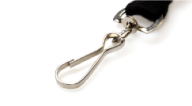 Metal Lobster Clip – Usually used for holding an ID card.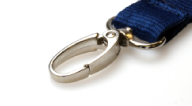 Trigger Clips – Offer quick attachment and removal of badges.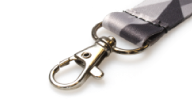 Plastic J Clip – Similar to the metal version but seen as a safer option.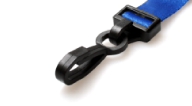 Card Reel – Mainly used for access to restricted areas, can be extended for efficient use.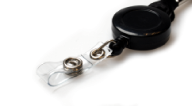 Whether you need security passes for on-site staff, or VIP ID cards for artists, we can help. With big groups of people in one place it can be tricky to know who's who.
With music festival lanyards you can easily identify someone who works at the event. It also means security can see who should be permitted onto the site and who shouldn't.
How Are Festival Lanyards Used?
In most cases, music festival lanyards will be used to enhance security and efficiency at music concerts and festivals.
They will normally hold things like ID badges, a schedule of events, access key cards or sets of keys.
Staff members can then move around the site with ease and enter any space they need to.
This also makes it much quicker for visitors to locate a member of staff or security personnel.
In addition to this it means people with an authorised ID badge can gain access easily to certain areas of the event without a delay.
For events which use the lanyard and badge as a ticket, it ensures only visitors with a genuine ticket will be allowed in. Alternatively, many event organisers choose to give out wristbands to members of the audience, find out more about festival wristband printing that we offer.
With a clear form of identification, everything can run more smoothly as it reduces the need for security checks on every person backstage or entering the site.
It will usually help members of the audience feel safer as it's easy to see a worker who can give advice if they need it.
If you're interested in the latest music events coming up this year, check out Stub Hub for a detailed list.
These are exactly the kinds of live shows we supply our products for and we can give more advice and cost details if you are running something similar.
Festival Lanyard Templates and Designs
If you don't have a design at present, then don't worry, our team can help. We are able to add personalised designs to the polyester straps including different colours, logos and texts.
Below you can see a number of examples of work our team have designed and printed for customers.
Our team will be able to discuss any design preferences with you and you can send over your chosen artwork for approval.
We're able to match the strap colour to your event or company logo ensuring a seamless design.
Any personalised or custom designs can be printed on one or both sides of the strap material; it's completely up to you.
The polyester used to produce the straps is designed to be comfortable and hard wearing to provide maximum functionality.
Festival Lanyard Sizes
Depending on what is required for each client, the festival lanyard sizes can vary. Below are the different widths we offer for the polyester straps:
The standard drop length of these lanyards is 90cm. You can select whichever width you would prefer; the most popular is 15mm. This gives enough room for us to print the festival's logos and branding whilst still being a comfortable size.
Festival Lanyard Prices
The price for your order will vary depending on a few different things. This includes the number of units you need, the chosen design and the style of clip you would like to have.
Many clients will be looking for cheap festival lanyard printing or the best prices on offer.
We aim to provide high quality products for an affordable price which will be cost effective for you.
There are several options available so you can decide on the design that gives the best price to suit your budget.
A whole host of music events are being held across the UK this year; check out Skiddle for more details of what's on.
These feature artists from a range of genres with something for everyone.
Our festival lanyard printing service is available to anyone hosting these kinds of events, both small and large scale so don't hesitate to get in touch.
We also offer a price match promise, meaning if you receive a cheaper quote, we'll match it.
Festival Lanyard Printing
For more details on our festival lanyard printing, feel free to contact us and we'd be happy to help.
Our team can answer any questions about pricing or designs for these items.
We aim to offer high quality products which ensure safety and security at large scale events.
It's important that anyone visiting a gig, concert or festival has a great time and that staff are able to do their jobs efficiently.
Providing functional ID card holders and access badges is a key part of this and we hope to offer the best service possible.
Click the link below and receive an instant quote online.