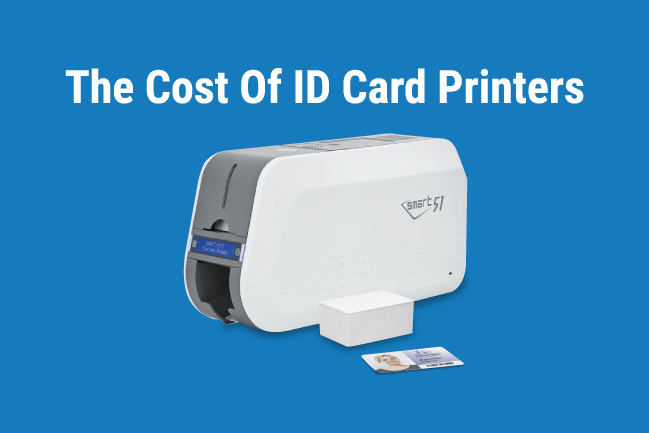 As leading ID card printer specialists, we're often asked how much someone should expect to spend on an ID card printer.
In this post, we're discussing the costs associated with buying a card printing machine. Let's dive right in.
---
How much does an ID card printer cost?
The starting price for a new, unused ID card printer from an approved retailer in the UK is £550 ex VAT. This is the cost for the machine itself including the manufacturer's warranty and excluding any printing consumables such as printer ribbons, blank white plastic cards and ID card holders.
Factors that will affect the price of your card printer include:
Printer technology
Printer age
Print speed
Print quality
Security features
Print volume required
Printer connectivity
The question is: how can you get the right card printer with all the features you need, at the best price?
We're diving deep into the costs associated with ID card printers, split into two sections:
The initial ID card printer cost
Additional costs
Related: The best card printer for a small business
---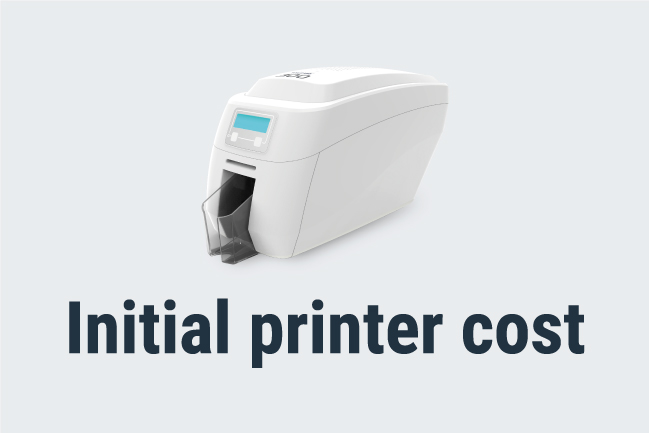 Initial cost of ID card printers
This covers the cost of the ID card printer itself.
Most plastic card printers cost between £550 and £2,500. Of course, the exact amount will vary depending on your company's needs and the market price at the time of ordering.
For example, if you're printing a basic card design onto blank plastic cards, a direct-to-card printer will be ideal. Direct-to-card printers tend to be more affordable.
Alternatively, if you are printing onto access control cards or proximity cards, you will need a retransfer printer with more advanced technology. Retransfer printers are more expensive options.
Another thing to consider is whether you need a single-sided or dual-sided card printer. Single-sided printers are more affordable and great for small businesses, whereas dual-sided card printers will cost more but can print on both the front and back of a card, which is useful for organisations needing to add large amounts of information to cards.
For help choosing the right ID card printer for your requirements, check out our helpful ID badge printer buying guide.
---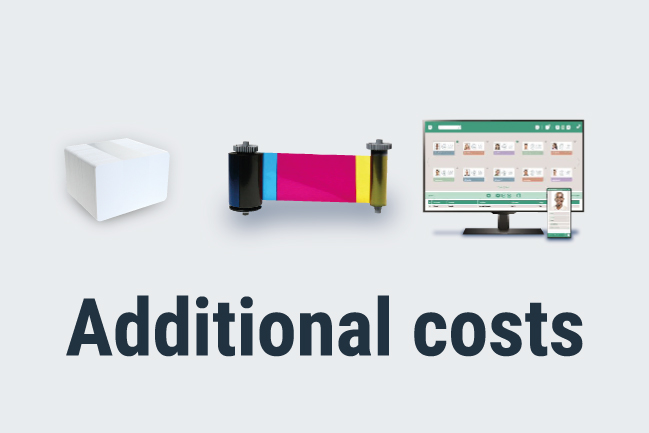 Additional costs
It's important to keep in mind that alongside the cost of the actual ID card printer, you will need to purchase consumables that work with your machine.
These additional costs include:
*All ID card printers purchased through Digital ID come with EasyBadge Lite design software, free of charge. However, the free software is only compatible with Windows and is limited to 100 records. Take a look at our complete range of ID card design software packages to see other design software on offer.
---
You can compare the costs of 4 of our best selling card printers below: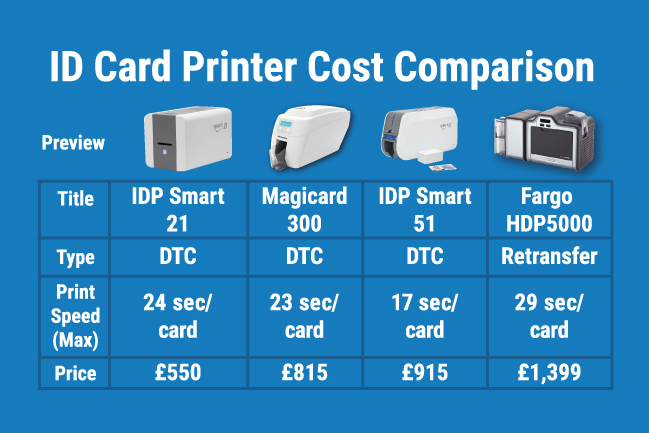 The information in this table relates to the IDP Smart 21, Magicard 300, IDP Smart 51 and Fargo HDP5000.
Note: All above prices are exclusive of VAT.
---
Summary
We hope you have gained some understanding of the costs associated with ID card printers.
Most badge printers will fall within the £550 – £2,500 range, depending on the machine's features and technology used. Remember, the cost of consumables should also be factored in when determining how much you are willing to spend.
With a range of ID card printers from £550, we have a machine to suit all budgets. Users can easily print ID cards for staff, membership cards, student ID badges, loyalty cards and more with our high-quality ID card printers.
What's more, all our ID card printers are covered under our price match promise, so if you see a card printer cheaper elsewhere, just let us know. We're here to help, wherever we can.
Find the best printer for your budget, today
We've helped over 25,000 companies strengthen their photo ID and access control systems over the past 3 decades and would love to help you, too. Give our experts a call on 0800 988 2095 or email us at sales@digitalid.co.uk to find the best printer that fits your budget today.
We look forward to speaking to you soon.
Related: Buy or rent a printer? Find out more here
Disclaimer: All prices are correct as of 22/04/2022 and are subject to change.