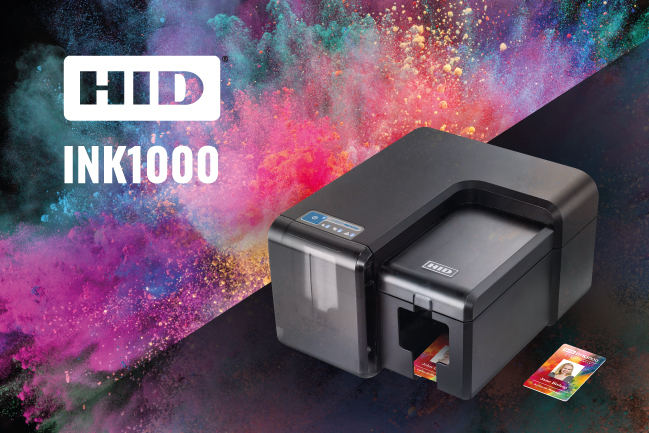 Have you seen the Fargo INK1000 card printer? It's a game-changing machine that uses inkjet technology – at an extremely cost-effective price. But what is inkjet card printing, and how does it work?
In this blog, we'll be answering those two questions, as well as having a look at the benefits an inkjet card printer introduces compared with other types of printer technology.
---
What is inkjet printing?
Inkjet printing is a type of printing that recreates images and text by propelling droplets of ink onto a surface via a printhead and cartridge. When it comes to printing on to paper, they introduced many advantages; they can print smaller details at a higher resolution than other printers, are extremely quiet in operation and are always very straight forward to use thanks to the application of ink cartridges.
If you're sat in an office right now, it's highly likely that an inkjet printer isn't far away. They are by far the most common type of printer for printing onto paper, ranging from small budget-friendly machines through to expensive specialised pieces of equipment.
---
You might also be interested in…
How the HID INK1000 will revolutionise the ID card industry
---
Why has it taken so long to develop an inkjet ID card printer?  
Despite being a common technology for printing on to paper and other substrates, in the past inkjet printing hasn't really been an option for printing on to plastic cards. This was primarily because:
The print quality didn't meet the necessary standards for most applications
It was also difficult to create a printer that worked with multiple card types.
Many printers also required cumbersome adapters and trays to allow them to print cards.
Ink could not stand the high temperatures required to bond well onto cards.
Put simply, they weren't up to the job.
The result was that those looking to print high-quality identification and other plastic cards had to use a direct-to-card ID card printer or retransfer printer.
The Fargo INK1000 is the machine that changes it all that. This highly specialised machine is uniquely designed to print high-quality ID cards at an affordable price. So, how has HID Fargo made the technology work?
---
How does inkjet card printing work?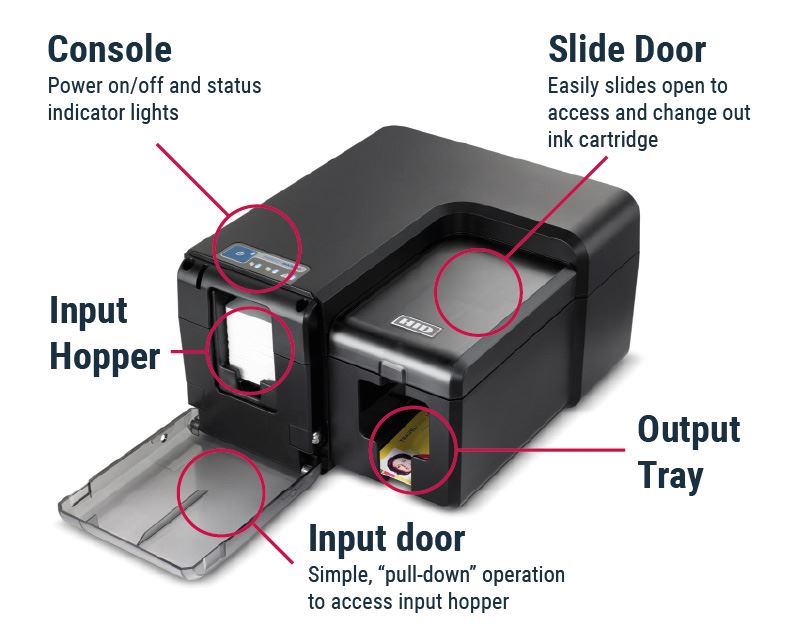 In principle, the Fargo INK1000 inkjet printer uses the same basic process as a standard desktop paper printer.
First, a chamber holding an ink bubble is heated. Once it reaches a specified temperature, this bubble bursts and shoots ink out of a nozzle. Once empty, the chamber is then refilled with ink thanks to a vacuum that pulls the next bubble through. The nozzle itself is actually made up of between 300 and 600 nozzles, each firing individual ink particles at the card.
The INK1000 utilises Drop on Demand (DOD) thermal inkjet printing. This is a more modern, sophisticated form of technology compared to older continuous inkjet (CIJ) which is not used for inkjet ID card printing.
Instead, the INK1000 uses thermal drop-on-demand to heat and vaporise the ink, which is then forced out of the nozzle and onto the card. The ink expelled from the print head then bites into the card surface, with the solvent evaporating. Once this has occurred, only a hard, durable layer of ink will remain on the card. The process is so quick that cards are dry pretty much instantaneously.
---
Have you considered a retransfer printer? Check out…
Retransfer ID card printers | The ultimate guide
---
What about the ink?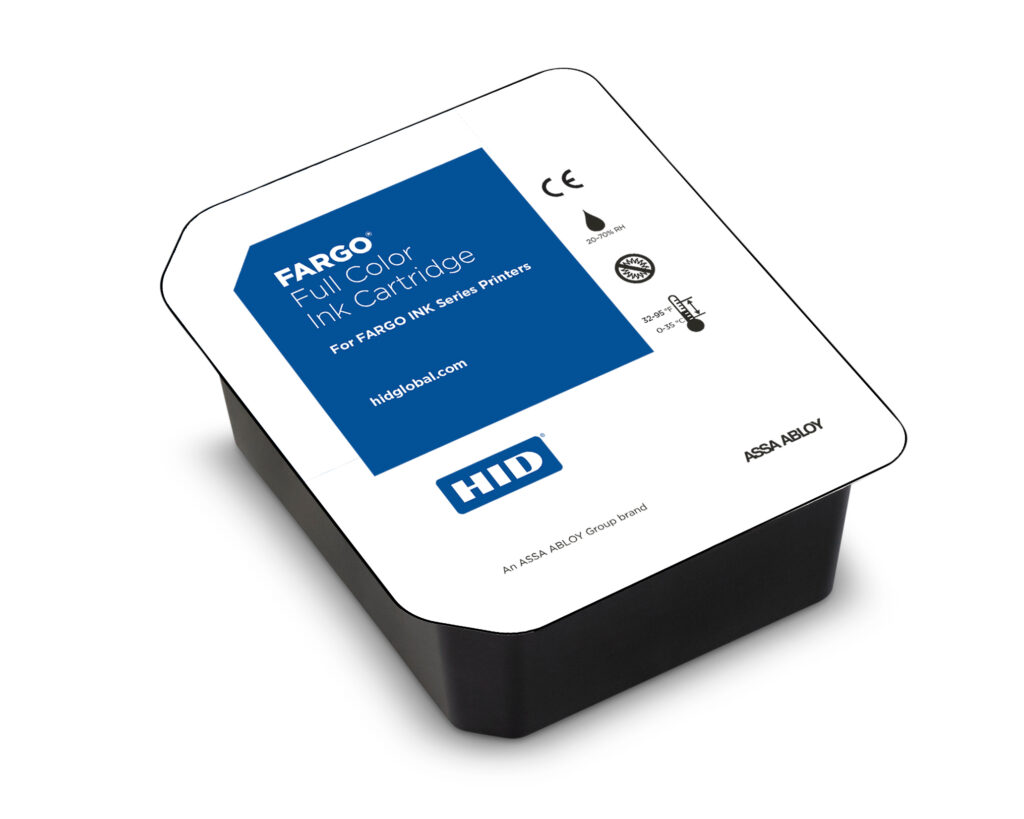 As we mentioned, a traditional problem with printing ID using an inkjet printer has been the ink. In the past, it often required a special card coating to allow the ink to adhere. However, this is not a problem for the INK1000.
It uses a specially formulated alcohol-based ink in a simple snap-in full-colour YMC ink cartridge that has been specifically designed to support all types of PVC cards including 100% PVC, composite PVC cards, laminated PVC and press polished PVC.
This really sets the INK1000 out from inkjet plastic card printers in the past and makes it an extremely versatile product that offers a viable alternative to direct-to-card and retransfer printing.
---
What are its benefits?
The Fargo HID1000 has taken years to develop, and brings with it many benefits when compared to both direct-to-card and retransfer printers. They include:
Easy to install cartridges
A simple snap-in cartridge replaces those fiddly ribbons that direct-to-card and retransfer machines use, making it much easier to use and less likely to cause errors.
The absence of a ribbon means no more breaking or crinkled ribbons. What's more, the printhead does not come into direct contact with the card. This means there'll be no expensive bills often suffered by older direct-to-card printers.
Those unsightly white borders around the edge of your cards will be a thing of the past; the even displacement of ink ensures a professional-looking card design with full edge-to-edge covering.
---
Sound interesting?
If you're looking to upgrade your ID card printer soon, the HID1000 inkjet printer should be top of your list.
If you need more information on how inkjet card printing takes the hassle out of card printing, get in touch. Our experts are ready to help on 0800 988 2095.