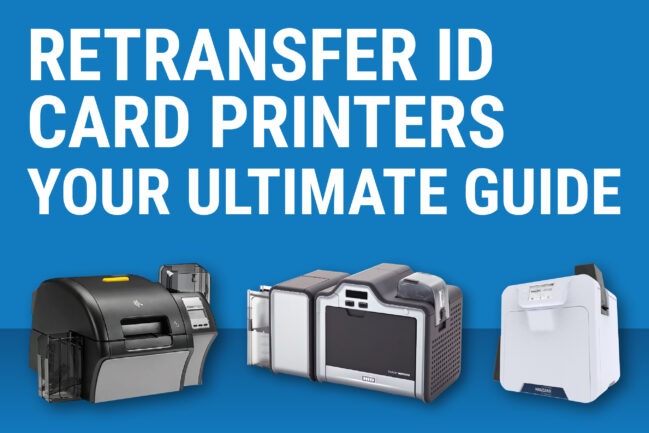 There may be dozens of plastic card printers to choose from, but they can be split into two distinct categories: direct-to-card printers and retransfer printers.
In this guide, we're going to take an in-depth look at the latter and consider some of the reasons you'd choose one over a direct-to-card printer.
So, let's get to it.
---
1. What is a retransfer card printer?
A retransfer ID card printer that uses a two-step print process instead of a traditional dye-sub direct-to-card technology. The card design is first printed onto a durable overlay transfer film, which is then bonded onto the card's surface using a combination of heat and pressure.
Using a retransfer printer will allow you to produce high-definition ID cards that are known as 'over-the-edge ID cards. This means there is no white border left around the edge of the card; something that happens if you're using a direct-to-card machine. You can watch more about the differences between direct-to-card and retransfer printers in the video below.
---
2. How does a retransfer card printer work?
A reverse transfer printer prints onto a laminate film via a printhead. Because the printhead does not come into direct contact with the card, it cannot be damaged by dust particles and other debris that often affects direct-to-card printers.
Once the design has been printed onto the laminate film, it then passes through the printer via a heated transfer roller, where the card will be waiting. Using a combination of temperature and pressure, the transfer overlay adheres to the card. This prints edge-to-edge over the full card surface.
Once complete, the printed card will exit the printer via the output hopper. Retransfer machines are available as a single-sided printer or with modules for dual-sided printing, as well as various encoding options depending on your requirements for printing onto access control cards.
If you're interested in knowing more about how card printers work, check out our in-depth blog here.
---
3. Direct-to-card vs retransfer: Which ID card printer should you choose?
To give you a solid overview and a better idea of whether you could benefit from a retransfer printer, we've put together a short video that explains the different technologies.
Here's a table that lays out exactly what it is that a retransfer printer can do that a direct-to-card printer cannot: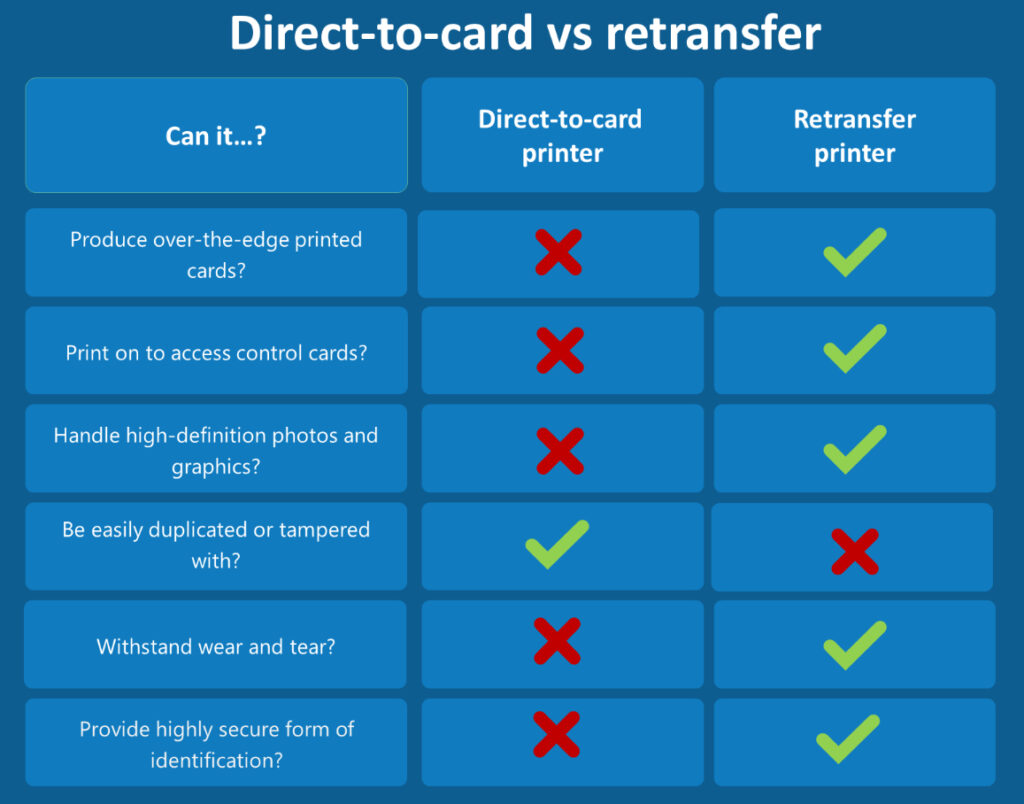 ---
4. What are the benefits of a retransfer card printer?
There are several benefits to choosing a retransfer printer, with the main advantages including:
A more professional-looking card
The most obvious benefit to choosing a retransfer printer is the more professional-looking cards they produce. An over-the-edge design will always be preferable to edge-to-edge designs direct-to-card machines are capable of.
Combine this mirror-like finish with the high-definition photos and graphics retransfer printers produce, and there's little doubt they are the best choice for those wishing to create the perfect ID card.
Printing onto access control cards
Because the printhead in a retransfer printer doesn't come into direct contact with the card, it won't be damaged by the tiny raised edges of access control cards. In fact, if you're planning on printing onto smart cards or proximity cards such as those made by HID and MIFARE, a retransfer printer is the only choice. Find out more about why a retransfer printer is best for printing onto access control cards here.
Improved security
Security doesn't have to stop with access control technology though. The protective overlaminate film that retransfer printers use makes it immediately evident if the card has been tampered with. If you want to produce tamper-proof cards that offer the best protection against fraudulent copies, a retransfer printer is the way to go.
Improved durability
The durability that the transfer film provides makes cards much better at brushing off wear and tear and makes them ideal for working environments where they are used outdoors or in the presence of cleaning chemicals
Lower reissuance costs and waste
Improved durability helps keep card issuance costs as low as possible and reduces the amount of single-use PVC plastic you are using in the process.
Unlike a DTC printer, retransfer card printers do not require the porous surface of PVC for printing, so more sustainable ID cards can be used without impeding card quality.
---
5. Who are retransfer printers best for?
Retransfer printers are the best solution for those wishing to create top-quality ID cards. They add an extra layer of durability and security. They are great for:
Buildings and sites where security is a top priority
Local government agencies
Emergency services
Public sector organisations
Environments where cards are prone to wear and tear
Anybody that is planning to print onto access control cards
---
6. How much do retransfer card printers cost?
Retransfer printers are generally more expensive to purchase than direct-to-card printers because of their superior technology. There is usually between a £600 and £1,000 difference between respective direct-to-card and retransfer printers depending on the manufacturer. That means retransfer printers cost from approximately £1,500 rising to more than £2,000 depending on make and model.
This might seem like a much larger outlay in the first instance. However, a retransfer printer can cost you less in the long run. Remember that the cards they produce will last significantly longer. Their print heads are much less prone to damage; a part of direct-to-card printers that is extremely expensive to replace and the most likely component to cause serious issues.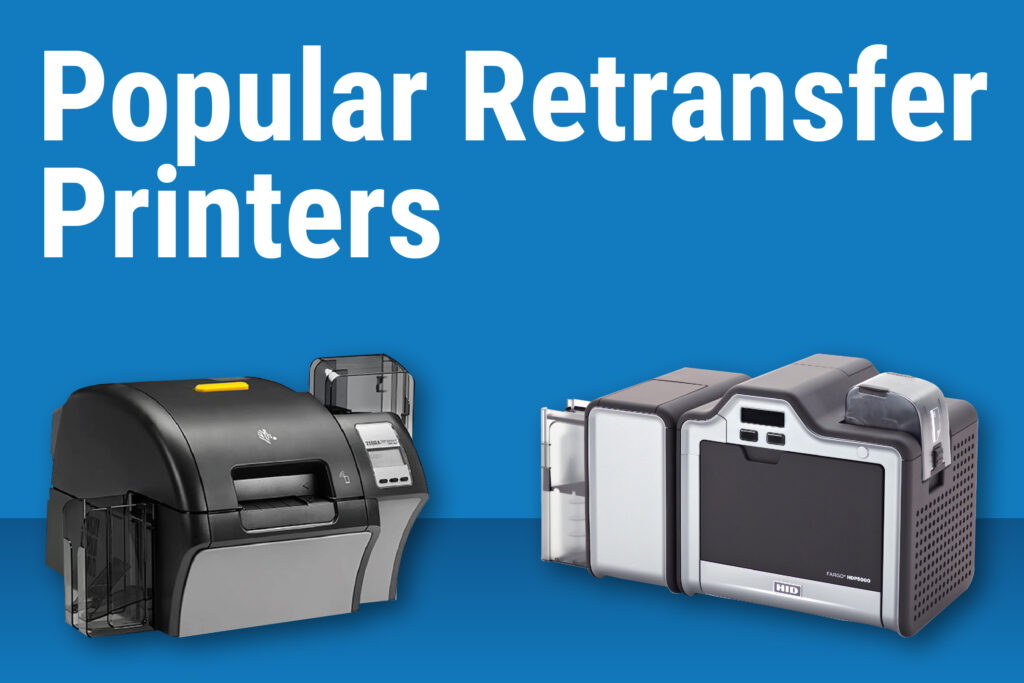 As you can see, Fargo, Magicard and Zebra produce some of the most popular retransfer printers, take a closer look and browse the full range of retransfer ID card printers here.
---
Direct-to-card or retransfer: Need help choosing?
Whether you feel direct-to-card printing or retransfer printing is best for your printing needs, you can browse our full ID badge printer selection here.
If you'd like to know more about which retransfer printer is the right ID card printer for you, don't hesitate to get in touch with one of our printer experts on 0800 988 2095 and ask about retransfer printers.