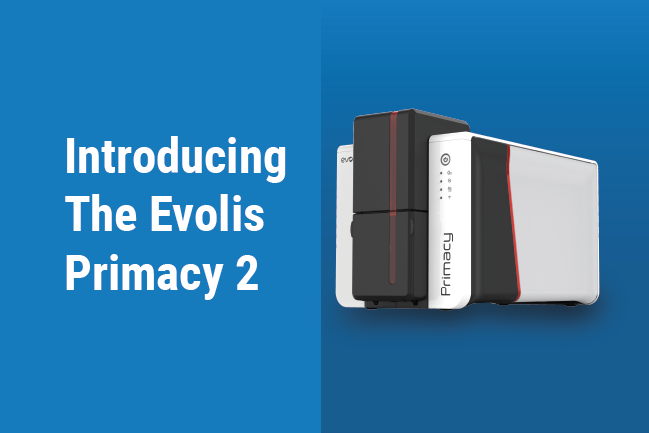 Introducing the newest machine to the Evolis card printer range: the Primacy 2.
If you're familiar with Evolis printers, the Primacy 2 is built on the back of its predecessor, the bullet-proof Evolis Primacy, which has been one of the UK's best-selling ID card printers for many years.
Evolis have taken all the best parts of the original model and improved on them to make their most versatile ID card printer yet.
We're reviewing the Primacy 2 and giving you a more in-depth look at what the new printer has to offer. We're also comparing the Primacy 2 to the original model to showcase how exactly the printers differ. Let's begin.
---
Evolis Primacy 2 ID Card Printer Review
If you haven't got time to read the full review then we've packaged the same information into this short video, enjoy.
The Basics
The Evolis Primacy 2 is a versatile, high-performance ID card printer.
The brand new printer offers it all, including single-sided card printing, dual-sided printing, rewrite technology and more.
Its rewrite printing technology gives the Primacy 2 a huge advantage over similar machines, as more and more companies are showing an interest in rewritable options for printing visitor cards and badges. Therefore, it's great that this feature comes as standard with the machine.
The Primacy 2 ID card printer is compatible with Windows, Mac and Linux systems. It comes with USB and Ethernet connectivity as standard, with Wi-fi connectivity available as an optional upgrade.
Now that we've covered the basics of the Primacy 2, let's dive right into its key printer features. These features will help you decide if the machine is the right fit for your requirements.
---
Card Quality
We put the Evolis Primacy 2 ID card printer to the test and printed various sample cards. The team were really impressed with the outcome, and here's what we found:
The Primacy 2 offers a new high-resolution printing mode, allowing users to print blank plastic cards with an improved 600 dpi resolution. Or if users want to stick with the standard 300 dpi, they can easily choose to do so. Evolis have made the Primacy 2 to be versatile, ensuring there's an option for all ID card printing needs.
In terms of card designs, the printer handles both simple and complex designs well, with the end result being a stunning, high-quality ID card.
With this printer, you can expect to print the best-looking plastic cards you've ever printed – and better yet, cards that will last.
---
Print Speeds
With the Primacy 2, you can opt to print in the standard or fast mode.
You can print anywhere between 170 – 280 full-colour cards per hour, depending on your printer ribbon selection. The printer's rapid print speeds make it ideal for large-sized companies with large volume printing requirements.
Offering one of the fastest print speeds on the market, it really is full speed ahead with the Evolis Primacy 2.
---
Security
We often see ID badge printer machines left unattended throughout the day, or housed in open reception areas. This is why it's great to see features on the Primacy 2 that ensure both the ID card printer and its data are kept secure at all times. The main 3 security features are:
Digital erasing – This ensures the data sent to your Primacy 2 printer is deleted once used. Digital erasing is a feature that network managers and IT teams will love, as it keeps companies safe from a security breach.
Kineclipse® option – Kineclipse instantly erases data from used printer ribbons. It's a feature we're seeing become more popular across all new ID card printers.
Mechanical key lock option – With mechanical locking, access to the interior of the machine and card feeder is only accessible via lock and key. This means all components that could be stolen are 100% protected.
Evolis have really stepped up their security game with the Primacy 2, ensuring the printer meets the demands of the modern workplace.
---
Ease Of Use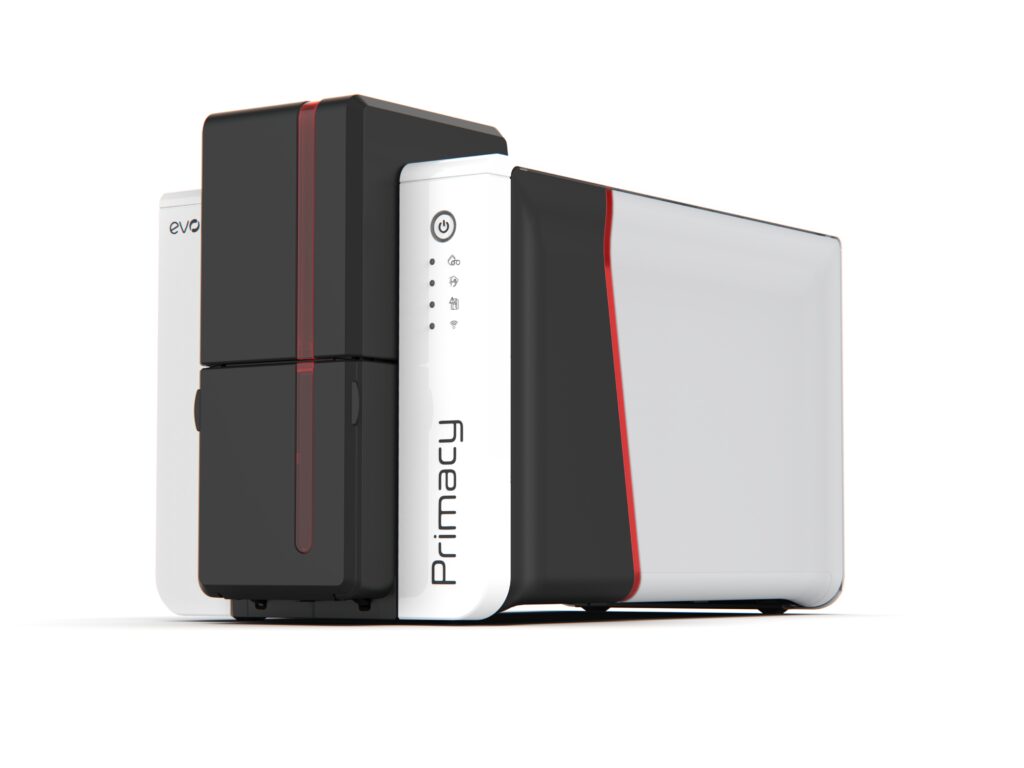 The Primacy 2 is designed with the user in mind and aims to make card printing as easy as possible.
Setup, card issuance and day-to-day tasks such as printer cleaning and ribbon changes can be completed in minutes. This means minimal downtime and increased productivity.
What's more, users can print from a mobile device or tablet for a seamless printing experience.
---
New Ribbon Range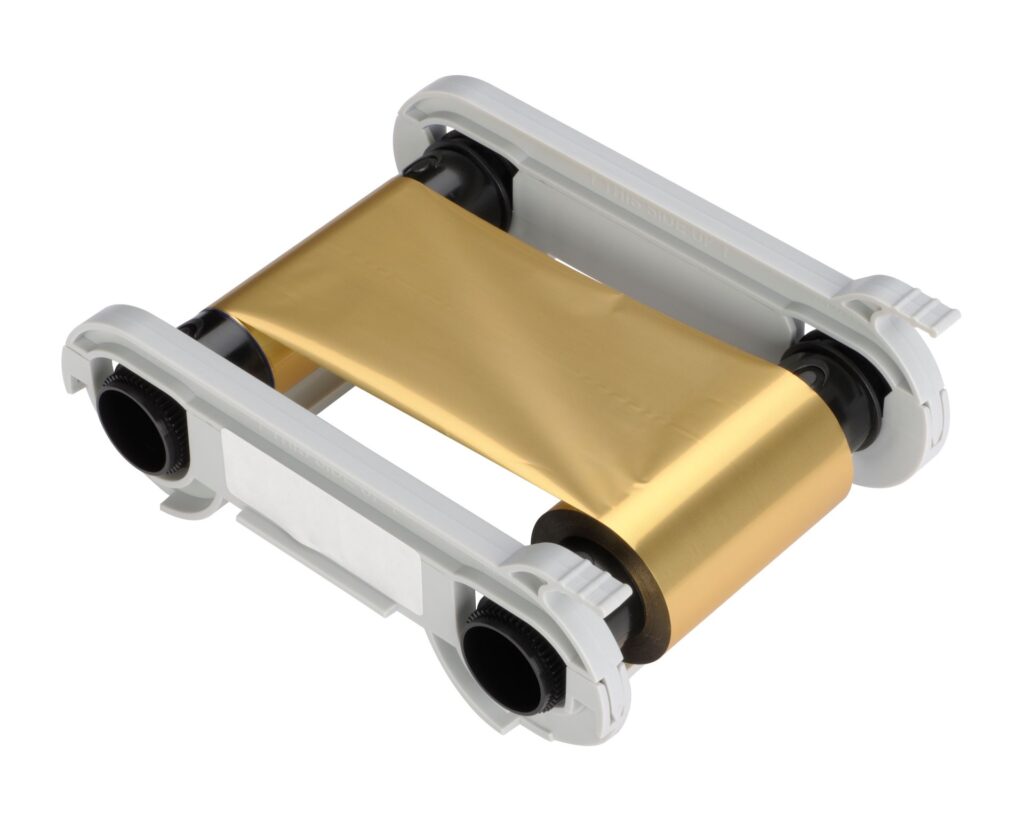 The Primacy 2 comes with a complete host of new ribbons. Whether it's a standard YMCKO ribbon you need or metallic gold is more up your street, you're sure to find an option for all occasions.
Evolis Easy4Pro ribbons are eco-friendly, cost-effective solutions for professionals regularly consuming large numbers of ribbons. These ribbons use less plastic and come in a compact size, ensuring a lower carbon footprint and decreased storage costs.
The best part? Alongside these benefits, Evolis Easy4Pro ribbons provide the same high levels of quality as standard ribbons in the Primacy 2 range.
The Primacy 2 also has its own selection of drop-in ribbon cassettes, making it easier than ever for users to quickly and effectively insert ribbons, even without previous experience. (Coming soon)
If we're choosing favourites, one of ours has to be the YMCKOO double overlay ribbon, with the double overlay offering cards double the protection without doubling the cost. This ribbon creates extra strong cards with up to 3 times more card durability than those printed with a standard YMCKO ribbon.
Whichever ribbon you choose to go for, you can expect sharp, bright images and clear text on every printed card.
---
Optional Upgrades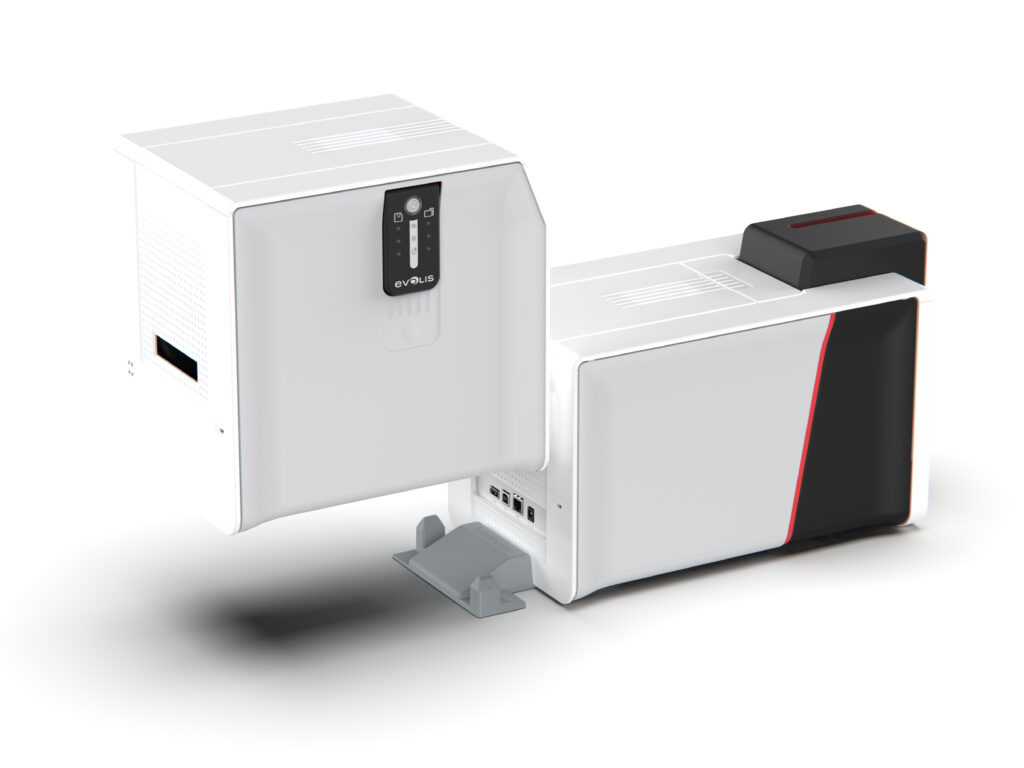 You can choose from several optional upgrade features when you purchase your Primacy 2 printer. This gives you the chance to truly customise your printer to make sure it's right for you.
Upgrade options include magnetic stripe and smart card encoding, a card scanner feature, a lamination module, optional security features and Wi-fi connectivity.
Now that we've covered the main features of the machine, let's see how it compares to the original Primacy.
---
Head to Head: Evolis Primacy vs Primacy 2
We've established that the original Primacy is one of the best-selling ID card printers on the market and has been for many years. Therefore, it'd take some really special features to improve on the original model. Nonetheless, that's what the Primacy 2 does.
The Primacy 2 has a whole host of new features ranging from rewritable printing to digital erasing to smartphone compatibility. You can see a complete comparison of the Primacy vs Primacy 2 below.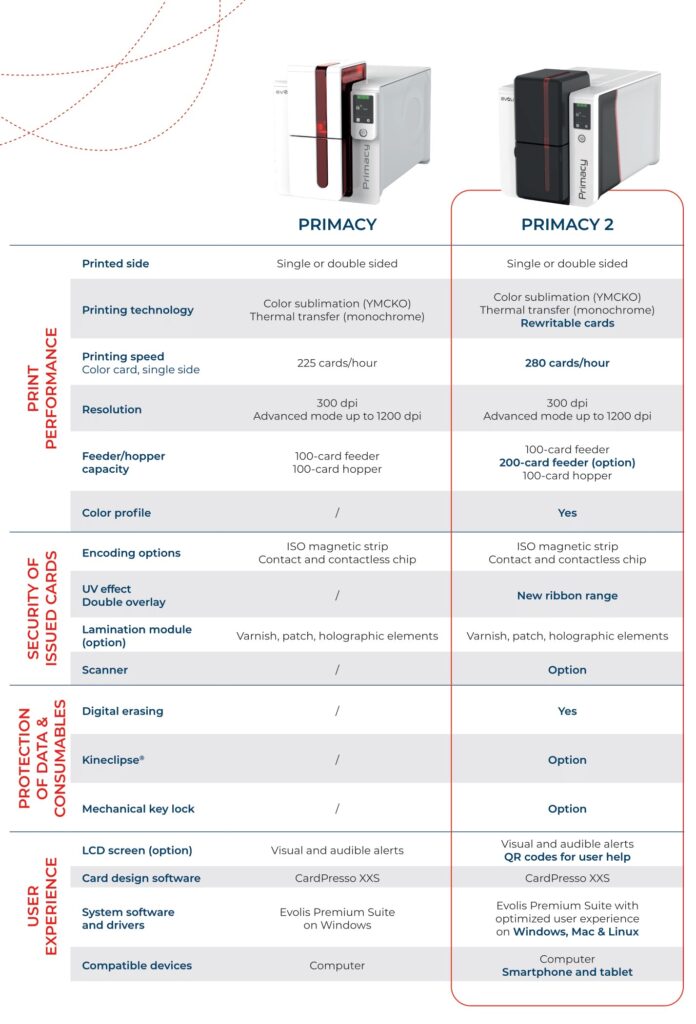 As you can see, the Primacy 2 offers everything the best selling Primacy does and more. Evolis have worked hard to make the Primacy 2 their most versatile printer yet – and it shows.
---
So, What's The Verdict?
Based on our in-house tests, we're going to be awarding the Primacy 2 ID card printer 5 stars out of 5.
The Primacy 2 does what it sets out to, and that's provide high-performance printing, for today and tomorrow. Offering the best card quality, optimised security and faster print speeds, the Evolis Primacy 2 card printer instantly delivers strong, secure cards. What's more, the machine's user-friendly interface ensures a truly exceptional printing experience for all.
Made to produce high volumes of cards, the Evolis Primacy 2 is the best ID card printer for medium to large-sized organisations printing student and staff ID cards, loyalty cards, membership cards and more.
We're expecting big things for the Evolis Primacy 2 ID card printer and we can quickly see it becoming one of our best-selling ID card printers in 2022 and beyond.
Join over 25,000 happy customers in choosing Digital ID
We've helped over 25,000 customers strengthen their security systems over the past 3 decades, by providing the best photo ID cards and access control solutions on the market. We'd love to help you, too.
Give us a call on 0800 988 2095 or email us at sales@digitalid.co.uk to find the best ID card printer for your needs. We hope to speak to you soon.