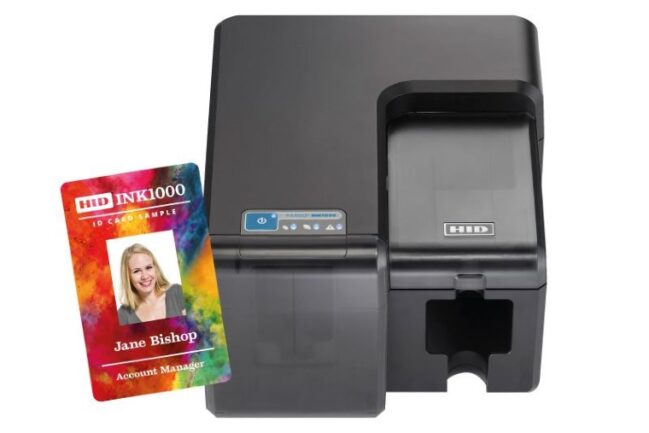 The Fargo INK1000 is now available to order and set to be a great choice for a range of organisations and businesses looking for a card printer that is affordable and reliable.
Given the interest in this product, we've compiled some questions and answers about it. In this blog, you'll find the answers to some of the most common queries we've been getting.
Let's start with the basics…
---
Question 1: What is the Fargo INK1000?
Answer: The Fargo INK1000 is a desktop ID card printer that uses inkjet technology. This sets it apart from other types of card printers including retransfer and direct-to-card machines. It comes after years of development and its inkjet technology helps eradicate pain points associated with printing on to plastic cards in the past.
---
Question 2: How does the INK1000 work?
Answer: The Fargo INK1000 printer is similar in a lot of ways to a standard desktop paper inkjet printer you see on your desk, and works in a similar way too. It uses a combination of heat to spray tiny droplets of ink on to the card via a nozzle. The nozzle is made up of hundreds of individual nozzles that each fire ink particles on to the card. The inkjet technology used in the INK1000 is known as thermal drop-on-demand printing.
---
You might also what to check out… What is inkjet card printing and how does it work?
---
Question 3: What does Drop on Demand mean?
Answer: Drop-on-demand refers to the type of inkjet printing the INK1000 uses. It is much more advanced than older continuous inkjet (CIJ) and uses heat to vaporise the ink and shoot it out the nozzle at high pressure. Once the ink hits the card, the solvent element of the ink evaporates leaving an instantaneously dry, durable print finish.
---
Question 4: Why hasn't this technology been used for printing on plastic cards already?
Answer: The INK1000 is the first ID card printer of its kind. In the past, using the technology wasn't possible for a number of reasons:
1. The print quality wasn't up to the expected standard
2. It was difficult to create an inkjet printer that could print on multiple card materials
3. The ink required could not stand the high temperatures required to bond on to cards
4. Inkjet printers required adapters and trays to allow them to print on to cards
---
Question 5: What is the quality of print like with the INK1000?
Answer: The INK1000 is capable of printing at 600×1,200dpi making it more capable than most direct-to-card printers (which generally print at 300x600dpi or thereabouts). It can handle fine text with ease and is an excellent choice for printing detailed cards to an exceptionally high quality.
What's more, unlike direct-to-card printers, the INK1000 is capable of printing over-the-edge card designs. This means there is no white border left around the edge of the card after printing; something you'll experience if you use a direct-to-card printing.
---
Question 6: What type of ink does the INK1000 use?
Answer: The INK1000 uses a specially formulated ink that is alcohol-based. It's been specifically created for use with plastic ID cards and can produce a full spectrum of colours (YMC).
---
Question 7: What are the advantages of the INK1000's ink cartridge?
Answer: The INK1000's ink is supplied via a simple snap-in cartridge. This is unlike most other card printers which use an ink ribbon. The advantages are numerous:
1. It is much more reliable than a ribbon, which are often liable to breaking, crinkling and causing printing errors.
2. A cartridge simply snaps in to place, making installation much easier than printer ribbons.
3. Printer ribbons will often contain traces of data even after the print job is complete, making them liable to data breaches. This is eradicated with the use of an ink cartridge.
4. Depending on the number of cards you plan on printing, a cartridge will be more cost-effective; the INK1000 has one of the lowest TCO (total cost of ownership) of any card printer currently available.
---
Don't forget to read… How the Fargo INK1000 could revolutionise the ID industry
---
Question 8: What cards can the INK1000 print on to?
Answer: The INK1000 can print on to numerous card materials including 100% PVC cards, composite PVC cards (including eco-friendly options), laminated PVC cards and press polished PVC cards.
The INK1000 is also capable of printing straight on to access control cards.
This is down to the fact the nozzle doesn't come into direct contact with the card unlike the printhead of a direct-to-card printer, which can be damaged by the raised edges of access control cards.
---
Question 9: Can I encode cards with the INK1000?
Answer: Optional HID encoding modules are available with the INK1000 allowing you to encode cards including HID, iCLASS® (Standard / SE / SR / Seos®), MIFARE Classic®, MIFARE Plus®, MIFARE DESFire®, MIFARE DESFire® EV1, ISO 14443 A/B, ISO 15693.
---
Question 10: Which operating systems is the INK1000 compatible with?
Answer: The INK1000 is compatible with Windows 7 and Windows 10 operating systems. We also supply several Mac-compatible ID card printers should you require one that works with Apple products.
---
Question 11: What software do I need to print ID cards with the Ink1000?
Answer: The INK1000 comes with a FARGO driver that includes diagnostic utility with Color Assist™ for spot-colour matching. When it comes to designing the ID cards themselves, a wide range of ID card software is available to work with the INK1000 including EasyBadge.
---
You might also want to check out… What is the best ID card software?
---
Question 12: How much does the INK1000 cost?
Answer: The Fargo INK1000 costs from £950.00 exc. VAT making it an exceptionally affordable entry price for such a capable card printer. Although it is slightly more costly than some direct-to-card printers, it undercuts retransfer machines significantly – but features many of the same benefits.
---
Want more information?
If you're unsure whether the INK1000 is the printer for you, don't worry – call our experts on 0800 988 2095. We've decades of experience of ensuring our customers get the product that is right for their needs.
*Disclaimer: Price correct as of 13/10/2020 and subject to change, excludes VAT.