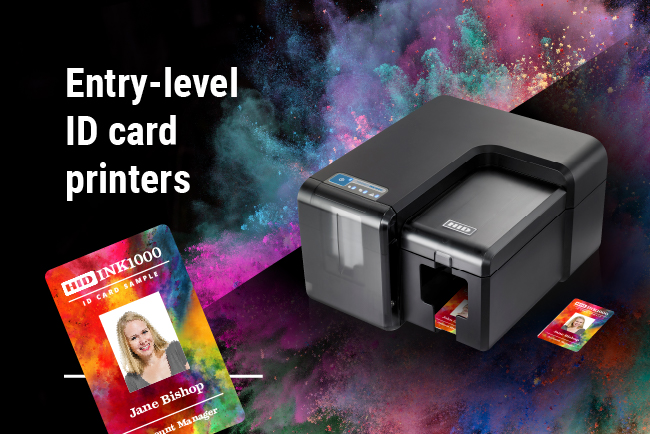 New to card printing? If you're looking for entry-level ID card printers to produce staff identification on a regular basis, there's plenty of options available.
If you've never purchased one before, it can be quite difficult to know where to start. That's why we've put this guide together.
Before we get started though, let's consider who an entry-level card printer such as the ones below are best for.
---
Who are entry-level ID card printers best for?
Entry-level ID card printers are a great choice for any business or organisation that prints between 100 and 1,000 cards per year and want to create them in-house. Small businesses, primary and secondary schools, gyms and local government organisations are just some of the organisations we already work with.
The right card printer for you will depend on your exact requirements and, although entry-level card printers cannot offer the same levels of security as more expensive machines, it's still possible to create a high-quality, secure card with them.
---
So which are the best entry-level ID card printers?
Below, we've listed four entry-level card printers to suit a range of budgets for entry-level needs. They have been specifically chosen for their ease of use, price point (taking into account both purchase price and ongoing consumables costs).
---
1. Magicard Pronto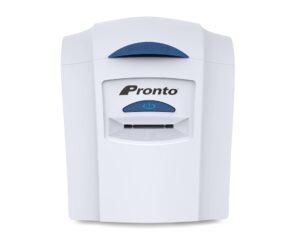 £455.00 ex. VAT
£546.00 inc. VAT
The Magicard Pronto has been a go-to entry-level ID card printer for a long time. Featuring a compact design and direct-to-card technology, it's also the most affordable plastic card printer currently available and is capable of printing a full-colour card in around 35 seconds.
It's a handfed machine, meaning it does not feature input or output hoppers to collect cards. For this reason, it is best suited to those printing simple, non-technology cards on an ad-hoc basis. That means simple photographic identification, membership cards, loyalty cards and gift cards.
For those that haven't used an ID card printer before, you might not be aware of the consumables you have to purchase; in the case of the Pronto, both the printer ribbon and cleaning kit are extremely affordable, with the standard Magicard MA300YMCKO ribbon capable of printing up to 300 prints per roll.
If you want to create a more secure card that cannot be easily duplicated, Magicard also offers its unique HoloKote® watermark on the Pronto. Despite being Magicard's budget-friendly entry-level printer, this hand-fed machine still features four watermark designs that can be added to cards during printing. If this sounds interesting, you can check out what HoloKote® is in our guide.
---
New to ID card printing?
How to change a Magicard Pronto printer ribbon
---
2. IDP Smart 31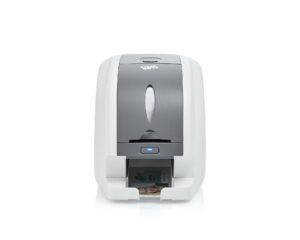 £599.00 ex. VAT
£718.80 inc. VAT
The IDP Smart 31 has been designed to enable low-cost card printing for any size of business. So, whether you're printing a dozen cards per month or a couple of hundred, it should be up to task. Unlike the Pronto, the Smart 31 has an input hopper capable of holding up to 80 cards and an output hopper for 25 cards. This makes printing easier if you need to print larger volumes in a single print run.
It's also a printer that's incredibly easy to use. You'll find everything you need in the box and, after following a quick start guide, you'll be up and running in minutes. A full-colour ribbon costs £42.50 ex. VAT and will print up to 250 cards.
For those looking to add a little security to their cards, IDP's SmartMark watermark feature will allow you to easily identify cloned ID cards. Combine that with its market-leading five-year warranty, and it's difficult to think of a more capable entry-level printer for this price.
---
Don't forget to check out…
How to change an IDP Smart printer ribbon
---
3. Zebra ZC100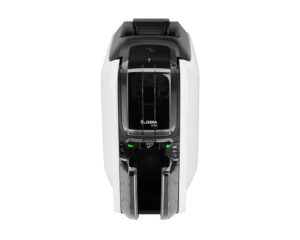 £610.25 ex. VAT
£732.30 inc. VAT
Featuring a compact, modern design, the Zebra ZC100 is an entry-level printer well-suited to the demands of small to medium-size businesses. One of its biggest plus points is its user-friendly interface and a newly designed driver which makes it hassle-free to get printing quickly. The printer ribbon is also extremely easy to install, featuring a simple drop-in design.
If you need to produce cards quickly, its fast print speed will be useful too; it'll print up to 150 full-colour cards per hour or a huge 800 monochrome cards per hour. This makes it a particularly good choice if you're printing loyalty cards or gift cards.
---
Card printing beginner?
Here's how to change the Zebra ZC100's printer ribbon
---
4. Fargo INK1000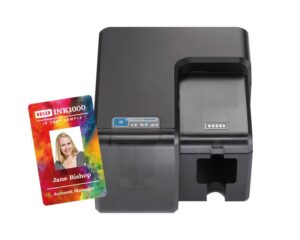 £950.00 ex. VAT
£1,140 inc. VAT
The Fargo INK1000 may cost a little more than the other printers on this page, but once you hear about how easy it can make your ID card printing process, you may think the extra cost is worth it.
The INK1000 uses a new inkjet technology that makes printing ID – or any plastic card for that matter – completely hassle-free. Unlike direct-to-card printers, it does not use a ribbon. In its place, you'll find a snap-in cartridge. That's right: just like a desktop paper printer.
Its dimensions are very similar to a desktop machine too, helping it fit in neatly in any office environment. On top of its simplified cartridge usage, its technology ensures it can print exceptionally high-quality cards – up to 600x1200dpi to be precise.
You also benefit from a full card cover – unlike direct-to-card machines that leave a small white border around the edge of the cards. These are just two of several plus points of choosing this machine. In fact, here are several reasons why we think the INK1000 might just revolutionise the way we print ID cards.
---
You might also be interested in…
What is inkjet ID card printing and how does it work?
---
Still need assistance?
If you're struggling to decide which of these four entry-level machines will be best for you, don't worry. We know choosing the right ID card printer can be a tricky process.
Give our experts a call on 0800 988 2095 and we'll make sure you'll get the machine you need. If you'd like advice on other printers, don't forget to check out our definitive list of the best ID card printers of 2020.
*Disclaimer: All prices correct as of 14/10/2020 and subject to change