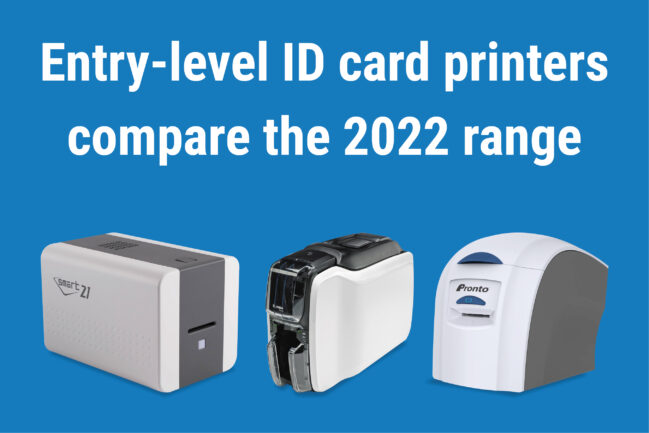 New to card printing? Working in a smaller office? If you're looking for a starter-level card printer to produce staff ID cards on a regular basis, there are plenty of options available but it can be quite difficult to know where to start. That's why we've put together this helpful guide to find the best ID card printer for your needs.
Before we get started, let's consider who an entry-level printer is best for.
---
Who are beginner-level ID card printers best for?
Entry-level ID card printers are a great choice for any business or organisation that prints between 100 and 1,000 cards per year and want to print them in-house. If you're currently using an ID card printer system or want to upgrade from a starter range ID printer system, check out our best card printers for SME businesses here.
The best ID card printer for you will depend on your exact requirements and, although entry-level models aren't as advanced as more expensive ID card printers, it's still possible to create a high-quality, secure card with impressive print speeds.
---
Which are the best entry-range ID card printers?
Below, we've listed four card printers to suit a range of budgets for beginner-level needs. They have been specifically selected from our single-sided ID card printer range for their ease of use and price point, taking into account both purchase price and ongoing consumables costs.
(Please note all prices shown are excluding VAT)
---
1. Magicard Pronto ID Card Printer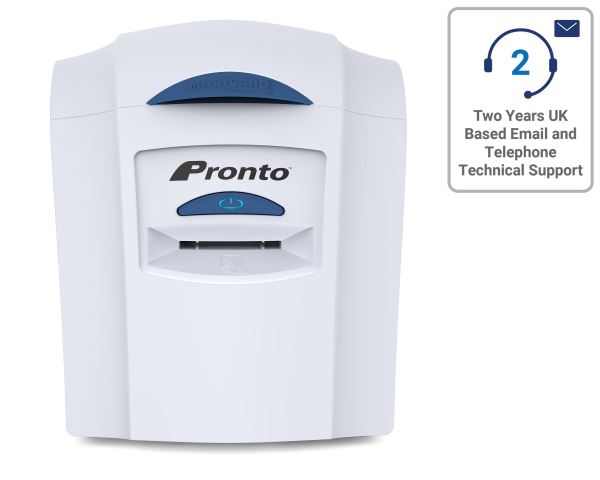 The Magicard Pronto has been a go-to starter-range printer for a while now. With a compact design, it's one of the most affordable direct-to-card ID card printers currently available, capable of printing a full-colour card in around 35 seconds and a monochrome card in just 7 seconds.
The Pronto is a handfed plastic card printer, meaning it doesn't feature input or output hoppers to collect cards. For this reason, it is best suited to those printing onto simple, non-technology blank cards on an ad-hoc basis. That means printing simple photo ID cards, membership cards, loyalty cards, visitor passes and gift cards.
If you want to create a more secure card that can't be easily duplicated, the Pronto uses Magicard's unique HoloKote® watermark technology which features four watermark designs that can be added to cards during printing. These watermarks are a cost-effective way for smaller businesses to increase visual security.
Top reasons to buy:
Cards are hand-fed, saving office space.
HoloKote watermarks for added visual security.
Rewrite cards up to 500 times.
Price: £575.00
---
2. IDP Smart 31 ID Card Printer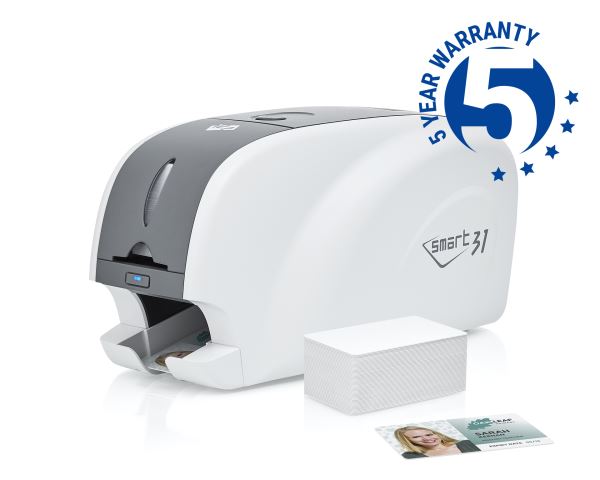 The IDP Smart 31 has been designed to enable low-cost card printing for any size of business. So, whether you're printing a dozen cards per month or a couple of hundred, it should be up to the task. Unlike the Pronto, the Smart 31 has an input hopper capable of holding up to 80 cards and an output hopper for 25 cards. This makes printing easier if you need to print larger volumes in a single print run.
It's also a printer that's incredibly easy to use. You'll find everything you need in the box and, after following a quick start guide, can print ID cards in minutes.
With upgrades like dual-sided printing, ethernet connectivity and several magnetic stripe and smart card encoding options available, this plastic card printer can offer a lot more advanced security options than its competitors.
For those looking to add a little security to their cards, IDP's SmartMark watermark feature allows you to easily identify cloned ID cards. Combine that with its market-leading five-year warranty, and it's difficult to think of more capable entry-level machines in this price bracket.
Top reasons to buy:
A range of printing and encoding options available.
5-year manufacturer warranty.
SmartMark watermarks and UV printing with specialised ribbons.
Price: £715.00
---
3. Zebra ZC100 ID Card Printer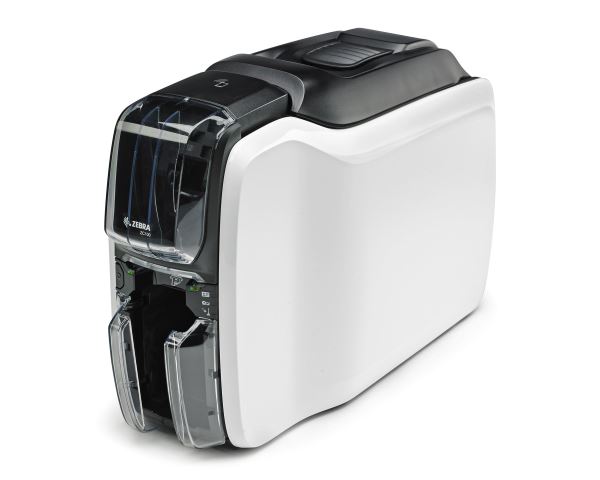 The Zebra ZC100 is a modern, compact printer well-suited to the demands of small to medium-size businesses. One of its biggest plus points is its user-friendly interface and newly designed driver which makes it hassle-free to get printing quickly. The printer ribbon is also extremely easy to install, featuring a simple drop-in design.
Unlike most ID card printers, the Zebra ZC100 has a thin, office conscious design while still containing 100 card capacity input and output hoppers. Letting you print quality ID cards in batches without worrying about emptying or refilling the hoppers. If you need to produce cards quickly, The ZC100's fast print speed will be useful too; it'll print up to 150 full-colour plastic cards per hour or an impressive 800 monochrome cards per hour.
The ZC100 can print cards with edge-to-edge printing normally found in a retransfer printer, at a direct-to-card printer price. This makes it a particularly good choice if you're printing loyalty cards or gift cards that will benefit from a superior print quality in a smaller printer.
Top reasons to buy:
Out-of-the-box printing.
Designed to slot into small offices easily.
2-year unlimited printer and printhead warranty.
Price: £610.25
---
4. IDP Smart 21 ID Card Printer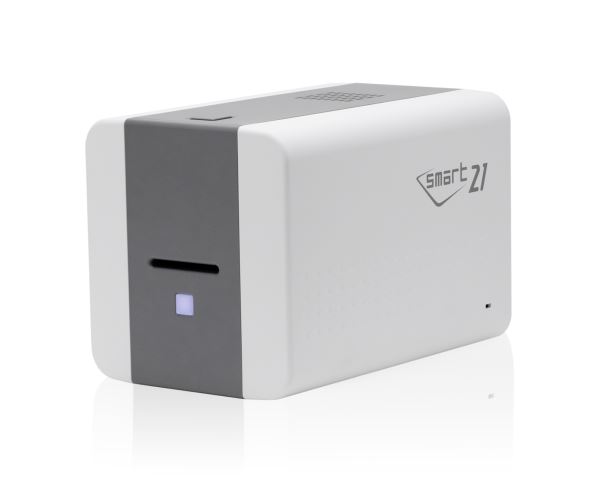 The IDP Smart 21 is small, fast and offers impressive value for money. This is one of the best ID card printers on the market for delivering professional print quality without expensive overheads.
The Smart 21 comes with advanced security features such as enabling the main host to grant and deny printer access, and IDP's SmartMark watermark printing as standard. Printing full-colour ID cards in 24 seconds, this hand-fed direct-to-card printer offers fast print speeds without compromising on print quality printing up to 1200dpi resolution images and ID badges.
As there isn't an output hopper to deal with, this plastic card printer is compact, lightweight and arguably the most desktop ready ID printer on this list. The IDP Smart 21 is definitely our pick for a space-conscious office.
Top reasons to buy:
24-second per full-colour card print speed
Plug and print in minutes.
SmartMark security watermark printing enabled.
Price: £550.00
---
Extra – EasyBadge 2.0 ID Card Printer Bundle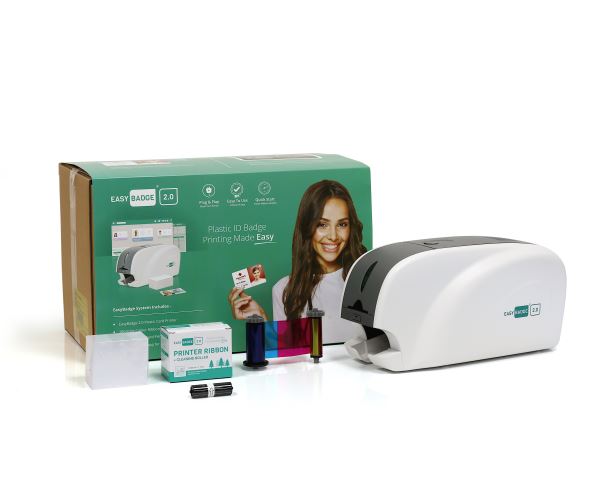 The EasyBadge 2.0 ID card printer bundle is the best ID card printer bundle for small businesses, with everything you need in one box. The EasyBadge 2.0 card printer comes with card design software, ribbon and blank plastic cards included to print your first 100 ID cards with ease.
This professional direct-to-card printer bundled together with 100 plastic cards and a full-colour ribbon included, this bundle is an all-in-one starter package for creating ID cards. Plus, with every EasyBadge bundle sold, we'll plant a tree as part of our partnership with OneTreePlanted.
The Easybadge software included is some of the best ID card design software on the market, with a user-friendly interface and step-by-step setup process to help you create professional-quality ID cards. We're that confident in it, all ID printers from Digital ID come with EasyBadge Lite free.
Top reasons to buy:
Everything you need in one box.
One tree planted for every bundle sold.
5-year manufacturer warranty cover.
Price: £695.00
---
Still need assistance?
If you're struggling to decide which of these four entry-level card printers will be best for you, don't worry. We know choosing the best ID card printer for you can be a tricky process and we've got plenty of resources to help you make the right choice, like our card printer buying guide.
You can also see our full range and compare ID card printers yourself, or give our friendly team of experts a call on 0800 988 2095 and we'll make sure you'll get the ID card printer you need.
*Disclaimer: All prices correct as of01/02/2022 and subject to change*