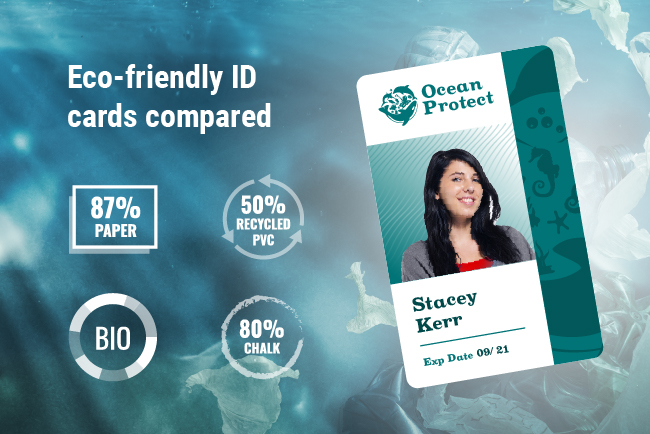 Eco-friendly ID cards are a simple, effective way of reducing your organisation's impact on the environment. But with a variety of options now on offer, which one should you choose?
In our guide, we run through the main forms of eco-friendly ID cards to give you a better overview of the products available and how they are actively beneficial for the environment, without compromising on the quality of your photographic ID.
But first, let's consider why you might consider opting for an eco-friendly card option. Our eco-friendly ID card options help to:
Reduce the amount of virgin plastic material produced
Actively give single-use plastic a second life
Speed up the degrading process after disposal
---
Why should you choose an eco-friendly ID card option?
Reducing virgin material production with 50% PVC cards
Reducing the amount of plastic we use in new products should be everyone's #1 priority. Not only does the production process create CO2, but the more waste we create, the more we have to get rid of.
Giving single-use plastic a second life with recycled cards
If our top priority is reducing virgin material production, our second most important aim should be to recycle as much plastic as we can – particularly single-use plastics that end up in landfill or our oceans.
Every month, the amount of plastic entering our oceans equates the weight of two Empire State Buildings. Businesses should start giving priority to purchasing products with high recycled content.
Speeding up the degrading process post-use with biodegradable products
Although the effectiveness of biodegradable and compostable products is still contested. If biodegradable products are left in an appropriate fertile condition, they take much less time to degrade than standard PVC (up to five years as opposed to 450+years).
While they do not offer the same outright benefits of reducing plastic production and recycling that recycled PVC cards do, they will at least ensure that they break down much more quickly if they do end up in a landfill. You can read more about biodegradable plastics here.
Now let's take a closer look at the different types of eco-friendly ID cards themselves and consider which type could be best for you.
What are the eco-friendly ID card options?
---
1. 50% recycled PVC cards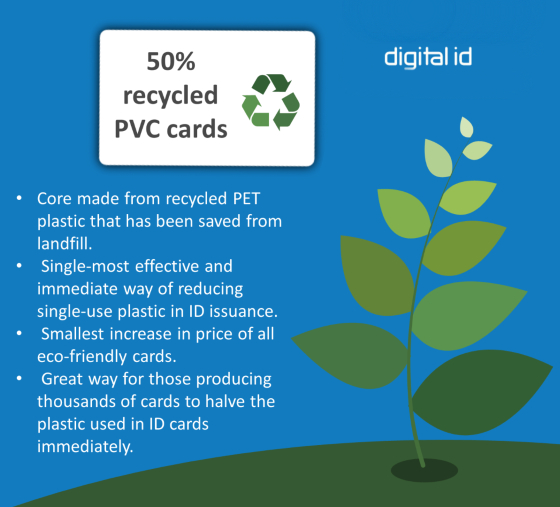 £9.95

 ex. VAT
£11.94.00

inc. VAT
If we told you there was a way to reduce the amount of virgin single-use plastic in your ID card issuance system in one fell swoop, you'd want to know about it right? Well, Dyestar 50% recycled blank white cards allow you to do just that.
ID cards are made up of two main parts: the core and outer shell. In these cards, more than 65% of the core's material is actually made from recycled material that would have otherwise ended up in a landfill. This core is just as strong as non-recycled cards, ensuring a durable and long-lasting finished product.
Despite its eco-credentials, the outer shell of the recycled card still uses virgin PVC material. This gives it a shiny, gleaming finish which means you needn't worry if your only reason for not choosing an eco-friendlier card option is a drop in print quality. You can be assured these part-recycled cards offer exactly the same print level as any other.
They are one of the best options for creating a more sustainable id card issuance system. A pack of 100 recycled cards will cost just £1 more than a pack of standard PVC cards, meaning you don't need to spend much to have a significant impact on your plastic usage.
---
2. Biodegradable ID cards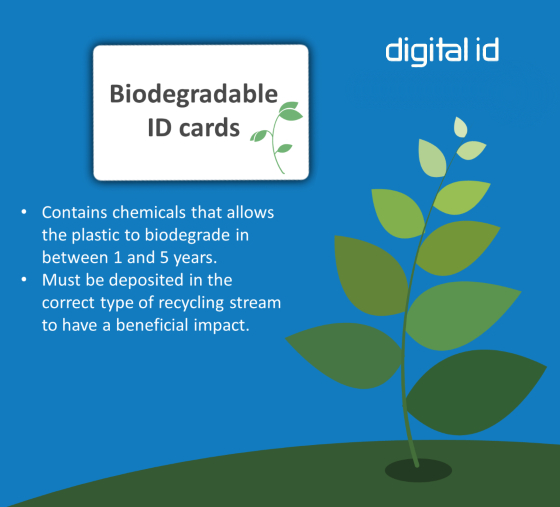 £9.95

 ex. VAT
£11.94.00

inc. VAT
Another popular choice for those looking for an eco-friendly card option are biodegradable plastic cards. Costing £9.95, they are exactly the same price as recycled cards. So why do we offer them?
Well, they offer the same look and feel as recycled cards, and from a quality perspective are just as durable. The difference lies in the fact that the plastic contains an element that allows them to degrade much more quickly than PVC alone. In the correct environment, they'll take between one and five years to break down.
Recycled cards are great for reducing single-use plastics. However, unless they are placed into a correct recycling stream, they'll be around for a long time. This makes the bio-degradable cards a better option if you can ensure they will be sent back to use to enter a correct waste stream.
But, what if you want to go 100% PVC-free? Well, it is a possibility…
---
3. Chalk-based cards (100% PVC-free)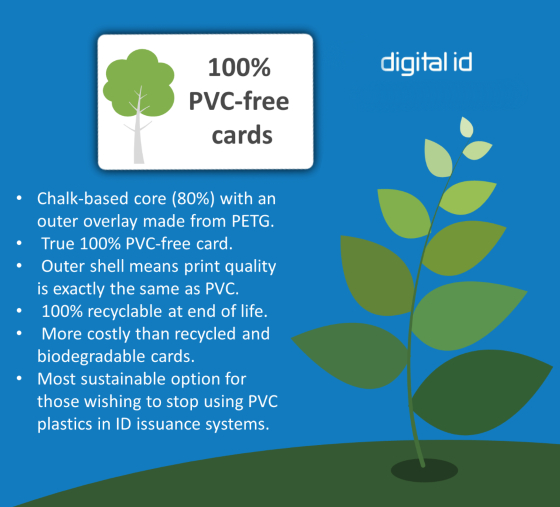 £13.00

 ex. VAT
£15.60

inc. VAT
Chalk-based cards are made up of 80% chalk, and 20% PET, while an outer overlay is made from PETG. This means it is a true 100% PVC-free card.
Because the outer overlay is made from PETG, it still has a shiny, durable surface. This means print quality is not reduced, while also being 100% recyclable too. So why aren't we just recommending this over the others, you're wondering?
Firstly, at £13.00, they are a more expensive option than other eco-friendly cards, but we know for businesses that are judged on sustainability it'll be a small price to pay. This card is, therefore, best for those looking to go completely PVC-free with their cards.
It's a great way to demonstrate your business is doing its bit for the environment, and out of the three cards we've looked at here is the one that is truly sustainable.
---
Summary
So which one should you choose?
Recycled cards actively help reduce the amount of single-use plastic and are 100% recyclable at end of life. Biodegradable cards take a shorter amount of time to degrade, making them perfect for cards that will not be used over a long period of time. For those looking for 100% PVC-free choice, chalk-based cards give you that option – if you don't mind paying extra.
Us? We'd recommend opting for recycled cards overall. Their recycled core makes them essentially 50% more sustainable for a very small increase in price. We don't know about you, but for us, £1 is a price worth paying for such as a large reduction in PVC usage.
We hope this post has given you a clearer picture of the eco-friendly card options Digital ID offers. These are just some of the eco-friendly product lines we're moving towards. You can read more about how we're helping organisations to become more sustainable in our environmental policy.
Alternatively, get in touch today to find out more about our eco-friendly products.
*Disclaimer: All prices correct as of 05/09/20 and are subject to change