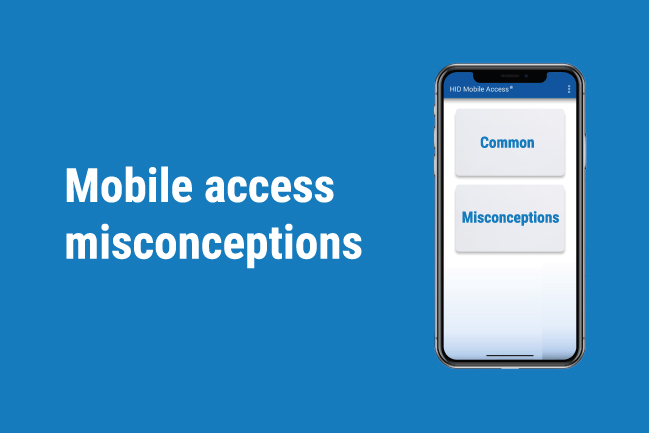 The innovative mobile access control solution by HID Global has been a huge win for the industry. However, some are sceptical about the technology.
In this post, we're going to be addressing the common misconceptions of mobile access control and sharing the truth. Let's begin.
---
The common misconceptions of HID Mobile Access®
It's expensive
A stolen device gives thieves full access to the building
Integration is time-consuming
It's difficult to manage
Mobile access is not secure
The app will drain your battery life
Only mobile phones are compatible
Misconception #1 It's expensive
Truth: The long-term costs of mobile access are significantly lower than those associated with legacy access technologies. Credentials are sent to a mobile device over the air, therefore there are no high reissuance costs, unlike with broken or faded physical access control cards.
Better yet, subscription licences are transferrable across users. This means administrators do not need to purchase a new licence each time temporary credentials are required. Instead, when a visitor or contractor has completed their work on-site, their credentials can be revoked and reissued to another temporary visitor, making the dynamic solution extremely cost-effective.
We mention more details about the costs associated with mobile access in our complete guide to mobile access control. Overall, the system's decreased costs make it more economical than all of the different access systems on the market.
Misconception #2 A stolen device gives thieves full access to the building
Truth: Enabling a passcode or facial recognition on your device keeps its contents protected from thieves. This means a thief will not be able to use the mobile access app and will thus not be able to enter the building.
What's more, a security administrator can instantly revoke access from the device, enforcing high levels of security in the workplace.
Note that if a mobile device is stolen, users should treat it the same as an access control card, and report it stolen.
Misconception #3 Integration is time-consuming
Truth: Implementing mobile access is straightforward and, with our help, stress-free. The process consists of only a few steps and we'd be happy to help you seamlessly make the switch. Your new and improved mobile access control system could be up and running before you know it.
Misconception #4 It's difficult to manage
Truth: All aspects of managing mobile access are dealt with in the remote management portal. Security administrators can instantly grant, amend and disable mobile IDs via the portal, from wherever they may be. This ensures multiple site management at the same time.
Furthermore, as administrators are able to remotely monitor who is on the premises in real-time, there is no need for anyone to physically be present 24/7. This makes managing mobile access much more effective than managing other outdated access systems.
Misconception #5 Mobile access is not secure
Truth: Mobile access is much more secure than legacy access systems. The solution uses up-to-date, advanced security features that exceed the outdated technology of systems such as key cards and fobs.
Older systems use technology that hasn't been changed for years, which makes them much less effective in dealing with modern threats. However, HID Mobile Access uses modern, encrypted Seos® technology to ensure the best-in-class security.
Misconception #6 The app will drain your battery life
Truth: The app is designed to be energy efficient. It doesn't have the same power requirements as recording videos or streaming music. In fact, it's set up to use as little memory and processing power as possible.
Therefore, it has a minimal impact on battery life, ensuring users don't need to worry about their device's battery life getting drained or device performance being affected in any way.
Misconception #7 Only mobile phones are compatible
Truth: It's not just smartphones. Any compatible mobile device can be used, including mobile phones, tablets and wearables such as smartwatches.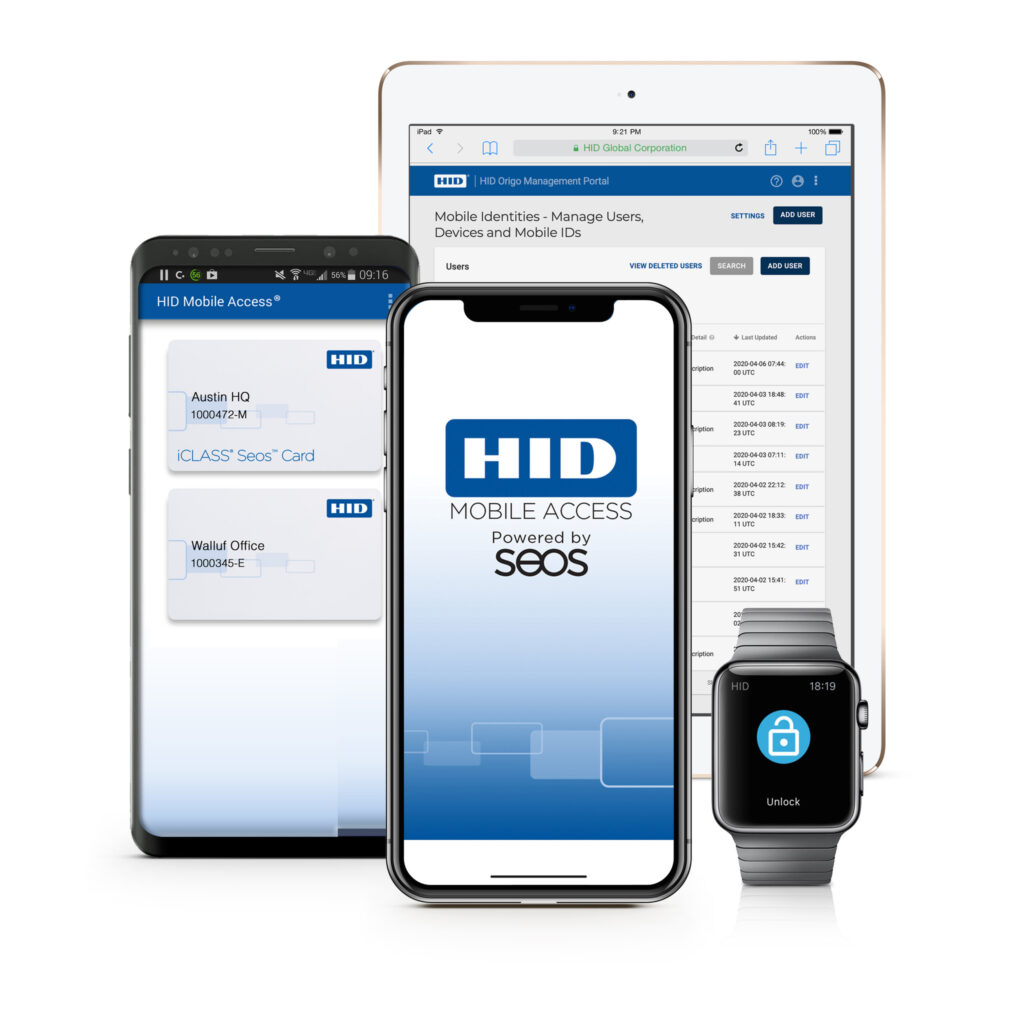 ---
The Truth About HID Mobile Access Control
HID Mobile Access is trusted by security professionals worldwide. Over 4,000 organisations are using the innovative solution to gain access to their buildings every day.
Is it time to join them?
If your company's security is important to you, then yes, it just might be.
As experts in all things photo ID and access control, we've helped thousands of organisations strengthen their physical security systems and would love to help you, too.
Give us a call on 0800 988 2095 to discuss how you can switch to mobile access control and boost your company's security today. We hope to speak to you soon.
Alternatively, you can download our free mobile access eBook here.