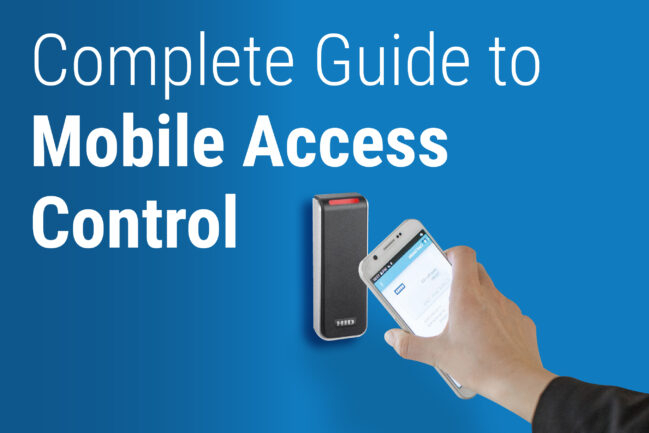 Your questions answered
Mobile devices have impacted almost all areas of our daily lives, with studies showing that more than half of you will be reading this on your mobile phone. Regardless of whether you're included in that percentage, mobile phones have unquestionably become an essential part of most of our lives. They have become the chosen method for many to carry out instant research, check personal and business emails and pay for products and services, among various other things.
This increase in mobile phone usage among adults has caused companies to completely shift the way they look at operations, networks and security. As the world adapts to changes caused by the pandemic, integrating mobile devices to optimise everyday experiences is the logical step forward for the device's technologies.
Enter Mobile Access Control.
Mobile access is the innovative access control technology that combines two of our favourite things: mobile devices and complete efficiency. The technology aims to make access easy for all involved while optimising security and user experience every step of the way.
Our mobile access control guide will discuss the breakthrough technology, how it works and whether it really is as good as it may seem.
---
What is mobile access control?
Mobile access control is the process of using a smartphone, tablet, or wearable device such as a smartwatch to unlock doors, emitting the need to carry key cards or key fobs. The modern access control method has gained popularity over the years and shows no sign of slowing down. As a result of its increasing growth, we anticipate the technology to eventually dominate the access control market.
How does mobile access control work?
An administrator grants access permissions to an end-user's device over the air. After receiving credentials, the end-user simply places their phone or smartwatch near a compatible door reader. BLE (Bluetooth Low Energy) and NFC (Near Field Communication) technology transmit data between the device and reader to grant end-users access through the doors. No physical access card is necessary.
Where are mobile access control systems used?
Mobile access control systems can be used in:
Universities and educational establishments
Office spaces
Healthcare
SME workplaces
Stadiums & Event settings
Public sector buildings
There are no limits to which organisations can implement mobile access systems, as the future-led technology is an efficient solution for everyone.
How secure is mobile access control?
Mobile devices use advanced security features that extend much further than the capabilities of legacy cards. This ensures mobile access control systems offer an unparalleled, secure way to access the building.
Here's how mobile access control offers you higher security than legacy access systems:
1. Regain control of your physical access system
Recent events have shown the impact of relying on 3rd party manufacturers and suppliers. Yes, we're talking about the global semiconductor chip shortage.
With smartphone access control systems, you don't need to rely on 3rd parties to control your access requirements – that privilege belongs to you. As there's no need to order physical access cards, you're no longer at the peril of delays, stock shortages or supplier issues. Instead, you can easily manage access from your very own management dashboard.
2. Ensure no unwanted guests are on the premises
Instantly disable or restrict access via your secure management dashboard and keep unwanted visitors at bay. Or even carry out live audit trails to monitor who is on the premises at all times.
Administrators can control access remotely with the management portal, ensuring access is always top of the agenda.
Furthermore, ex staff members are no longer a threat. Security administrators can revoke access once they've finished with the company, and you can forget about them showing up unannounced.
What's more, if unauthorised guests ever try to enter the building, your secure portal allows you to deny access instantly.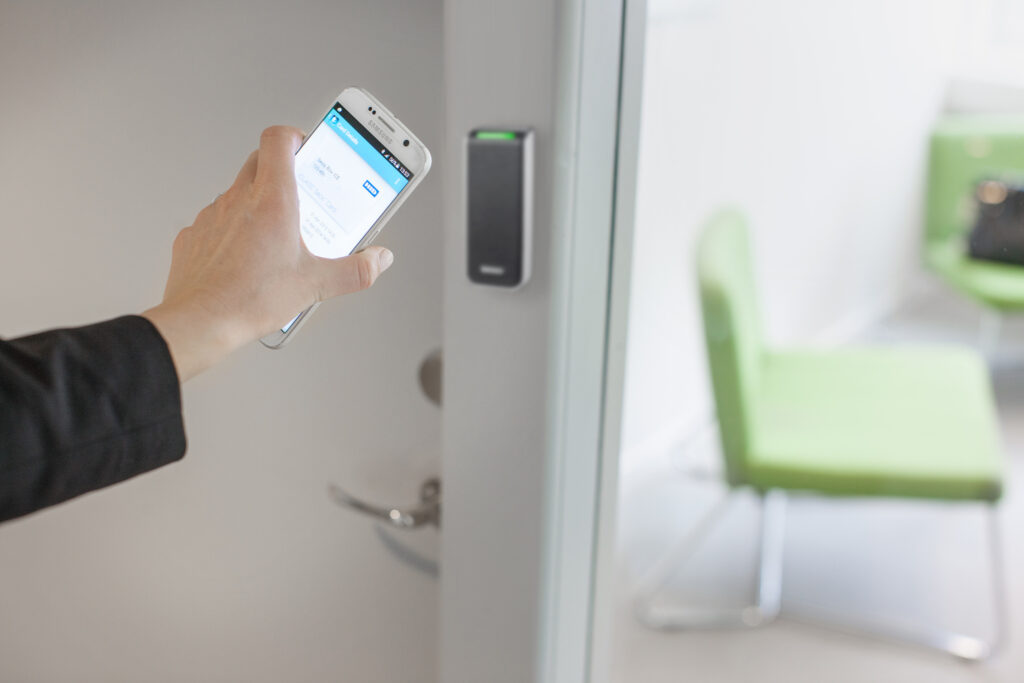 3. Credentials are out of sight
Providing credentials digitally ensures that no confidential information is ever on display. With credentials sent directly to a mobile device via a cloud-based server, they are away from prying eyes, reducing the risk of a security breach. Credentials are also encrypted to protect each person's identity, providing highly improved security measures.
4. Unclonable access
It's common knowledge that anyone can clone outdated access control cards with technology available online. However, mobile credentials are protected by encrypted technology, ensuring credentials are unclonable. Implementing mobile access thus ensures no impersonators can enter your premises, protecting your staff, guests (the authorised ones), and company data.
And the benefits don't stop there. Switching to mobile access control also eliminates the high percentage risk of card theft, as no physical key cards are necessary. With various clear security benefits of implementing a mobile access solution, it's clear that the modern access control technology is much more secure than legacy access systems.
What makes up a mobile access control system?
A mobile access control system consists of:
Management portal
Mobile device
Access reader
Access credentials (data)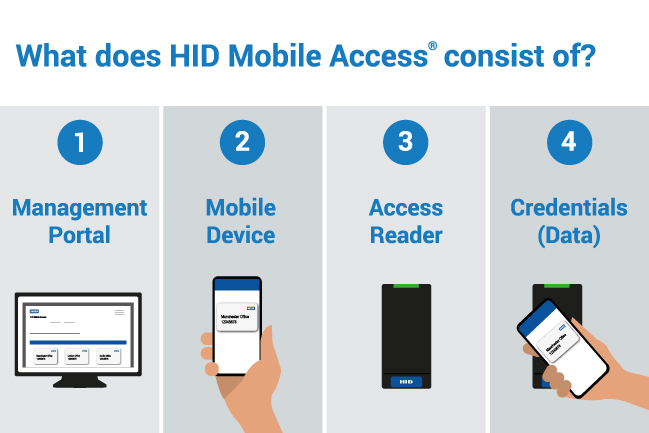 How to integrate mobile access control
Mobile access is easy to integrate. The process involves simply upgrading to a mobile-compatible door reader and purchasing mobile licences. Building owners can then control licences and instantly issue access permissions.
What are mobile access credentials?
Mobile credentials are an authentication method stored in a mobile device. Credentials verify an individual's identity.
Each mobile credential is unique to an individual, and credentials are encrypted to protect the identity of users.
How do licences work?
Administrators purchase licences and can start managing them instantly. Licences renew on a term-to-term basis, with billing recurring annually.
How is access managed?
Administrators can instantly grant, disable and manage permissions via the secure management dashboard. The portal is entirely remote, so managers can manage access from absolutely anywhere.
How do end-users set up mobile access control on their phones?
Administrators send end-users an invitation email. The invitation includes a link to download a mobile app and an invitation code. Once the end-user has downloaded the app, they must enter the invitation code in the app.
Registration is now complete and administrators can begin sending mobile credentials to the device, allowing users to gain access to the building.
Note that the registration process requires internet connectivity, via either mobile data or Wi-Fi.
Costs of mobile access control
Various components are necessary to produce access control cards, meaning there's a long list of costs involved. However, the costs associated with mobile access control are simple: upgrading readers, licences, and installation.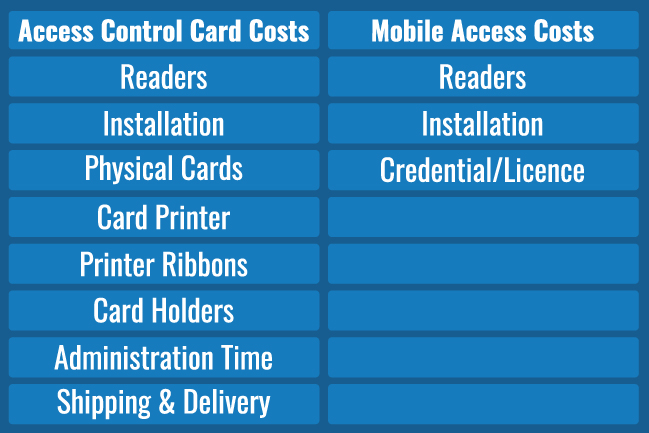 It's clear to see that switching to mobile access decreases organisational costs, with significantly fewer components required. By making the move to the cost-efficient access method, your organisation could end up saving a fortune in the long term.
FAQs and Common Misconceptions
Which mobile devices are compatible with mobile access control?
Most modern smartphones are compatible, including Android, iPhone, Huawei and Google Pixel. Smartwatches are also compatible, including Android and Apple watches.
What happens if a personal mobile phone isn't available?
Organisations have the option of providing staff members with business mobile devices for access purposes should an individual not have access to their own device.
Is switching to mobile access expensive?
No. The long-term costs of mobile access are significantly lower than those associated with access control cards and other legacy card technologies. Therefore, switching to mobile access can actually save you money.
Is upgrading to mobile access control time-consuming?
No. Implementing mobile access is very straightforward and, with our help, stress-free. The process consists of only a few steps, and your new and improved mobile access control system could be up and running before you know it.
Does a stolen device mean unauthorised access to the building?
No. Enabling a passcode or biometric authentication on the device such as facial recognition protects the contents of your device from thieves. What's more, an administrator can instantly revoke access from the device, enforcing the highest level of security management for the workplace.
Summary
Implementing a mobile access control solution firmly positions your organisation at the forefront of the digital world. With easy access, amplified security measures and endless benefits of mobile access control systems, it's clear to see why more and more organisations are choosing to make the switch. The dynamic access control method is undoubtedly the most effective in providing secure, optimised physical access.
Users can use the same device to gain access to the building, connect to WIFI, log on to the intranet, check emails and access other IT resources. A user's phone becomes all they need to conquer the day.
To launch your organisation into the digital age, book a discovery call with a member of our expert team. They will be able to discuss how exactly implementing mobile access can revive your access control system and open doors for you today.
Reference/Sources
https://www.statista.com/statistics/277125/share-of-website-traffic-coming-from-mobile-devices/