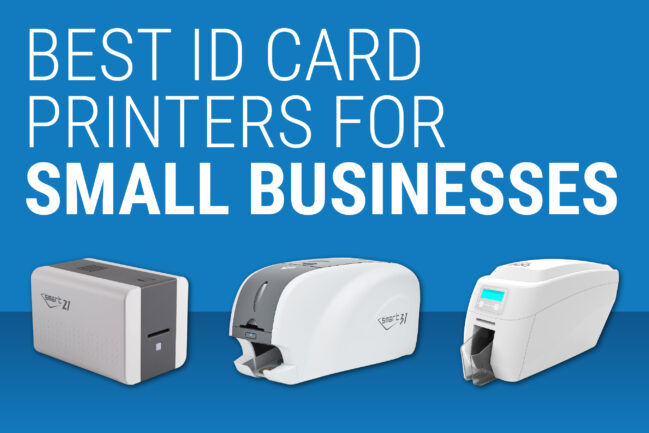 No matter how small or large your team is, you want to keep your workplace as safe and secure as possible. Especially post-COVID, lots of smaller businesses are bringing their ID card printing system in-house to make identifying staff simpler and more secure.
But which is the right ID card printer for a smaller business? Taking into account security, ease of use and cost we've narrowed down 3 of the best ID card printers for smaller organisations. This top 3 list comes with some quick product breakdowns to help you pick out the best ID card printer for your smaller business.
But first, let's map out your card printer requirements and understand why smaller organisations should consider investing in an ID card printing system.
Do small businesses need an ID card printer?
No matter the size of your business or organisation, issuing professional-grade photo ID cards is one of the best ways to stay safe and secure moving into 2022. This is particularly true given the unprecedented events of the past 2 years. Businesses of all sizes have been taking a closer look at how they can centralise their printing process and print ID or membership cards in-house as opposed to bulk printing through a third party.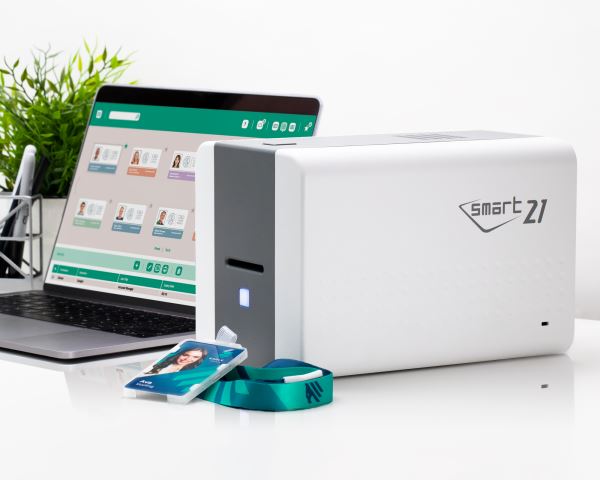 Accountability is now top of the agenda for every single business. As such, we've seen an increase in demand for ID card printers from smaller businesses that have never used one until now. Larger businesses are implementing rigid visitor management and track and trace procedures for visitors and staff alike, with smaller businesses now following their lead.
This is particularly true for businesses with keyworkers who must abide by adapted entry and sign-up procedures. For example, care home staff and other health workers in places where footfall needs to be carefully monitored.
---
What do small businesses need from an ID card printer?
With dozens of ID card printers on the market, choosing the right one for your needs might seem overwhelming. So let's consider, what does a small business actually need from an ID card printer?
These are the key things smaller businesses should keep in mind when considering an ID card printer:
Secure staff ID production
Ease of use
Affordable price
Low maintenance
Secure staff ID production
Lots of smaller businesses will want to produce simple, visual ID cards rather than printing onto more complex access control ID cards. Visual ID cards with professional-grade photo ID remain the most affordable way of easily adding an extra level of security to your business, and moving into 2022, it's more important than ever to be aware of who is in your building and if they have gone through the correct sign-in process.

Ease of use
It's likely smaller businesses will have a lower demand for ID cards, printing on a more ad-hoc basis, so staff will need a machine that's user-friendly and easy to set up while still offering consistently high-quality card printing and fast printing speed.
Smaller ID card printers typically provide a more stripped back single or dual-sided printing experience, printing ID cards quickly and professionally without much maintenance.

Affordable Price
Many smaller businesses won't require a retransfer ID card printer designed for printing on to access control cards, and they may have previously used a professional ID card printing service to produce photo ID cards with this level of detail and realised it isn't necessary for them. So when smaller organisations are purchasing an ID card printer, they look for products that are comparable in cost to a printing service.
Low Maintenance
We understand that smaller businesses may not necessarily have time to constantly maintain their ID card printing technology. So it's important to be able to turn on an ID card printer and produce photo ID or membership cards quickly and efficiently without hassle.
There are different types of ID card printers available, and it's important to choose one that is going to be suitable for your office.
Direct-to-card printers use dye sublimation printing technology to print on blank PVC cards quickly and professionally. With high printing speed, direct-to-card printers are usually well equipped for fast-paced smaller offices without compromising on print quality.
But now let's take a look at the 3 best ID card printers for smaller businesses:
(Please note all prices shown are excluding VAT)
---
ID card printers for small businesses
1. IDP Smart 21 Card Printer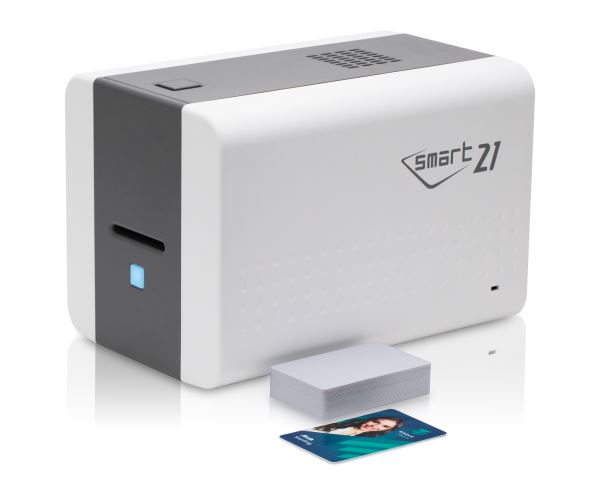 The IDP Smart 21 is the lowest cost ID card printer on the market with on-demand printing and an impressive printing speed of 24-second per full-colour card.
This single-sided ID card printer is hand-fed, meaning it doesn't need any input and output hoppers, saving office space and making it ideal for businesses who print cards on a more infrequent basis.
As a direct-to-card printer, the IDP Smart 21 delivers excellent print quality, great security options and is great for smaller office spaces, this ID card printer is small but packs a punch when it comes to ID card printing.
This is the best ID card printer for small offices that don't need a lot of technical features.
Price: £525.00
---
2. IDP Smart 31 Card Printer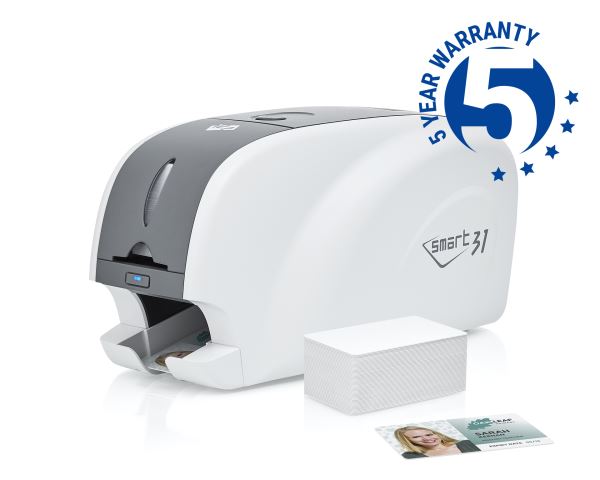 The IDP Smart 31 is one of the most popular ID card printers in the UK, with thousands sold every year. Quick, secure and upgradeable to dual side printing, the IDP Smart 31 is brilliant for when smaller businesses need to start bulk printing photo ID cards.
With an unrivalled 5-year manufacturers warranty and easy setup, you can print ID cards with confidence. The IDP Smart 31 uses IDP's FINE Imaging Technology to produce brilliant photo ID cards and can be fitted with a range of encoding options including magnetic stripe encoding.
This is the best ID card printer for small workspaces that want to switch between single and dual-sided printing access control ID cards with optional encoding enabled.
Price: £685.00
---
3. Magicard 300 Card Printer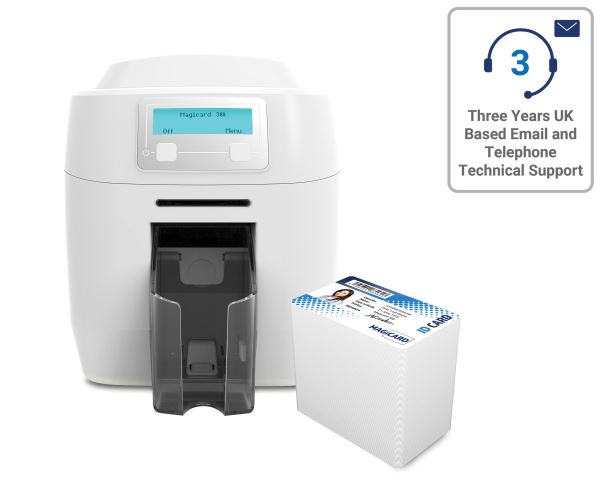 The Magicard 300 is the best selling ID card printer model in the UK. Made in Britain, Magicard is the only manufacturer to offer direct telephone support, and the Magicard 300 includes 3 years telephone support completely free of charge!
Brilliant for smaller businesses that have never bought or used an ID card printer before. The stand out selling point of the Magicard 300 is the free upgrade to dual side printing, allowing you to print on the front and back of the card in a single process.
This is the best ID card printer for high-quality dual-sided printing with optional smart card encoding options available.
Price: £765.00
---
Need more ID card printer buying advice?
We hope the above ID card printer reviews helped determine the best ID card printer for your small business. Whatever the size of your business, we have the printer for you with ID card printers from £525.
Each ID card printer from Digital ID comes with free tech support, delivery and card software worth over £250. However, if you feel you need an all-in-one ID card printing package, we have a range of beginners printer bundles available which include printer ribbon, cards and design software.
If you're responsible for the security of a smaller business or organisation, we know how important it is that you make the correct purchasing decision. So if you want to ask more about our card printing solutions, call our card printer experts on 0800 988 2095 for more advice.
*Disclaimer: All information and prices correct as of 25/11/2021*