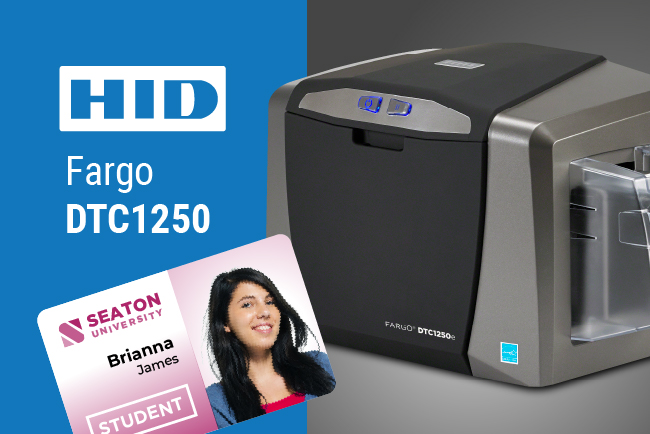 No matter how small or large your team is, you want to keep your workplace as safe and secure as possible. With this in mind, lots of smaller businesses use an ID card printer to make identifying staff simple.
But which ID Card Printer best suits a small business? Is it worth the investment? We reveal all.
Below, we take a look at some models that will meet the requirements of small businesses, balancing security, ease of use and of course cost. But first, let's consider why these smaller organisations should consider investing in an ID card printer.
Do small businesses need an ID card printer?
No matter the size of your business or organisation, issuing photographic ID is one of the best ways to stay safe and secure in 2020. This is particularly true given the unprecedented events of recent months.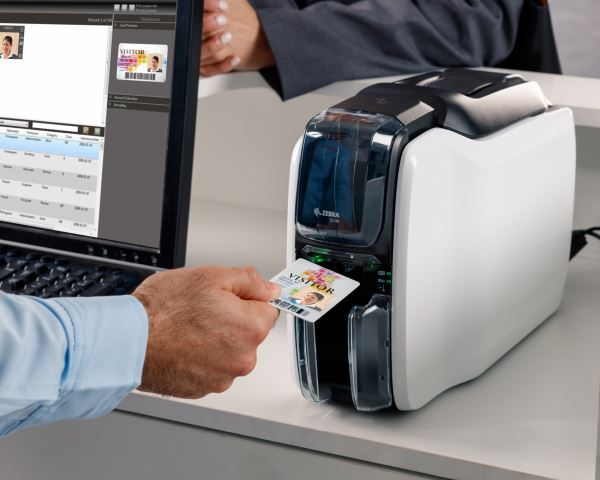 Accountability is now top of the agenda for every single business. As such, we've seen an increase in demand for printers from small businesses who have never used one until now. Larger businesses are implementing rigid visitor management and track and trace procedures for visitors and staff alike, and small businesses are now following their lead.
This is particularly true for businesses with keyworkers who must abide by adapted entry and sign-up procedures. For example, care home staff and other health workers. Visual ID helps reduce the risk of transmission by ensuring certain groups are identified easily.
---
What do small businesses need from an ID card printer?
With dozens of ID card printers on the market, choosing the right one for your needs might seem overwhelming. So let's consider what a small business actually needs from an ID card printer?
A few of the things small businesses will require from their ID card printer include:
Secure staff ID production
Membership card production
Ease of use
Affordable price
Secure staff ID production
Lots of smaller businesses will want to produce simple, visual identification rather than printing on to access control. Visual ID remains the most affordable way of adding that extra level of security to your business, and in 2020 it's more important than ever to be aware of who is your building and if they have gone through the correct sign-in process.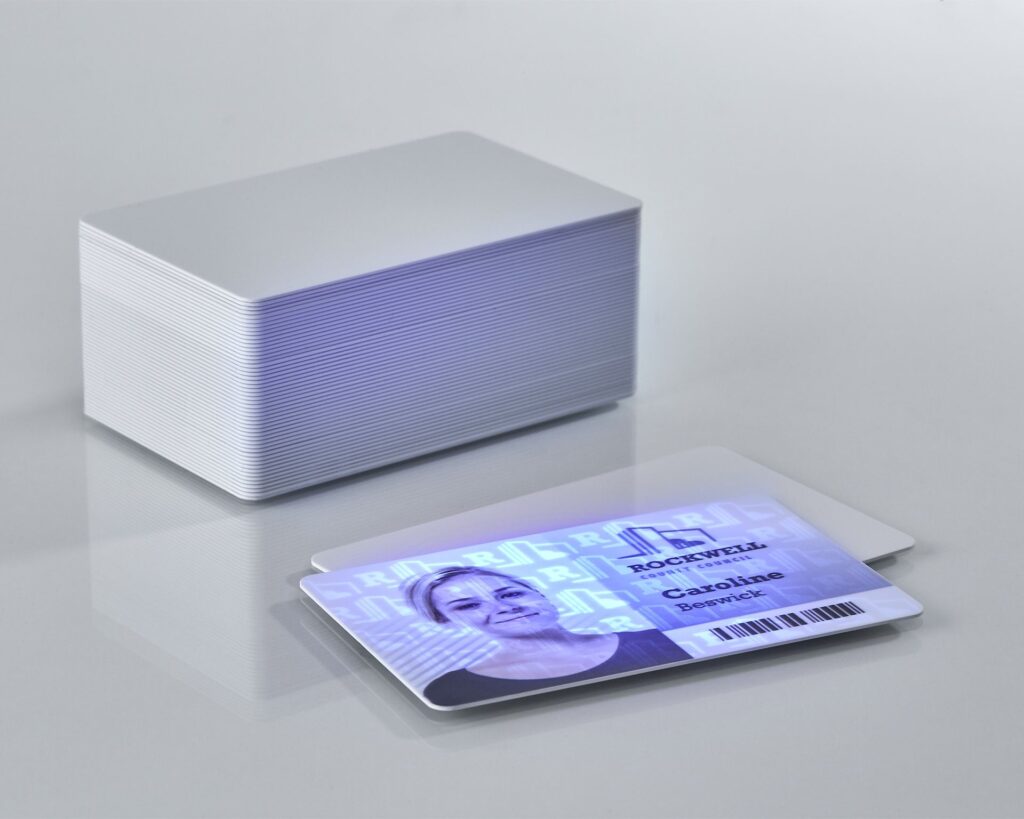 Membership card production
Lots of smaller businesses such as gyms, sports clubs and other clubs have hundreds of members, each of which will require some form of ID. This doesn't necessarily have to include a photo, but keeping tabs on who is on-site and when will become crucial as businesses implement track and trace initiatives. Membership cards are the best way of doing this.
Ease of use
It's likely smaller businesses will have a lower demand for cards, so the printer is likely to be operated on an ad-hoc business. This means that staff need a machine that's user-friendly and easy to set up.

Affordable price
Many small businesses will not require a retransfer printer that's capable of printing on to access control cards, and they may have previously used an ID card printing service to produce identification. This means when they are looking to purchase a printer, they will be looking for products that are comparable in cost to using a printing service
With all this in mind then, which ID card printers are suited for life in a small business?
---
ID card printers for small businesses
1. Magicard Pronto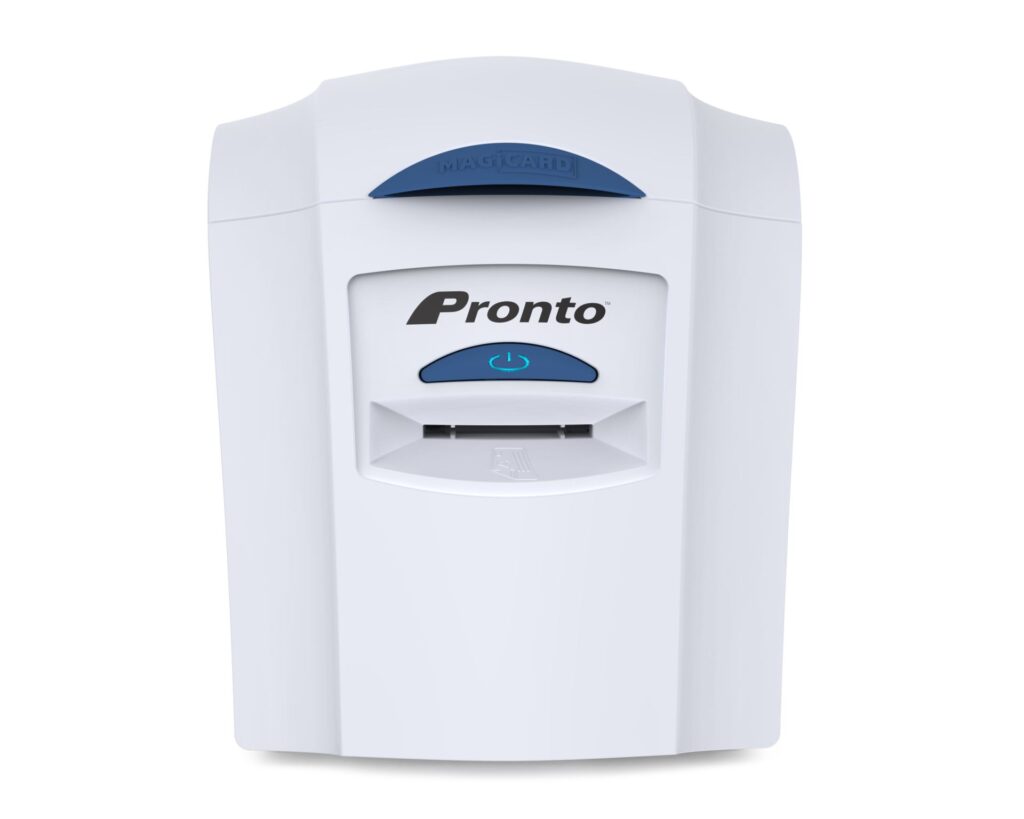 £455.00

 ex. VAT
£546.00

inc. VAT
The Magicard Pronto is certainly not this British brand's most advanced product, but its extreme remains extremely affordable and has a reputation for outstanding reliability. This means it remains a popular and sensible choice for small businesses that require a simple form of photographic identification.
It's handfed, meaning there are no input and output hoppers to handle larger quantities of cards, but for small organisations wishing to produce ID cards for a small amount of staff, it's an excellent choice.
Magicard's advanced HoloKote secure watermark is standard too. This transparent watermark can be added to the cards during printing and significantly reduces the likelihood of a card being cloned; counterfeit cards are immediately identifiable when they are put under UV light.
---
2. Fargo DTC1250e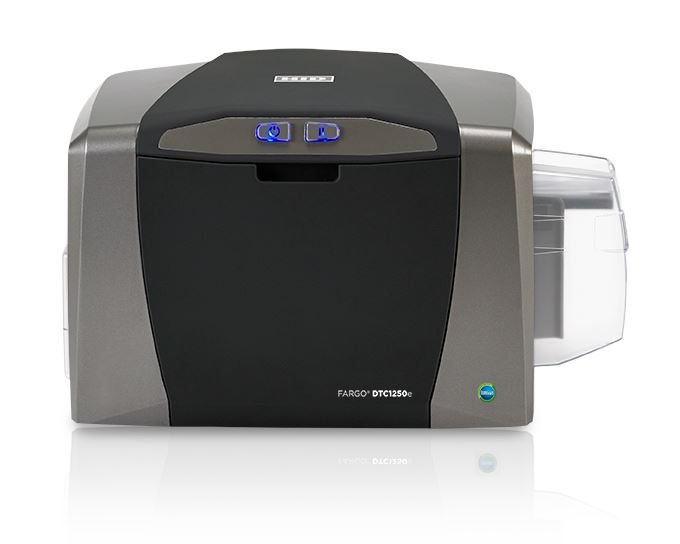 £674.95

 ex. VAT
£809.94

inc. VAT
The Fargo DTC1250e is a fantastic choice for any small business that wants to produce full-colour or monochrome ID cards. It has been designed to be easy to set up and use.
For example, its all-in-one ribbon cassette ensures that changing consumable parts is as straight forward and uncomplicated as possible.
Just because it's affordable doesn't mean it's a slow printer either: Should you need to, you can print up to 225 full-colour cards in an hour. That should be ample for the requirements of most small-to-medium-sized businesses.
---
3. Magicard 300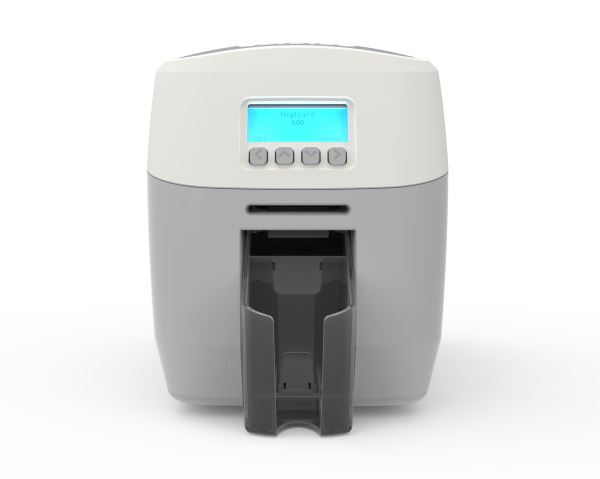 £699.00

 ex. VAT
£838.80

inc. VAT
FREE UPGRADE TO DUAL-SIDED PRINTING ON ALL MAGICARD 300 MODELS
The Magicard 300 is an extremely user-friendly printer that has several stand-out security features. It features a clever 'Digital Shredding' tool that scrambles personal data once a card is printed. If the printer is unfortunate enough to be stolen, then no data can be retrieved from the printer.
This is extremely useful for businesses where avoiding a data breach is of paramount importance. It was developed to ensure that the printer is compliant with GDPR legislation.
Aside from destroying potentially sensitive data, the Magicard 300 features HoloKote as standard too, just like the Pronto. It is only visible under a certain type of light, but significantly reduces the risk of cloning and counterfeit cards becoming an issue. This is great if for small businesses wishing to differentiate staff ID cards from membership cards.
---
4. Zebra ZC100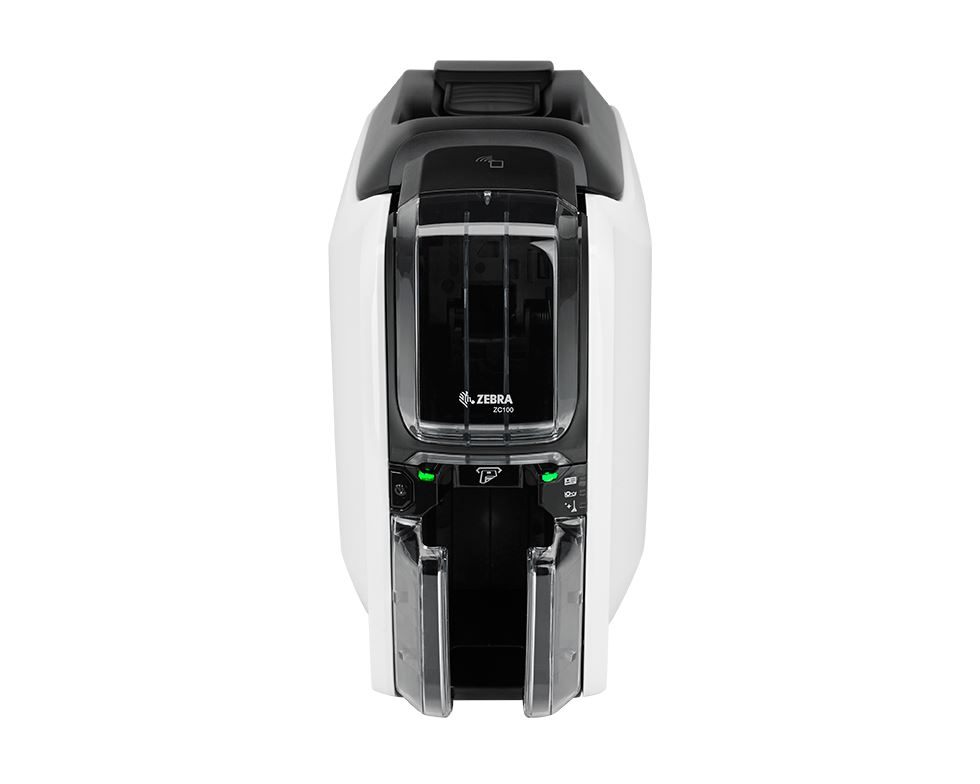 £732.95

 ex. VAT
£879.54

inc. VAT
The Zebra ZC100 might be the company's entry-level ID card printer, but that doesn't stop it being a great choice for those that want a painless, easy-to-use ID card printer.
Featuring a 'load-and-go' style ribbon, it is exceptionally user-friendly if you're new to the world of ID card printing.
High-resolution printing means your cards will be crisp, clear and consistently high quality.  The ZC100 does not offer watermarks or holograms. But if you only plan to print simple, plain cards for photo identification, that shouldn't be a problem.
---
5. Evolis Zenius
£795.00

 ex. VAT
£954.00

inc. VAT
The Evolis Zenius great choice for those that don't need to produce particularly large volumes of cards. It's able to print up to 120 full-colour cards per hour – more than enough for the majority of small businesses that may need to print batches of cards for memberships and loyalty programs.
---
6. IDP Smart 31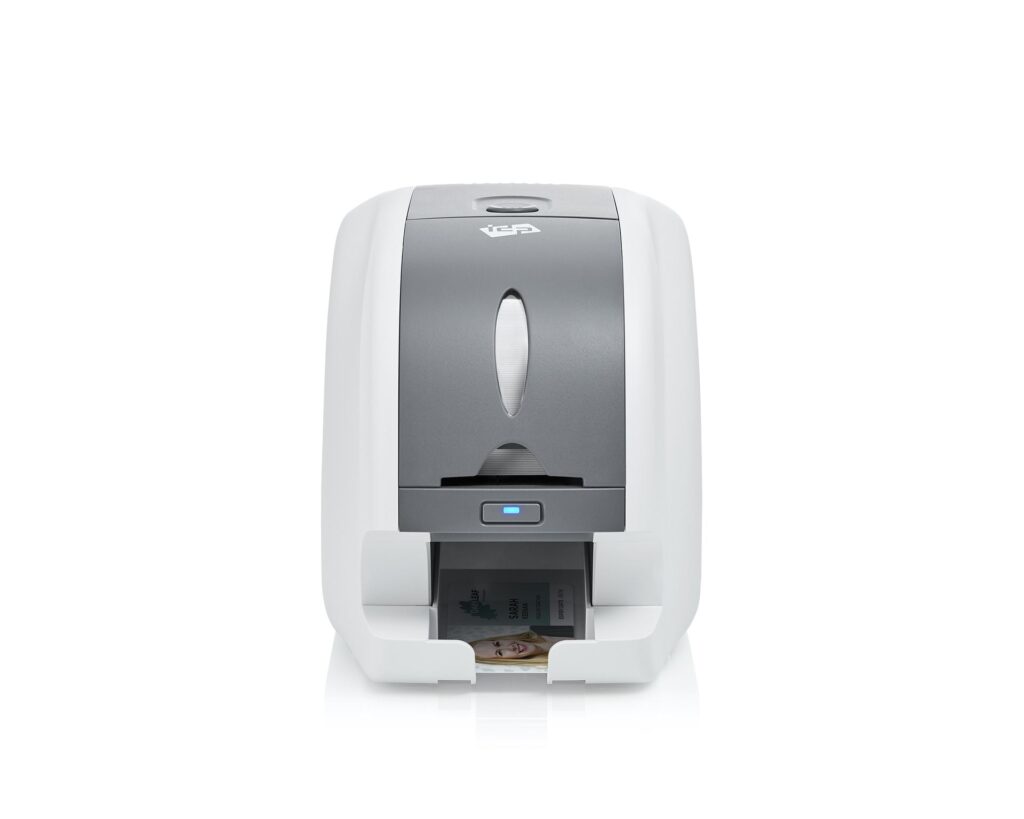 £599.00

 ex. VAT
£718.80

inc. VAT
The IDP Smart 31 is a great desktop printer that is affordable, user-friendly and exceptionally reliable. All Smart 31 printers feature a five-year manufacturer warranty. For businesses wishing to add extra security, the Smart 31 features SmartMark.
Smartmark is similar to Magicard's HoloKote and applies a transparent overlay panel to the top of ID cards. Unlike HoloKote, however, it is visible in all lights. SmartMark can also be customised to include text, imagery or a logo.
---
7. Coming soon: EasyBadge 2.0 Printer bundle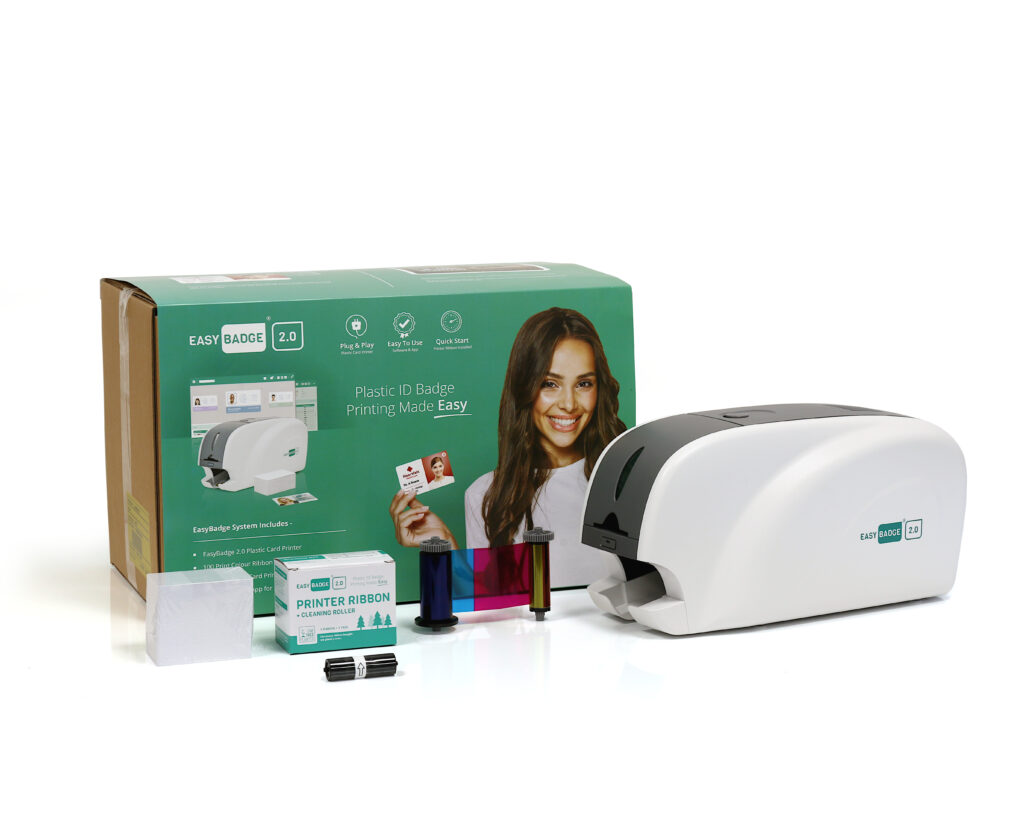 EasyBadge 2.0 is arriving imminently, so we thought we'd include it on this list ahead of launch. Why? In our opinion, it's one of the best ID card printing bundles for small to medium-sized businesses. The bundle features all you need to start printing ID cards quickly, efficiently and affordably. The EasyBadge 2.0 bundle will include:
EasyBadge 2.0 card printer
EasyBadge Lite software
Printer ribbon
100 eco-friendly cards to get you started
In the meantime, you can find out our best ID card software page has some more info on the latest range of EasyBadge software – a perfect program for creating, designing and printing ID cards with one of the ID card printers mentioned above.
---
Need more ID card printer buying advice?
If you're responsible for the security of a small business or organisation, we know how important it is that you make the correct purchasing decision.
We'll help you find the security and identification solution that meets your needs best. Give our experts a call on 0800 988 2095 and we'll find the right product for you.
*Disclaimer: All prices correct as of 24/08/2020 and are subject to change