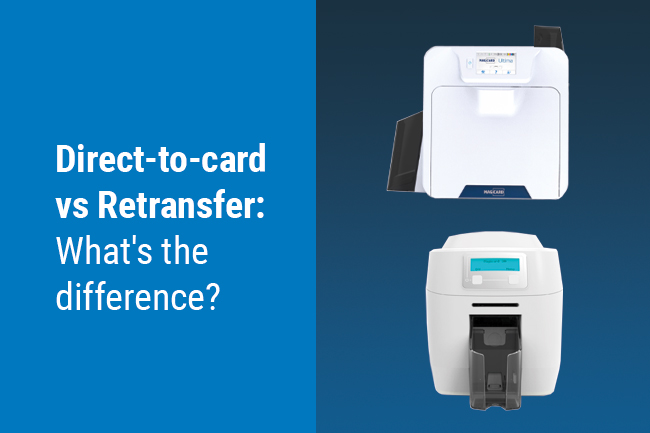 What's the difference between a direct-to-card and retransfer printer? It's one of the most common questions we get asked here at Digital ID. In this guide we'll give you an overview of the key differences and have included a handy table for reference.
Direct-to-card vs retransfer: What's the difference?
The difference between a direct-to-card and retransfer ID card printer lies in the way they print your ID card design onto the card. Direct-to-card printers use an ink ribbon and printhead to print directly onto the card.
Conversely, retransfer printers use a print ribbon to print onto an overlay film. The overlay film then adheres to the card with a mixture of pressure and heat. Sound complicated? It isn't really! Have a watch of our video to find out exactly how the processes work or continue reading for the full picture.
Direct-to-card printing process explained
These are also known as DTC or dye-sublimation printers. They are the most common form of ID card printers. Their printheads contain thousands of pixels that imprint the ink directly onto ID cards.
One drawback of this is the tiny white border they leave around the edge of the card – it can be frustrating if you've got a colourful design or want your card to look as professional as possible. Plus points of direct-to-card printers include their capabilities of printing large quantities of cards in a short amount of time. They are also more cost-effective to purchase in the first instance.
Retransfer printing process explained
Retransfer printers are a newer technology. Their two-step process involves printing your ID card design onto an overlay film. This is then adhered to the plastic card itself.
The benefits of using a retransfer printer include full card coverage (no pesky white border), their ability to print onto access control cards (because the printhead doesn't come into direct contact with the card) and the fact these cards are better at withstanding wear and tear.
The key differences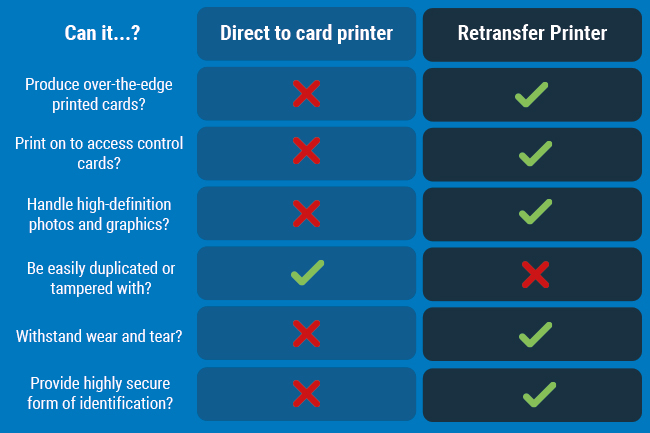 For easy reference, we've put together a little table to highlight the key differences. This should give you a good indication of the type of printer you require and which will fit the bill best.
You can find our complete range on our ID card printers page or, if you'd like more tips before purchasing a printer, we've got an ID card printer buying guide that should give you some more helpful pointers.