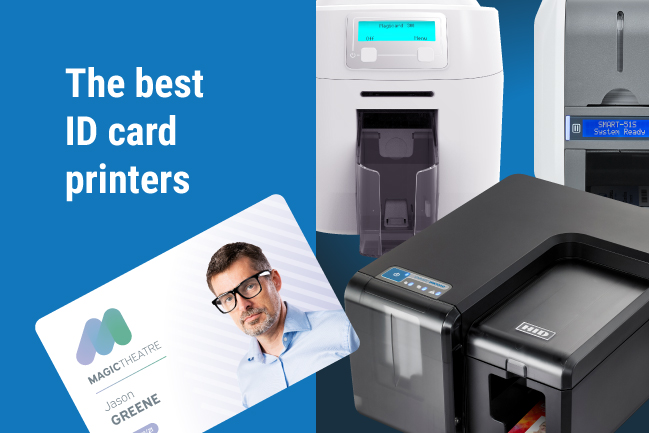 Are you looking for the best ID card printer for your business in 2020?
In collaboration with our team of card printer experts, we've collated 10 of the best ID card printers currently available that suit a range of different needs and organisations.
We've taken things such as print volume, price point and versatility into account and have considered some key reasons you'd pick one printer over another.
---
1. Magicard 600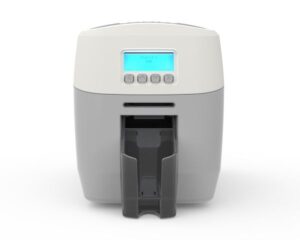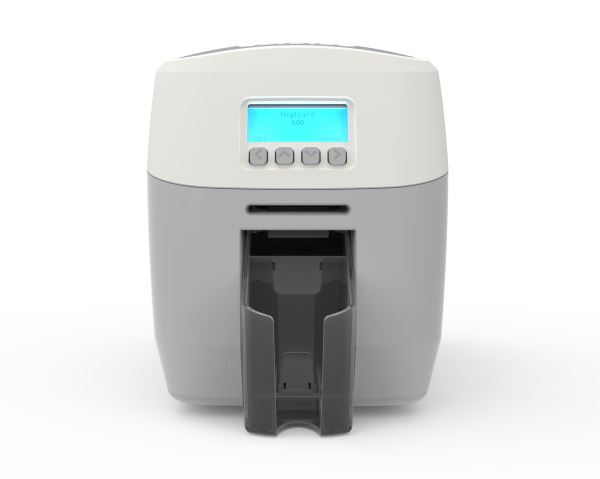 £1,045

 ex. VAT
£1,254.00

inc. VAT
SPECIAL OFFER: FREE UPGRADE TO DUAL-SIDED PRINTING ON ALL MAGICARD 600 PRINTERS. 
The Magicard 600 is one of the newest direct-to-card printers on the market and offers a great combination of high-resolution printing and impressive printing speeds. Being a Magicard means it offers extra security: they all come with HoloKote as standard.
This prints a transparent image into the overcoat panel, resulting in a secure watermark that can only be seen under special UV lights. Magicard's One Tree Planted scheme also means it's a great option if you're looking for an environmentally sustainable printer to buy.
The 600 also benefits from a function that scrambles sensitive information. This means it's impossible for the Magicard 600 to cause a data breach; an important consideration for many organisations as data protection becomes a top priority.
It's covered by a three-year manufacturer warranty and, with these numerous security options, it'll still be ahead of the game in 2023. The best bit? A special offer currently means all Magicard 600s will come with a dual-sided printing add-on.
The option, which usually costs buyers extra, will be automatically added to your order. This will give you more flexibility should your needs change over the coming year. All in all, this machine is a great fit for those who are looking for a medium to high-volume print solution, eco-conscious buyers or current Magicard users potentially upgrading from a previous Rio Pro model or the Enduro3e.
---
You might be interested in… Magicard 300 vs Magicard 600: Which one is for you?
---
2. IDP Smart 51 Secure GDPR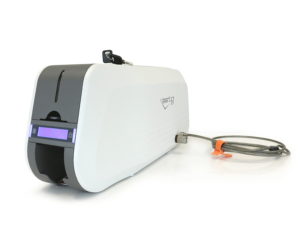 £794.00

 ex. VAT
£952.80

inc. VAT
The IDP Smart 51 is already a capable card printer. It can print monochrome and full-colour cards and is available with a range of encoding options.
One of the simplest ID card printers to use, it benefits from a 10% increase in printing speed compared to its predecessor makes it a good choice for high-volume needs too.
Based on a seven-hour working day, you'll be able to produce approximately 5,000 monochrome cards or 1,475 full-colour cards. So, how do you improve what is already a very sound machine?
By making it more secure of course! The IDP Smart 51 GDPR Secure adds several security features that aren't currently found on the majority of other printers. For example, it's got a lockable top lid. It's a simple modification, but it makes all the difference.
If a printer is being used in an environment where stopping unauthorised people accessing cards and printer ribbons is paramount. Ribbons contain sensitive data and the 51 secure GDPR reduces the risk of a data breach significantly. It also comes with a secure Kensington Lock which ensures the machine itself can't go on a walkabout with a light-handed thief too.
SmartMark technology also adds a visual layer of security to the cards themselves thanks to a watermark on a transparent overlay panel.
---
3. Fargo HDP5000 retransfer printer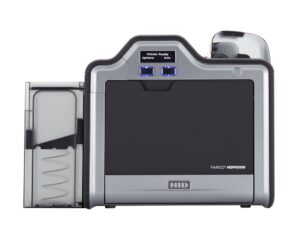 £1,395.00

 ex. VAT
£1,674.00

inc. VAT
The clue is in the name: HDP stands for High Definition Printing, and the Fargo HDP5000 is the printer of choice for those that want class-leading card quality without paying too much. The high-definition cards this printer is capable of printing comes courtesy of its retransfer technology.
Retransfer ID card printers are best for those that need to produce high-security ID cards that will last. This is because they can print on smart cards' uneven surfaces. Fargo's superb reliability score and lifetime print head warranty mean that you needn't worry about potential issues and, thanks to the HDP5000's design, changing the printer ribbon and carrying out a cleaning cycle is a doddle too.
Fargo printers are great for those looking for security. Additional encoding modules are available that allow you to use the HDP5000 to encode cards including HID proximity, iClass and Indala. among others. A full-colour card takes 29 seconds to print, making this a machine that will suit medium-to-high print runs.
---
Don't forget to check out… Fargo HDP5000 vs Magicard Ultima: Retransfer printers go head to heAd
---
4. Magicard Pronto

£455.00

 ex. VAT
£546.00 

inc. VAT
The Magicard Pronto isn't the newest or most impressive ID printer on the market, but it is lightweight, compact, and still more than capable of meeting the needs of small businesses in 2020. Its attractive sub £500 price makes it even more appealing to those that need to create simple, non-technology cards on an ad-hoc basis.
We'd recommend this as an option for ID card printing beginners, who are maybe looking to print membership, loyalty or discount cards. You can, of course, produce ID cards, but the lack of input and output hoppers will make things difficult if you're producing lots of cards on a regular basis.
Magicard's HoloKote visual security feature is available across its range, the Prono being no exception. You can pick one of four watermark designs that can be printed onto your cards on an overlay panel, helping you to easily identify fraudulent copies.
---
Looking for more specific advice? Here are some great ID card printers for small businesses
---
5. Zebra ZC300
£732.95

 ex. VAT
£879.54

inc. VAT
The Zebra ZC300 is an affordable and extremely versatile ID card printer that has been designed to be as easy to use as possible. It's also a great choice if you're looking to print high volumes of cards: 200 full-colour cards can be printed per hour, while an impressive 900 can be produced if they are monochrome. Despite being a traditional direct-to-card printer, the card quality is vivid and bright.
It's one of the few ID card printers to feature a full-colour display too, making tasks such as cleaning cycles and changing the ribbon extremely easy thanks to intuitive instructions. The ZC300 also features a clever data feature that allows the user to encrypt sensitive data such as account numbers and names during printing. Able to print on both CR80 and CR79-size cards, the Zebra ZC300 weighs in at 4kg, making it exceptionally practical to transport too, should you need a portable machine.
---
6. Datacard CD815
£675.00

 ex. VAT
£810.00

inc. VAT
The Datacard CD815 is the latest generation of direct-to-card machines following on from the popular SD range. It is one of the fastest DTC badge printers on the market and is able to produce 210 full-colour cards per hour.
Durable and sturdy construction means it's able to put up with lots of wear and tear too, although, in the unlikely event of an issue, the printer features a 36-month warranty and the print head is covered for 30 months.
---
7. Evolis Primacy
£1,035.00

 ex. VAT
£1,242.00

inc. VAT
An increasingly popular choice for printing staff and student ID cards, the Evolis Primacy is able to print 225 full-colour cards per hour. This makes it a great choice if you will require a printer capable of high volumes. That means that based on a 35-hour working week, you can print up to 7,000 cards if you opt for a single-sided printer or 4,900 cards for the dual-sided option.
With its 300×600 dpi customisable resolution, it also printers cards to high-quality standards too. Evolis offers the Primacy with a three-year warranty on both the printer itself and its print head, meaning should you encounter a problem, you'll be covered for quite a while.
As a manufacturer, Evolis takes its commitment to the environment very seriously, as does Digital ID. As a result, the Primacy is an "eco-design" and the consumables such as ribbons have been carefully produced using as many sustainably sourced products as possible.

---
8. Fargo DTC1250e
£674.95

 ex. VAT
£809.94

inc. VAT
The Fargo DTC1250e might not be able to produce the same quality of card the HDP5000 retransfer printer we mention above can, but it is still a most excellent choice for small businesses, clubs and organisations that have a relatively low-volume card printing requirement.
DTC stands for direct-to-card, but that doesn't mean you have to compromise on print quality. It can still create vibrant, photo-like images and crisp and clear text.
It takes just 16 seconds to print a full-colour card and, like all ID card printers, it is set to print on CR80-sized cards. That said, it is also capable of printing on CR79-sized cards too and, being an HID Fargo product, can be equipped with a range of encoding modules including magstripe, MIFARE and Proximity.
---
9. Magicard 300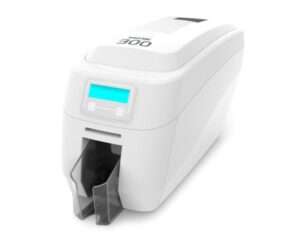 £699.00

 ex. VAT
£838.80

inc. VAT
SPECIAL OFFER: FREE UPGRADE TO DUAL-SIDED PRINTING ON ALL MAGICARD 300 PRINTERS.
The Magicard 300 is another solid choice from a manufacturer that takes security seriously. It's designed to offer reliable ID card production and produce durable cards, although, with slightly lower print speeds than the 600, it's a more affordable machine.
Featuring high-definition image quality, a three-year warranty and a free dual-sided module as standard, it's one of the best choices for organisations with medium volume requirements. Like the 60-0, however, this less expensive model still features a digital shredding function and Magicard's custom HoloKote.
These two features make data breaches impossible and reduce the risk of cloned and counterfeit cards. With custom Holokote, you can create up to 10 personalised holographic designs that can be made up of text, images or a logo.
---
10. Coming soon: EasyBadge 2.0 ID badge printer bundle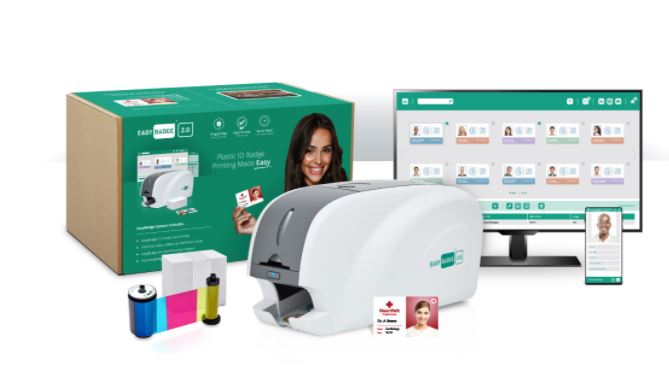 Prices TBC
In anticipation of its launch, we're including the EasyBadge 2.0 bundle in our 2020 list of ID card printers. One of the most affordable and reliable packages available, the EasyBadge 2.0 system features everything you need to start printing ID cards quickly and reliably – including software.
An innovate smartphone application has been developed to take the stress out of ID photography and also allows you to update and amend your card database remotely. Perfect for printing staff, visitor and student ID cards, it's likely to be one of the most popular choices this year. We'll bring you all the details as soon as it is available – watch this space!
---
Need more help choosing?
The printers above should have all things covered in terms of print volume, price point and security options. However, we appreciate buying an ID card printer is something you'll want to get right.
If you are a small or medium-sized purchasing your first printer, we have just the post for you. Here are some great ID card printers for small businesses.
If you still need a hand, our experts are ready to advise and assist you. Give us a ring on 0800 988 2095 for the best advice and guidance today.
Don't forget… ID card software
Software isn't automatically included when you buy a printer. To sit alongside our best printers, we've picked out our best ID card software too.
---
*Disclaimer: All prices correct as of 09/09/2020 and based on single-sided printers without additional printer options*