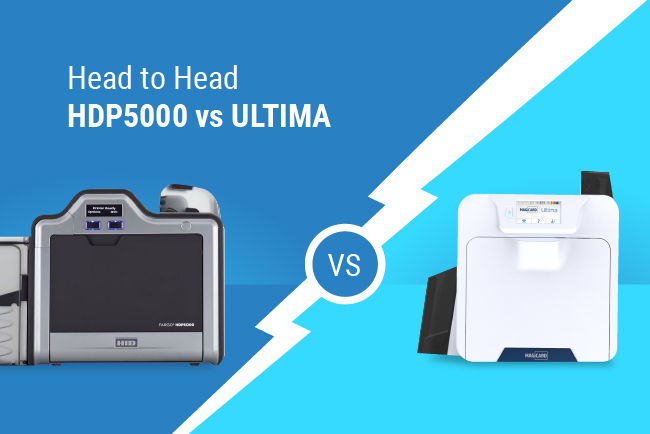 In our latest comparison, we take a deep dive comparison between our two most popular retransfer printers. We're talking about the Fargo HDP5000 and the Magicard Ultima.
As a trusted seller of both these products, we're here to provide a comparison between two of the most popular retransfer printers on the market, which should help you make the right decision when it comes to your ID card printing needs.
---
Fargo HDP5000 vs Magicard Ultima
The Fargo HDP5000 and Magicard Ultima are both retransfer printers and designed to produce high-quality printing. If you're unsure whether a retransfer printer is the machine for you, our retransfer printer guide has more information on who and why you should choose them.
In short, they offer a more durable, long-lasting and high-quality card than direct-to-card printers are capable of producing.  So, let's compare the two side by side.
---
1 Printing quality and speed
Print quality and speed are two key factors you'll be considering when comparing printers. The good news is both these machines have impeccable card-printing abilities. Both machines offer photo-quality 300dpi print results, with 256 shade colour depth level to print a wide spectrum of colours.
The HDP5000, however, does provide faster print speeds, with up to 150 cards per hour (full colour), whereas the Ultima produces a (still impressive) 100 colour cards per hour. The HDP5000 and Ultima have similar input and output capabilities making either an ideal tool for large-scale card production.

Both come fitted as standard with a 200-card output hopper. The Ultima comes with a 200-card input hopper as standard too, meaning you won't need to worry about running out of miss-matching hopper loads while printing. While the HDP5000 has just a 100-card input hopper as standard, this can be upgraded to a 200-card unit.
All in all, both machines produce professional-looking quality ID cards, with slight variations in speed and output. With top-notch cards offered by both machines, in this instance, it will come down to whether you could benefit from the extra speed capabilities of the Fargo.
---
You might also like… Retransfer ID card printer | Your complete guide
---
2. Encoding and security options
Both printers can be specified with a range of encoders that program a range of proximity cards to meet your access control requirements. Being retransfer printers makes them the best choice for this kind of activity – because the printhead does not come into direct contact with the card, there's no risk of the intricate raised edges on access control cards causing damage.
The Ultima can use extra smart card encoders for more niche and precise configurations. However, the encoding abilities of the HDP5000 are so strong, most organisations don't even need to look up whether their access control system will be compatible; it simply will be. For reference, however, the table below gives you a full list.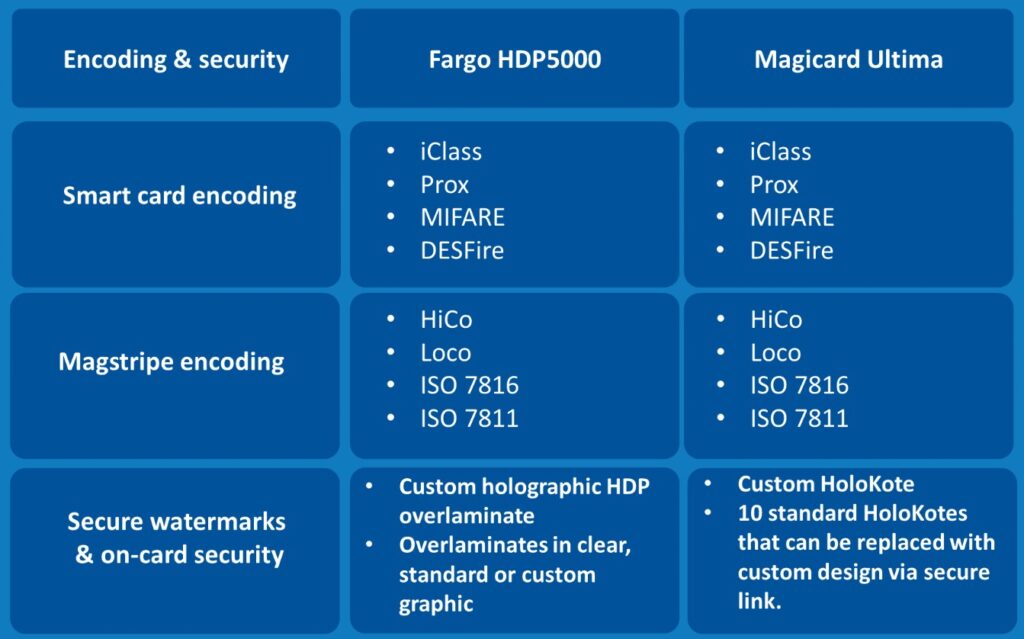 Both machines encode HiCo and LoCO magstripe cards and offer a wide range of options for customisation when it comes to smartcard encoding. Both are capable of encoding and reading iClass, Prox, MIFARE and DESFire products.
Each printer also has holographic overlaminate printing features which not only protect your cards from wear and tear but also card cloning and forgery attempts.
The Ultima uses Magicard's advanced HoloKote card security system, which is a built-in watermark that is printed across the entire surface of a card. It comes with 10 watermarks as standard, and any of these can be replaced by your own custom design or company logo through Magicard's secure online delivery method.
There's really not much between the two when it comes to security. These printers can handle the demands of most businesses and organisations, with both being specifically built to produce highly secure ID cards.
---
3. Connectivity, compatibility and usability
It's important before purchasing a printer to make sure it is compatible with your computer operating system.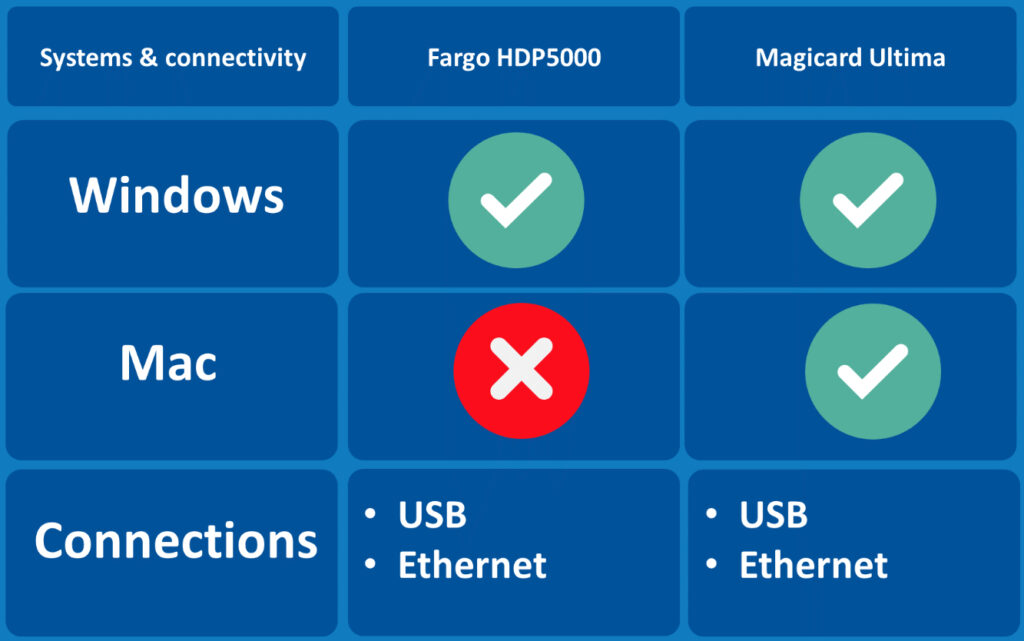 Both printers have user-friendly interfaces and are Windows compatible, ideal for most office environments. One benefit of the Ultima is it is also Mac-compatible. This is beneficial for use in more specialised industries where these systems as standard.
The HDP5000 is only Mac-compatible with certain operating systems – OSX v10.4 to v10.6 to be exact. If you are planning to use a Mac to operate your printer, the Magicard Ultima is the better choice.
These printers also have USB and Ethernet compatibility as standard to ensure ease of use and set-up. In terms of usability features, the HDP5000 has an easy to navigate menu for quick settings configuration. It's the Ultima that arguably comes out on top here though; it's one of the few ID printers to get an intuitive touchscreen interface.

---
4. Appearance and dimensions
These machines are well-suited to life in an office and don't take up a huge amount of desk space. The HDP5000 is smaller and better suited for a smaller space.
However, its size is understandable when looking at features such as the smaller input hopper. It's worth noting that with the addition of a dual-sided module, this printer is a similar width to the Ultima.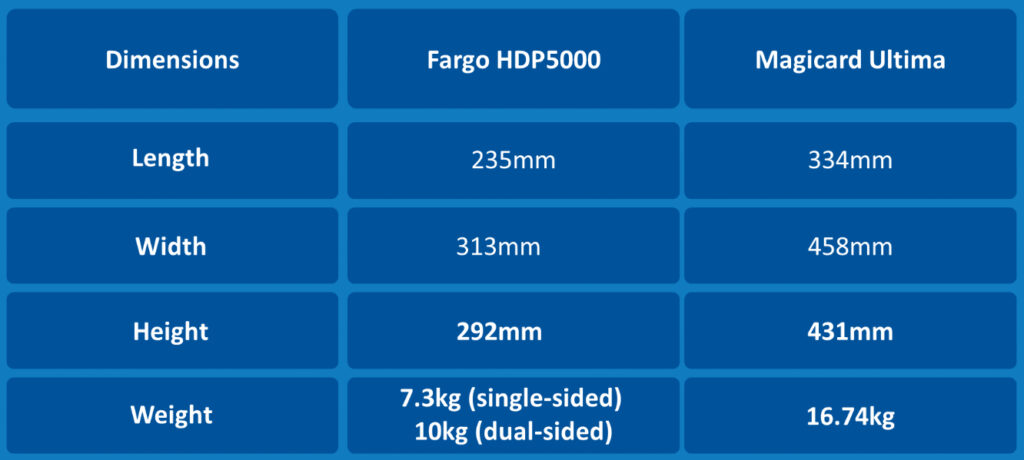 Whereas the Ultima is a larger machine, it is still easy to position in an office space. With its added features such as the touchscreen, the size is offset by the benefits of these features.
While there is a size difference, both printers are larger than your average direct-to-card printer. If your top priority is high-quality cards, this shouldn't be an important consideration. However, you won't want to be moving these printers around too often. They both clock in at over 10kg in dual-sided form.
---
Don't forget to read… Retransfer ID card printer FAQs | Customer queries answered
---
5. Reliability and warranty
Being retransfer means that both the HDP5000 and Ultima feature lifetime warranties on their printheads; yet another plus point this technology offers. It's because the printhead is much less likely to be damaged than a direct-to-card printer.
Other components on both machines are covered by a three-year warranty, although you're unlikely to be relying on it; these are among the most reliable printers currently available.
Should you run into difficulties, our partnerships with both manufacturers mean our technical support team is trained directly from Fargo and Magicard themselves. This makes them a great source of useful knowledge to call upon in the rare event you experience issues.
---
Verdict – Fargo HDP5000 vs Magicard Ultima: Which one is right for you?
Looking at both the Fargo HDP5000 and Magicard Ultima there are a lot of positives; especially how much more beneficial a retransfer printer can be to your organisation long term.
For those looking to upgrade from a printer from these respective brands, the choice might be easier. For others, however, you really do have to examine the features above and decide which your business will benefit from most. Remember, if you still need advice, don't hesitate to speak with one of our printer experts on 0800 988 2095.