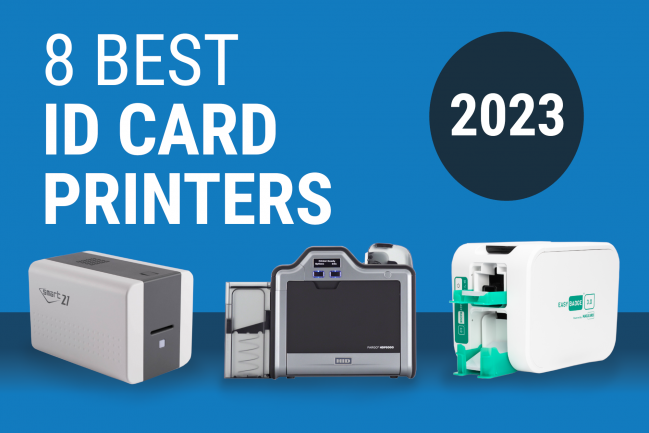 Are you looking for the best ID card printer for your business or organisation in 2023?
With ID card printing in high demand, our team of card printer experts have put together a list of the best ID card printers on the market to suit a variety of business sizes and budgets.
We've explored print speed, volume, affordability and versatility to put together a list of the top ID card printers for businesses, manufactured by companies you can trust.
Whether you are a small business looking to start in-house ID card printing or looking to upgrade your current system, we've got the right ID card printer for you.
*Please note that this post was updated by our team on 10/08/2023.*
(Please note all prices shown are excluding VAT)
---
1. EasyBadge 3.0 ID Card Printer Bundle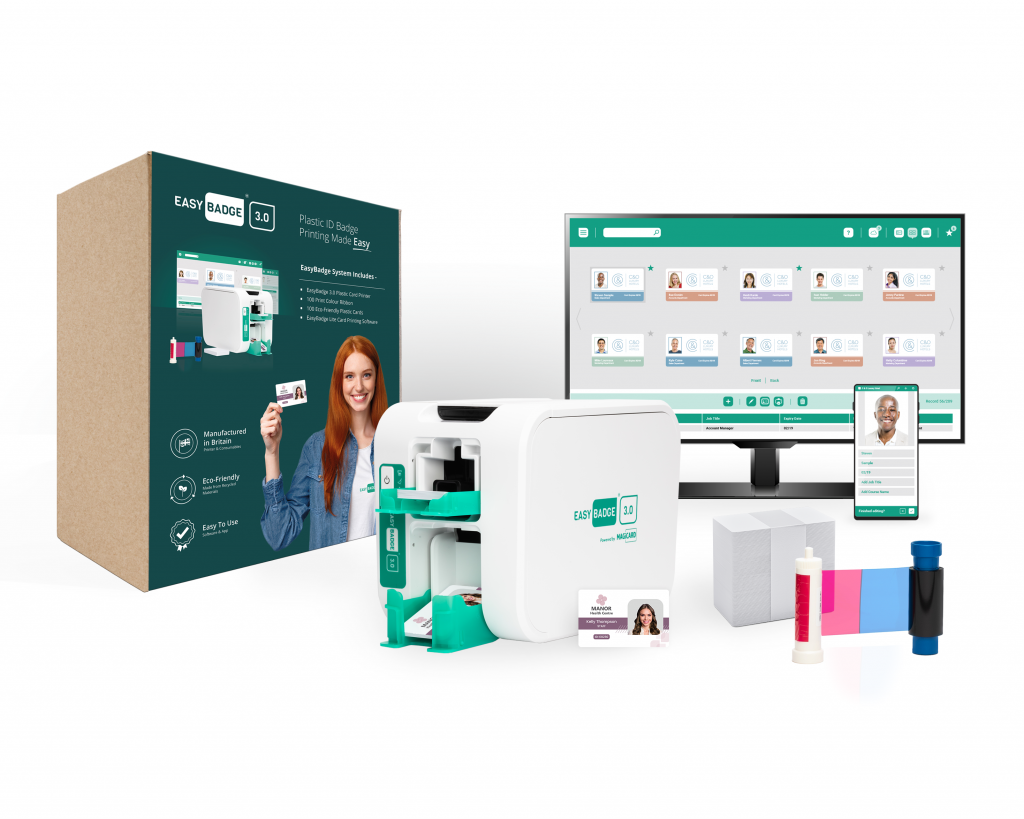 Launched in 2022, the EasyBadge 3.0 is the complete solution for anyone looking to print photo ID cards.
Intuitive and straightforward to use, the EasyBadge 3.0 bundle prints cards quickly and reliably while introducing several eco-friendly benefits to your ID card printing system.
The printer is made in Britain, ensuring lower mileage is required to reach its final destination and, in turn, less fuel is required. The printer is also made up of over 75% recycled materials and the company pledges to plant a tree for every EasyBadge 3.0 printer bundle that is sold.
What's more, the bundle comes with an innovative smartphone application that has been developed to take the stress out of ID photo capture. The app lets you update and amend your card database remotely – perfect for helping businesses integrate flexible working and reduce touchpoints in the workplace. Whether you need a centralised ID card printing service for staff, students or guests, it's one of the best choices of the year.
Best bits:
Everything you need to print ID cards in one box
Comes with an innovative smartphone app
A tree planted for every EasyBadge 3.0 printer we sell
Perfect for:
This is the best ID card printer for first-time users with everything you need to get started in one card printer bundle.
Price: £750.00
---
2. Swiftpro K30 Retransfer Card Printer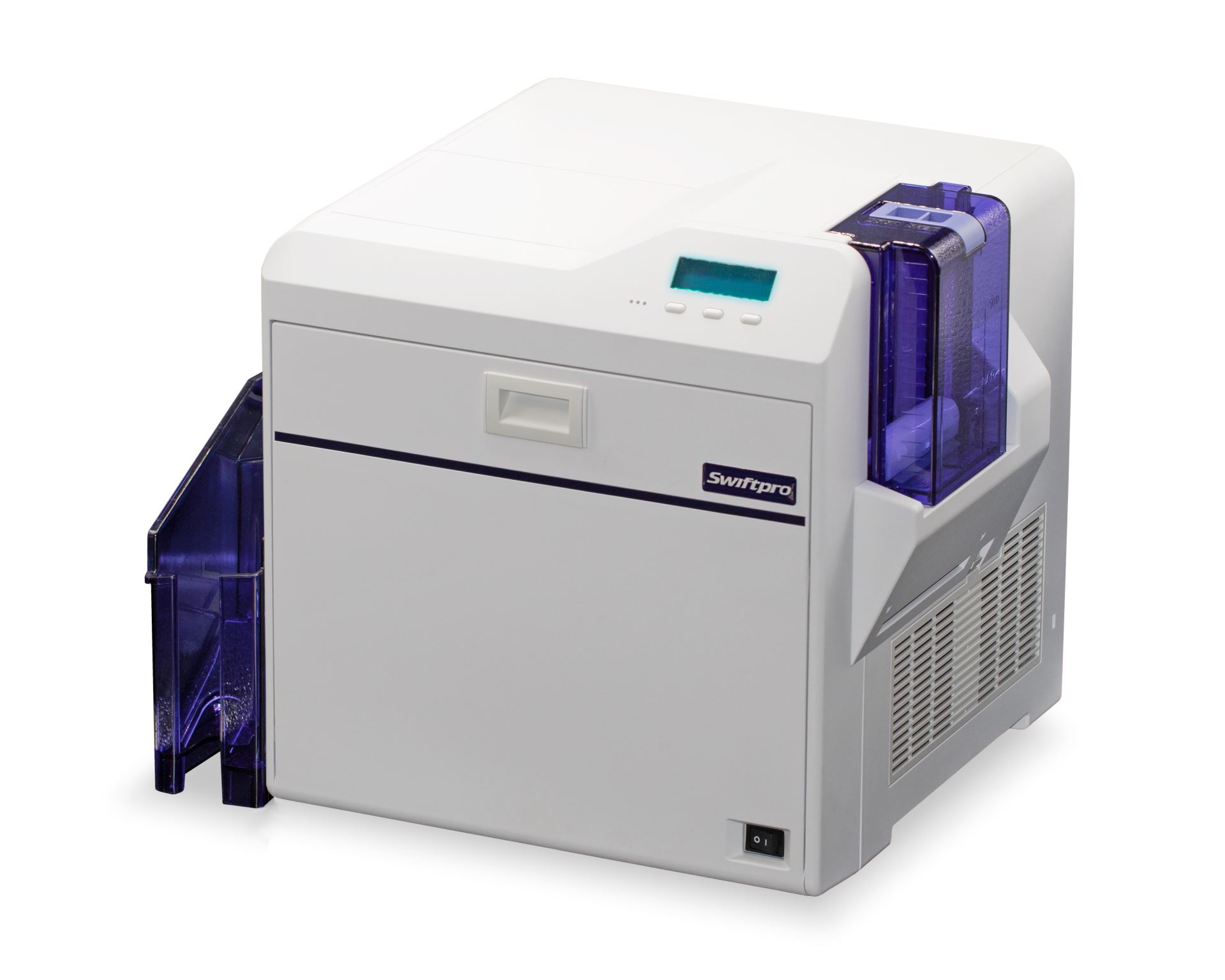 The Swiftpro K30 is a market leader in the retransfer printing market. With swift printing speeds of 30 seconds per single-sided card, this card printer is 10% cheaper than it's closest rival without compromising on print quality.
The Swiftpro K30 utilises a patented ribbon erase function to keep printed information secure and supports IPsec (IPv6 / IPv4) to protect personal information on your network. This combination provides a great blend of digital and physical information security in one printer.
With 3 years printer warranty and a lifetime printer warranty, the Swiftpro K30 is an economical and high-performance card printer ideal for medium-to-large sized businesses.
Best bits:
10% cheaper than its closest rival
Regarded as the most reliable retransfer printer on the market
Patented ribbon erase feature
Perfect for:
Secure retransfer printing within larger offices.
Price: £1,895.00
---
3. Magicard Pronto100

Small, fast and bang up to date, the Magicard Pronto100 is an ID card printer fit for 2023.
10% quicker than its closest rival plastic card printers, offering best-in-class print quality, this single-sided ID card printer is designed for ease of use out of the box. To make printing even more simple, a free EasyBadge Lite software package is included with every Pronto100 purchase.
One of the best choices for organisations with low volume requirements in 2023, this card printer is also equipped for Magicard's Custom HoloKote as standard. Allowing you to choose between three unique holographic designs that can be applied to every card, the risk of cloned and counterfeit cards making their way into your business is greatly reduced.
Best bits:
10% quicker than its closest rival
Smaller footprint than a sheet of A4
Best print quality in its printer class
Perfect for:
Magicard Pronto users upgrading to the latest model.
Price: £695.00
---
4. IDP Smart 21 Card Printer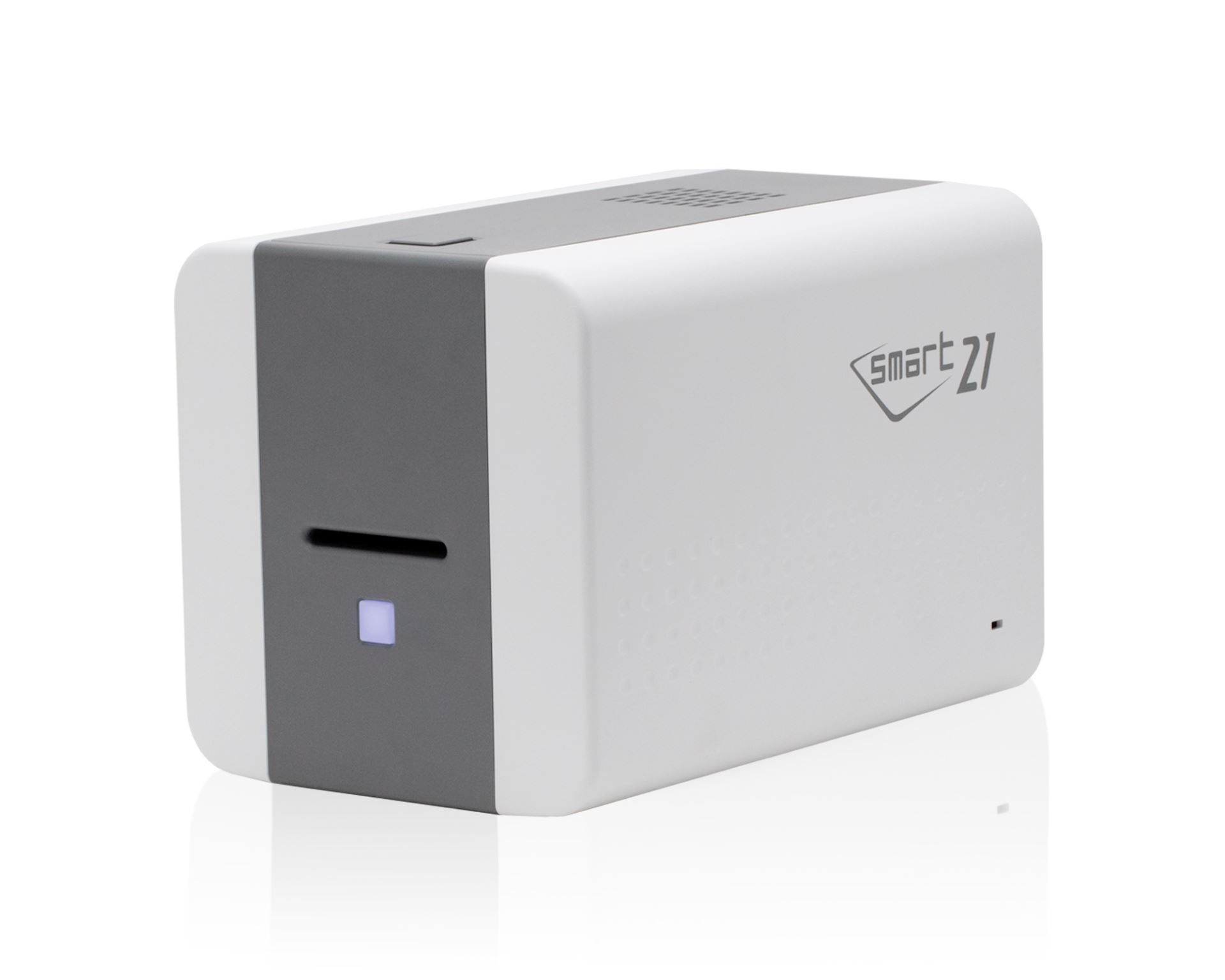 The IDP Smart 21 is the latest printer to be launched from IDP and it's also the cheapest ID card printer we've ever sold and comes with free ID card design software. Great value for your money, the IDP Smart 21 easily prints top-notch quality monochrome and full-colour single-sided cards for your business or organisation.
One of the best ID card printers to use if you value simplicity, it benefits from a 45% increase in printing speed compared to like-for-like models.
The IDP Smart 21 adds several security features not currently found on most hand-fed printers. For example, it comes with the option of adding UV and SmartMark security features to the surface of every printed card.
Best bits:
5-year manufacturer warranty cover
24-second per full-colour card print speed
Simple plug and play design
Perfect for:
This is one of the best card printers for a small business or office space on a budget.
Price: £625.00
---
5. IDP Smart 31 Card Printer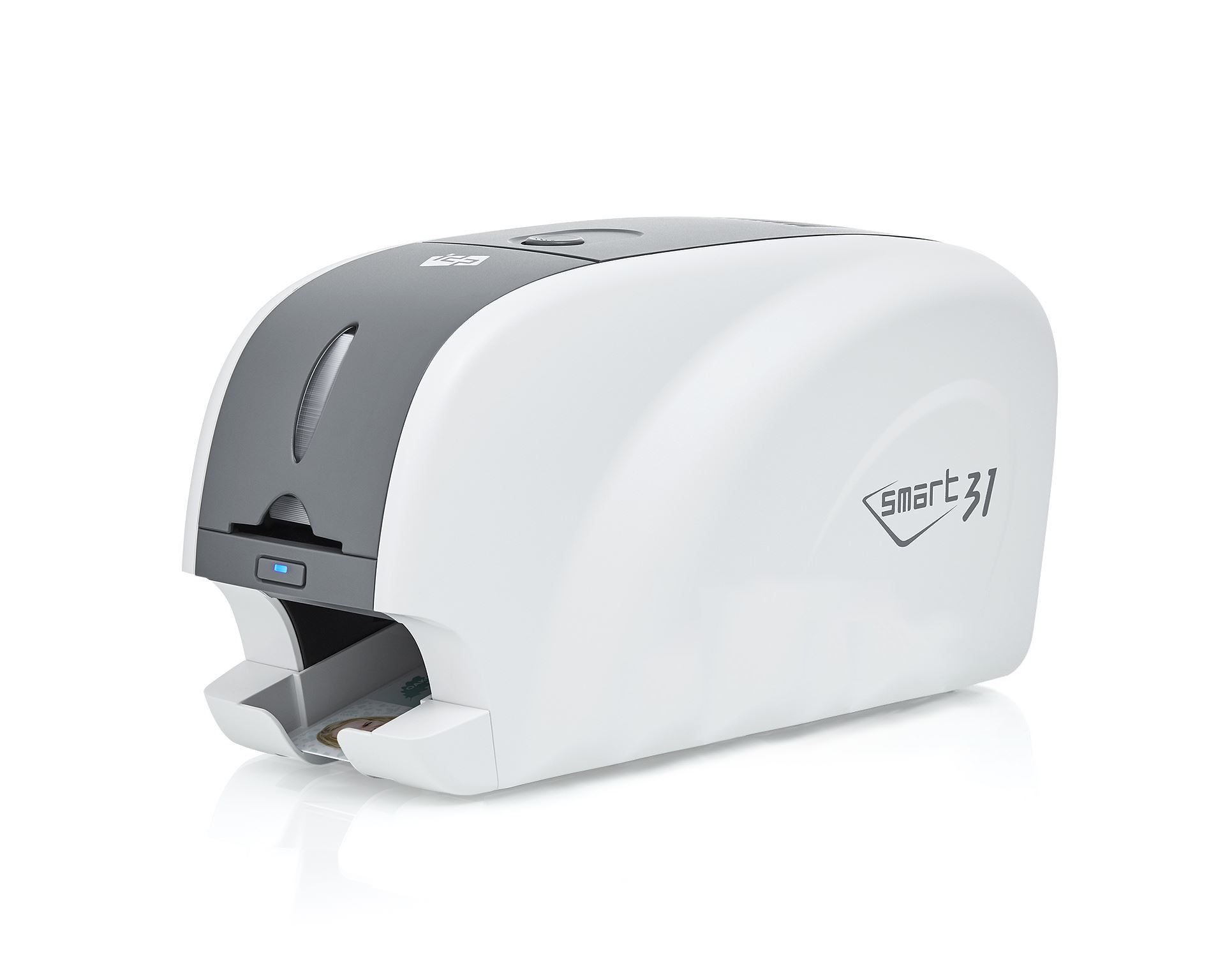 The IDP Smart 31 is a reliable, low-maintenance printer ideal for small businesses requiring basic ID. Since the COVID-19 pandemic, we've seen an increase in businesses taking their card-printing in-house to deal with new entry and access control procedures designed to ensure workplaces remain as safe as possible.
It might not be the newest printer on the market, but the IDP Smart 31 remains a great choice for professional direct-to-card printing thanks to the unrivalled 5-year manufacturer warranty, smart print performance and free Easybadge ID card software.
Best bits:
Desk friendly, with a small environmental footprint
5-year manufacturer warranty cover
15% quicker than its closest rival
Perfect for:
Low-maintenance ID card printing and upgrading your printing service from the IDP Smart 30.
Price: £799.00
---
6. Magicard 300 Card Printer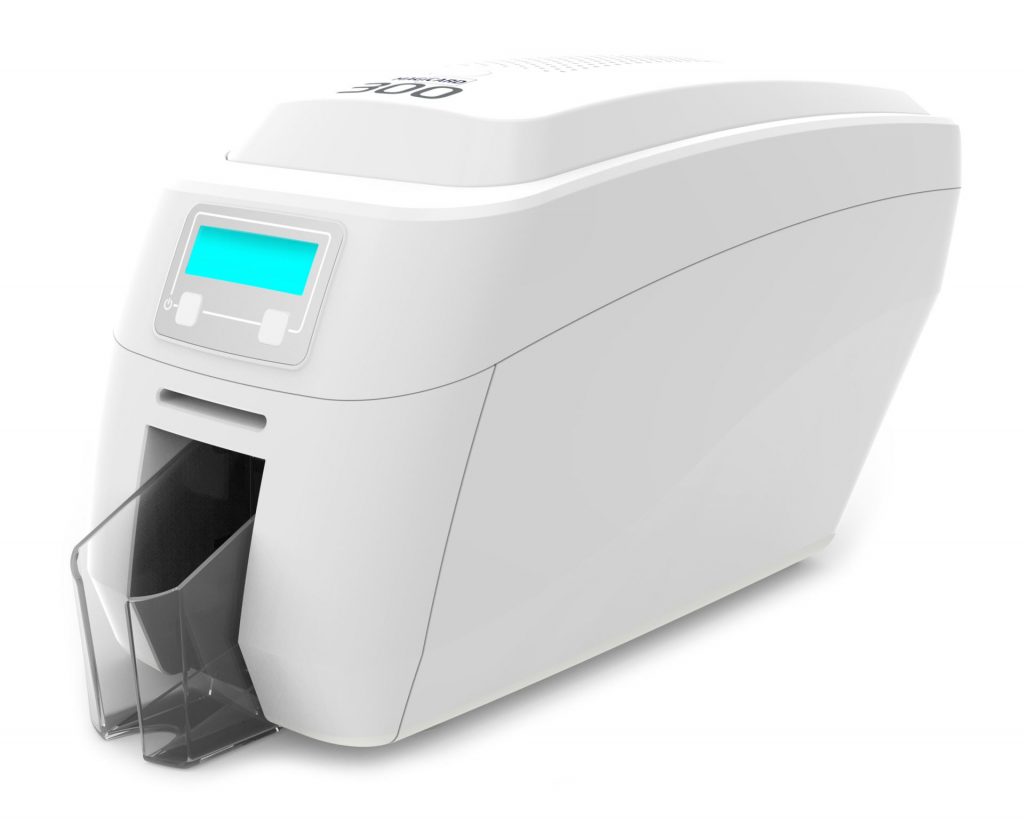 The
Magicard 300
is a high-quality direct-to-card ID card printer, best suited for businesses that are printing photo ID cards in-house. This popular choice is one of our best-selling ID card printers to date due to its advanced features, impressive print quality and user-friendly interface.
The Magicard 300 cuts no corners when it comes to security. Digital shredding
ensures your data is fragmented and destroyed after printing, so there is no risk of any data breaches. Magicard's HoloKote
watermark can also be added to cards to give them a free layer of visual security. This printer comes with a range of security options, such as magnetic stripe encoding and Elatec TWN4 encoding. Magicard's One Tree Planted scheme also makes this printer a great option if you're looking for an environmentally sustainable printer.
Overall, the Magicard 300 will still remain a top-choice ID card printer throughout 2023. The ease of use, durable design and quick print speeds make this printer a favourite for a wide range of industries and applications.
Best bits:
High-definition image quality
Print clone-proof cards
3-years manufacturer warranty
Perfect for:
Smaller businesses and organisations that require high-quality ID cards at an affordable price.
Price: £899.00
---
7. Magicard 600 Card Printer
The Magicard 600 is one of the newest direct-to-card printers on the market offering a great combination of high-resolution printing and impressive print speeds. The Magicard 600 is the more advanced version of the Magicard 300. In a nutshell, the 600 is faster, more secure and better suited to printing higher volumes of cards than the 300 model. The magicard 600 printer also features Holokote built-in as standard, a transparent image is printed into the clear overcoat panel, creating a secure watermark only visible under UV lights.
The Magicard 600 also benefits from a function that scrambles sensitive information meaning it's impossible for the Magicard 600 to cause a data breach; an important consideration for many organisations as data protection is a top priority. Magicard's One Tree Planted scheme also makes this printer a great option if you're looking for an environmentally sustainable printer.
All in all, this printer will still be ahead of the game in 2023, making it a great fit for medium to high-volume ID card printing service needs, eco-conscious buyers or current Magicard users potentially upgrading from the Rio Pro or the Enduro 3E plastic card printers.
Best bits:
HoloKote built-in as standard
The only direct to card-printer operating at 600dpi
3-year MagiCoverPlus manufacturer warranty
Perfect for:
Increasing card security and high-print volumes or replacing the Magicard Rio Pro or Enduro3E.
Price: £1,155.00
---
8. Fargo HDP5000 Retransfer Card Printer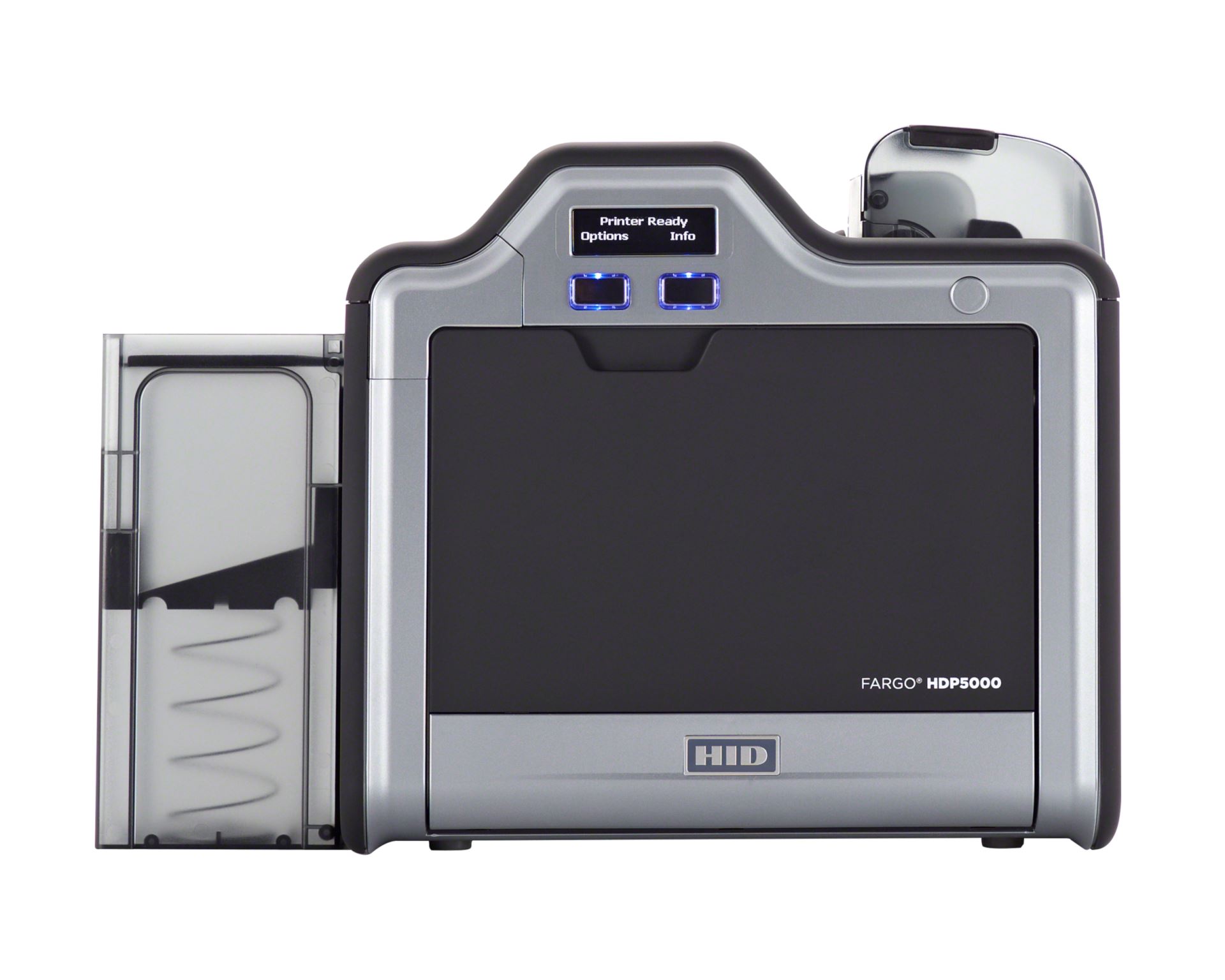 The clue is in the name: HDP stands for High Definition Printing, and the Fargo HDP5000 is the best printer for businesses seeking excellence in card quality without paying over and above.
Like the Magicard Ultima above, this is a retransfer printer built for creating high-quality, over-the-edge, secure ID badges designed to last. This is because they can print on access control cards' uneven surfaces. Fargo's superb reliability score and lifetime print head warranty offer ease of mind and thanks to the HDP5000's design, changing the printer ribbon or carrying out a cleaning cycle is easy.
The Fargo HDP5000 is great for security. You can purchase the HDP5000 with additional encoding modules to encode access control cards including HID proximity, iCLASS and Indala among others. A full-colour card takes 29 seconds to print, making this machine ideal for medium-to-high print runs.
Best bits:
Built-in High Definition Printing (HDP) technology
First of its kind to help prevent card cloning and duplication
Full-colour card printing in 29 seconds
Perfect for:
Printing high-definition photo ID cards.
Price: £1,995.00
---
9. Evolis Primacy 2 Card Printer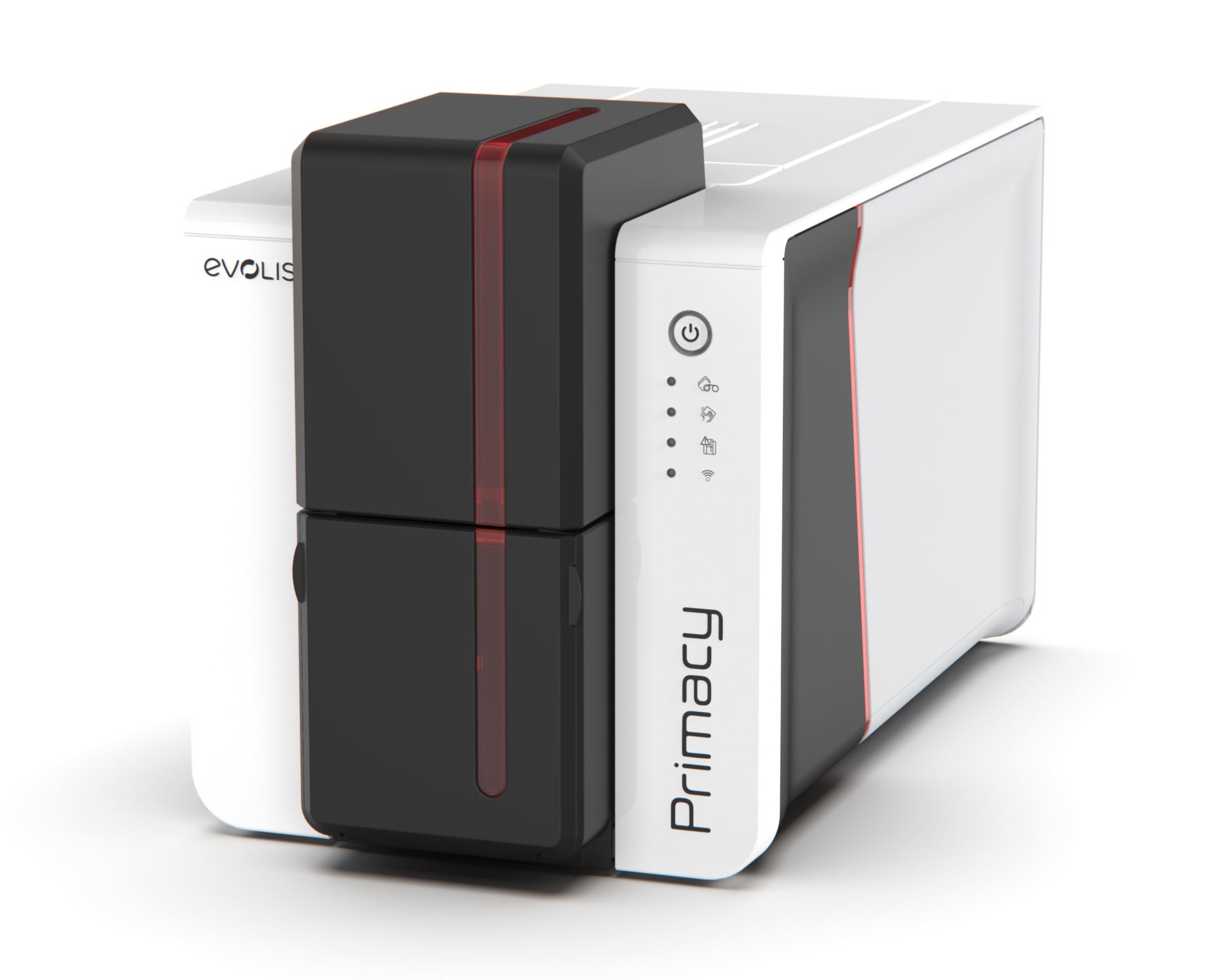 The Evolis Primacy 2 is a new card printer and is a great choice for organisations wishing to securely print large volumes of ID cards. The machine inherits and improves on the best-selling original Primacy model to ensure Evolis's most versatile ID card printer yet.
The Primacy 2 delivers high-performance printing, for today and tomorrow and is capable of producing up to 600 dpi in full colour and up to a whopping 1200 dpi in monochrome. What's more, the machine has some of the fastest print speeds on the market, making it ideal for large workplaces or settings issuing high volumes of ID cards.
The printer also allows users to print from their mobile device or tablet for a seamless printing experience, making card printing as convenient as possible.
Best bits:
Multiple card printing options
Print 170 – 280 cards an hour (depending on the ribbon used)
Can be used with the new YMCKOO double overlay ribbon
Perfect for:
High-performance printing in organisations with high volume production requirements.
Price: £1,250.00
---
Need more help choosing the best ID card printer?
The ID card printers above cover a wide range of printing requirements and are trusted to match your business or organisation's individual needs. All of our ID Card printers come with free ID card design software worth £195, 30 days of free support and a Lowest Price Guarantee – we promise to price match any competitor quote on all ID card printers.
Please note, ID card printer ribbons, blank plastic cards and printer cleaning kits will need to be purchased separately where required.
If you still need support finding the ID printer solution that's best suited to your sector, contact our sales team on 0800 988 2095 or browse through our ID card printer buying guide.
---
*Disclaimer: All information and prices are correct as of 01/08/2023.*