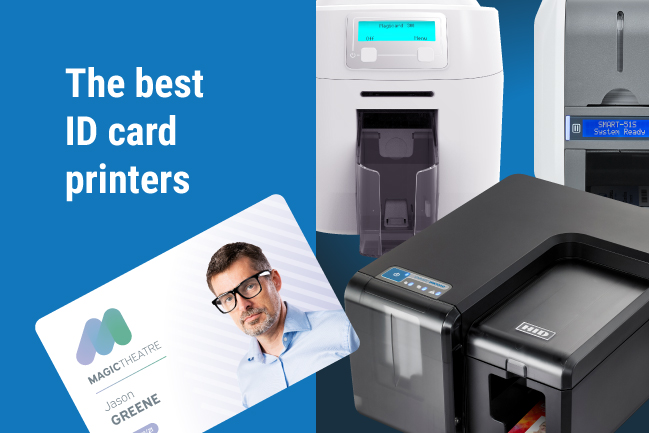 Are you looking for the best ID card printers for your business in 2021?
In collaboration with our team of card printer experts, we've collated 10 of the best ID card printers currently available that suit a number of different needs and organisations over a range of price points.
We've taken things such as print volume, affordability and versatility into account and have considered some key reasons you'd pick one printer over another.
---
1. EasyBadge 2.0 ID card printer bundle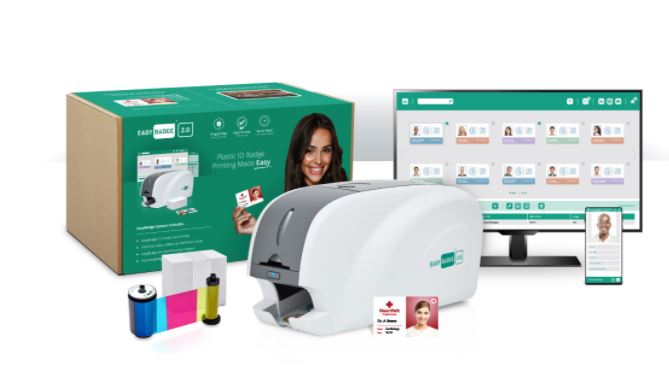 £595.00 ex. VAT
£714.00 inc. VAT
One of the most affordable and reliable packages available in 2021, the EasyBadge 2.0 system features everything you need to start printing ID cards quickly and reliably – including that all-important software.
Suitable for beginners and ID printing experts alike, the EasyBadge 2.0 bundle has been developed to be as simple and intuitive to use as possible, while introducing a number of eco-friendly benefits to your ID card printing system too.
Most impressively, an innovate smartphone application has been developed to take the stress out of ID photo capture. It also allows you to update and amend your card database remotely – perfect for the challenges many businesses now face with the introduction of flexible working and reducing touchpoints.  Whether you need to print ID for staff, visitors or students, it's one of the best choices of the year.
---
2. Magicard Pronto100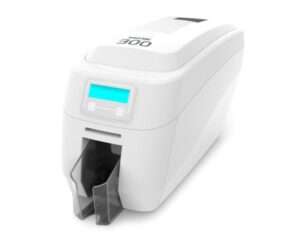 £629.00

 ex. VAT
£754.80

inc. VAT
Small, fast and bang up to date, the Magicard Pronto100 is an ID card printer fit for 2021. 10% quicker than its closest rival and offering best-in-class print quality are just two of the many outstanding features of this machine.
It's been designed to be easy to use right from the off and to make things even more simple, a free EasyBadge Lite software package is included with every Pronto100. This means you'll be up and printing in no time at all.
It's one of the best choices for organisations with low volume requirements in 2021. It also gets Magicard's Custom HoloKote as standard. This allows you to choose between three unique holographic designs that can be applied to every card – reducing the risk of cloned and counterfeit cards.
---
Find out more… What is HoloKote?
An in-depth look at Magicard's unique security offering
---
3. Fargo DTC1250e
£674.95

 ex. VAT
£809.94

inc. VAT
The Fargo DTC1250e is one of the best choices for small businesses, clubs and organisations that have a relatively low-volume card printing requirement.
DTC stands for direct-to-card, but that doesn't mean you have to compromise on print quality. It can still create vibrant, photo-like images and crisp and clear text.
It takes just 16 seconds to print a full-colour card and, like all the best ID card printers, it is set to print on CR80-sized cards. That said, it is also capable of printing on CR79-sized cards too and, being an HID Fargo product, it can be equipped with a range of encoding modules including magstripe, MIFARE and Proximity.
---
4. IDP Smart 21 Card Printer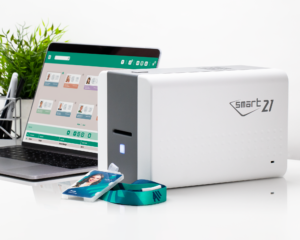 £449.00

 ex. VAT
£538.80

inc. VAT
The IDP Smart 21 is the latest printer to be launched from IDP and it's also the cheapest ID card printer we've ever sold. It can print monochrome and full-colour cards and comes complete with free ID card design software.
One of the best ID card printers to use if you value simplicity, it benefits from a 45% increase in printing speed compared to like for like models.
The IDP Smart 21 adds several security features that aren't currently found on the majority of hand-fed printers. For example, it comes with the option of adding UV and SmartMark security features to the surface of every printed card.
---
5. Magicard Ultima retransfer printer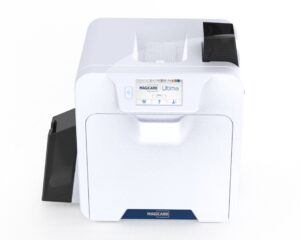 £1,880.00

 ex. VAT
£2,256.00

inc. VAT
The Magicard Ultima is a retransfer printer, meaning it uses a different technology to produce ID than most on this list. Using a combination of heat and pressure, the two-step process it uses creates an overlay that is adhered to the card.
The benefits of this are innumerable. For starters, it means your cards will be more durable and last significantly longer. Thanks to the overlay, they are much less prone to wear and tear. This will help you eliminate reissuance costs. The durability means you can sanitise your cards regularly, without the worry of cards fading over time. This is an important consideration in 2021, particularly in healthcare settings where hygiene is now a top priority.
Retransfer printers are also capable of printing onto access control cards too, which makes the Ultima the go-to machine if you require printed ID on to HID or MIFARE products. With an innovative touchscreen interface, it's really easy to use too.
---
More info… Retransfer ID card printer FAQs
A look at this more secure technology
---
6. Fargo HDP5000 retransfer printer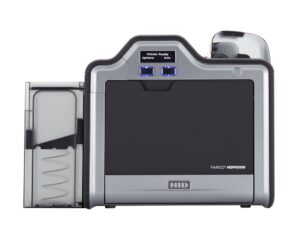 £1,395.00

 ex. VAT
£1,674.00

inc. VAT
The clue is in the name: HDP stands for High Definition Printing, and the Fargo HDP5000 is the printer of choice for those that want class-leading card quality without paying too much. The high-definition cards this printer is capable of printing comes courtesy of its retransfer technology.
Like the Magicard Ultima above, this is a machine that suits those needing high-quality, secure ID designed to last. This is because they can print on access control cards' uneven surfaces. Fargo's superb reliability score and lifetime print head warranty mean that you needn't worry about potential issues and, thanks to the HDP5000's design, changing the printer ribbon and carrying out a cleaning cycle is a doddle too.
Fargo printers are great for those looking for security. Additional encoding modules are available that allow you to use the HDP5000 to encode cards including HID proximity, iClass and Indala. among others. A full-colour card takes 29 seconds to print, making this a machine that will suit medium-to-high print runs.
---
You might also like… Fargo HDP5000 vs Magicard Ultima 
Retransfer printers go head-to-head
---
7. Magicard 600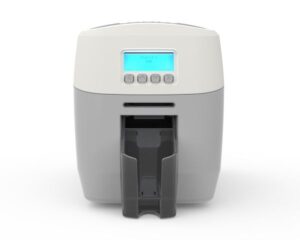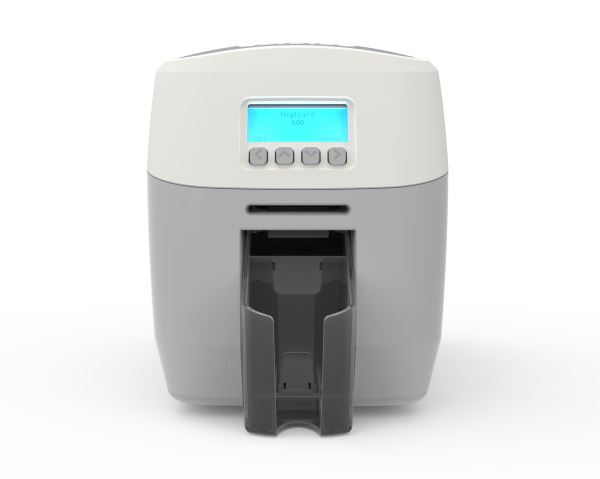 £1,045

 ex. VAT
£1,254.00

inc. VAT
SPECIAL OFFER: FREE UPGRADE TO DUAL-SIDED PRINTING ON ALL MAGICARD 600 PRINTERS. 
The Magicard 600 is one of the newest direct-to-card printers on the market and offers a great combination of high-resolution printing and impressive printing speeds. Being a Magicard means it offers extra security: they all come with HoloKote as standard.
This prints a transparent image into the overcoat panel, resulting in a secure watermark that can only be seen under special UV lights. Magicard's One Tree Planted scheme also means it's a great option if you're looking for an environmentally sustainable printer to buy.
The 600 also benefits from a function that scrambles sensitive information. This means it's impossible for the Magicard 600 to cause a data breach; an important consideration for many organisations as data protection becomes a top priority.
It's covered by a three-year manufacturer warranty and, with these numerous security options, it'll still be ahead of the game in 2023. The best bit? A special offer currently means all Magicard 600s will come with a dual-sided printing add-on.
The option, which usually costs buyers extra, will be automatically added to your order. This will give you more flexibility should your needs change over the coming year. All in all, this machine is a great fit for those who are looking for a medium to high-volume print solution, eco-conscious buyers or current Magicard users potentially upgrading from a previous Rio Pro model or the Enduro3e.
---
Don't forget to check out… Magicard 300 vs Magicard 600
Find out which one is best for your needs
---
8. Entrust Sigma DS3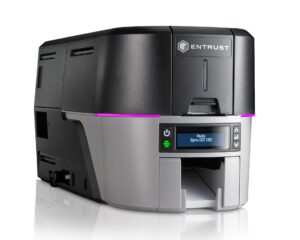 £1,015.00

 ex. VAT
£1,218.00

inc. VAT
The Entrust Sigma DS3 is an all-new printer for 2021, and a great choice for organisations wishing to print large volumes of ID cards in a secure way. Being a completely new machine means it's designed to meet the needs of businesses in 2021 and includes access to an app that allows you to manage ID cards and the printer from anywhere.
The emphasis isn't just on superior printing speed either. It's packed with enhanced security features including tactile impressions, custom holograms and data encryption. The latter means that sensitive data is not stored or retrievable once printing is complete.
The input hopper has a capacity up to 125 cards, output hopper up to 25 cards and reject hopper up to 10 cards, ideal for medium to large sized print batches. It's seriously easy to set up too, with an out-the-box printing experience that can be ready to print in a matter of minutes. What's more, ordering consumables, checking printer status and updating firmware is a breeze thanks to the app.
---
9. Fargo INK1000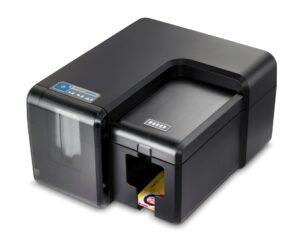 £950.00

 ex. VAT
£1,140.00

inc. VAT
The Fargo INK1000 is one of the most exciting new printers of 2021. Why? Well it uses an all-new inkjet technology that makes printing ID – or any plastic card for that matter – easier than ever before. You see unlike direct-to-card and retransfer printers, it doesn't use a ribbon.
Instead, you'll find a snap-in cartridge just like you find in a desktop paper printer. The result is an extremely user-friendly machine that's capable of exceptionally high-quality cards. Able to produce prints of up to 600x1200dpi (dots per inch) it's the printer to choose if you need to print complicated and intricate card designs.
You also benefit from a full card cover – unlike direct-to-card machines that leave a small white border around the edge of the cards. These are just two of several plus points of choosing this machine. In fact, here are several reasons why we think the INK1000 might just revolutionise the way we print ID cards.
---
Read more… What is inkjet ID card printing and how does it work?
A look at this all-new technology
---
10. IDP Smart 31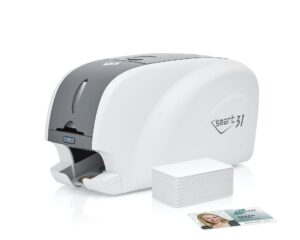 £599.00

 ex. VAT
£718.00

inc. VAT
The IDP Smart 31 is a reliable, low-maintenance printer that's ideal for small businesses requiring basic ID. Since the COVID-19 pandemic, we've seen an increase in businesses taking their card-printing in-house to deal with new entry and access control procedures to ensure workplaces remain as safe as possible.
It might not be the newest machine on the market, but combined with ID card software such as EasyBadge Professional, the IDP Smart 31 remains a great choice for such a task. The best bit is its affordable price-point too.
There's an all-new IDP Smart machine coming soon too, which features numerous improvements. We'll bring you more info on the updated machine as soon as it's available.
---
Need more help choosing the best ID card printer?
The printers above should have all things covered in terms of print volume, price point and security options. However, we appreciate buying an ID card printer is something you'll want to get right. All card printers seen above come with free ID card design software, however a card printer ribbon, blank plastic cards, ID card holders and personalised lanyards will need to be purchased separately where required.
We've got a host of other content that'll help you decide on the machine that's best for your sector. Just click on the links below for more helpful buying advice.
---
*Disclaimer: All prices correct as of 11/02/2021 and based on single-sided printers without additional printer options*