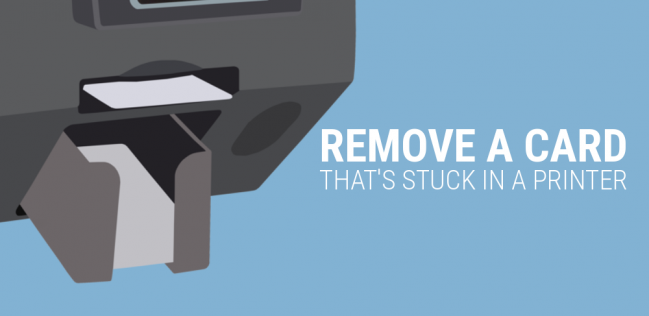 Want to Know How to Remove a Card that's Stuck in an ID Card Printer?
In our latest post, our support team share their expert advice on how to remove a card that's stuck in an ID card printer.
Technical and human errors, unfortunately, can occur, and as such, it is advisable to be aware of simple troubleshooting methods.
The most common error, which this guide aims to alleviate, is a plastic card trapped within the plastic card printer.
This is an incredibly inconvenient error and we understand how crucial it is to resolve the issue promptly and efficiently.
We also know how important it is that each team member can do so effectively and with minimal hassle, so please ensure those operating the printers follow these simple steps to remove a card jammed in a card printer.
Each of our plastic card printers is slightly different, and the below advice pertains specifically to only those brands mentioned within this post.
Magicard & Zebra ID Card Printers
Machine ejection following error light:
Plastic card printers are designed to be incredibly user-friendly, and should communicate problems with the user immediately.
A stuck plastic card is communicated by the appearance of an error light, and if applicable, written communication on a LCD screen.
Upon seeing this error light, simply press the corresponding button located on the front panel of the printer and the card printer will attempt to eject the card itself, making this a very quick fix.
Manual ejection using the printer rollers:
If the above does not work and the card remains stuck, then you can attempt to remove the card manually.
Locate the black rubber rollers, which typically push the cards through the machine, and begin turning them gently with your fingers.
You will see that this action begins to move all the other rollers, and your card should hopefully be pushed out causing it to become unstuck.
Supplier ejection on the return of your card printer:
Whilst the above fixes should be sufficient to alleviate most common jams, unfortunately a situation may arise where you need further assistance.
If the above does not work, then we suspect that one of the transport belts has most likely come loose, and this is something that will need to be resolved by returning the printer to us.
So, if the problem persists after careful scrutiny of the relevant manual and troubleshooting advice, then we recommend you contact our support team immediately on 0161 475 5346 for further assistance.
CIM Sunlight and Fargo HDP Card Printer
Simply open the front covers that display the buttons located on the front of the machine.
These buttons will move the rollers backward or forward, a movement that will, in most cases, cause the plastic card to become dislodged.
Again, if this doesn't rectify the problem and the card remains jammed, contact our support team for further advice on what to do next.