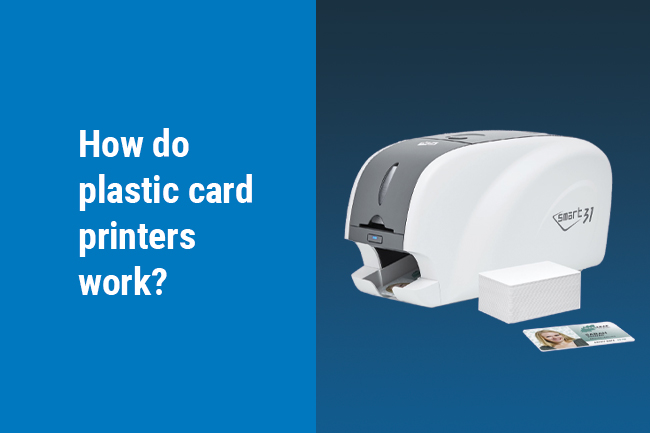 A plastic card printer works by feeding a blank plastic card through a thermal print head. Next, the card design is transferred onto the card's surface through the print head via a printer ribbon, and finally, the printed ID card is ejected from the card printer through the output hopper.
We've included a quick summary in the image below:
---

There are however three different card printer technologies to consider, each with slightly different printing processes. This blog will take a quick look at the differences between how each of these printers print, and which type is best for you and your business.
These printer technologies are:
Direct-to-card plastic card printers (the most well-known method)
Retransfer plastic card printers (produces more durable cards)
Inkjet plastic card printers (a new technology for 2021)
---
How do the different printer technologies work?
How do direct-to-card printers work?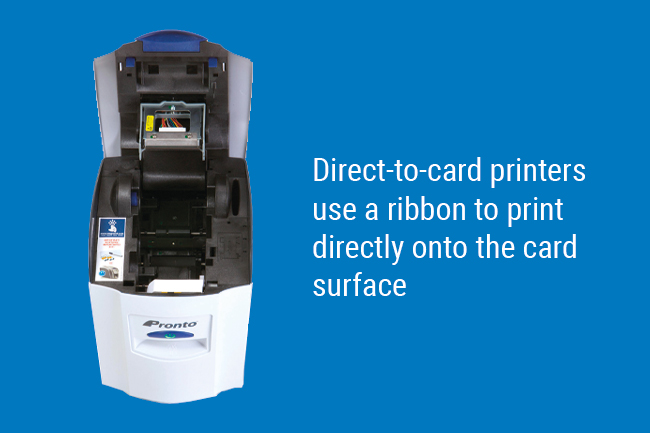 What is a Direct-to-Card Printer? A direct-to-card ID card printer is the most commonly available ID card printer on the market, offering print speed ideal for keeping up with higher card production demands.
Direct-to-card is also the most well-known technology for printing ID cards. Once the printer is loaded with the printer ribbon, it passes under a print head that uses heat to warm the ribbon. Once the correct temperature is reached, it will deposit ink directly onto the card itself through a process known as dye sublimation. The printer ribbon is controlled by two spools in the printer, allowing it to pass over the card multiple times until the design is fully printed onto the plastic card.
Once complete, the printed card will exit the printer. Most direct-to-card printers can generate more than 16.1 million colours, and most have a print quality of between 300dpi and 600dpi (dots-per-inch), ideal for printing photo ID. Direct-to-card is a well-known and versatile plastic card printing method, and remains the most used technology in the card printing world, despite newer and more reliable technologies increasing in popularity.
Beware: Because the print head comes into direct contact with the card, you cannot print onto access control cards such as HID and MIFARE products with a direct-to-card printer. Despite their shortcomings, direct-to-card printers are still a strong choice for creating simple, non-secure cards quickly and efficiently.
In a nutshell:
Ideal for printing photo ID cards, loyalty cards, membership cards and student ID cards.
Higher ID card printing speed than most retransfer printers.
Uses dye-sublimation and thermal transfer technology to print plastic ID cards.
DTC technology is commonly used in the most popular dual and single-sided printers.
Suited for printing on the face of magnetic stripe cards.
---
How do retransfer ID card printers work?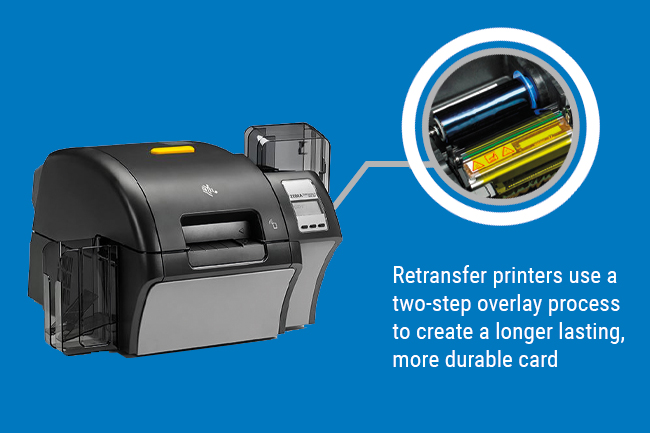 A retransfer ID card printer still uses a printer ribbon, but it uses a laminate overlay method to print a more secure and durable ID compared to a direct-to-card machine. Like the printer ribbon, the laminate overlay is a consumable item that needs to be purchased for printing cards.
The print head in a retransfer printer uses the printer ribbon to print a design onto the laminate overlay. A combination of pressure and heat then securely adheres the printed overlay to the plastic card. Unlike direct-to-card printer machines, because the print head does not come into direct contact with the card, they can print on to access control smart cards such as HID and MIFARE. Using reverse transfer printers creates exceptional quality ID cards far better at withstanding wear and tear than a card printed through a direct-to-card printer. They are the more expensive option though. You can read more about them in our full guide to Retransfer Card Printers.
In a nutshell:
Over the edge printing designed for more advanced users.
Ideal for printing onto ID cards with additional security features like proximity cards.
Single-sided and dual-sided printer options available.
Uses transfer film to print onto the full surface of smart cards and ID cards.
Take a closer look at the difference between these two ID card printer technologies in our direct-to-card vs retransfer printer head-to-head.
---
How do Inkjet plastic card printers work?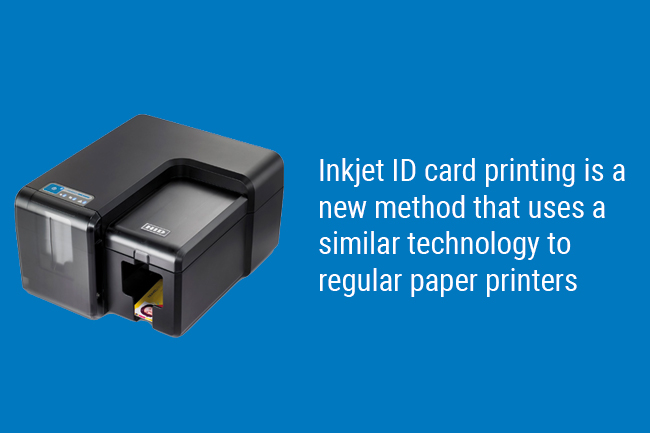 Does printing with ID card printer ribbons sound complicated? Then you may prefer working with an inkjet ID card printer. There aren't many inkjet printers on the market at the moment however, the Fargo INK1000 single-sided printer has been leading the way in 2021. Put simply, an inkjet ID card printer does away with printer ribbons and use ink cartridge technology similar to a traditional inkjet printer without compromising on print quality.
That means they use a snap-in cartridge rather than a ribbon. It hasn't been an option before because using inkjet tech to print photo ID to plastic cards used to be complicated. There was often a problem with the way the ink adhered to the card surface however, recent developments in this process mean this isn't a problem anymore, with the Fargo INK1000 using a specially formulated alcohol-based ink. This uniqueness sets the INK100 apart at the moment, but expect more inkjet ID card printers to hit the market soon.
In a nutshell:
Great for producing photo ID cards, loyalty cards, membership cards and student ID cards.
Inkjet technology designed for full-colour single-sided printing onto plastic cards.
Eco-conscious with no printer ribbon to dispose of.
600×1200 dpi print resolution and print speed of up to 100 cards per hour.
---
Ready to purchase your first ID card printer?
We hope this guide has given you a solid introduction to how plastic ID card printers work.
If you're ready to purchase a printer and would like to browse the printer models fitted with the technology listed above, you can view all ID Card Printers available at Digital ID and search by printer technology.
Or if you'd like to find out more about the different types of ID card printers and discuss which printer technology is best for your sector, you can contact our sales team on 0800 988 2095.