At some point in their lives, photo ID cards will inevitably snap, bend or break. Sadly, this is the case for all ID cards, whether that's membership cards, national ID cards or even smart cards used for access control.
As a result, broken ID cards have to be replaced. This means increased costs, and valuable time is also lost.

The good news is that nine times out of ten, the cause of the card damage can be prevented. By taking precautions to protect your ID cards and ID card data, you can easily increase their lifespan.
Below, we're sharing some helpful tips to prevent your photo ID cards from breaking, which will save your organisation time and money in the long run.
---
Top Tips to Prevent Photo ID Cards Breaking & Reduce ID Card Reissuance Costs
1. Standard PVC or composite cards?
First up, you should look at the card options available pre-sale. Depending on your requirements, there are two standard options to choose from.
Standard PVC cards are made from 100% PVC, whereas composite cards are 60% PVC and 40% polyester. The polyester in composite cards makes them stronger, more durable, and longer lasting than a standard PVC card.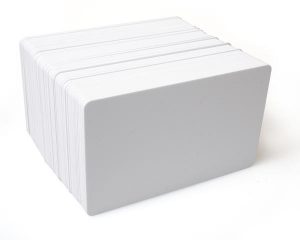 Composite cards are ideal if:
ID cards will be worn outdoors
Identification cards will be exposed to all elements of the weather
Cards will frequently be swiped or tapped against a card reader. This is usually the case for access control cards, smart cards and cards with magnetic stripes
The increased durability of composite cards makes them an excellent option for those whose cards are used frequently and are thus susceptible to wear and tear.
Tip: If you outsource your ID card printing, you will need to ask your supplier which cards they offer. And if you don't yet have a supplier, finding the perfect ID card supplier is easy with our helpful guide.
2. Protect your photo ID cards with badge holders
This may be the easiest method to protect ID cards, yet it's one that businesses often don't give much attention to.
Once your identity card has been printed, the card will need to be displayed.
Investing in card holders prevents your cards from scratching, bending and colours from fading. Let's take a closer look at the different options available.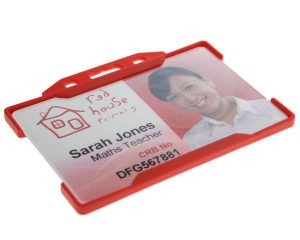 Open-faced card holders are an excellent choice for cards used indoors that may not need a high level of protection.
For users looking for more protection, enclosed card holders are a much better option. These holders are initially a little pricier, but cards are securely enclosed. This will massively reduce any reissuance costs in the long run, as cards are completely secured.
3. ID card lamination
ID card printers can add a layer of film onto a card's surface to protect it from wear and tear, as well as ultraviolet light. Often, the lamination is clear, but it can also include holographic foil bespoke to your business. This means you can even have a holographic overlaminate that displays your company logo, further increasing security and lowering card cloning attempts.
Lamination helps cards last longer against bending, cracking and scratching. It also keeps ID cards looking professional as they become resistant to fading.
If you opt for lamination, initial expenses will be higher due to the printer upgrade. However, this cost will balance out over time, as card reissuance costs will significantly decrease.
As one of the most effective security features available for ID cards, several ID card printers support lamination, including the Fargo HDP 5000 retransfer printer.
4. Correct ID card storage
Keeping your ID card in your pocket means it could get scratched by other objects, such as keys. This may lead to your ID card surface becoming damaged, especially if you're not using a badge holder.
Instead, keep your card in a purse or wallet where it is away from other objects that could cause damage.
5. Upgrade your cards
After a few years of regular usage, ID cards will inevitably begin to show signs of damage. If it's been a while since your cards were first issued, it may be time to do a full company reissuance. Luckily, you can learn how to print photo ID cards here.
But first, you should assess your ID card printing equipment.
There's a reason your printer warranty doesn't last forever, and that's because ID card printers should be upgraded regularly. Using an out-of-date ID card printer will only increase the need for card reissuance and leave you with mounting costs.
6. Update your card design
It may be time to re-evaluate what exactly was printed on your last batch of ID cards.
As your ID cards reflect your company, you don't want your outdated card design to reflect poorly on your business.
Issuing staff with a modern, completely updated ID card can help boost morale and encourage staff to look after their new possession.
Tip: Before updating your cards, familiarise yourself with the various size options available. Learn more here: what size is a photo ID card?
7. Get your staff involved
If staff look after their ID cards well, cards will be less likely to prematurely break, which will reduce reissuance costs in the long term. One way to encourage staff to look after their cards is to involve them in the card creation process.
Let your employees have fun while designing their cards. You could let them choose their ID photo or even print their card in a colour of their choice.
Similarly, you could let staff choose their lanyards or badge reels, which both come in a wide range of colours.
ID cards may be essential for security, but this doesn't mean you can't have fun with them. Sometimes, it's ok to liven them up. And if your staff are involved in the design process, they will be more likely to look after their creations.
Summary
There are many different ways to strengthen ID card durability and prevent broken photo ID cards. And doing so will undoubtedly lower organisational costs in the long run.
To find out more, get in touch on 0800 988 2095 or send an email to sales@digitalid.co.uk. Our friendly team will be able to help you with all your ID card printing queries.
Alternatively, get durable, professional ID cards for great prices with our fast ID card printing service.