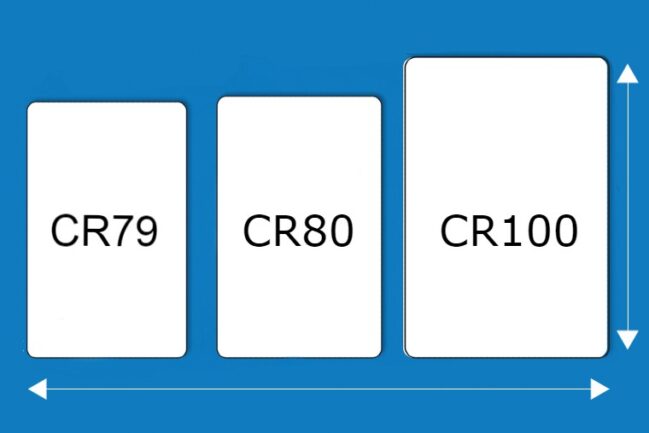 When printing ID cards, it's important to make sure you have the correct type of card. Blank white cards are typically used to print photo ID cards, however they come in a few different size options.
This guide will give you a breakdown of the three most common ID card dimensions and whether they're the right choice for you.
What size is a standard ID card?
CR80 (86mm x 54mm) – This is the standard ID card size and is the most popular size
CR79 (84mm x 52mm) – This ID card size is slightly smaller and often used for access control
CR100 (100mm x 70mm) – This is the largest ID card dimension and can display increased amounts of information
Now, let's have a more in-depth look at each of these card types.
CR80

We'll start with the most popular size of ID card first – the CR80. The CR80 is the standard size for an ID card and measures 86mm x 54mm. It's exactly the same size as a standard credit card and is the size accepted by the vast majority of ID card printers.
This is also the size we most commonly use when photo ID card printing, along with it being the standard size for library cards, loyalty cards, hotel key cards, membership cards and more. CR80 cards are also very similar to the size of standard business cards.
CR80 cards are available in a variety of materials, and are not just limited to plastic cards. You can get CR80 cards in PVC, recycled plastic and biodegradable composite, with paper cards also available in this size.
CR79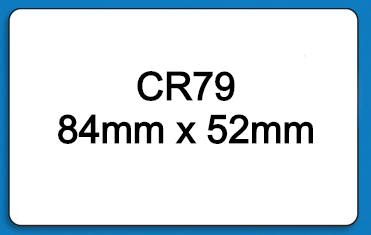 CR79 cards are slightly smaller at 84mm x 52mm. These cards are designed to fit snugly into a protective clamshell, with many already having an adhesive back for additional security once in the clamshell.
You'll find that quite a few access control cards using RFID technology are CR79 spec, depending on the manufacturer. These cards are usually more durable in harsh outdoor environments, making them excellent choices for frequently used key cards.
When using CR79 cards, it's essential to check compatibility with your ID card printer, as not all printers accept this card size. Our ID card printer guide allows you to determine which printer is most suitable for your company's requirements.
CR100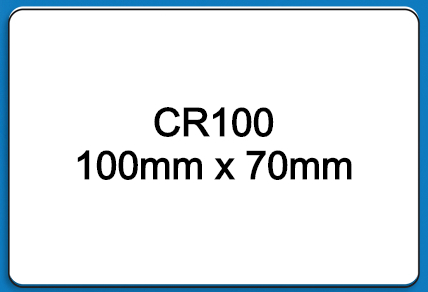 Finally, the biggest of the three main ID card sizes, the CR100. These cards measure at 100mm x 70mm. CR100s are ideal for environments where individuals need to be identified quickly and easily, such as at conventions, trade shows and outdoor events or concerts. And if you're using cards in such environments, you'll need lanyards to display the cards, too.
CR100 cards are also a great option if you need to display lots of information as they have more surface space. However, the cards and their associated printers are more costly than CR80 and CR79 cards, with cards usually produced by an in-house printing service.
What about ID card thickness?
As well as various sizes, cards are produced in a range of thicknesses. ID card thickness is measured in "mils", which is not a metric term but is equal to 0.001 inches. For example, the standard card thickness is 30 mils, which translates to 0.003 inches.
However, most ID card printers have card adjusters that allow you to change the card thickness by a few inches, so you shouldn't run into any issues, even if using thicker cards or printing thinner cards than the standard thickness.
Does ID card size matter?
In short: yes, it does. With three main sizes to choose from, each is suited to a different purpose.
ID card size is also important in ensuring cards are compatible with ID card holders. Whether you already have card holders or are looking to purchase new ones, you must check if the size of your ID cards is suitable. Card holders are extremely useful in protecting cards from wear and tear and also help to stop ID cards from fading.
Another reason why the size of your ID cards matters is because cards must be able to fit into your card printer. As mentioned earlier, this means it is crucial to check if your photo ID card dimensions are compatible with your ID card printer, especially if cards are a bespoke size.
Let's Recap
Of the three most common options, the CR80 card remains the most popular, at the size of a standard credit card. However, this doesn't automatically make it the best for you, with the most suitable for your organisation depending on your requirements.
Regardless of which ID card size you choose, cards must be properly maintained and kept secure to increase longevity and reduce reissuance costs. It's therefore essential to learn how to clean your photo ID cards to stop your photo identification and company logo being damaged or prematurely rubbing off, as this could lead to security breaches and expensive reprinting costs.
For further support about photo ID cards, get in touch with our expert team on 0800 988 2095 or at sales@digitalid.co.uk and quote "Photo ID Cards". A member of our team will be on hand to advise and assist you.
Alternatively, you can check out all our plastic card options here.