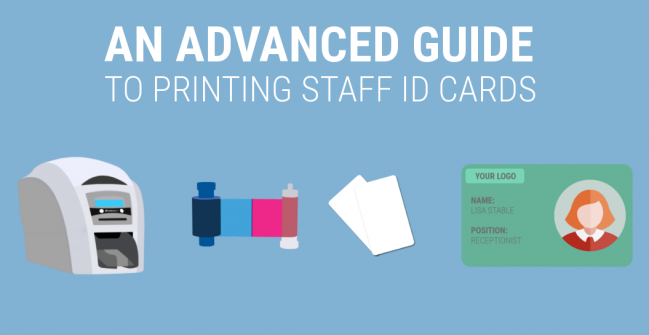 Everything You Need to Know When Printing Staff ID Cards
Many companies and organisations now use staff ID cards to help increase security.
They are typically used to identify people and restrict access to specific areas within a building or large facility.
A few places you will commonly find these include:
Offices
Schools
Colleges
Universities
Construction Sites
In essence, they can be used for any size business.
They are perfect for ensuring only authorised individuals can gain access to the site, and also makes it quick and easy to identify visitors and contractors against staff.
If your looking to print your own ID cards for the first time, then start by taking a look at our beginners guide below.

Now we've covered the basics, lets look at the topic in a little more detail, starting with the types of cards available.
Types of Staff ID Cards
There are a few different types of staff ID cards which you can choose from.
The style you go for will typically depend on the level of security you need and the budget you have. Here are some of the options we have available:
PVC Cards – This is our standard option and is printed on a blank white plastic CR80 (credit card size) card. This type includes a photo, name and company logo and is more common when a simple check of the card is needed.
Technology/Access Control – Staff ID cards can be printed onto an access control card that is linked to a system on-site. Access control cards include an RFID chip and have a raised surface. This type can also be programmed for multiple uses such as cashless vending and car park barriers.
Single-Sided – Photo, logo and branding printed onto one side of the card, with the reverse blank.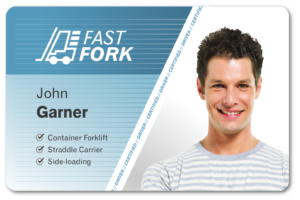 Dual-Sided – Printing on both sides of the plastic card for multiple functions and uses. This is a popular choice as lost card information can be added to the reverse.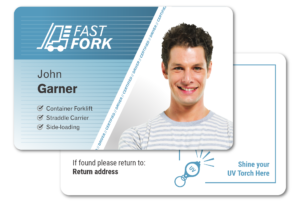 All of these options are fully customisable to include a logo and branding.
The types of card which will suit your organisation best really depend on whether you just need simple identification or multifunctional access cards.
How and Why are They Used?
You will probably have seen employees in many places wearing identification cards and lanyards.
These are commonly worn by teachers and staff in schools to ensure security and to make sure everyone on site is authorised to be there.
Lots of large companies also use staff identification cards to identify people in the building and give access to different areas.
Typically the card will be inserted into a card holder, which is then attached to a lanyard and worn around the neck so it's constantly visible.
We offer printing services for both staff photo ID cards and personalised lanyards, and we can also supply a staff ID card printer if you prefer to print your own ID cards in-house.
Benefits of ID Cards for Staff
There are plenty of benefits of ID cards for staff at various organisations.
The main one being the added security it provides for large buildings with lots of people going in and out.
If all staff members have a piece of identification they can be easily recognised.
Likewise anyone without an ID card can be denied access from the building or from restricted areas.
These are just some of the many benefits of staff identity cards.
Staff ID Card Printing: What's the Best Option?
When it comes to staff ID card printing, there are two main options available to choose from.
You can either have them printed by our bureau team, or print them yourself in-house. The one you go for will depend on what will be the most efficient and cost effective for your organisation. Learn more about both of these options below.
Digital ID's Staff ID Card Printing Service
We offer an ID card printing service which makes it pretty simple for you to get what you need. Our service includes printing the required information onto the cards along with branding. If you only need one batch or a one off order, this might be the best option for you. We can do this for either standard photo cards or technology cards with built-in rfid chips.
We'll just ask you to supply the necessary details to include, depending on what you need. Our team can also create artwork to match your colours and branding which we will also print onto the cards. You can find out more about our ID card printing services at our site or by getting in touch with us.
Print Your Own Staff ID Cards
Alternatively if you have a high turnover of staff or a lot of visitors to your organisation, you can make your own staff ID cards.
We supply specialist ID card printers which you can keep in your office and use to create new badges whenever you need to.
This is a much more efficient option for many companies, particularly if you need new items printed on a regular basis. Rather than making an order with us every time, you can simply print what you need and have it ready to use straight away.
A great starting point is the new IDP Smart 51 card printer.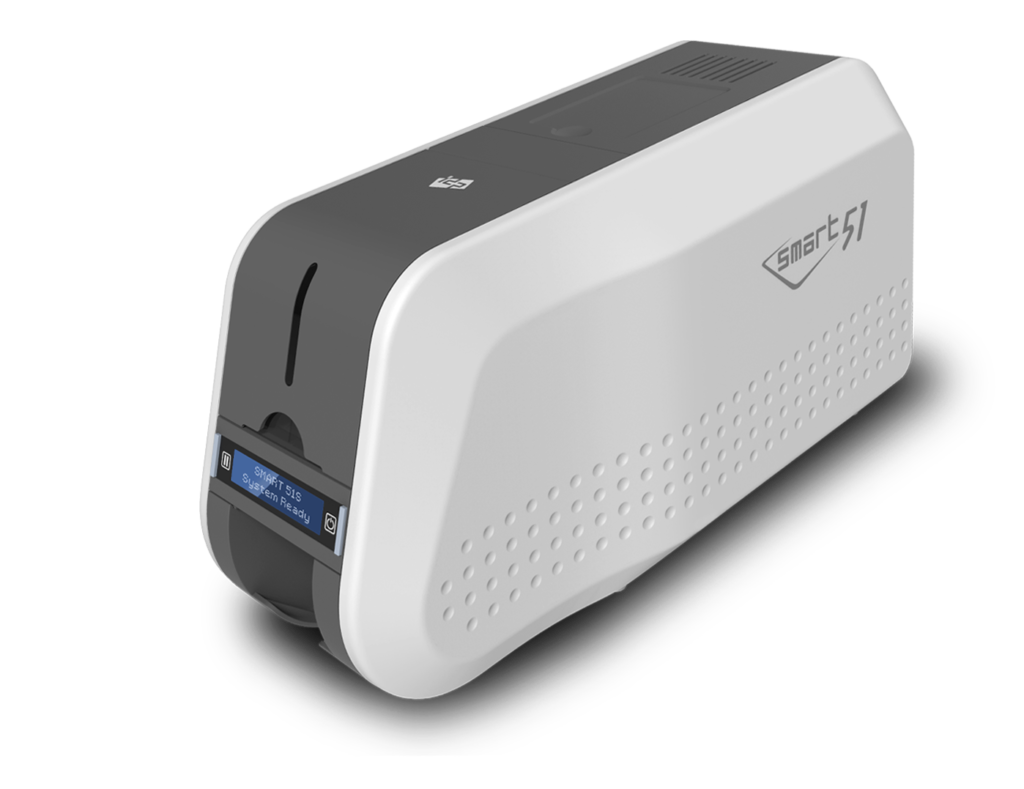 This printer comes with an all-in-one lock system for extra security, and an unrivalled 5-year manufacturer warranty.
What Information Do You Add To A Staff ID Card?
The standard information typically added is:
Name
Date of Birth
Photo in JPEG format
Job Role
Department
Card Expiry Date
The details printed can depend on what you need and which information you want to display for each person's badge.
We can discuss this with you and work out what would be best if you are unsure about what to include.
Visual Card Security
One of the main reasons these products are commonly used is for security.
There are plenty of features which can be included with the design to make them even more secure.
These will often be applied to help prevent fraud or cloned copies being used.
A few of these include:
UV Ink – A pattern or writing which is only visible under UV light.
Micro text – Small text unique to each card which can only be read under a magnifying glass.
Holokote – Frosted watermark is applied over the card and can be in the form of text or a unique logo.
All of these extra features help to give the badges greater security and reduce the risk of them being copied and used for fraud.
Price of Staff ID Cards
The price of staff ID cards will vary as there are so many options to choose from.
Of course a simple photo badge will be cheaper to print than a full access cards with technology chips for different uses.
Ordering a bulk amount of items will also reduce the price per badge compared with buying smaller amounts.
You may find that it is cheaper in the long run to purchase your own card printing machine if you will be producing cards on a regular basis.
What's Next
Feel free to get in touch with us if you'd like more details on printing staff ID cards, and we would be happy to discuss this in more detail with you.