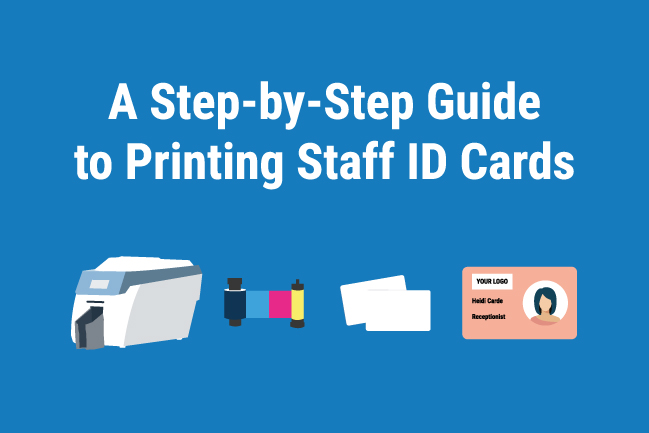 Many organisations now use staff ID cards to identify people on-site and enhance physical security.
Photo ID cards are useful in distinguishing visitors and contractors against staff and ensuring only authorised individuals can access the building.
---
A few places where photo ID cards are commonly used include:
Offices
Schools
Colleges
Universities
Construction sites
Public sector settings
Private businesses
In essence, ID cards can be used at all organisations, regardless of size.
In this post, we're sharing the steps necessary to print staff photo ID cards. But first, let's take a look at the equipment you'll need.
---
What you need to print staff ID cards
It's important to be prepared when printing your staff photo ID cards. Here's what you'll need:
A step-by-step guide to printing photo ID cards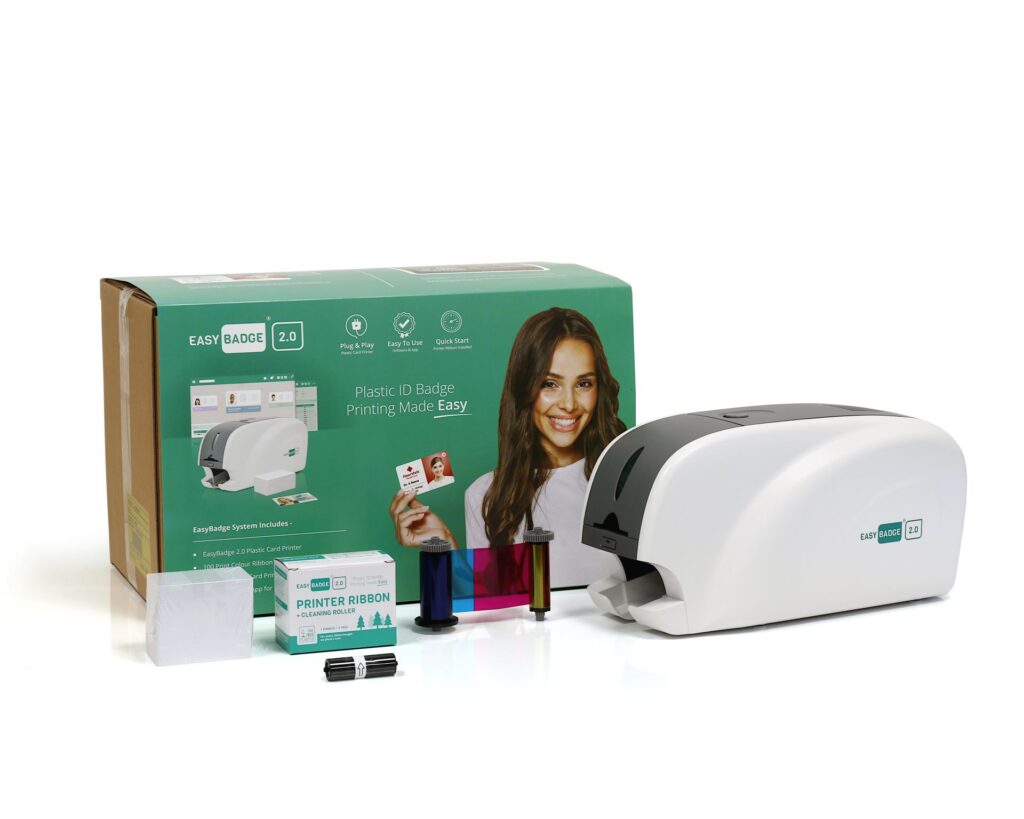 For this tutorial, we'll be using the EasyBadge 2.0 ID card printer bundle, which includes everything you need to efficiently print staff ID cards, including:
The EasyBadge 2.0 direct-to-card printer
Printer ribbon
Plastic cards
EasyBadge Lite software
EasyBadge app
The EasyBadge bundle (compatible with Windows) is what we'd recommend to print employee ID badges due to the printer's excellent print quality, ease of use and rapid print speed.
Let's begin.
---
Step 1 – Set up your ID card printer
Once you have unboxed the card printer bundle, you should insert the printer ribbon and ID cards into the correct compartments.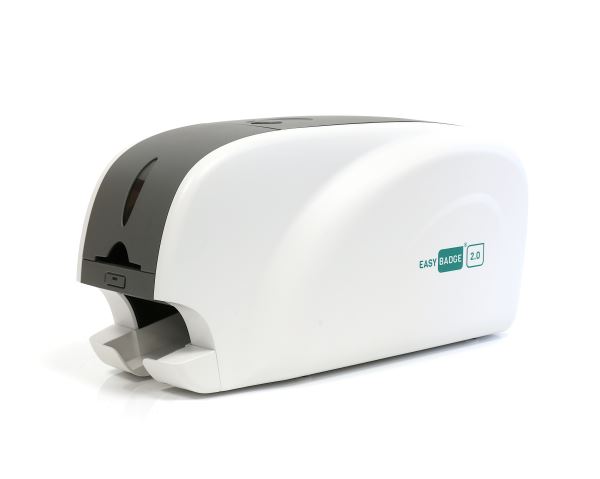 Step 2 – Install the software and printer driver
With the EasyBadge bundle, you will need to complete the online registration form to download the relevant software. Once the software has been downloaded, the printer driver installation should automatically pop up. If it doesn't, you can manually click to install the driver.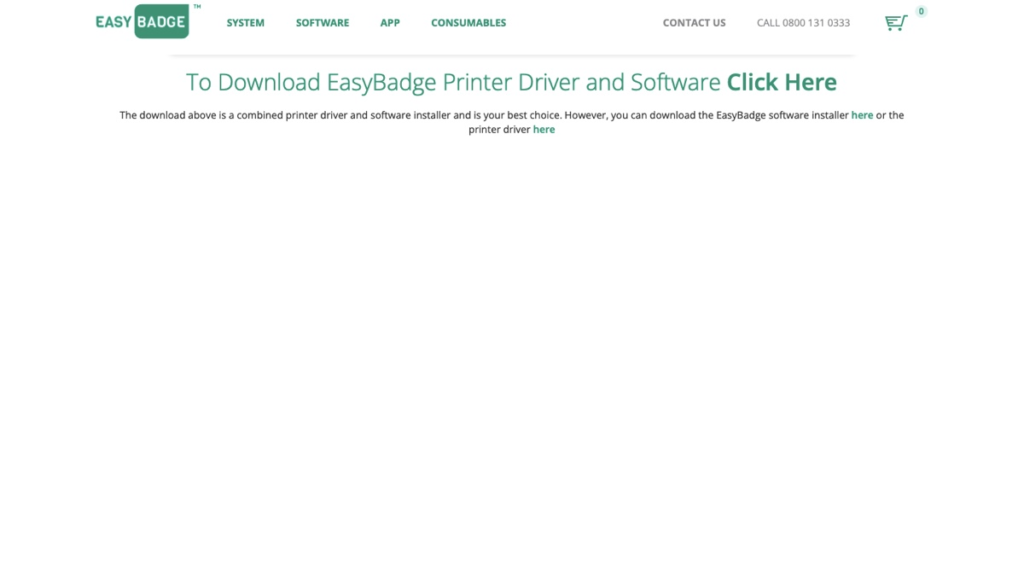 Step 3 – Set up your database
The Wizard will appear on your computer screen upon completion of the software download. Select the 'Staff' template, then choose the fields you wish to include in your database.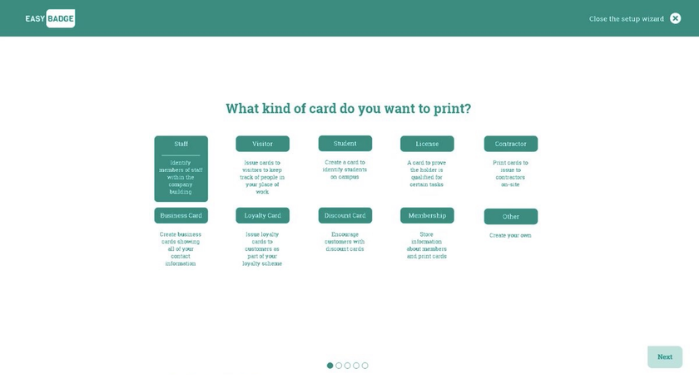 Step 4 – Upload your company logo
Once you have chosen the required fields for your database, you should upload your organisation's logo.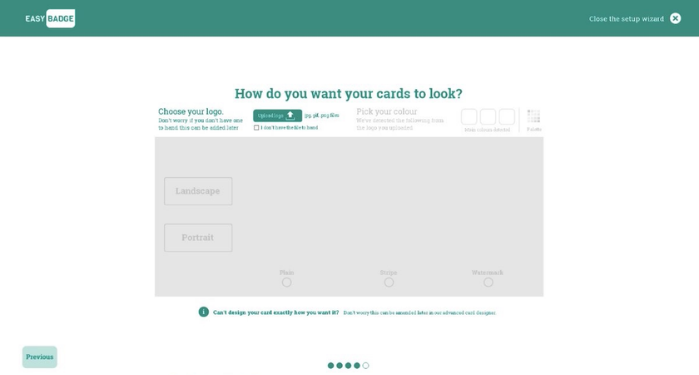 Step 5 – Preview your ID card design
The Wizard will display a sample card design, based on the information submitted earlier and the primary colours from your logo. You can personalise your design in the EasyBadge card designer at a later stage.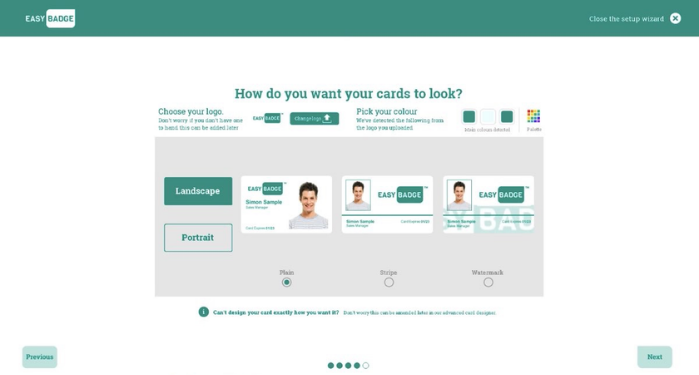 Step 6 – Save your database
We recommend saving the database file in a secure folder that will be backed up. We do not recommend using cloud storage such as Google Drive or OneDrive to store your database file.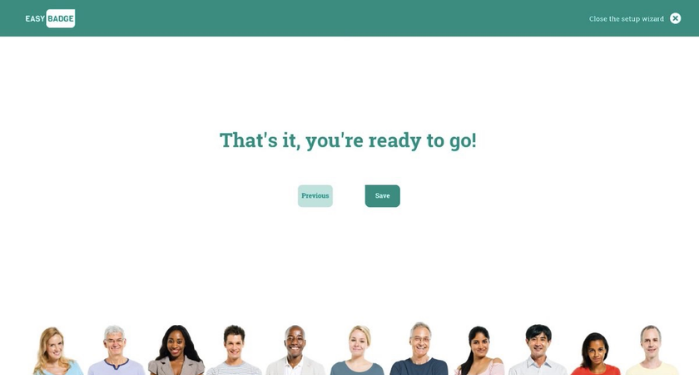 Step 7 – Add records
Using the + button towards the bottom of the screen, you can now input staff members' names and other records into your database.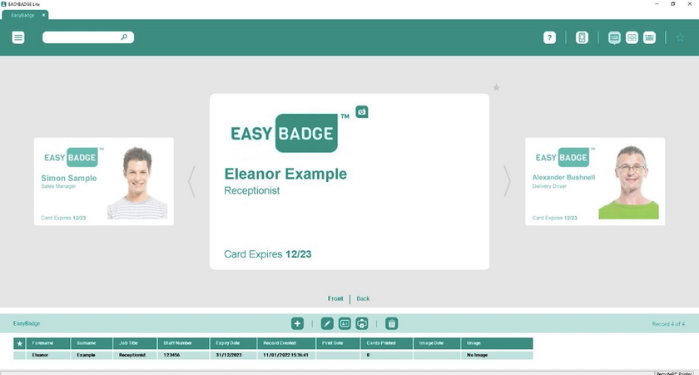 Step 8 – Change the card design
If you wish to personalise your ID card design, you can do so in the card designer. Note that any changes you make to records will also apply to existing designs assigned to the same record.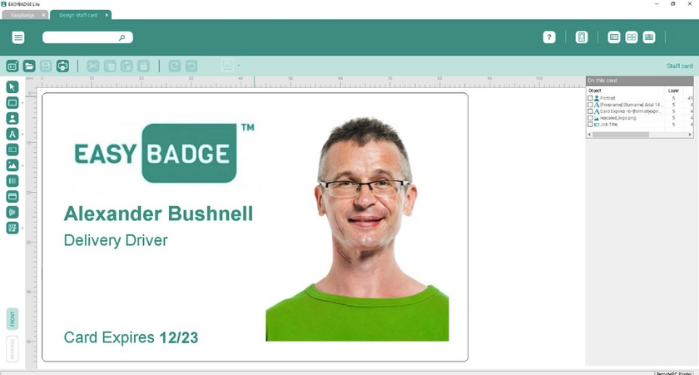 Step 9 – Print your employee ID cards
Your design is now complete. Press print and watch your staff ID cards come to life.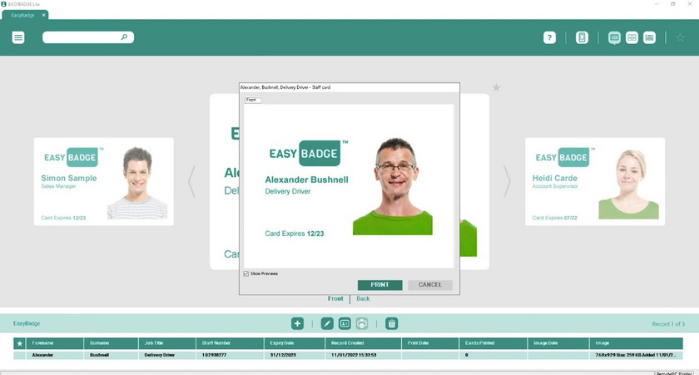 ---
Optional steps
Download the EasyBadge app for easy management.
The EasyBadge app, included in the bundle, allows you to easily take photos, add new records and edit existing records from the comfort of your phone.
Import spreadsheets from Excel to EasyBadge.
If you already have a data sheet on Excel, you can easily import it to EasyBadge.
First, you must ensure there are clear headings on your spreadsheet eg, First Name, Surname, Job Title, etc., as this will make it easier for the EasyBadge software to align this information. Select the 'Import and Export' option from the main menu and select 'Import from Excel' to import your spreadsheet. Note that your Excel file must be saved as xls or xlsx.
---
Digital ID Bespoke ID Card Printing Service
Alternatively, if you want to cut out the hassle of printing your own identification cards, we offer a bespoke photo ID card printing service, providing you with high-resolution photo ID badges to fulfil your company's needs.
Our secure card printing bureau makes it easy for you to get what you need. We will work together with you to create branded cards containing all the necessary information, from the perfect ID card photo to your company logo and anything else you may require.
If it's a single batch of cards you need, this may be the best option for you. We can print photo ID onto both quality PVC plastic cards and access control cards with built-in RFID chips, based on your requirements.
---
Which ID card printing option is best for you?
Whether you decide to have your staff ID badges printed by our expert bureau team or prefer to purchase an ID card printer for in-house ID card printing, the decision is entirely yours.
If you regularly hire new staff members and need cards printing often, it makes sense to have an in-house ID card printer. However, if you seldom require new cards, it is much more efficient to consider an ID card printing service to provide your printed plastic cards.
Regardless of which option you decide to go for, we can help with both.
Get in touch with our expert team on 0800 988 2095 or email sales@digitalid.co.uk, quoting "ID Cards" to further discuss your staff ID card requirements. We'll speak to you soon.