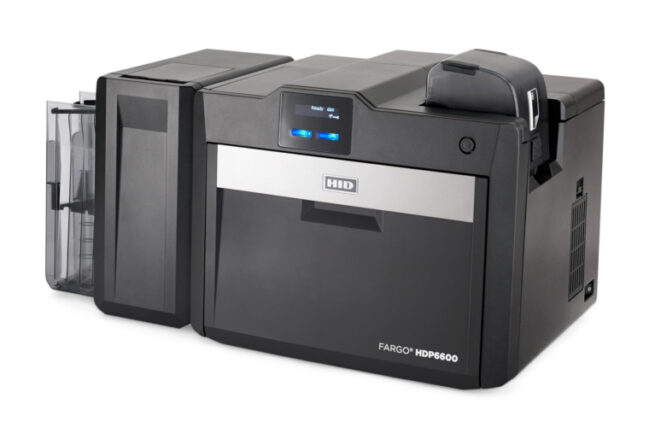 If your business requires highly secure visual identification, you'll need an ID card printer that's up to the job.
To achieve this, the best choice is without a doubt a retransfer printer. You can print onto access control cards without damaging them, the print lasts longer and above all – the cards are extremely difficult to tamper with.
Rather than printing straight onto a card, retransfer plastic card printers print onto a clear film overlay which is then adhered to the card. As a result, they offer high-quality prints, a more durable card, and of course, a highly secure form of identification.
But which secure ID card printer should you choose? Here are five of the best retransfer printers.
1. Magicard Ultima
The Magicard Ultima is one of the newest retransfer printers on the market and is capable of printing cards to an outstanding quality. Like all retransfer printers, the Ultima prints 'over-the-edge' card designs, meaning there is no white border left around the edges of the card.
It's one of the few ID card printers to feature a touchscreen display too, meaning that everything from loading cards to solving errors is completed as intuitively as possible. Retransfer printers might be a complicated piece of office equipment, but it certainly doesn't feel that way for the user.
On top of being able to print on to smart cards, the Ultima offers a further layer of security thanks to its HoloKote watermark feature. This adds a secure overlay to your cards, making it virtually impossible to clone or copy a card.
Capable of printing up to 100 full-colour photo-like cards per hour, the Ultima is a fantastic choice for organisations needing to print secure, high-quality identification.
2. Zebra ZXP Series 9
The ZXP Series 9 is Zebra's range-topping retransfer printer that is capable of producing photo-like identification at impressive speeds; 180 full-colour cards can be produced in just an hour, making it a great retransfer printer for those that need to meet tight production deadlines.
Security extends beyond the cards themselves too; the ZXP Series 9 is available with an optional locking card feeder, protecting cards from being removed from the hopper after they hasve been printed. This makes it an ideal choice for organisations where cloned or stolen cards could cause a serious security breach.
Being a retransfer model means it can print on the raised edges of access control cards such as those produced by HID and Paxton, and optional encoding modules are available for magstripe, smart card and MIFARE encoding.
3. Datacard CR805
Datacard is a brand renowned for creating reliable, long-lasting ID card printers, and the CR805 retransfer model is no exception. It's a popular choice across a range of sectors thanks to an easy-to-use interface, quality card-making capabilities and security options.
The CR805 uses a Pigment Ink technology, making sure every printed card is photo-like, long-lasting and resistant to UV fading. The fact your cards will last longer not only ensures the security of staff, but also reduces reissuance costs too.
The only downside to consider is that this printer is quite bulky, meaning it isn't exactly a portable machine. We'd advise you to set up a printing station for a printer of its size (54cm long, 39cm high, 12.7kg in weight).
4. Fargo HDP6600
Fargo has been at the forefront of creating retransfer printing technology for years and its HDP5000 remains a popular model. This, however, is the HDP6600, and takes over-the-edge card printing to new levels of security and quality.
For starters, it can print up to 230 cards per hour, making it one of the fastest retransfer printers ever made. Fargo's patented iON technology helps save even more time; it allows the printer to reach its optimal operating temperature in less than 60 seconds, allowing you to get printing straight away.
Fargo printers are well known for their smart card encoding abilities, and various modules are available to allow you to program HID Prox, iClass, MIFARE Classic, MIFARE Plus and MIFARE DESFire EV1 products among others.
5. Matica XID8300
The Matica XID8300 is a powerful retransfer printer that offers excellent value for money considering its capabilities. It can print up to 120 full-colour cards per hour and is known for its reliability and simple operation.
It offers a range of security enhancements, including encrypted data transfer and a UV mode that makes it really easy to spot counterfeit or cloned cards. Aside from security, single-sided models feature a clever module that ensures that cards are not bent during the production process.
The high temperatures retransfer printers operate at mean this is quite a common issue, but not with the Matica XID 8300; any cards that have been bent out of shape will be straightened after the retransfer process has taken place.
Need more advice before buying?
Here at Digital ID, we appreciate buying an ID card printer is a big commitment, especially on more expensive machines such as the retransfer models listed above.
If you need more specific advice, get in touch with our experts by calling 0800 988 2095. We'll help you find the security and identification solution that meets your needs best.