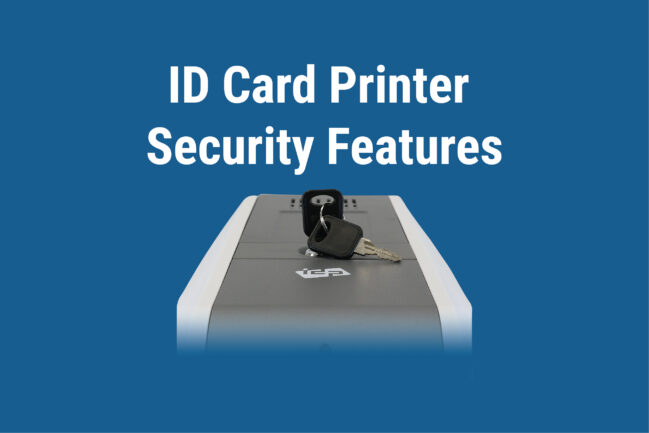 As the UK's leading ID card printer supplier, we're often asked about ID card and printer security.
While ID card security has always been a top priority for businesses, it has also become important to ensure that the physical printers responsible for creating cards are secure. Printer manufacturers have realised this and now offer unique features to keep ID card printers and data protected.

In this post, we'll be looking at the top security features available for ID card printers, divided into 3 sections:
Physical printer security – features that keep the physical ID card printer safe
Ribbon data security – features that protect the data that is printed onto ID cards via a ribbon
Visual card security – features that keep printed cards safe and secure
Note that the security options available for each printer will vary depending on the type of printer and model. You can learn the types of card printers here.
---
Best ID card printer security features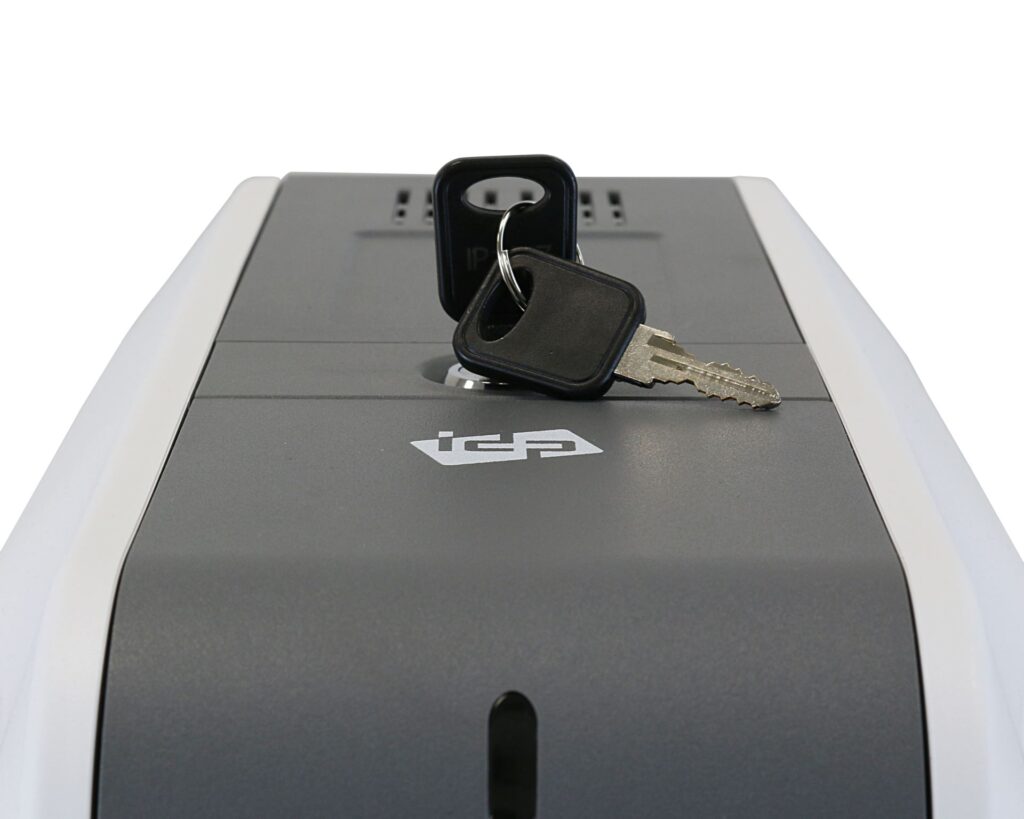 Physical printer security features
Kensington lock – This lock is attached to the chassis of your ID card printer and can be locked to an office desk to keep your machine in place.
Physical lock – There are various types of physical locks, including card locks and ribbon locks (pictured above). These locks ensure the internal mechanisms of your printer cannot be tampered with, keeping cards and ribbons safe from prying fingers.
The above features keep your physical ID card printer and its parts secure and protected from thieves and those with malicious intent.
Ribbon data security features
Digital shredding – Once information has been used for a print job, it is fragmented and dispensed, rendering it irrecoverable. Magicard printers are known for possessing this feature.
Data scrambling – Once cards have been printed, the data on printed ribbons is scrambled, eliminating traceability and lowering the risk of identity theft.
Kineclipse® – This feature masks the data present on the ribbon. Kineclipse is a new feature and is specific to the Evolis Primacy 2 ID card printer.
These features protect the data that is printed onto cards via a print ribbon. It's important to keep this data safe to ensure it doesn't fall into the wrong hands. These features also help to enforce GDPR laws, ensuring your company is protected from a breach.
Visual card security features
UV printing – Adds a layer of UV ink to the card, which is only visible under certain light.
Watermark – An image that is added to the ID card surface to prove its legitimacy. An example is IDP Smart's SmartMark.
Holographic overlay – A protective laminate layer containing translucent holographic images is added to the card surface. Holographic overlays increase card durability and prevent counterfeiting. Magicard's HoloKote is a popular example, with machines such as the Magicard 600 allowing users to create up to 10 custom designs.
The above features keep your printed cards safe and secure. You can find out more about increasing the visual security of your ID cards here.
Now that we've established the main printer security features, let's take a deeper look into why it's important to keep your ID card printer and its data secure.
---
Why does ID card printer security matter?
Printers are often left unattended in open reception areas or on desks, meaning unauthorised people can gain access
There has been a recent increase in small businesses, and many have no dedicated area for printing photo ID cards
Most users place used ribbons in the general waste bin, increasing the likelihood of a security breach
What's more, ID card printers can be expensive pieces of equipment and hold sensitive data, which is why more printer manufacturers are offering improved security features as standard with their machines.
---
Let's Recap
Today, ID card printer security has become just as important as card security. That's why manufacturers have begun to offer a range of security features to protect your ID card printer, its data and your printed cards.
Remember, the features available for each printer will vary, depending on the specific model.
Join 25,000+ customers in choosing Digital ID
We've helped over 25,000 customers choose the best, most secure photo ID card printing solutions over the past 3 decades. We'd love to help you, too.
Give us a call on 0800 988 2095 or email us at sales@digitalid.co.uk to find the best ID card printer for your needs. We hope to speak to you soon.
Alternatively, check out our best ID card printers of 2022