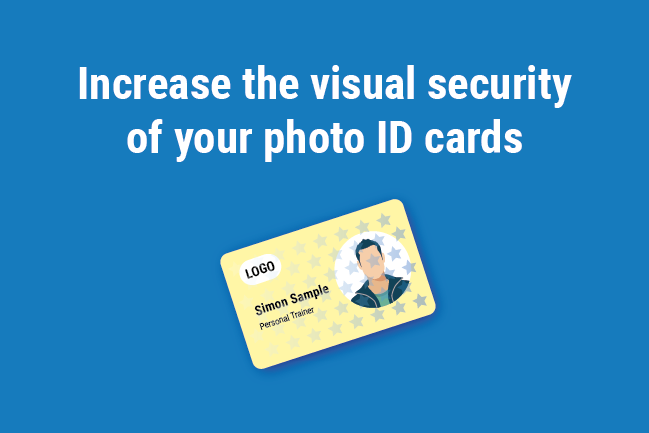 Organisations use ID cards to confirm a person's identity. Examples include driving licences, company cards, and student ID cards, all popular worldwide.
However, many don't realise that a simple ID card containing low-level security features may not be as secure as it seems.
In this post you will learn:
Why you should increase the visual security of photo ID cards
How to improve the visible security of photo ID cards
Increasing the visual security of ID cards
With the potential for fraud and theft ever-growing, it's vital to ensure that the visual security of your ID cards is kept to the highest standard. Creating secure cards will lower the likelihood of unauthorised visitors entering the premises. In turn, this will protect your organisation from malicious attacks and cloning attempts.
This is especially important if using cards for access control purposes, like smart cards, magnetic stripe cards or proximity cards. Access control cards grant users entry to the building, therefore cards with lesser visual security could give external threats access to sensitive data and expensive equipment.
You don't want that.
With several risks of photo ID cards to any business, implementing strong visual security features will help to protect your cards from these risks.
We're sharing the five most effective security features to ensure you're not the next victim of ID card cloning.
5 ways to improve the visual security of a photo ID card
Holographic Overlaminate
Printing with a holographic overlaminate is one of the most simple yet effective ways to increase the visual security of cards.
Holographic overlaminates improve card durability by adding a protective laminate layer. They also add translucent holographic images over the card that are only visible in a certain light.
Holographic overlaminates actively prevent counterfeiting and tampering. This makes them an efficient way for security personnel to prove an ID card's authenticity.
You can even customise the film to include a specific logo, image or text, taking security to the next level.
Tip: The visual security of your cards means nothing if you're not displaying an effective ID photo. With an ID photo being the most basic security feature of an ID card, it's important to get it right. Ensure your ID photos are the best they can be with our guide on taking the perfect photo for your ID card.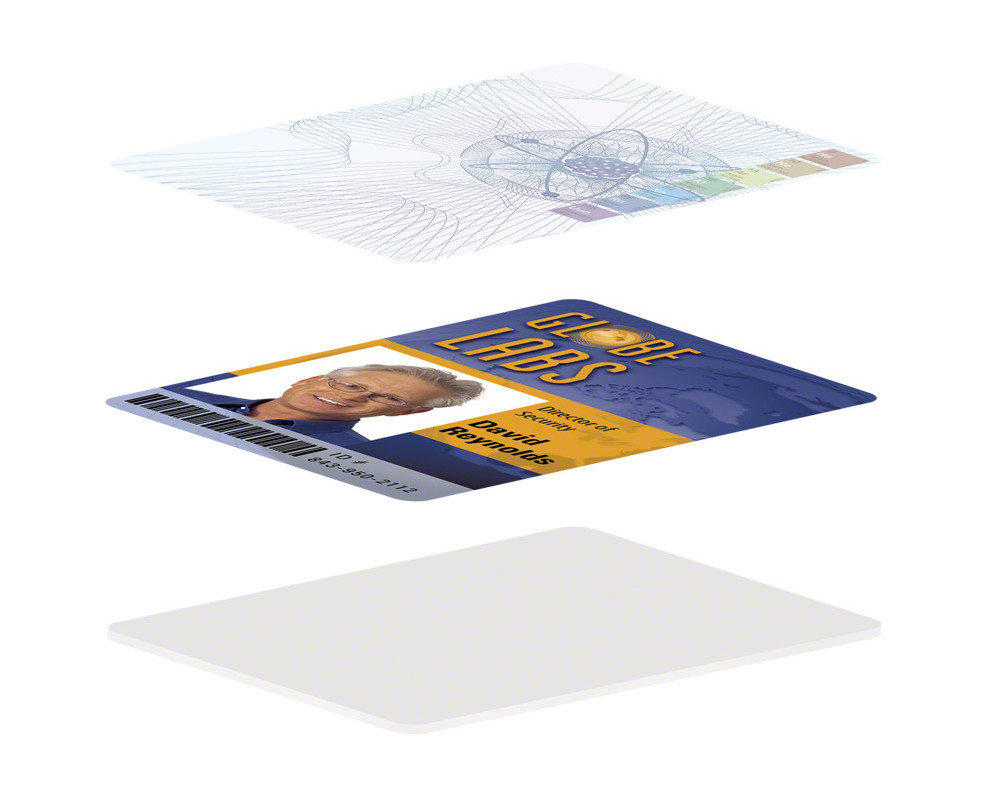 HoloKote
Magicard have created Holokote which is a built-in security hologram specific to Magicard ID card printers alone.
Holokote prints a transparent holographic image or watermark over the surface of plastic cards during the normal print cycle.
You can choose between using the standard design or your company logo to ensure no doubt in the card's legitimacy.
The Holokote image is frosted onto the overcoat without detracting from important features, such as the photo. This results in a watermark that can only be seen when tilted in the light.
Overlaying a simple tiled pattern, stretched image or HoloPatch help verify where an ID card has been printed. This makes it easy to determine if a card has been printed from the original source, or if it's a counterfeit or copy.
UV Ink
UV (ultraviolet) ink is a layer printed on ID cards that allows you to hide data beneath the standard ink.
When looked at under ultraviolet light, the greyscale text becomes visible, confirming the legitimacy of the card.
UV provides a discreet and impenetrable way of increasing card security. This means that anyone attempting to clone a card may not even realise it has this feature.
Therefore, UV ink dramatically reduces the chance of card fraud while allowing simple and easy detection.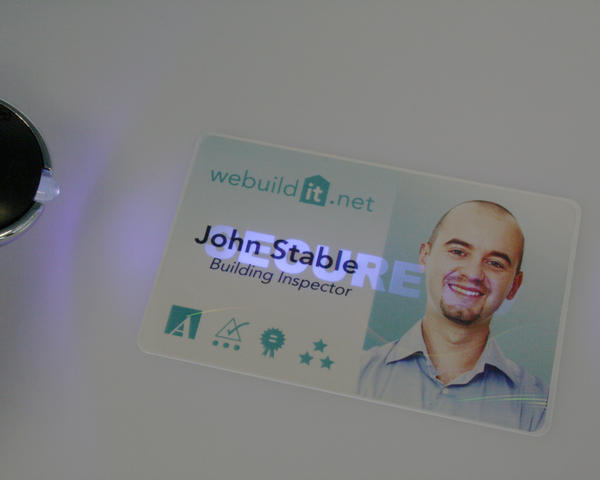 Tactile Impression
Certain ID card printers, such as the Entrust Sigma DS3 Simplex, can leave a tactile impression on cards (similar to a stamp).
This means that only your individual ID card printer can create the stamp on the cards. This makes counterfeiting impossible without using the same ID card printer.
Your card printer will print a tactile impression over the top of a standard ID photo. It leaves minimal distraction and acts as an additional check during the visual verification process.
As well as visual security, it also works with the card's laminate. This means if anyone attempts to tamper with the card and peel off the top layer, the card will destroy itself, rendering cloning useless.
To learn more about tactile impression, watch the video below and skip to 2:30 to see exactly how it works in protecting ID cards.
Microtext
Microtext prints a microscopic code or text chain onto an ID card that cannot be seen by the naked eye.
You are only able to verify microtext with a microscope or magnifying glass, assuring complete legitimacy of the ID card.
UK driving licences commonly feature microtext printing and it is incredibly difficult to replicate. Every single text chain is different, which only adds to the security of the imprint.
The checking process is extremely efficient, with tools and hardware provided to carry out the checks. For many industries, this is a cost-effective security measure.
Microtext is often part of the holographic overlaminate, adding another layer of effectiveness to your security strategy.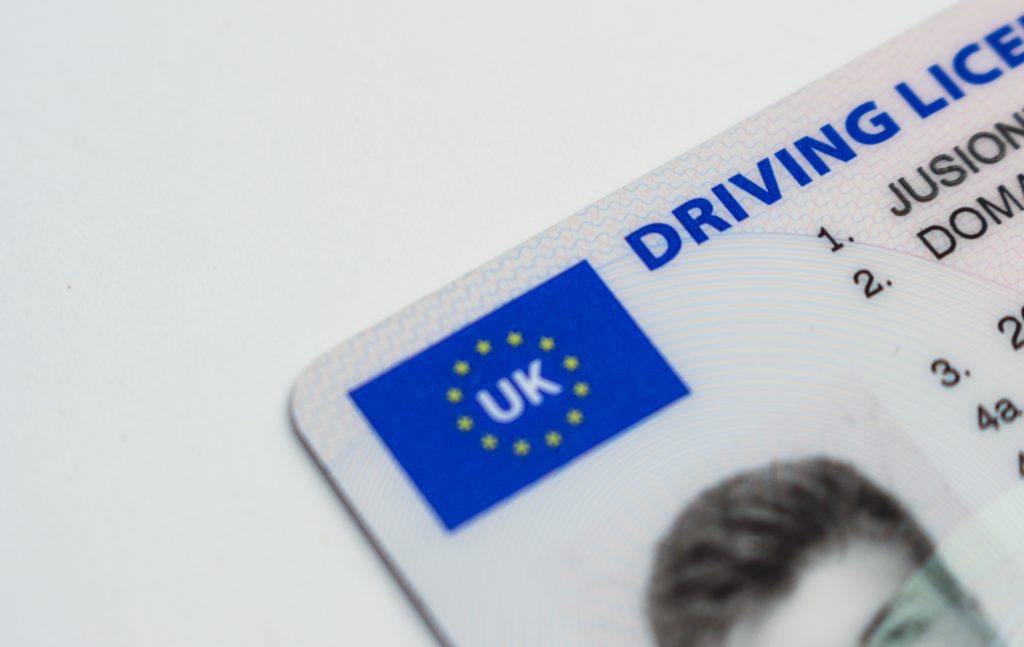 Let's Recap
Implementing one or more of the above visual security elements will undoubtedly boost ID card security. With many different security features available, you can easily create highly secure ID cards that are less susceptible to cloning and data breaches.
And dependant on your company requirements, you may even benefit from implementing multiple visual security features on your ID cards.
Now I know how to increase the visual security of photo ID cards, what's next?
If your current ID cards are lacking strong visual security features, or if you simply think it's time to refresh your existing ID card program, we can help.
As the UK's leading ID card supplier, we know how important ID card security is. We create secure printed PVC ID cards for companies every day and can also help you make highly effective, secure ID cards.
Get in touch for a free card analysis service on 0800 988 2095 or email sales@digitalid.co.uk with the subject line "Free Card Analysis." A member of our expert team will be on hand to assist you.