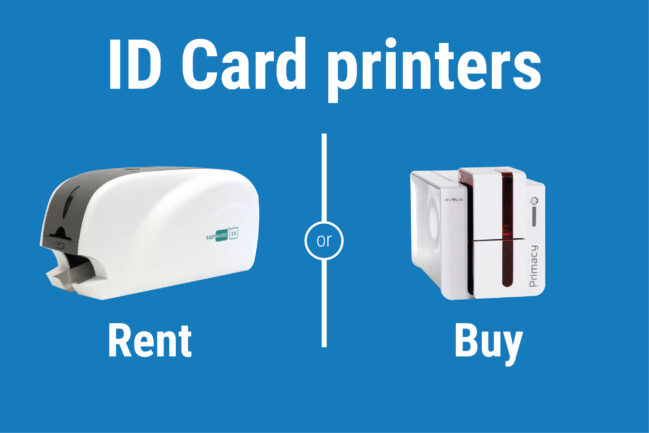 Depending on the individual printing needs, both options are viable choices for photo ID card printing.
In this blog, we'll share our thoughts and give examples of where it makes sense to either buy or rent a card printer.
---
Renting an ID Card Printer
We would only recommend renting an ID Card printer in instances where the cards will be for single usage only e.g date or time-sensitive. This removes any high upfront costs and no ongoing maintenance costs.
Printer rentals are also useful if you currently own an ID card printer but it is being repaired, or you are waiting for the next budget period to upgrade your current system.
One thing to consider with printer rental is you will need to ensure a staff member is trained on how to use, maintain and print ID cards which can be a time-consuming task. These tasks and the time can quickly add up:
If the printer model you used previously is discontinued or unavailable.
The staff member last trained needs re-training.
They are not on-site for any reason and a new employee needs to be trained.
We've put together a selection of card printers for first-time users available to purchase which are user-friendly, low cost and easy to set up.
There may also be strict terms and conditions associated with your printer rentals, limiting how you can use the ID card printer. Data security isn't necessarily guaranteed either, as rental printers are used across different sites and personal data that has been printed could still be accessible after your printer rental is over if not thoroughly wiped from the card printing system.
---
Buying an ID Card Printer
By buying your ID card printer outright, you're able to choose the setup that suits your business and compare card printer features such as:
With ID card printer rentals, this type of customisation is limited as they typically cover a reduced range of ID card printers. If you are buying, you are able to select from the full range of available ID card printers.
When you opt to bring your ID card printing service on-site and aren't reliant on printer rentals, you can print ID cards on-demand instead of having to wait for the delivery of the rental printer or when you next have a budget to rent again.
If your business is trying to be more sustainable, investing in an ID card printer with a purchase vs a rental can have a more positive impact on the environment. Many ID card printers available from Digital ID support the OneTreePlanted scheme, for every participating printer purchased, a tree will be planted. You can invest in more eco-friendly consumable products, such as composite plastic cards, lanyards and ribbons for the EasyBadge ID card printer bundle. Plus, the ID card printer bundle has everything you need to get started.
You can find out more about our full range of eco-friendly products for sustainable ID card printing here.
While ID card printer rentals tend to come with a level of technical support, they may not measure up to the professional support the printer manufacturers offer when you've purchased the ID card printers. Especially if you are printing more complex proximity cards and ID badges, having access to the manufacturer technical support services may be better for your business.
Comparing Costs
The only real negative we can see behind purchasing ID card printers are the upfront costs associated compared to a seven day rental period as an example. If you print ID cards on a very infrequent basis, it may not make sense fiscally to buy a card printer. However, there are several ID card printers suited to smaller budgets, like the IDP Smart 21, combining professional standard ID card printing with an affordable price tag.
Buying is best for:
Businesses with higher security requirements and want to bring their ID card printing service in-house.
---
Buy or Hire? Which is best?
While ultimately it may come down to your individual requirements, we suggest where possible to buy your ID card printer over renting. By buying, you get more choice, support, security, and can make more sustainable choices.
See our full range of ID Badge Printers, all available with over £250 worth of extras including Free Software, Free Technical Support and Free Delivery. Or speak to a member of our team and ask more about the benefits of buying an ID card printer on 0800 988 2095.