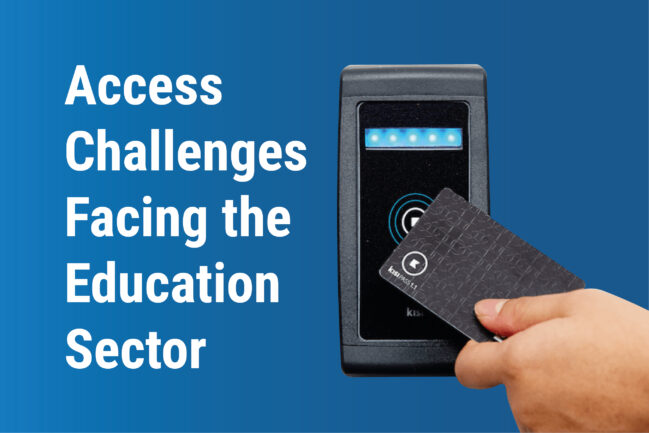 Physical access control is the process of granting or denying individuals access to restricted areas.
We're looking at the physical access challenges facing schools, colleges and universities, and sharing a useful solution to help security managers effectively overcome these concerns.
---
Why is access control important for schools, colleges and universities?
To keep students, staff and guests safe
Ensures no unauthorised or dangerous individuals can enter the premises
Protects sensitive information held on-site
Allows monitoring in the event of fire alarms or other emergencies
---
Access Control Challenges Facing Educational Institutions
Lost accommodation keys
Outdated and unsecure access cards
Visitor management
Multiple site management
High student turnover
1. Lost accommodation keys
Students easily lose their keys.
Lost accommodation keys can leave students stranded, with no way to enter the premises. This can get especially dangerous if late at night and students have nowhere to go.
2. Outdated and unsecure access cards
Most educational establishments use low-frequency proximity cards to grant staff and students access to the building. It is widely known that these cards can easily be duplicated using cheap technology available online.
Although administrators are aware of the risks of using outdated access control systems, some are reluctant to act due to misconceptions about upgrading to modern technologies.
However, failing to act could result in data breaches or even harm being caused to students and staff.
3. Visitor management
Higher education institutions, especially universities, see several visitors every day.
It's almost impossible for security personnel to physically man doors at all times to monitor who enters and exits the premises.
Furthermore, students attend campuses at different times, which can be difficult to monitor if someone is not physically present 24/7. Remote management would make it much easier to monitor who is on-site and when.
4. Multiple site management
Educational establishments usually have various sites. For example, they may have libraries, lecture theatres, several campuses etc.
Therefore, the process of monitoring who is on the premises and when can become time-consuming and takes admin staff away from carrying out larger value tasks.
5. High student turnover
Every year, existing students graduate and new students enrol.
This means a large number of access cards must be created every year and a large number of cards must be disabled. This can be extremely time-consuming for administrators.
The above list contains just a handful of access challenges facing the education sector.
A remotely managed access control system would be ideal to solve these issues.
Fortunately, we have something for you.
---
Mobile Access Control: The Modern Access Control Solution
HID Global's industry leading mobile access solution allows students, staff and visitors to unlock doors using their mobile devices.
Here's how the modern access control technology negates the challenges facing educational institutions:
Phones are much harder to lose than keys
Class-leading, secure technology
Remote access management
A centralised management portal
Instantly grant and revoke credentials
1. Phones are much harder to lose than keys
In today's society, young people carry their phones with them almost everywhere they go.
For many students, the humble smartphone is their most valued possession. This means students are much more likely to look after their phones, and therefore less likely to lose them.
2. Class-leading, secure technology
Mobile access control utilises secure, encrypted Seos® technology by HID that cannot be cloned.
Unlike low-frequency access control cards that have not been updated to meet the needs of the modern environment, mobile access control uses only the best technology to suit the needs of today's students and staff.
3. A centralised management portal
Easily manage permissions via the centralised management portal.
The portal allows security personnel to manage permissions from a single dashboard, making it ideal for educational establishments supporting multiple sites.
4. Remote access management
The management portal is entirely remote, therefore security managers can monitor who is on the premises in real-time without needing to be physically present. This saves administrators time they can spend completing higher value tasks instead.
5. Easily grant and revoke credentials
Grant new students credentials during enrolment and revoke credentials once a student has graduated.
This ensures new students can instantly gain access to the building and previous students no longer can. Or, if you still want to grant graduates access as alumni, you can easily edit mobile IDs via the portal to update the graduate's new role.
Switching to mobile access control offers educational establishments various benefits. Further advantages include an enhanced student experience, parents being reassured that students are safe and lower long-term costs than access control cards.
We also know that student recruitment has become increasingly competitive for universities. Implementing mobile access control helps your university stand our from the crowd and attract potential students.
Additionally, following the current chip shortage, mobile access provides students and staff with a secure way to access campuses. You can read more about how mobile access solves the education sector's card shortage dilemma here.
---
Let's Recap
The access control challenges facing the education sector can be solved by switching to a modern access alternative.
Students and staff may have already been using their digital devices for online teaching and online learning throughout the pandemic. Therefore, mobile access control is the next step in utilising digital resources to enhance the learning experience.
Furthermore, with an additional layer of security, mobile access control helps safeguard students, making it easy to inform local authorities about security breaches should they occur.
The University of Hull has already implemented mobile access control on-site, with students and staff using their mobile devices to open doors on campus every day.
Will you be next?
Give our expert team a call on 0800 195 8462 to further discuss how mobile access control can benefit your school, college or university today.
Alternatively, learn more by reading our mobile access eBook.