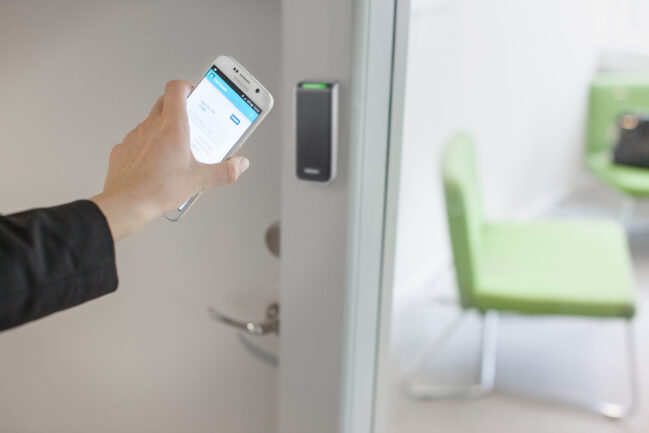 Due to the semiconductor chip shortage, there is a genuine risk that some universities may not be able to issue access control cards come enrolment 2022.
This leaves students with no way to securely access the building and organisations face a real security threat.
In this post, we're looking at how mobile access control can solve this issue.
---
Students have been utilising digital products and services for their personal and academic use for years. As a result, educational establishments have been adapting to the digital transformation. And the pandemic has only accelerated this.
For instance, students and staff members had no choice but to rely on online teaching and learning platforms to communicate amid nationwide school closures.
Furthermore, as the modern student's needs evolve, it has almost become expected of schools, colleges and universities to implement digital processes to grant students convenience and aid them in their learning.
In today's digital world, students and young people rely heavily on digital resources for all aspects of their lives. It's highly unlikely to see a student without a smartphone or equivalent mobile device. Therefore, incorporating digital resources within education provides students with an enhanced learning experience.
However, security is still a top priority for schools. Wherever students are concerned, institutions must ensure they are safeguarded and protected from harm.
---
While the COVID-19 pandemic may have accelerated the use of phones and computers for learning purposes, the pandemic also caused quite an issue. It caused worldwide chip shortages, with manufacturers anticipating demand to die down during the pandemic, and thus not producing enough chips.
Most industries felt the impact of chip shortages and education was no exception to the rule.
Schools, colleges and universities use access control cards to enter the building, which require these chips. However, due to the chip shortage, cards may not be delivered in time, leaving students with no way to access the campus come enrolment.
Fortunately, there's a solution that allows students to access the building and begin their student life.
---
The solution lies in mobile access control
As mentioned earlier, digital resources have gained traction in the education sector, thanks to their ability to deliver convenient, personalised and streamlined experiences. Mobile access control delivers the same optimised experiences, by allowing students, staff and guests to enter the premises with their mobile phones.
Unique credentials are stored on an individual's device to verify their identity and conveniently allow them to enter the building. The advanced technology used is much more secure than outdated access methods such as access cards. And all credentials are provided digitally, therefore you will no longer be at risk of card shortages.
Another advantage is that mobile IDs can be granted and revoked from end-users as and when needed. This ensures temporary visitors have access from the moment they need to enter the building, and only until their work is complete.
Most importantly, mobile access control ensures students will be able to safely access the premises come enrolment time.
The alternative is waiting for access control cards that may not make it in time. And how would students securely enter the building then?
---
Mobile access is opening doors for the education sector
And these doors offer endless possibilities.
The solution is paving the way for not only the education industry, but also for the healthcare, public and private sectors.
Call us on 0800 195 8462 to find out exactly how mobile access can protect your educational establishment and network today. Our expert team has all the knowledge and know-how about the modern solution and is always happy to help.
Alternatively, read our guide to mobile access control here.