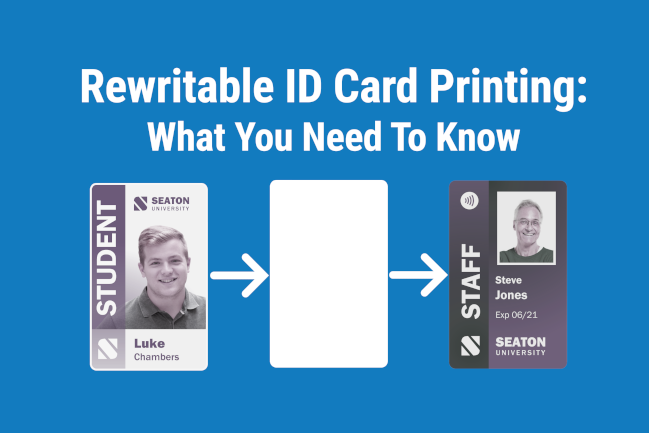 In 2022, rewritable ID card printing is taking the industry by storm.
More and more manufacturers now include a rewritable feature as standard with their machines. But what exactly is the deal with rewritable ID card printing? More importantly, is it really necessary?
In short, yes. In this blog post, we're looking at all things rewritable ID card printing. We'll cover what the technology is, how it works, and what exactly it can do for you. Let's begin.
---
What is rewritable ID card printing?
Rewritable card printing involves a rewritable ID card printer using special technology to 'print', erase and reprint information on rewritable cards up to 500 times.
No printer ribbon is necessary as a special material is used to print designs onto the card.
In a nutshell, rewritable ID card printers erase the information on a card and then print new information over the rewritable surface, making rewritable card technology essential for temporary passes and visitor badges.
---
How can I benefit from a rewritable ID card printer?
Instantly erase designs and reprint on ID cards
Issue a temporary pass to a visitor in the morning, rewrite on the card and issue the 'new' card to another visitor in the afternoon
Save the costs of printing a brand new card for each visitor and contractor
Save money by using one ID card printer to print cards for everyone, instead of having to buy 1 machine for staff and another for visitors
Strengthen sustainability efforts by using fewer plastic cards
It's clear to see that rewritable card printing is the best solution for printing temporary passes and visitor badges. Rewrite technology makes it easier than ever to issue cards, and you could issue a card to a visitor in the morning, and when they leave, use your rewritable card printer to reprint another design onto the card, having it ready to issue to your next visitor in the afternoon.
Rewritable ID card printing is the best way to print temporary badges and visitor passes.
Related: Helpful Guide To Buying An ID Card Printer
---
Which rewritable ID card printer is right for me?
The above printers offer both direct-to-card and rewritable printing abilities. This means you can use these machines to print on both blank white cards and rewritable cards.
You can view our complete range of rewritable ID card printers here.
---
What's the difference between rewritable cards and normal plastic cards?
Rewritable cards are double sided plastic cards that can be reused. On one side, there is a glossy surface that can be printed on by any ID card printer. On the other side, rewritable cards have a matte surface containing a thermosensitive material that can be printed on, erased and reprinted on up to 500 times.
The main difference between rewritable cards and blank white plastic cards is that these special re writable cards can be reused and reprinted on, while standard blank white cards cannot.
---
Let's Recap
Rewritable ID card printers are used to print, erase and re-print rewritable cards.
Rewritable ID card printing technology has become extremely popular in recent years – and for good reason. These rewritable card printers make visitor management and temporary ID issuance easier than ever.
Using special thermal recording material, rewritable card printing allows users to personalise and issue the same card multiple times. Rewrite technology can be used with loyalty cards, membership cards and photo ID cards.
Join 25,000+ customers in choosing Digital ID
We've helped over 25,000 customers choose the best ID card printing solutions and accessories over the last 3 decades. We'd love to help you, too.
When you buy an ID card printer with Digital ID, you'll receive free design software, free delivery, lifetime email support and telephone support for the first 30 days. What's more, all our ID card printers are covered by a price match promise, so you'll always get the best price.
Give us a call on 0800 988 2095 or email us at sales@digitalid.co.uk to speak to a member of our expert team today. Our team has all the knowledge and know-how of our solutions and is always happy to help. We hope to speak to you soon.
Alternatively, you can browse our complete selection of ID badge printers here.
Related: Best photo ID card printers of 2022