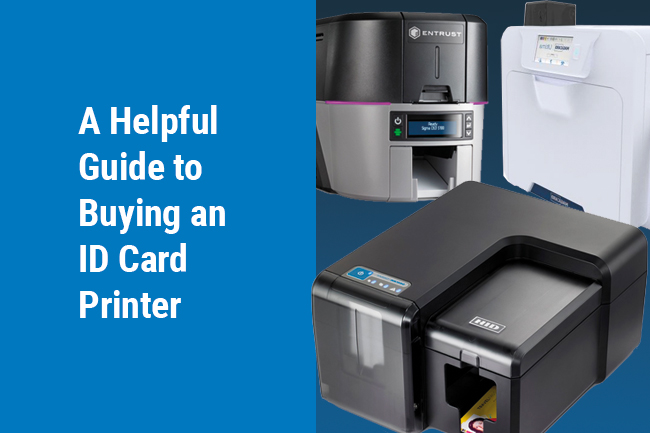 Buying an ID card printer is a key investment for any organisation and a crucial piece of office or workplace equipment post-COVID-19. Making the right purchase decision in the first place can seem a little daunting and with lots of models and features on offer, we've created a simple printer buying guide to ensure you don't get yourself in a jam. Excuse the pun.
---

Step 1: What type of card will you be printing on?
Before even thinking about the ideal printer for you, it's a good idea to know what type of cards you'll be printing onto. Will you be printing simple, photo ID on to blank plastic cards, or does your business use access control  (door entry) cards such as MIFARE and HID cards?
This is an important point because many access control cards contain a tiny computer chip that gives the card a slightly raised edge. This means using a printer such as a direct-to-card machine can be damaged, so you must use a retransfer printer or an inkjet printer if you are printing onto access control cards.
Blank photo ID cards are best for you if…
·   You do not require access control or door entry
·   You want a simple design including a name, photo, job title, department
·   You require just one logo or visible image
·   You don't mind a small visible white border
An access control card is best for you if…
·   You need a card programmed to store data and an access control system
·   You want a more complex/advanced card design
·   You want information printed on both sides of your ID card
·   You want multiple images, colours or logos
·   You don't want any white borders around the edge of a card
---
Step 2: Which type of ID card printer do you need?
After settling on which type of card you require, the next step is to decide which printer will meet your needs best. Before you proceed, we'd advise on watching the helpful video above to give you a better understanding of the types available:
To choose the optimum printer for you, it's important to consider a few things:
·   Whether you are printing on to access control cards
·   The image quality you require
·   The volume you require
·   The level of printer and card security you require
There are several distinct types of ID card printers available including:
Direct-to-card
Retransfer
Inkjet machines

But which is best for you?
Direct to card printers
Direct-to-card printers remain the most popular due to attractive pricing and ease-of-use. Typically the solution for beginners or those with a low volume requirement. Our direct-to-card printer guide has all the information you need.
Consider a Direct-to-Card (DTC) printer if you…
· Need simple card designs with basic photos, logos and text
· Want to keep the cost of consumables such as printer ribbons to a minimum
· Don't need to print to a form of access control card
Retransfer printers
Retransfer printers are much more capable machines than direct-to-card printers thanks to their two-step production process. You can read about how it works in our dedicated retransfer printer guide, but in short, they create longer-lasting durable cards and allow you to print onto access control cards.
Consider a retransfer ID card printer if you…
· Need to print onto access control cards
· Want high-definition image quality
· Require over-the-edge card coverage
· Want ant a long-lasting ID card that doesn't fade over time
Inkjet card printers
Inkjet ID card printing is a new technology. It makes printing onto plastic cards as easy as possible thanks to the use of a simple snap-in cartridge rather than a printer ribbon. The INK1000 is also capable of printing high-definition imagery onto access control cards too. Our inkjet ID card printing guide will give you further insight into whether it is a printer that meets your requirements.
Consider an inkjet ID card printer if you…
· Want your printer to be extremely user-friendly
· Need to print onto access control cards
· Require high-definition image quality
· Do not require holographic and highly secure watermarks
---

Step 3: Single-sided or dual-sided printer?
The next step is deciding if you want a single-sided or dual-sided printer. For 2021, we're seeing more and more customers opt for the flexibility of a dual-sided machine. After all, you can print pretty much anything you like onto an ID card. It saves time during print runs and will give you the flexibility to change card designs in the future.
A photograph, logo and personal data all play their part, but many people are now using ID to remind staff, students and visitors of procedures and policies in light of COVID-19. It's a simple and extremely effective way of reminding people of new practices. Of course, you may simply want to make your information look less cluttered.
You can opt for a dual-sided module add-on across the majority of our printers, and you can expect to pay between £100 and £300 extra depending on the make and the model.
---

Step 4: What volume of cards to you require?
It's really important to know the rough number of cards you need to print, be it on a daily, weekly or annual basis. Here are some pointers you should look out for when considering volume.
Print speed
All the printers we sell are tested in-house for print speed, and you'll find this information within our full review on our product page. Full-colour cards can be printed in between 12 and 35 seconds each depending on the print speed. Obviously the higher your volume requirement, the higher you need your print speed to be.
Input and Output hoppers
Some printers designed for low-volume users are hand-fed, but many feature input and output hoppers. The hoppers feed the machine with blank cards and collect printed cards at the other end. The larger your hoppers, the longer you can go without having to load and unload cards.
Print yield
This will depend on the type of printer ribbon you are using. Aside from inkjet machines, all ID card printers use print ribbons. The larger the ribbon, the less you'll have to change it. Most ribbons have a yield of between 250 and 500 cards.
---

Step 5: What are your security requirements?
At the end of the day, you're buying an ID card printer to keep your site, staff and business as secure as possible. So whether or not you require on-card security is a key consideration. There are several options on offer depending on which manufacturer you choose, but there are several ways of enhancing the security of your ID card system.
UV Ink
Some printers allow you to print using UV ink, which is only visible under a special light. This makes identifying cloned cards much easier. The UV ink is found in the printer ribbon, so it's worth making sure the printer you choose can use UV ribbons if you need it.
Watermarks
Visible watermarks are a fantastic way of immediately enhancing your cards' security. They are extremely difficult to clone, and many manufacturers offer their own unique watermark security systems. These include Magicard's Custom HoloKote and IDP Smart's SmartMark.
Protecting your data
Printer security is just as important as card security these days. It's incredibly important that personal data printed onto ID cards cannot fall into the wrong hands. For this reason, lots of manufacturers offer printers that eradicate the data as soon as it is printed. A great example is Magicard's digital shredding feature and Fargo's Resin Scramble. IDP Smart also offer a GDPR Secure model that features a lockable output hopper and Kensington Lock as standard.
---

Step 6: What about warranty and technical support?
The ID card printers we supply all come with manufacturer warranties of between two and five years. However, the vast majority feature three years of cover. Our dedicated in-house technical support team will help you set up your printer: all models come with 30 days free telephone support including set-up.
We've a range of ID card printer support packages that will ensure should the worst happen, your printer downtime is kept to a minimum. Check out our ID Care page for more info.
Step 7: What about compatibility?
Often overlooked until it's too late is the printer compatibility with your operating system. The vast majority of our printers and supporting software here at Digital ID are Windows-based, so if you do require a printer which is compatible with Macs make sure that it includes a Mac driver and works with your current operating system. Please note EasyBadge, our preferred choice of ID card design software, is not Mac compatible.
So what's next?
The best ID card printer will depend entirely on your own requirements, but we hope this buying guide has helped.
If you're ready to shop, then check out our range ID card printers here starting at just £455, or grab everything you need in one box with our range of printer bundles starting at just £595.
The second option you have is to speak to one of our friendly printer experts, who are happy to take your call and discuss your needs. With no pressure to buy, they'll assist you and help you pick out the best machine for you and even try to help you save some money along the way. Contact us on 0800 988 2095 and quote "Printer Buying Guide".