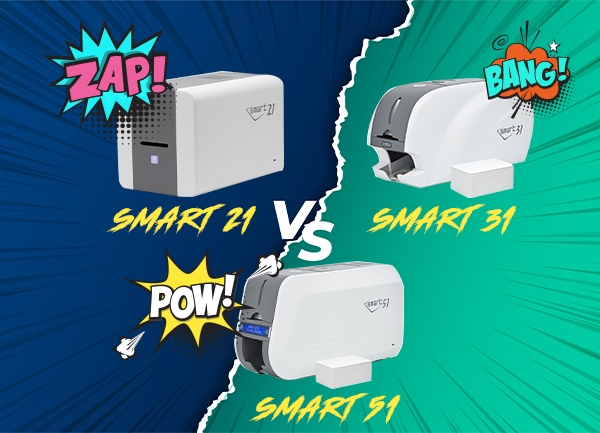 IDP Smart ID card printers are among the most popular on the UK market. All offer extremely high-quality ID card printing that is affordable and above all reliable.
But with an all-new IDP Smart 21 joining the line-up, we thought we'd compare the range to help you decide which ID card printer is the one for you. Let's start by having a look at the newest addition.
---
IDP Smart 21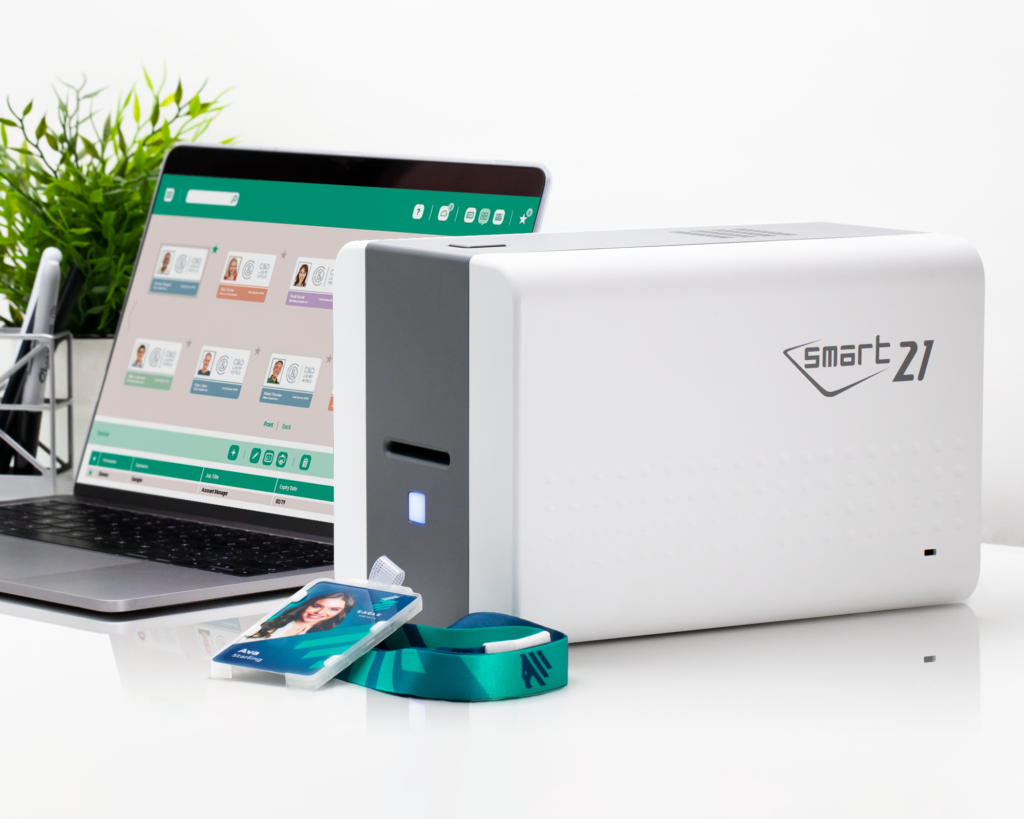 Priced from £449.00 the IDP Smart 21 is the newest, smallest and most cost-effective printer in the IDP line-up. In fact its price point makes it the least expensive ID card printer currently on sale. This brand-new product has just launched, and has been designed specifically for those with low-volume printing requirements – something we've seen an increase in demand for as people return to work after the pandemic.
First things first; this is a hand-fed machine, so it really is only suitable for those that need single-sided cards on an adhoc basis. That said, it still gets the same security features as the larger printers in the range, including SmartMark (IDP Smart's UV watermark). You can also choose to have it fitted with a magnetic stripe encoder if you wish.
The IDP Smart 21 can print a full-colour card in 24 seconds, although it'll take just 6 seconds to create a black-and-white monochrome card. So who is it for? As we said, the IDP Smart 21 is the perfect companion for those that don't require lots of cards on a daily basis. A sleek new design and low weight (2.7kg) make it ideal for those travelling around too.
---
IDP Smart 31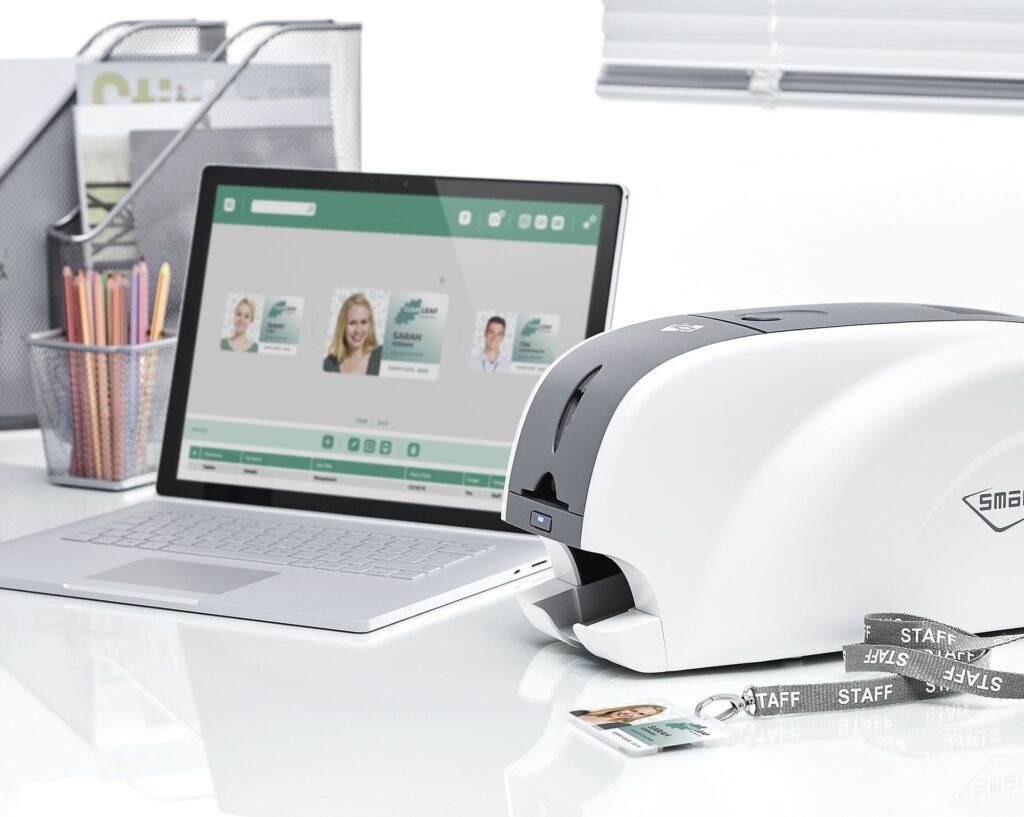 Moving up the range, you'll find the IDP Smart 31. Costing from £599.99, you can consider this the middle-weight model. Rather than feeding the cards by hand, the biggest different between the 21 and 31 is that the latter offers an automatic card feed via an 80-card input hopper. This saves time, and also means you can opt for a dual-sided model that features a flipper allowing you to print on both sides of a card in a single print run.
What's more, print time is shorter than the 21, at 20-second per full-colour card. All this makes it a more viable option for schools, organisations and businesses that require larger amounts of cards. However, at 3.4kg in weight, it's not that much heavier than the 21. As well as mag stripe encoding, the Smart 31 also supports contactless card encoding, while the UV SmartMark security feature remains.
It's an all-round more capable printer and is aimed at those printing cards more regularly. Opting for the Smart 31 will also add an Ethernet connection, allowing for more flexible connectivity. It's the better choice if you know you'll be printing on both sides of the cards too.
---
IDP Smart 51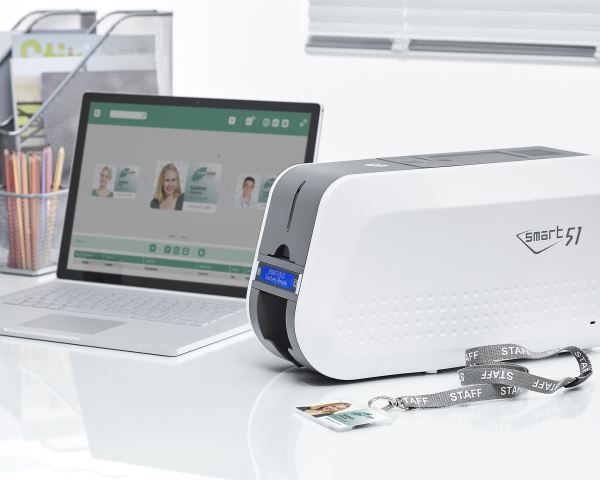 At the top of the range, you'll find the IDP Smart 51. You can consider this the most capable IDP Smart direct-to-card printer, which benefits from several features that set it apart from the 31. First off, it gets a 200-card input hopper. That means it's aimed squarely at those that need to produce lots of cards in a short amount of time.
Not only is it available as a dual-sided model, but you can opt for a laminator too. This allows you to add further holographic lamination for security, and also gives the cards a protective coating that extends their lives and protects them from wear and tear. Adding to the security element further, the IDP Smart 51 is available with a physical lock, meaning the printer cannot be tampered with and printed cards are protected from prying fingers.
Despite the extras, it's also the quickest to print a standard full-colour card too, taking just 16 seconds. With USB, Ethernet and WiFi connectivity, it's also the most flexible for connecting to your computer too. On the face of it, the Smart 51 is the Rolls Royce of the IDP range costing from £759.00. Like a Rolls, it's rather heavy in comparison to the others; it weighs 8.8kg.
---
Which IDP Smart printer is for me?
Hopefully the above information along with our review videos will give you a good idea about which IDP Smart printer you should choose. But if you're still not sure, we've laid out all the key facts you need to know in a table below.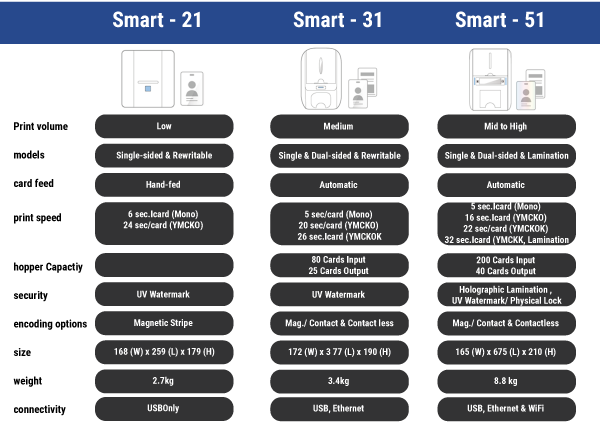 For further assistance on how we can help your organisation achieve ID card excellence, don't hesitate to get in touch. Our helpful sales team are experts in their field, and if you're still unsure about which IDP Smart model will suit you best, they'll be able to help. Get in touch on 0800 988 2095 or sales@digitalid.co.uk.