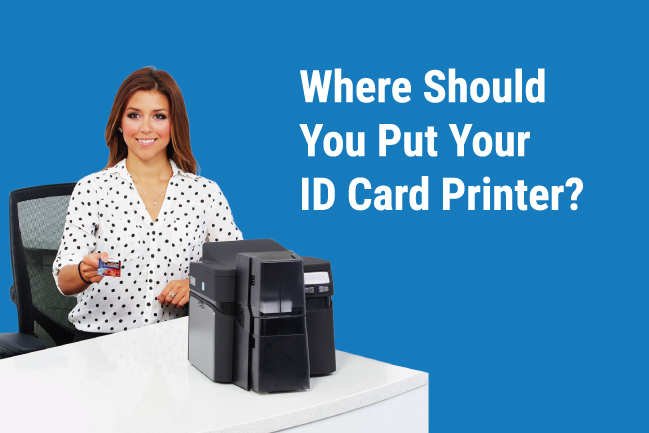 Thinking of where to put your ID card printer? You're in the right place.
Whether you've just purchased a card printer for the first time or want to move your existing printer to somewhere more efficient, keep reading to find out where we recommend placing your machine.
---
Where should you put your ID card printer?
We recommend placing your ID card printer in a reception area or within an HR/facilities management area. Keep reading to find out why.
---
Placing your ID card printer at reception
Most of the time, ID card printers are placed in reception areas – and for good reason.
Placing an ID card printer at reception allows you to instantly print and issue ID cards for visitors, contractors and new starters as soon as they arrive. This increases efficiency and saves time.
It also improves security, as authorised individuals can simply show their ID cards and be identified against unauthorised people. For more on security, you can check out the top ID card printer security features here.
What's more, if you're designing cards with EasyBadge software, you can instantly take an ID photo from your phone and print your cards seconds later, ensuring visitors, contractors and new arrivals can have their cards with them in seconds.
---
Placing your ID card printer in a HR/facilities area
The second most popular place to put an ID card printer is within HR or facilities.
As it's usually HR/facilities staff members issuing ID cards, keeping your printer in such an area ensures an effective card issuance process.
This is also an ideal option for companies that don't have a reception area.
Regardless of where you choose to place your ID card printer, you should ensure the environment is not too hot or cold. ID badge printers can be expensive pieces of equipment and ensuring your machine is kept in a sheltered environment will help prolong the printer's life.
---
Or, why not opt for an external ID card printing service?
If you want to save even more time, you can outsource your ID card printing and let the professionals do the hard work for you.
As the ID experts, we offer a 5 star ID card printing service that creates and designs your cards for you. With over 1 million ID cards printed, you're always in good hands. Our service provides a stress-free experience from start to finish.
This option is especially suitable for those requiring low volumes of ID cards or not regularly needing new cards.
---
Let's Recap
The most common place to put an ID card printer is at reception, closely followed by an HR/facilities office.
Keeping an ID card printer at reception is an efficient way to increase efficiency, save time and improve security. Alternatively, placing your printer with HR/facilities managers ensures an effective issuance process and is ideal for companies with no reception area.
Join 25,000+ customers in choosing Digital ID
We've helped over 25,000 customers choose the best ID card printing solutions and accessories over the last 3 decades. We'd love to help you, too.
Give us a call on 0800 988 2095 or email us at sales@digitalid.co.uk to speak to a member of our expert team today. Our expert team has all the knowledge and know-how of our solutions and is always happy to help. We hope to speak to you soon.
Alternatively, you can browse our complete selection of ID badge printers here.