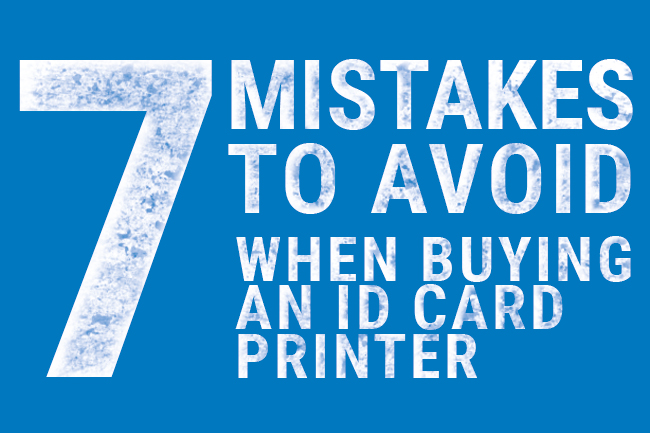 If you are currently in the market for an ID card printer system, it's important to consider your options carefully to avoid frustration and further costs down the line.
There are a multitude of ID card printers on the market, so it can seem daunting figuring out which one is best suited for your card printing needs. We've put together a list of the top seven mistakes people make during the decision process and advice on how to avoid these common pitfalls.
So, what shouldn't you do before buying an ID card printer?
Mistake #1: Making your decision based on price alone

This is the most common mistake we see from people new to the world of ID card printing. Obviously, your budget is important to consider, but basing your purchasing decision on price alone can lead to having to shell out more money in the long run.
While the price-point on an entry-level ID card printer might seem attractive, these printers aren't going to be designed to support all print jobs. Entry-level ID card printers are typically suited to supporting smaller businesses and the ad-hoc printing of ID and membership cards in-house.
Also, a lot of these low-volume printer models are single-sided printers, meaning to achieve dual-sided printing, you will have to manually turn the card over and reinsert it into the printer, which can be a time-consuming process based on your print volume. You can browse our complete range of plastic ID card printers here and filter by print volume, technology and a selection of dual or single-sided printers.
You will also find fewer security features are available with an entry-level printer. This isn't vital for all businesses but more and more we are seeing businesses take more stock in their security systems and attendance tracking, implementing visual security features such as holographic laminate or watermarking as standard. If you are printing access control cards, you will need a retransfer card printer capable of encoding and printing onto smart cards without damaging the smart chip, which cost more than a direct-to-card printer.
Mistake #2: Not considering long-term needs
Before taking the plunge and buying an ID card printer, it's a good idea to think ahead. Will your business be growing in the future, leaving you with higher volume printing needs than your current ID card printer can manage? Will your security requirements change and leave you needing to add extra security features to ID cards?
It's a good idea to plan ahead because some card printer systems are more capable than others – in terms of both speed and security. By planning ahead you can benefit from overall cost savings on your printing process and introduce more advanced card functionality quickly.
For example, if your card printer system needs to produce large numbers of cards, you will be best off considering higher volume printers with input and output hoppers designed to save time refilling supplies like larger capacity ribbons and stacks of plain cards. You can figure out how to determine your short and long term ID card printer goals by reading more here.
If you intend on using access control cards in the future, choosing a direct-to-card printer instead of a retransfer printer will save you money now but leave you less able to print safely onto the card surface of access control cards in the future.
Mistake #3: Not taking security into account

What level of security do you need for the cards you'll be printing? If they are basic membership cards or visitor passes, you might not need any at all. On the other hand, governmental organisations and emergency services will require more specialised ID card security options, with watermarks, UV designs, magnetic stripes and smart chips to name a few.
Whichever ID card printer model you end up with, there will be a host of security upgrade options available. Picking the wrong one though might mean you miss out on certain security features. Always check if a card printer can handle your security requirements before buying.
If your security system includes access control, we will recommend choosing a retransfer printer as opposed to dye-sublimation printers. This is because of the specialised printing process a retransfer machine uses. The print head on a retransfer printer doesn't touch the card surface, greatly reducing the risk of damage to the internal workings of the printer.
Mistake #4: Not thinking about card quality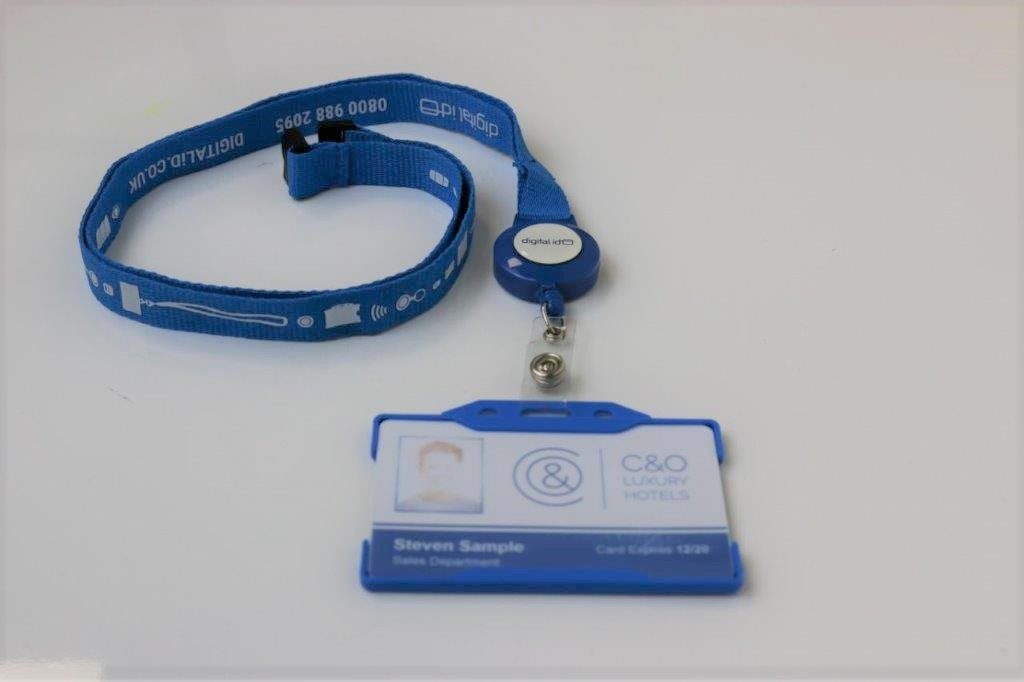 An ID card is an ID card, right? The truth is there are a variety of cards suited to different printers and printing needs. On average, an ID card can last anywhere between two and five years before needing to be replaced. However, if they are an access card regularly being swiped, or simply a card that will be constantly exposed to direct sunlight, the print quality on these cards will fade quicker than others.
Using an ID card printer with lamination capability or a retransfer printer helps avoid this issue, and will ensure your ID cards are durable and long-lasting. This is worth considering if you're going to print larger volumes of cards on a regular basis.
It's also important to remember that different printer technologies produce slightly different print results. Direct-to-card printers will print directly onto the card, with edge-to-edge printing onto the card surface leaving a small white border around the edge. Alternatively, a retransfer printer is designed for over-the-edge printing across the whole surface of the card.
Mistake #5: Forgetting about the software
So, this post is just about ID card printers right? Well, not entirely. The truth is that ID card software is just as important as the machine itself. This is because it's the ID card program you need in order to design professional standard ID cards and create databases storing sensitive data and security information.
Every card printer sold at Digital ID comes with EasyBadge Lite card design software included. This software is included in your printer purchase to allow you to design and print cards more easily.
One thing it's vital to research is that the ID card printer and card design software are compatible with your current computer operating system before making your purchase. Please note that the EasyBadge software is not compatible with MacOS, however, there are other ID card design software applications and a range of MacOS compatible ID card printers available.
Mistake #6: Not considering an ID card printing service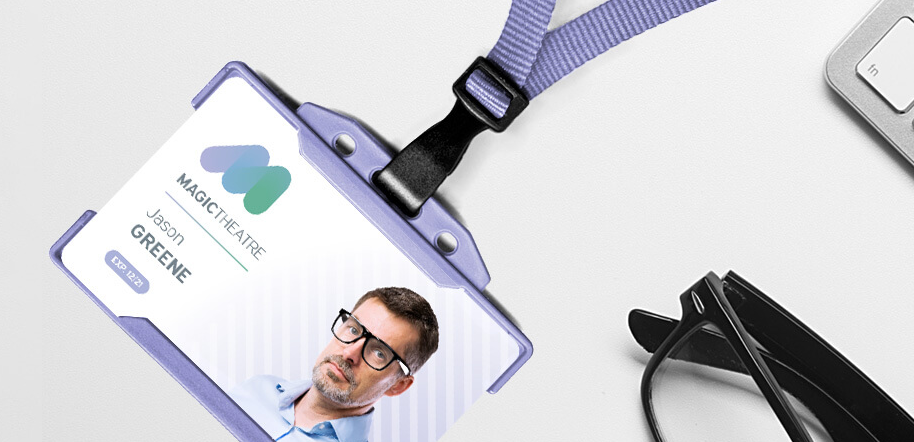 The truth is that not every organisation will be able to see the full benefits of buying an ID card printer. If you produce less than a dozen cards per month, you may be better off working with a photo ID card printing service instead.
A card printing service saves you the time of having to learn how to use a card printer. Our trained bureau staff and designers will also be on hand to design and deliver your required cards in a timely manner. They will also store data in compliance with GDPR regulations, meaning for even higher security cards, our printing service is secure.
If this service sounds like it will be more beneficial for your printing needs, you can learn more about our ID card printing service and get a free, no-obligation quote here.
Mistake #7: Buying second-hand ID card printers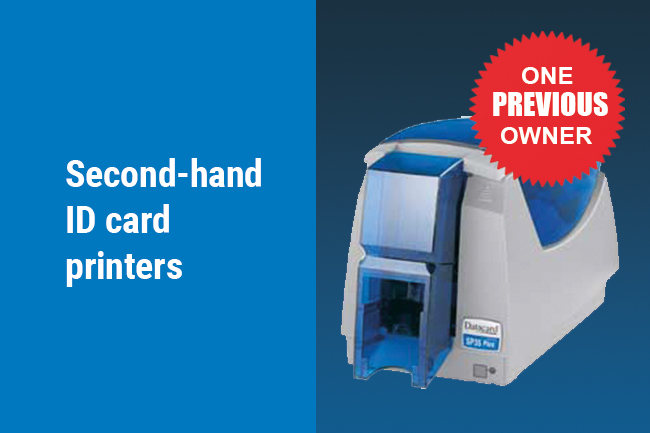 This one is obvious really. While the lower prices may make it appear you're getting more bang for your buck, the truth is these machines are often outdated and end up costing you more than a brand-new printer in the medium to long term.
That's because they are unreliable, unsecure and most importantly, won't come with the technical support and know-how you get when you deal with a trusted ID professional like Digital ID. As an official distributor for the biggest ID card printer brands in the world, we know how beneficial it is for you to use brand new, genuine card printer models to get high-quality cards.
The same can apply for printer rentals, print quality isn't guaranteed and if the printer hasn't been carefully looked after you may end up needing extra technical support, taking up valuable time. You can read more about whether you should rent or buy an ID card printer here.
Get it right the first time with Digital ID
We hope the above information has given you some helpful guidance when choosing your machine. But ID card printers are expensive and specialised bits of kit, and we know you might want some more help.
Why not check out our top 8 ID card printers in 2022 or, if you need more assistance, just give us a call on 0800 988 2095. We'll listen to your ID card printing requirements and find the right printer solution for you.