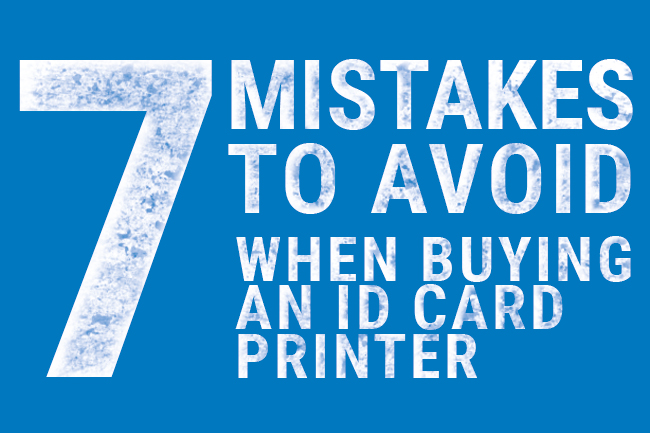 If you are currently in the market for an ID card printer, it's important to consider your options carefully to avoid frustration and further costs down the line.
There's a multitude of options now on the market, but which one do you choose? We've put together a list of the top seven mistakes people make during the decision process.
Hopefully it'll help you avoid the pitfalls! So, what shouldn't you do before buying an ID card printer?

Mistake #1: Making your decision based on price alone
This is the most common mistake we see from people new to the world of ID card printing. Obviously, your budget is really important, but basing your purchasing decision on price alone can lead to further costs down the line.
This is because while entry-level ID card printers might seem attractive, the volume of cards they can print as well as the security they offer mean they might not be the long-term solution you're looking for. For more guidance on this, have a browse of our ID card printer buying guide.
Mistake #2: Not considering long-term needs
Before taking the plunge and purchasing a printer, it's a good idea to think ahead. Will your business be growing in the future? Will your security requirements change?
It's a good idea to do this because some ID card printers are more capable than others – in terms of both speed and security.
For example, if you intend on using access control cards in the future, choosing a direct-to-card printer instead of a retransfer printer will leave you out of pocket in the future (You can read the difference between them and why it's important here).

Mistake #3: Not taking security into account
What level of security do you need for the cards you'll be printing? If they are basic membership cards, you might not need any at all. On the other hand, governmental organisations and emergency services will require a more specialised ID card with watermarks and UV designs.
Whichever manufacturer of ID card printer you end up with, there will be a host of security options. But picking the wrong one might mean you miss out on certain security features. Always check if a card printer can handle your security requirements before buying.
Mistake #4: Not thinking about card quality
An ID card is an ID card, right? The truth is that not all are created equally. On average, an ID card will last anywhere between two and five years. However, if they are regularly being swiped or exposed to direct sunlight, some cards fade quicker than others.
Using an ID card printer with a laminator or choosing a retransfer printer helps avoid this issue, and will ensure your ID cards are durable and long-lasting; worth considering if you're printing lots of cards on a regular basis… you don't want to be left with huge reissuance costs due to damaged cards.
Mistake #5: Forgetting about the software
So, this post is just about ID card printers right? Well, not entirely. The truth is that ID card software is just as important as the machine itself. This is because it's the tool you need to design cards and create databases that store the sensitive data.
Unless you're purchasing a bundle package such as EasyBadge 2.0, it's likely you'll have to purchase ID card software separately. Remember to check it is compatible with both your operating system and printer before purchasing.
Mistake #6: Not considering an ID card printing service
The truth is that not every organisation needs an ID card printer. If you produce less than a dozen cards per month, you may be better off opting for an photo ID card printing service instead.
It saves you the time of having to learn how to use one while also saving you money. There's no point spending hundreds of pounds on a machine that sits idle; our trained bureau staff and designers will design and deliver your required cards in a matter of days.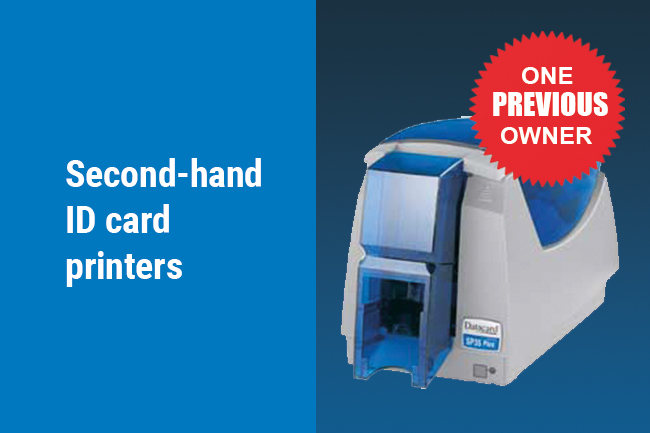 Mistake #7: Buying a second-hand ID card printer
This one is an obvious one really. We've had an in-depth look at the pitfalls of purchasing a second-hand ID card printer before. While the enticing prices may make it appear you're getting more bang for your buck, the truth is these machines are outdated and often end up costing you more than a brand-new printer in the medium to long term.
That's because they are unreliable, insecure and most importantly, won't come with the technical support and know-how you get when you deal with a trusted business like us. As an official distributor for the biggest ID card printer brands in the world, we know how important this is.
Get it right first time with Digital ID
We hope the above information has given you some helpful guidance when choosing your machine. But ID card printers are expensive and specialised bits of kit, and we know you might want some more help.
Here's a list of the best ID card printers for 2021 or, if you need more assistance, just give us a call. Ring our experts, we'll listen to your ID card printing requirements and get you sorted.