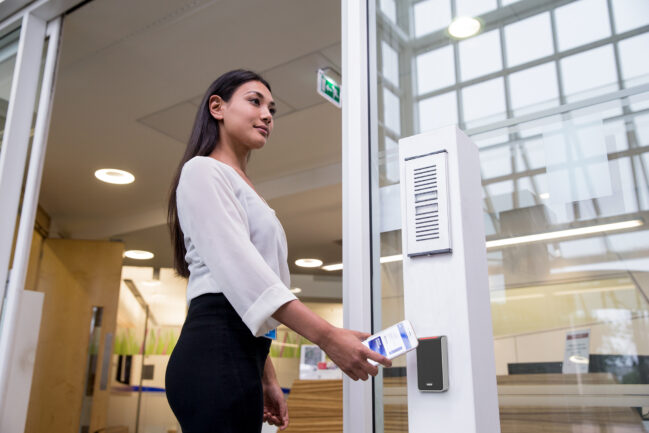 HID's industry leading mobile access control solution boasts various benefits, including enhanced security measures and fewer long-term costs than traditional access control cards.
These various benefits of mobile access control can clearly be found by carrying out a quick search online. However, this is not the case for subscription billing.
We know billing can get confusing sometimes. That's why we're breaking down everything you need to know about HID Mobile Access® licence billing.
---
How much do HID Mobile Access licences cost?
Licence cost varies depending on the number of licences purchased.
With that being said, mobile access control is much more cost-effective than legacy access control systems in the long run. Let's take proximity cards, for example.
Proximity cards are susceptible to wear and tear, therefore have high reissuance costs that can quickly add up. With no physical cards necessary, mobile access control has much fewer reissuance costs.
---
How does a mobile credential licence subscription work?
Below is an example of a HID Mobile Access billing cycle. This example breaks down the credential billing of both an initial order and an add-on order.
But before we take a look at that, let's go over some useful subscription terms.
HID Mobile Access – Subscription Terminology
New orders
Subscription Service Term Start Date – The day that the order is processed.
Subscription Service Term End Date – The last day of the start date's month, but one year later.
Charge – The customer will be charged a 1 year user licence subscription fee regardless of when the order is placed, i.e. the customer will receive the remainder of the first month for free.
Add-on orders
Start and End Dates – The same rules as above.
Charge – Pro-rated based on the number of whole months remaining in the existing Subscription Service Term.
---
HID Mobile Access – Subscription Term Dates
Here's an example.
An Initial Order for a Subscription Service is processed on Jul 25, 2021.
The Subscription Service Term Start Date will be Jul 25, 2021.
The Subscription Service Term End Date will be Jul 31, 2022.
You will receive 1 year and 7 days in your first Subscription Service Term.
You will only be charged for 1 year and receive 7 days free.
Subsequently, you place an Add-on Order that is processed on Oct 10, 2021.
The Add-on Order will be co-terminated with the existing Subscription Service Term End Date of Jul 31, 2022.
You receive the added user licences for 9 months and 22 days.
You will only be charged for 9 twelfths of a year and receive 22 days for free.
When renewing, the Subscription Service Term Start Date will be Aug 1, 2022, and the Subscription Service Term End Date will be Jul 31, 2023.
Helpful tip: For Add-on orders, it's easier to count the number of months remaining in the year than the number of days.
---
What's included with your licence purchase?
Licences – Mobile credential licences must be purchased to permit the use of HID Mobile Access on the premises.
HID Origo™ Management Portal – Hosted on a reliable cloud platform, the centralised HID Mobile Access portal is where security administrators can issue, amend and revoke credentials.
Mobile IDs – HID Mobile Access credentials are a unique authentication method issued to a smartphone or other mobile device. Mobile credentials operate at 2.4GHz frequency or using NFC.
When merged together, the above components allow users to practically and securely access doors in the building.
---
Let's Recap
HID Mobile Access licence billing is easy to manage and personalise to fit individual company requirements. It allows for seamless migration from legacy access technology to modern mobile access control.
Open the door on the mobile-first world.
With increased operational efficiency and highly secure software, HID's mobile access control solution streamlines the door entry procedure for students, employees and guests. Utilising next-generation Seos® by HID as the underlying credential technology, HID Mobile Access control is one of the most efficient access solutions on the market.
Get in touch with our experts on 0800 988 2095 to discover more about mobile access licences or to purchase your mobile credential licences today.
Alternatively, learn more by reading our free mobile access eBook.