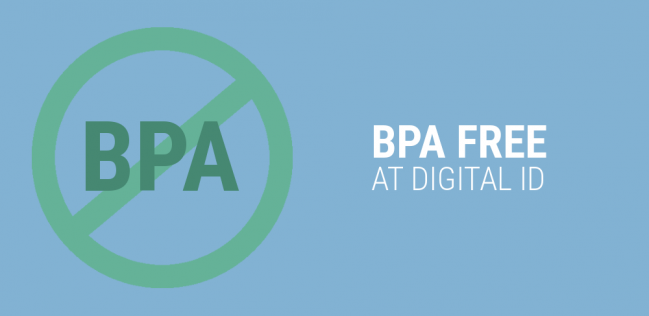 We're BPA Free At Digital ID
In our latest post, we look closely at the chemical "BPA" and would also like to take this opportunity to re-assure all Digital ID customers that our range of Vinyl badge holders and other related products are entirely BPA & phthalate-free.
What Is BPA?
"BPA" also referred to as bisphenol A is an industrial chemical that has been commonly used since the late 1950's in the production of plastics and resins.
"BPA" is found mostly in polycarbonate plastics that are often used in the manufacture of:
Food and drink containers
Water bottles
compact discs
Impact-resistant safety equipment
Medical devices
*Please note that the chemical can also be found in other retail goods.*
What are the Risks of BPA?
Exposure to BPA, through badge holders and other related products even at low levels carries many health risks such as:
Structural damage to your brain altered immune function
Altered immune function
Hyperactivity increased aggressiveness and impaired learning
Impaired learning and memory
Are You At Risk?
If you have purchased vinyl badge holders direct from Digital ID then no completely not.
We want to make it 100% clear to you that all Vinyl Badge Holders sold by Digital ID are both BPA-free & Phthalate-free.
We work closely with our manufacturing team to make sure all of our related products are" BPA" free and will continue to do so.
For more information on this topic, please feel free to call the team direct on 0800 988 2095.