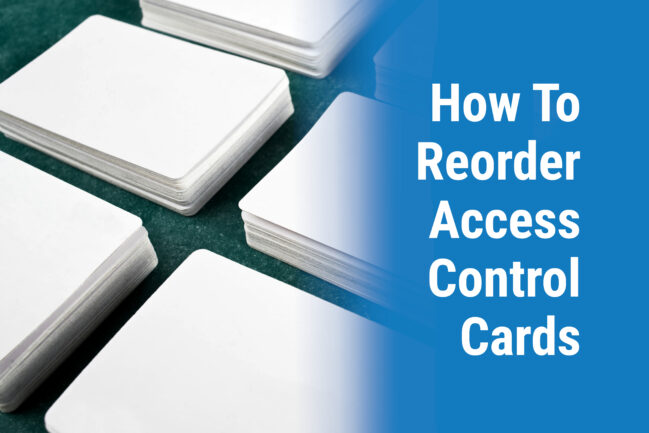 Reordering access cards, whether they're proximity cards or contactless cards, is not always an easy process.
There's plenty to consider to ensure you order the right plastic cards, including the card type, the brand, the technology used, the access control system and the format or sequence number.
Of course, if you've placed an order before or know how to order access cards, then the process will be relatively straightforward.
But if it's all new to you, don't worry – we're here to guide you through the process. Read on to find out how you can reorder access control cards, and what to consider before placing an order.
---
What To Consider When Reordering Access Control Cards:
Card type
Technology
Format
Site/facility code
Sequence number
The card style/type, technology, format, site or facility code, and sequence number all matter when you're reordering access cards. Below, we look at each of these factors and why you need to consider them when ordering your cards.
Card Type
First of all, you want to consider the type or style of card you'd like to order. There are multiple access control card types available for you to choose from at Digital ID. Do you need to order proximity cards? Magstripe cards? Clamshell cards? What about key ring fobs or adhesive tags?
If you need a magnetic stripe card/magstripe card, we sell blank magnetic stripe cards in both low coercivity and high coercivity (low-co and high-co). High-co is ideal if you'll be using the cards frequently, whereas low-co is the best option for membership or gift cards.
Or perhaps you want to reorder HID Proximity cards. They operate at 125 kHz and come in many forms, including tags and key fobs.
HID is one of the leading brands for access control cards, along with MIFARE and Paxton. Our most popular Paxton cards are the Paxton 692-500 Net2 proximity cards, with thousands of packs sold to UK businesses.
Whichever type of access card you need, we're sure to have something for you. Our access control range consists of genuine products that have been sourced directly from leading manufacturers. And it's not just cards – we also sell a range of tags and fobs available to reorder. Simply have a chat with our team today to find the best option for you today.
The Technology
Arguably, the most important thing you need to consider when ordering an access card is the technology behind the card.
The technology is what powers the card and there are various options available. As previously mentioned, some of our most popular options are MIFARE cards and HID products using iClass technology. Both are great choices for contactless smart cards.
One thing to remember is that whichever cards you go for, the technology they use must be compatible with your existing access control system for them to work.
If you're unsure of the technology used in your cards, or if the installer didn't disclose the technology used in your system, you can send us a sample card and our dedicated team will run a free proximity card test to identify what technology has been used. We'll also provide you with a quote to let you know how much you've saved.
The Format
Once you've decided on the card type and technology, you need to think about the format. If you're choosing a proximity card, then you should know that the majority of card manufacturers use a standard 26-bit format. With HID cards, the format is H10301.
If you're unsure of the format, check the label on your last box or the order details of your previous purchase. If you're still unsure, then don't hesitate to ask us for advice – either call us, use our live chat, or submit a query.
The Site or Facility Code
When reordering cards for access control systems, you'll need to know the site code or facility code that's been assigned. Similar to finding the card format, you can typically find this information by checking your previous order – check the packaging or invoice.
The majority of facility codes start with numbers between 0 and 255 and are usually assigned when the cards are first encoded. However, if you have a larger facility, then there may be multiple site/facility codes to remember.
The Sequence Number
The final thing to consider when reordering cards for access control is the sequence number. Every set of cards has a unique ID number, which is referred to as the sequence number.
Your card sequence start number follows on from your previous order. For example, if you ordered a batch of 100 cards, then the start number will be 101. If you're unsure, you should check your previous order.
Now you know what to consider before ordering cards, here's how you can reorder your cards.
How To Place An Order For New Access Control Cards
Ordering access cards with Digital ID is simple when you know what you're looking for. After reading our handy guide, you should be aware of the key factors to consider.
To order your cards, simply add the products you need to your basket and check out – it's as simple as that. And don't forget that delivery is free for all orders over £100.
Recent times have shown us the consequences of shipping delays and shortages (yes, we're talking about the global chip shortage). That's why we always recommend placing orders in advance to make sure you're never left without cards.
At Digital ID, we're trusted UK distributors of leading brands such as HID, MIFARE and Paxton. This means only the best access control products for our customers, at the most competitive prices. We have a range of access control products to choose from, including contactless cards, card readers, key fobs, stickers, and wristbands.
And if you have any concerns or queries, get in touch via the live chat feature on the Digital ID website. Our handy live chat feature gives you the chance to talk to an expert and find the best products for you.