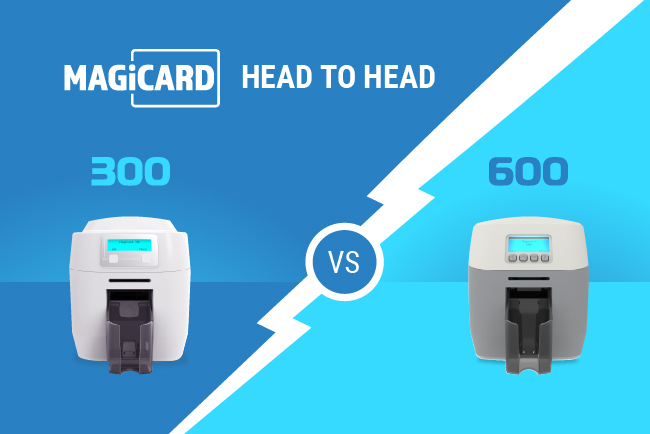 We're proud to be a Magicard Approved Partner and it's our job to make sure you purchase the ID card printer that best suits you.
In our Magicard 300 vs Magicard 600 comparison, you'll discover the key differences between the two that'll help you decide which meets your requirements best. The pair are two of the most advanced direct-to-card printers to the manufacturer has produced to date.
So, let's get to it.
---
1. Print quality and speed
Firstly, let's compare the quality of prints these machines offer. The Magicard 300 offers a full range of colours and prints at 300 x 300 dpi  (dots per inch). This more than suffices for creating accurate and clear imagery and text. It deals with the majority of logos and photographs with ease.
While the 300 is more than capable of printing to most requirements with ease, if you're planning to print extremely small text or a very intricate logo, you may be better off with the Magicard 600. This is because it prints to at 600 x 300 dpi and creates an exceptional edge-to-edge print. In fact, we'd go as far as saying cards produced by the 600 are among the best we've seen from a direct-to-card printer.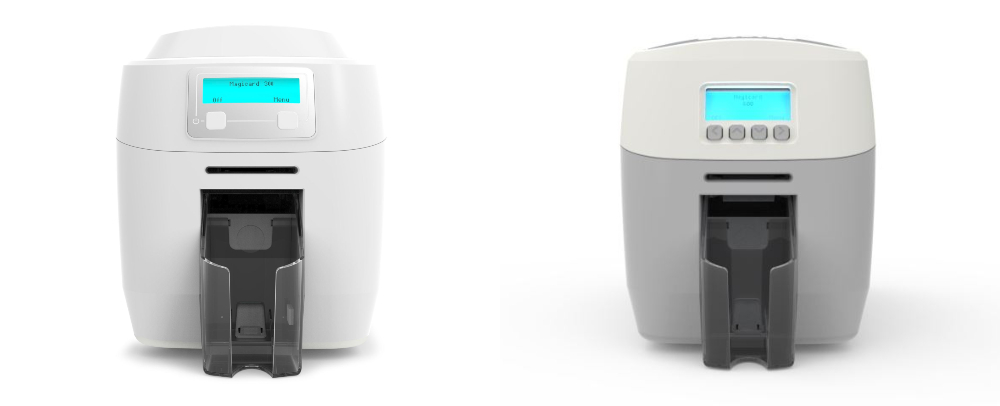 When it comes to speed, however, the difference between the two isn't as noticeable. For those printing colour cards, the 600 is capable of printing around 30 more than the 300 in a single hour.
However, in the real world, this difference won't be that noticeable. In fact, with just a second difference in a print speed of monochrome cards, you'll print exactly the same amount – 720 per hour. You can see the full breakdown of quality and speed in the table below.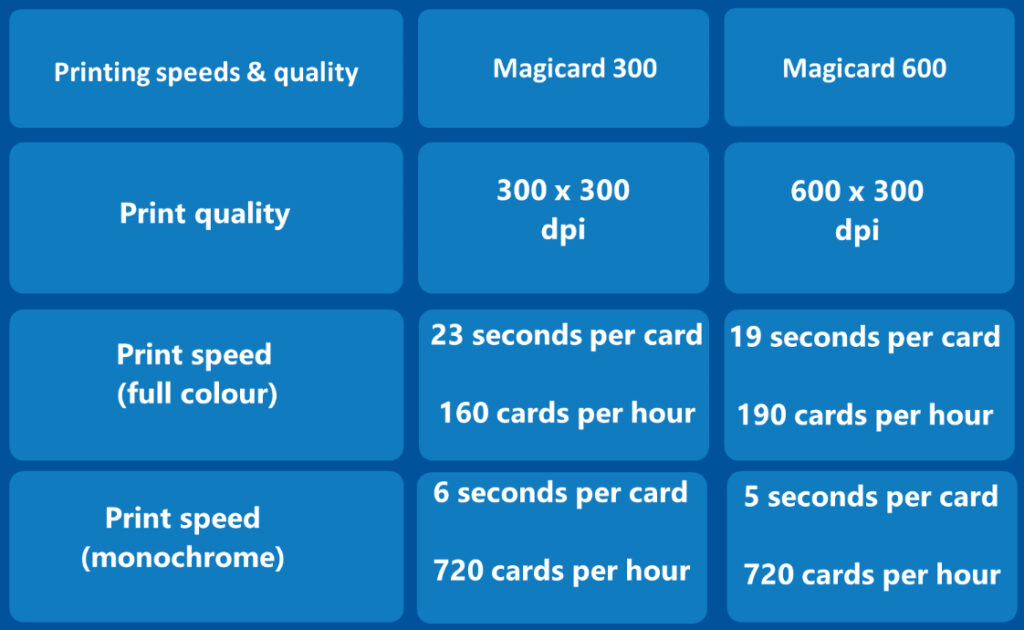 As standard, the 300 and 600 both feature a 100-card input feeder and a 70-card output stacker. It'd be handy if the output stacker held the same number of cards as the input feeder, but it's not exactly a problem. You can purchase a variety of extensions to suit your printing needs if required.
---
You might also be interested in… Direct-to-card printers | The ultimate guide
---
2. Encoding and security
Both printers are available with a number of encoders if you wish to program magstripe or access control cards. These include ISO 7811 LoCO and HiCO, MIFARE products including DESFire and of course HID's iCLASS.
These will always be an optional extra, and if you're printing on to access control cards we always recommend choosing a retransfer printer instead. You can read why in our full retransfer printer guide.
Magicard printers come into their own when it comes to providing visible ID card security. All its products are available with the unique HoloKote security system. This allows you to print watermarks onto all the cards you produce, helping to easily identify fraudulent cards and give your identification that extra layer of protection.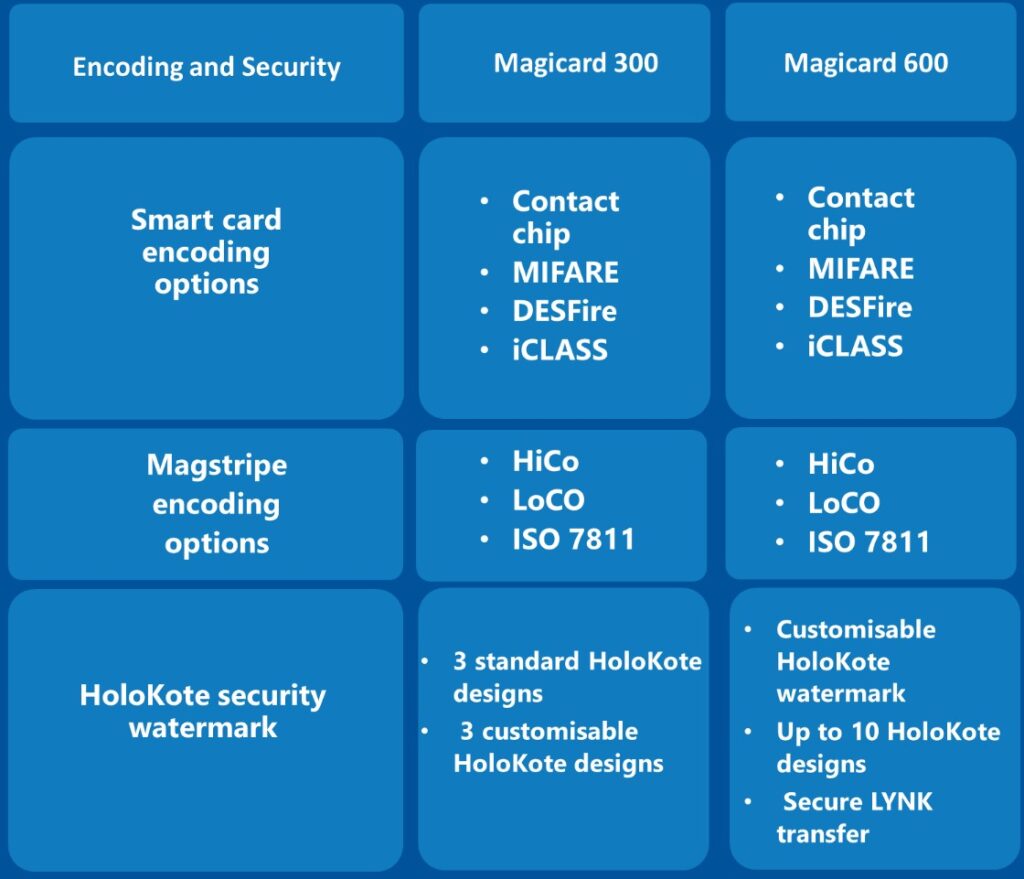 The Magicard 300 features 3 standard watermark designs as standard, and it also allows you to add up to 3 custom designs. Comparatively, the 600 has the ability to handle up to 10 unique HoloKotes via Magicard's LYNK tool – great if you are printing cards for multiple businesses or departments.
One feature that both these printers benefit from is digital shredding. This automatically fragments data once the relevant card has been printed, ensuring no data card be recovered should the printer fall into the wrong hands.
---
3. Connectivity, compatibility and usability
The Magicard 300 and 600 are both 100% compatible with Windows systems including 7, 8 and 10 (32 and 64bit). They are also two of the relatively few Mac-compatible ID card printers, working with Mac OS X systems of 10.9.0 onwards.
They are both exceptionally easy to set up within just a few minutes via an Ethernet connection. However, the 300 misses out on Wifi connectivity. This makes the 600 the better bet if you're looking for a portable and adaptable machine that can be moved around a workplace with minimal fuss.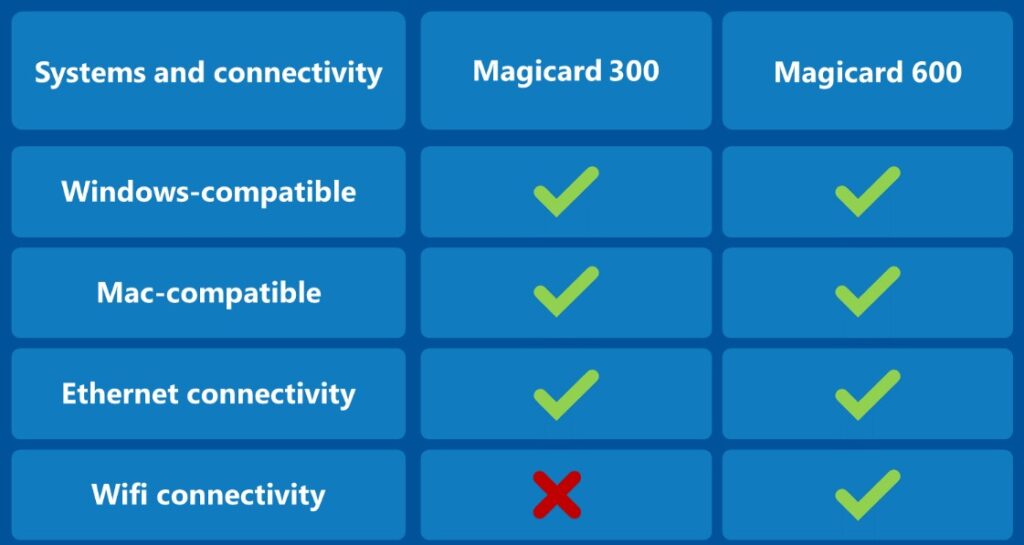 ---
4. Appearance and dimensions
The Magicard 300 and Magicard 600 both look deceptively similar, and as you might suspect their dimensions are almost identical. The 600 is the larger machine, however, but it's still only a few centimetres longer than the 300.
As standard, the Magicard 300 comes in a singular white colour, while the 600 is marked out by a two-tone white/grey effect. Both will fit in well on any desk and not look out of place.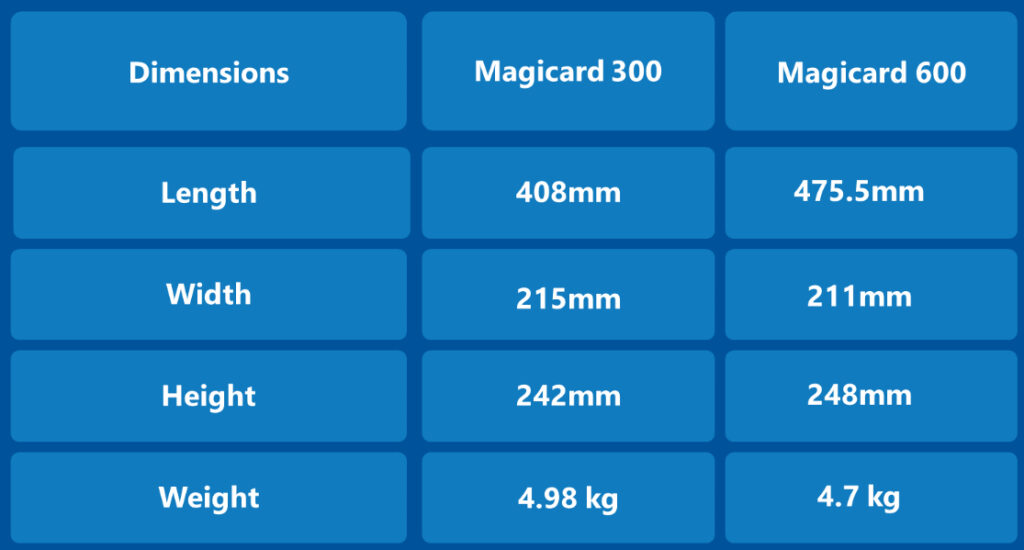 In short, both will fit on an office desk with room to spare. If you'll be moving the printer around a lot though, the 600 might be the better choice; it's 4.7kg, while the 300 comes in at almost 5kg overall.
---
5. Reliability and warranty
Magicard machines are known for their high durability and reliability, and both the 300 and 600 continue that trend. However, there are some differences in the warranty cover that make the 600 the preferable choice for complete peace of mind.
While the 300 comes with a competitive three-year warranty, the 600 features what is known as Magicard+ cover. As well as a three-year/250,000-panel warranty, you'll benefit from a loan printer in the unlikely event of a breakdown. In the case of a printer failing within a six-week period from purchase, Magicard will also replace the 600 with a brand-new machine with all transit costs covered too.
---
Magicard 300 vs Magicard 600: Which one is right for you?
So, Magicard 300 vs Magicard 600. Which one wins? Both these printers are great for those needing to produce large volumes of cards. When it comes to price, the Magicard 300 costs from £699.99 ex. VAT, while the 600 costs from £1,045.
The good news is that if you purchase either a 300 or 600, you'll benefit from a free upgrade to a dual-sided machine. This allows you to print on both sides of the card in a single print run should you require it, saving you time and money on consumables in the long run.
However, it is capable of creating more detailed cards in a shorter space of time. Its added customisable HoloKote options also make it the better product from a security perspective. Add to that its wifi capability and it is, without doubt, a more sophisticated machine.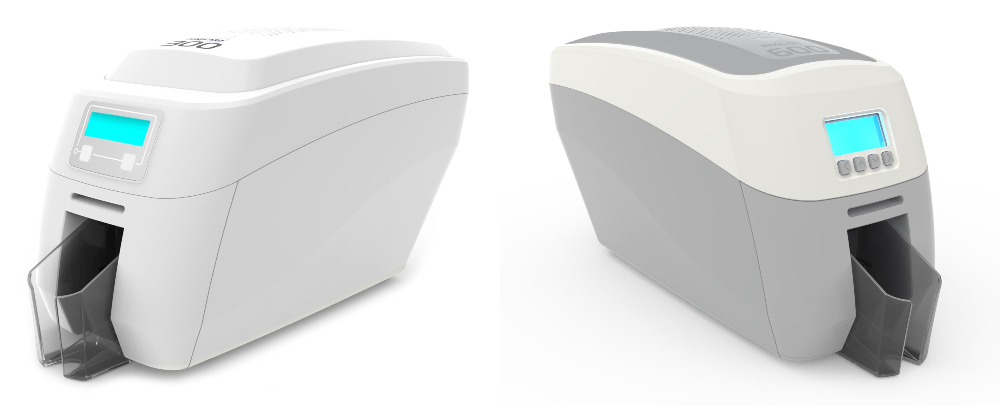 That said, they are both great for schools, medium-sized businesses and a range of other organisations. You'll have to weigh up whether or not those features could benefit you in the longer term.
We hope this comparison guide has been of use. Don't hesitate to call our experts on 0800 988 2095 should you require more information on either of these Magicard printers.