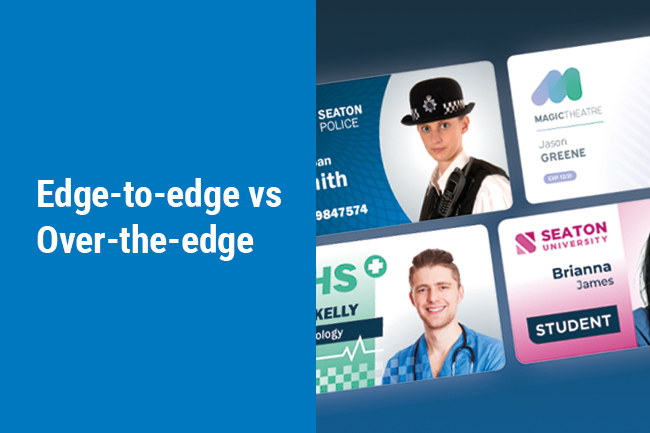 What's the difference between edge to edge vs over the edge card printing? It's a question we're often asked.
And it's one of the most crucial aspects that everyone should know about ID card printing, alongside the must have ID card security features all cards should contain. You should therefore make yourself aware of the difference between the two printing methods before purchasing an ID card printer.
Below, we'll be taking an in-depth look at the two processes. We'll discuss the pros and cons of each and the card printers required for both types.
---
Edge-to-edge vs over-the-edge: What's the difference?
The difference between edge-to-edge and over-the-edge cards is simple. Edge-to-edge designs leave a small white border around the edge of the ID card. Alternatively, over-the-edge designs cover the entire card, making them borderless. Watch the video above for all the info you need.

---
Edge-to-edge printing explained
Put simply, an edge-to-edge card design has a very slim border around the edge of an ID card. This border is not part of the overall design and is merely how some ID card printers carry out the printing process. Many are under the impression that edge-to-edge printing leaves borders that are always white. However, this is not the case.
Most ID cards are white, which is why most borders are white in colour. However, the colour will correspond with the shade of the card you are printing on. For example, using a black card will result in a black border on the card.
Edge-to-edge printing is great for quickly producing high quantities of ID cards. If you're looking for an edge-to-edge printer, you'll need a direct-to-card printer. These ID card printers are the most cost-effective and also the most popular. Direct-to-card printers use a printer ribbon and print head to transfer card designs directly onto the card.
These printers can't print up to the edge, as the card's sharp edge could potentially damage the print head. This is why edge-to-edge printing leaves this narrow border.
Tip: Your cards' print quality and print finish will depend on the printer your supplier is using. And if you don't have one yet, follow these steps to choose the right ID card supplier.
---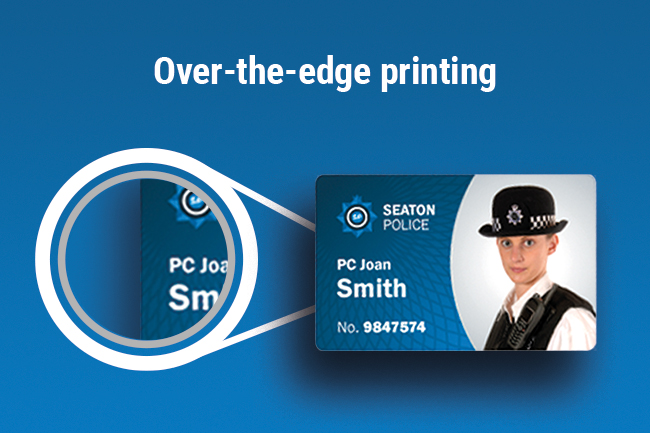 Over-the-edge printing explained
As you may expect, over-the-edge printing prints the ID card design right to the edge of the card – and over it. This means there is no visible border at all, with the ID card design taking up 100% of the card's surface. This generally produces a much more professional-looking card, with over-the-edge designs similar to those seen on credit and debit cards.
Over-the-edge card printing is possible thanks to retransfer printers. Unlike direct-to-card printers that print directly onto the card, a retransfer machine uses a more complex two-step print process. The ID card printer prints the design onto an overlay which is then transferred to the card itself.
Benefits of over-the-edge printing include a more professional looking card that is durable and longer lasting. However, retransfer printers aren't as quick as many direct-to-card printers and are also more expensive.
---
Let's Recap
Edge-to-edge and over-the-edge card designs both have their pros and cons. Edge-to-edge printing with direct-to-card printers is affordable and can offer quicker print times if you have large volumes of cards to create. However, that white border isn't ideal if you're after a truly professional-looking card.
Over-the-edge printing is best if you want full card coverage on the card surface. Over-the-edge printing is also ideal if you're looking for a print finish that is more durable and longer lasting. Thanks to the dye sublimation process that retransfer printers use, cards will last longer and stand up better to wear and tear. As a bonus, they can print onto smart cards and access control cards too, while edge-to-edge direct-to-card printers cannot.
So which print method is best for you?
The truth is that there's no 'best' print method. The most suitable printing process for you depends entirely on your organisation's requirements.
To find out more about ID card printing, contact our experts on 0800 988 2095. Our experienced team will help you with all things ID cards related. After all, we are the UK's leading ID card supplier.
Alternatively, take the hassle out of ID card production with our popular, stress free ID card printing service.