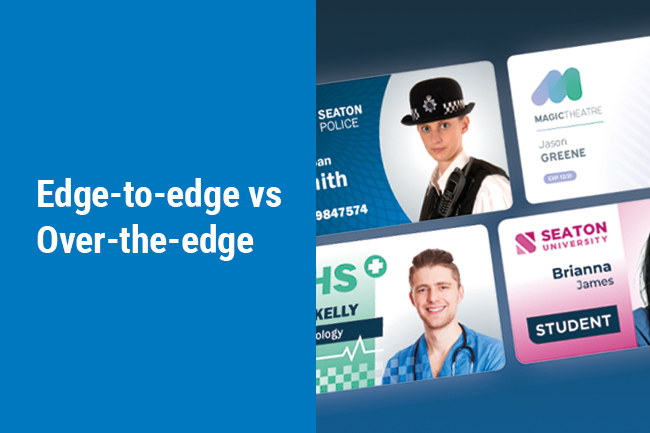 Edge to edge vs over the edge card printing is a question our team gets a lot. It's one of the most crucial aspects of ID card printing to understand before you purchase an ID card printer.
In this post we look at the differences of each process, the pros and cons of each, and the machines needed to create both types. So let's jump into it.
---
Edge-to-edge vs over-the-edge: What's the difference?
The difference between edge-to-edge and over-the-edge cards are that edge-to-edge designs leave a small border white border around the edge of the ID card. On the other hand, over-the-edge ID cards cover the entire card. Watch the video above for all the info you need.

---
Edge-to-edge printing explained
Put simply, an edge-to-edge card design has a very slim border around the edge of ID cards. This border is not part of the overall design, and is simply how some ID card printers carry out the process. Most ID cards or white, so most borders will be white in colour. However, the colour will correspond with the shade of cards you are printing on. For example, a blue card will result in a blue border being left.
This type of printing is great for producing high quantities of ID cards quickly with the use of direct-to-card printers. It's the most cost-effective and popular method too. Direct-to-card printers use a printer ribbon and printhead to transfer card designs directly on to the card. Because the sharp edge of a card can damage the printhead, they can't print up to the edge itself. This is why edge-to-edge printing leaves this slim white border.
---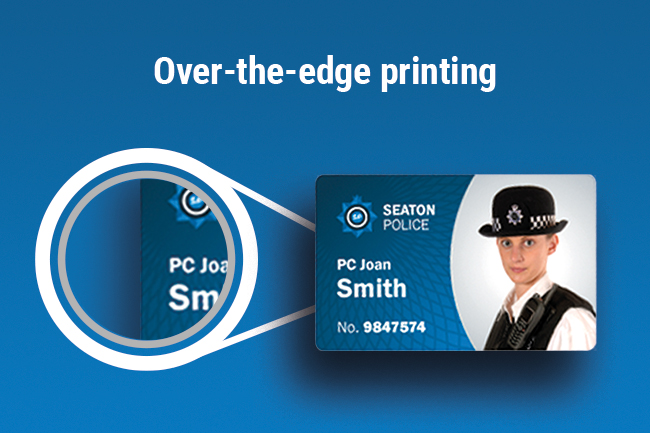 Over-the-edge printing explained
As you might be expecting, over-the-edge printing prints the ID card design right to the edge – and over it. This means there is no visible border at all, with the ID card design taking up 100% of the card's surface. This generally produces a much more professional-looking card, with over-the-edge designs similar to those seen on credit and debit cards.
Over-the-edge card printing is possible thanks to retransfer printers. Unlike direct-to-card printers that print directly onto the card, a retransfer machine uses a more complex two-step process. The design is printed onto an overlay which is then transferred onto the card itself. Benefits of over-the-edge printing include a more professional looking card that is more durable and longer lasting. However, retransfer printers aren't as quick as many direct-to-card printers. They are more costly too.
---
Which method is best for you?
Edge-to-edge and over-the-edge card designs have their pros and cons. Edge-to-edge printing with direct-to-card printers is affordable and can offer quicker print times if you have large volumes of cards to create. However, that white border isn't ideal if you're after a truly professional-looking card.
Over-the-edge printing is best if you want full card coverage and a print that is more durable and longer lasting. Thanks to the process retransfer printers use, they will last longer and stand up better to wear and tear. As a bonus, they can print onto access control cards too, when edge-to-edge DTC printers cannot.
The truth is that there's no "best" option. It'll depend entirely on your organisation's requirements. If you want to see our full range of products, our ID card printers page is a good place to start. Alternatively, take the hassle out of ID card production with our popular photo ID card printing service.