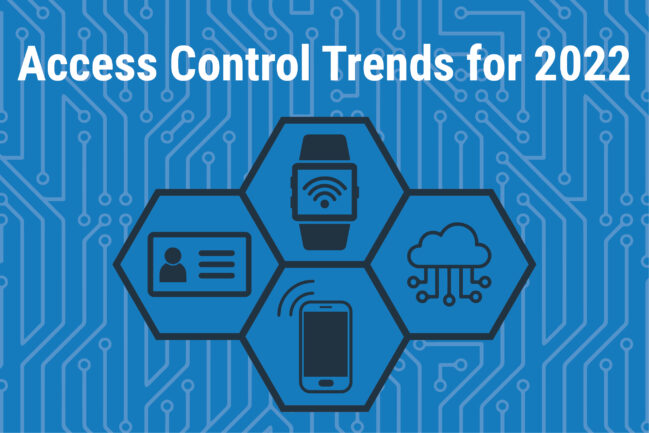 2021 has been quite the year for the access control industry.
The pandemic has hugely changed the way we work, which has caused legacy access control systems to become much less efficient. For example, the global semiconductor chip shortage had a major impact on the shipment and deliveries of access control cards. This meant that several companies were unable to receive their cards on time.
In addition, more and more companies introduced a combination of flexible and remote working models.
As a result, upgrading from outdated physical access control systems to more efficient models has become top of the list for many. We're taking a look at the emerging trends dominating the access control industry in 2022 and beyond.
Access Control Trends for 2022
Mobile access control
Cloud-based access control
System integrations
Multi-factor authentication
Subscription-based services
Touch-free solutions
Upgrading from legacy technology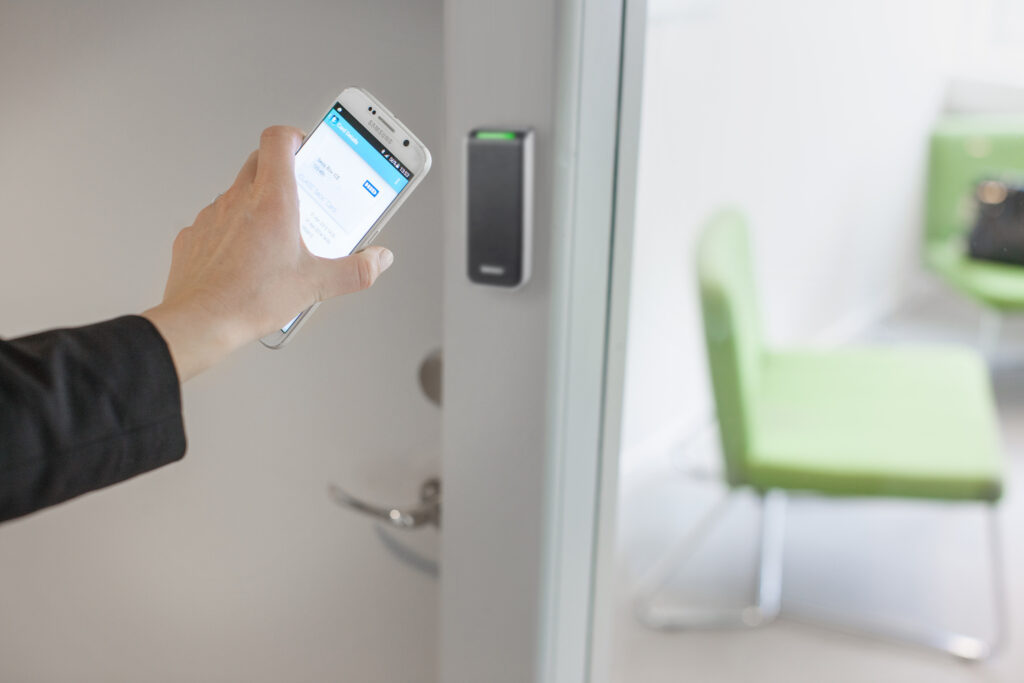 1.      Mobile access control
Mobile access control allows individuals to use their phones or smartwatches to unlock doors. There are several benefits of implementing mobile access, including optimised physical security, an enhanced user experience and increased sustainability. In the digital age, most people already carry their mobile devices or smartwatches with them when entering the workplace. A mobile access control system allows them to take full advantage of their device's offerings by using it to enter the building.
Thanks to unclonable, easily accessible mobile credentials and effective access management, mobile access control has been launching several organisations' access systems into the digital future. And this growth shows no signs of slowing down, with 2022 predicted to be quite the year for mobile access.
2.      Cloud-based access control
Cloud-based systems ensure entry can be managed entirely remotely. This gives administrators the ability to instantly grant and revoke access from wherever they are. As technology has evolved over the years, cloud solutions have gained popularity due to their ease of use and convenience without compromising security. Various access control technologies have adopted cloud computing, with cloud systems now seen as the most efficient way to manage access permissions. Cloud-based systems are anticipated to become even more popular in 2022.
3.      System integrations
Allowing products to easily integrate with each other lets organisations efficiently streamline their day-to-day operations. For example, combining your access control system with photo ID as a credential or cashless vending can save time while improving user convenience. Access control is all about providing convenience in 2022, with system integrations doing exactly that.
4.      Multi-factor authentication
Multi-factor authentication allows security managers to provide an added layer of security in the workplace. Organisations have been opting for a combination of physical and digital assets in their access approach in 2021, and this is set to gain even more momentum in 2022. An example of how organisations may implement multi-factor authentication is utilising mobile access control to allow easy entry to the workplace and photo ID providing instant visual identity verification. The two combined deliver a high level of security while simultaneously enhancing the user experience.
5.      Subscription-based services
A subscription-based model allows organisations to manage access on a term-to-term basis. Subscription-based services have risen in popularity due to the pandemic, with more organisations set to maintain remote working and hybrid working patterns in 2022. Subscription-based services are also more cost-efficient for organisations, especially those with flexible business models. This is because companies that don't require staff to frequently gain access to the premises only pay for access when required.
6.      Touch-free solutions
With COVID-19 changing several aspects of work-life as we know it, access control is no exception to the rule. Therefore, it will come as no surprise that employers and employees alike continue to look for contactless, touch-free solutions. In 2022, reducing the spreading of germs on shared surfaces will remain a priority to ensure a clean, safe workplace.
7.      Upgrading from legacy technology
Companies have become more aware of the risks associated with relying on legacy technology. Low frequency 125khz cards are becoming inefficient in providing secure workplace access, as they can easily be cloned using cheap technology available online.
Several organisations have realised this and are choosing to upgrade to modern access control systems. We anticipate even more organisations to realise this in 2022 and upgrade to more secure, modern alternatives to protect their organisations from data breaches.
Let's Recap
The pandemic has forced organisations to lean towards digital and flexible access control systems to provide easy, secure, touchless access. The use of digital assets for access control purposes has risen in recent years and we anticipate this to rise even more, in line with the requirements of the digital world.
With several access control trends forecast for 2022, the industry is set to witness steady growth. Many organisations will seek new ways to protect their workplaces from data breaches and maintain staff retention.
If your organisation is not using its access control system to optimise the workplace, it's time for that to change. Upgrading to a modern access control system is the first step in your digital transformation, and will launch your organisation into the digital world.
To learn more about upgrading your access control system, get in touch on 0800 988 2095 and a member of our expert team will be on hand to assist you.
Alternatively, download our free mobile access eBook to learn more about the popular solution.