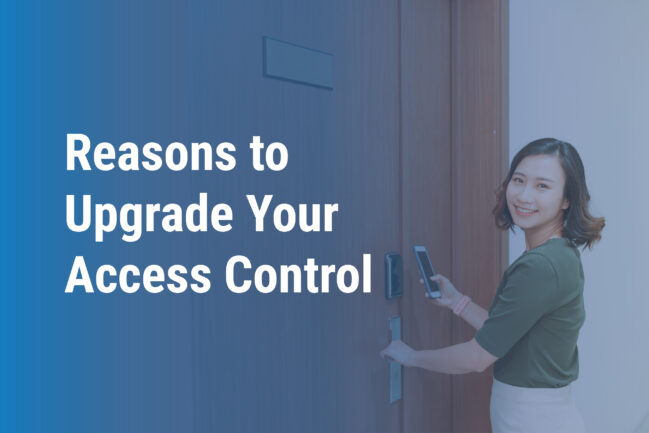 The global pandemic has caused several changes in our lives. The ways we work, teach and learn have all been affected.
And access control is no exception to the rule. People now look for frictionless, hands-free ways to enter their buildings, without coming into contact with other people or sharing surfaces.
That's just 1 reason why it may be time to upgrade your current access control technology. And in this post, we'll be looking at 4 more reasons. Let's begin.
---
Why it's time to upgrade your access control technology
Security
User convenience
Sustainability
Time & cost savings
1. Security
Legacy access control systems are vulnerable to various security threats. Key cards can easily be cloned using cheap technology available online, PIN numbers for keypads are often shared, and outdated credentials are often incompatible with modern readers.
Therefore, continuing to rely on such outdated systems can put your staff, students and data at risk. Alternatively, upgrading to a new access control system can keep your organisation and security systems safe.
2. User convenience
In an age where we can tap our phones to pay for almost anything we like, people look for ease in everything they do. This includes gaining access to workplaces or universities.
Keeping a physical card safe and having to remember it every time you go to work or study can be inconvenient. Not to mention if you forget your card at home – if this happens, you often have to speak to administrators and go through lengthy processes just to request a temporary card.
Instead, organisations need something practical to meet the needs of today's modern individual.
3. Sustainability
Plastic cards are often created with virgin materials that cannot be recycled.
With sustainability now a top priority for many companies, an access control system that is harmful to the planet no longer has a place within the sustainable company culture.
That's why there's a growing demand for eco-friendly cards and other environmentally-friendly products.
4. Time & cost savings
Maintaining legacy systems can be costly and time-consuming.
Access cards need reissuing if they are lost, stolen, begin to fade or break. Not only can reissuance costs quickly add up, but the processes can be time-consuming.
For example, if you print ID cards in house, a trained administrator will have to oversee the printing process, meaning they'll have to take time away from completing higher value tasks. This may cause delays within the business, which could further lead to deadlines not being met. Of course, no business wants that.
Above are 4 reasons why it may be time to consider upgrading access control systems. Fortunately, we have an upgraded access control technology that may be just what you're looking for.
---
Mobile Access Control: The Access Control Solution For All
Mobile access uses secure, encrypted technology to ensure the utmost safety for your organisation.
Unlike legacy access control systems, mobile credentials cannot be cloned and the modern system provides complete convenience. What's more, it's environmentally-friendly and there are no high reissuance costs or large amounts of time that need to be spent printing and reissuing cards.
With mobile access control, access is managed entirely remotely via a secure, easy-to-use portal, meaning you will be making those deadlines after all.
To find out more about switching to mobile access control, get in touch with our expert team on 0800 988 2095. We hope to speak to you soon.