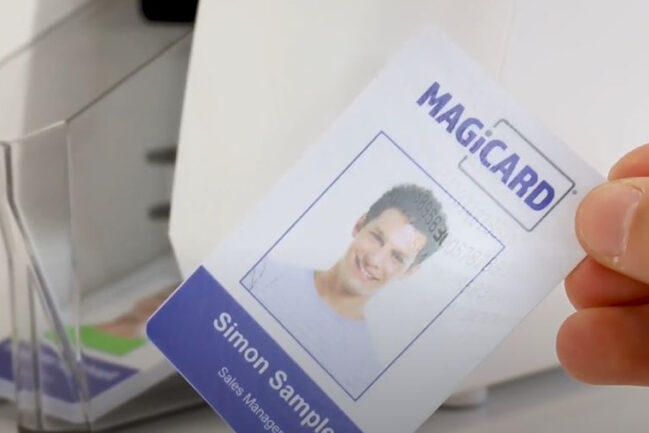 If you're considering an ID card machine, you may have noticed Magicard printers feature something called HoloKote®.
It's a security feature that's unique to the brand and sets its printers apart from the crowd. In this blog, we'll look at what it is, which printers have it along with the benefits of using it.
---
What is HoloKote®?
HoloKote® is a special feature of Magicard printers that allows you to print transparent watermarks that on to ID cards. The watermark is printed onto the surface of the card during the printing process, the. This helps add a layer of visible security to your cards at no extra cost and is only visible when tilted towards a light.
HoloKote® is a patented product feature and sets its range apart from other makes that require special laminating modules to apply holographic watermarks after the cards have been printed. The designs can be repeated on the card in a grid fashion, or a single design can cover the entire card's surface.
---
How does HoloKote® work?
HoloKote® works by printing a transparent holographic watermark onto the surface of the card during a print run. Its frosted appearance allows other elements of its design such as data, logos and photos are still 100% visible.
To do this, it uses the overlay panel in the printer ribbon. More specifically, it's the YMCKO and YMCKOK ribbons that allow the frosted hologram to be "burnt" on to the card design during the printing process.
---
Why use HoloKote®?
Without adding a layer of security such as a HoloKote® watermark, in theory, anyone with access to an ID card printer could make a convincing copy. In 2020, it's become more important than ever to secure workplaces and ensure you know who is on your premises and when. Compared to other methods of creating watermarks and holograms, HoloKote is less expensive, more reliable and easier to use.
---
Don't forget to read… 5 Ways to Increase the Visual Security of Your Photo ID Cards
---
How many HoloKote® designs are there?

The number of standard HoloKote® designs available depends on the printer in question. We'll take a look at which printers offer what further down this article.
Magicard also offers you the option of creating your own custom HoloKote® using its secure online service. This can be a company name or corporate logo as a single image (Custom Stretch) or a tiled design made up of smaller logos (Custom tiles).
Custom HoloKote® designs simultaneously personalise your cards and reduce the risk of cards being fraudulently duplicated further. They will be completely unique to your organisation.
---
Which Magicard printers feature HoloKote®?
Magicard Pronto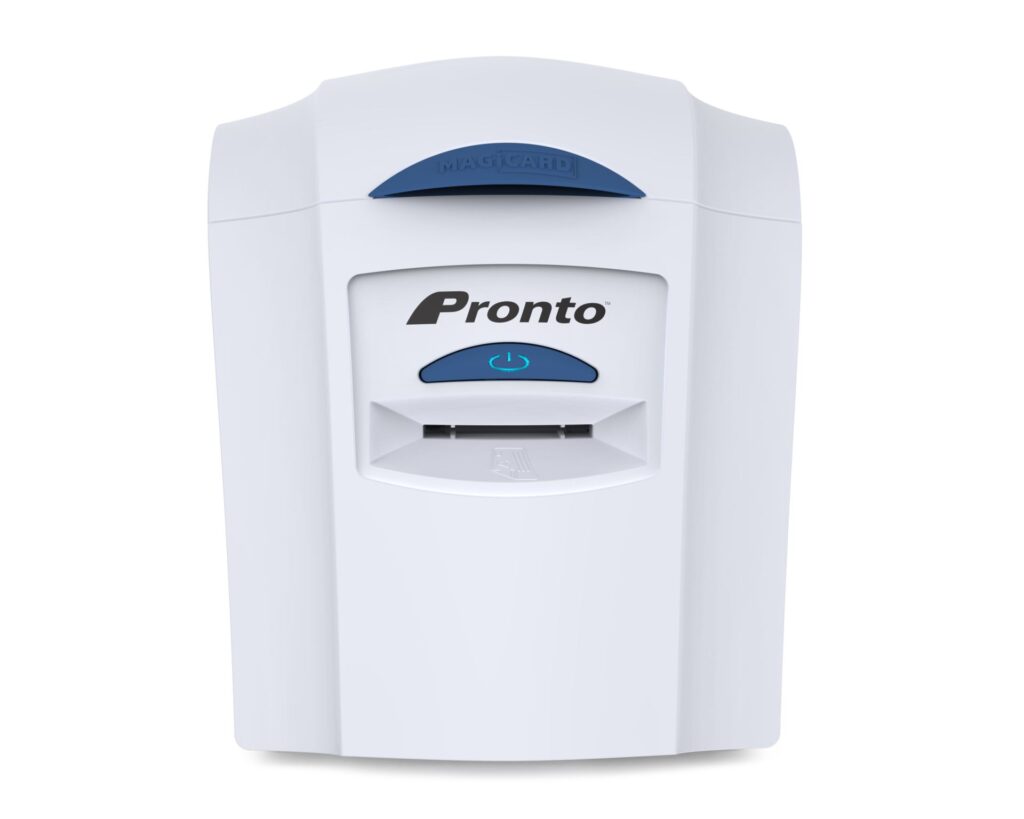 Despite being Magicard's budget-friendly entry-level printer, this hand-fed machine still features four HoloKote® designs as standard. If you're looking for a cost-effective way to increase card security and have low-volume needs, it's worth considering.
Magicard 300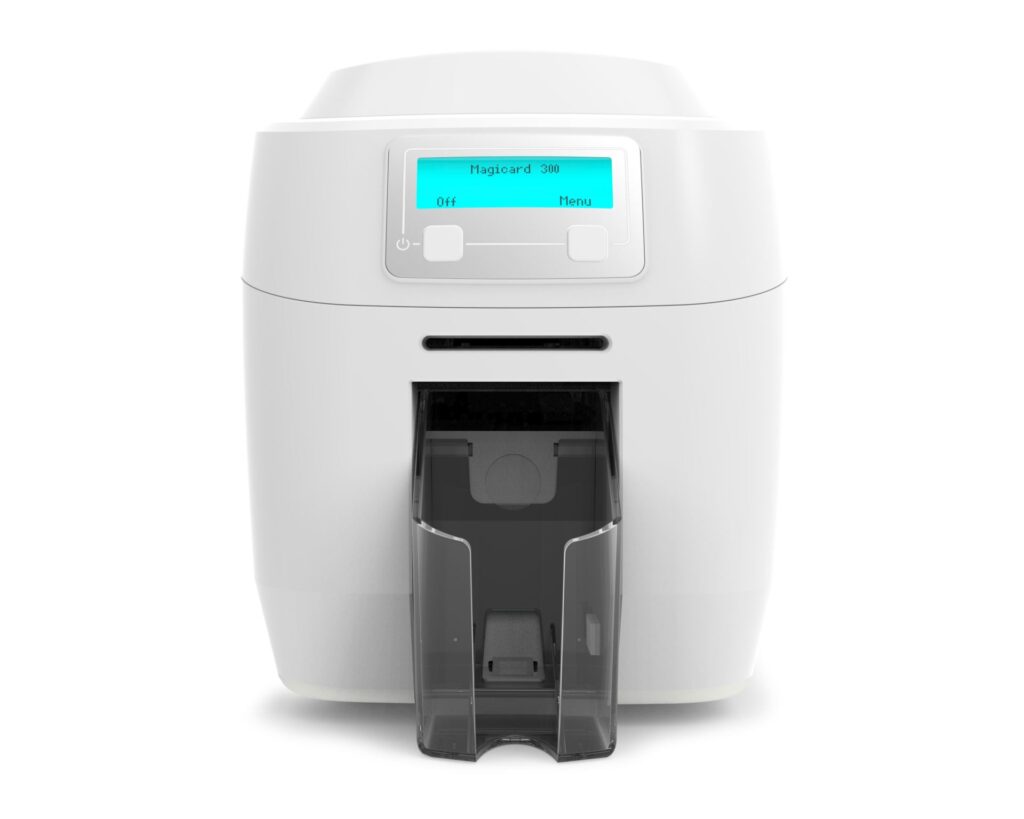 The new Magicard 300 comes with three standard HoloKote® designs, while also allowing you to add up to three custom designs via Magicard's online HoloKote® tool.
Magicard 600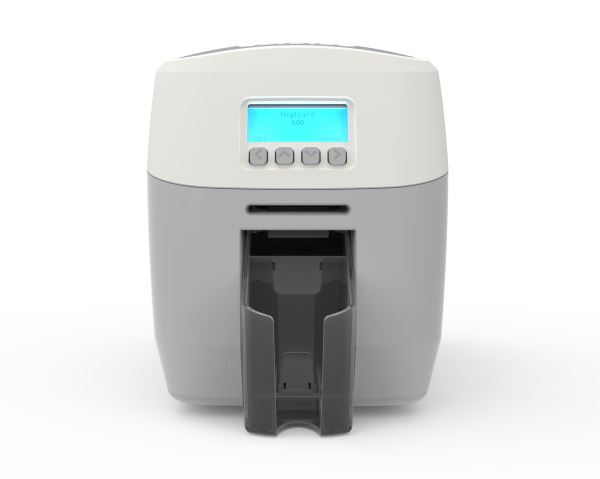 The Magicard 600 is the direct-to-card printer to choose if you want flexibility with HoloKote® designs. It features 10 standard designs, while each device has the built-in ability to receive up to 10 anti-fraud custom HoloKote® designs too.
The online tool ensures secure delivery via the driver interface. Combined with its digital shredder function that fragments all data after a print job, it offers class-leading security features.
Magicard Ultima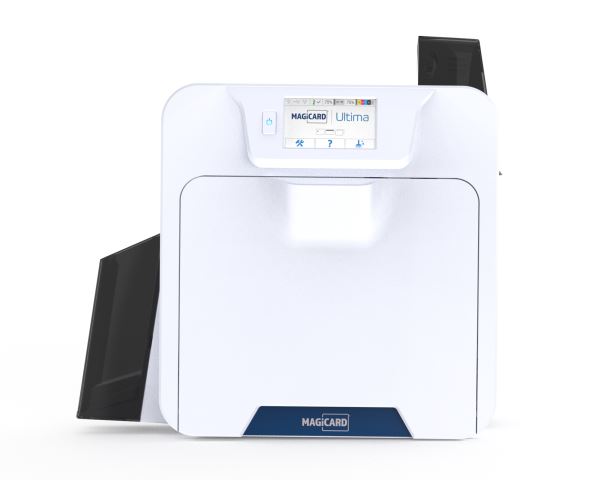 The Magicard Ultima is a retransfer printer that introduces another level of HoloKote® protection. It features 10 standard designs with the ability to add up to 10 anti-fraud custom HoloKotes via the secure online tool.
Unlike Magicard's direct-to-card printers, the Ultima's HoloKotes give off a fluorescent appearance thanks to the use of a secure YMCKS dye film. This uses wavelengths of the film to create a florescent look under UV lighting conditions.
---
You might also find useful… Retransfer ID card printers | The ultimate guide
---
What about HoloPatch?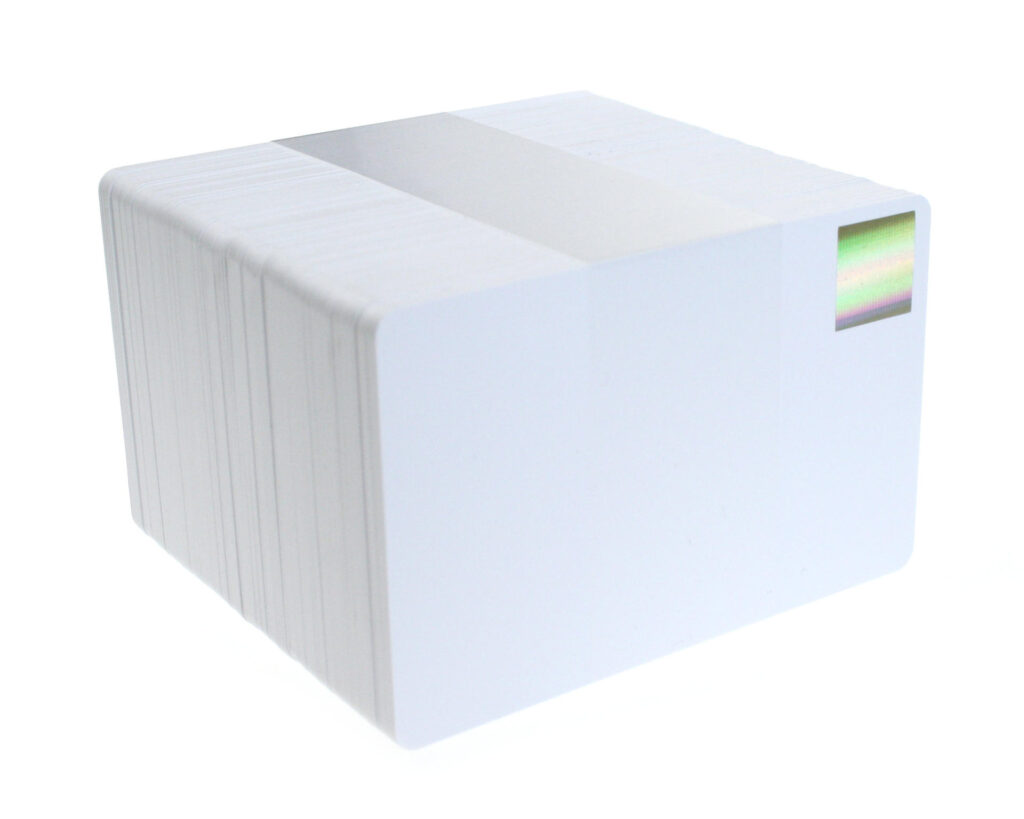 HoloPatch is another Magicard-specific security feature. HoloPatch cards have a unique golden seal. Combined with a HoloKote® watermark, create a highly secure card with unique markings visible under all lighting conditions. Made up of a 1.5cm square, it's excellent for distance-security checks, allowing staff to easily verify the identity from a distance of six feet or more.
---
Interested in a Magicard printer?
If you'd like to take advantage of Magicard's unique HoloKote® offering, don't hesitate to get in touch. Our expert team can be contacted on 0800 988 2095. They'll guide you through the process and offer impartial advice to ensure you pick the right machine for you.