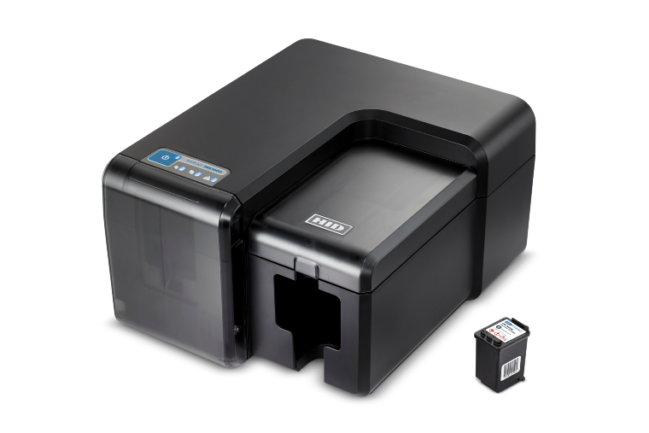 ID card printers are many and varied, but it's not very often one comes along that truly moves the industry on, but today we're introducing one that does just that.
Say hello to the HID Fargo INK1000 – a card printer that changes everything.
After years in development, this game-changing machine eradicates the pain points that have been associated with printing on to plastic cards, while also managing to be one of the most intuitive, easy-to-use ID printers ever made. If you're wondering what the future of ID card printing looks like, this is it.
Here's what you need to know about the new INK1000.
What is it?
A unique product designed and manufactured by HID Fargo, the INK1000 is a desktop card printer that uses inkjet technology. We'll have a more in-depth look at how this technology works in a separate post but put simply it's the same sort that's used in the regular paper printer you've got sat on your desk.
It has been designed and developed by leading printer manufacturer HID Fargo and is the first of its kind to be available. This sets it apart from both direct-to-card and retransfer printers, and means there is now another technology to consider when you're choosing an ID card printer.
What are its benefits?
The INK1000 has been years in the making and removes several pain points that have traditionally been associated with printing ID cards. The benefits of the INK1000 are many and varied, but here are some of the main ways this inkjet printer changes the ID card game.
No more ribbons. Just a simple snap-in cartridge.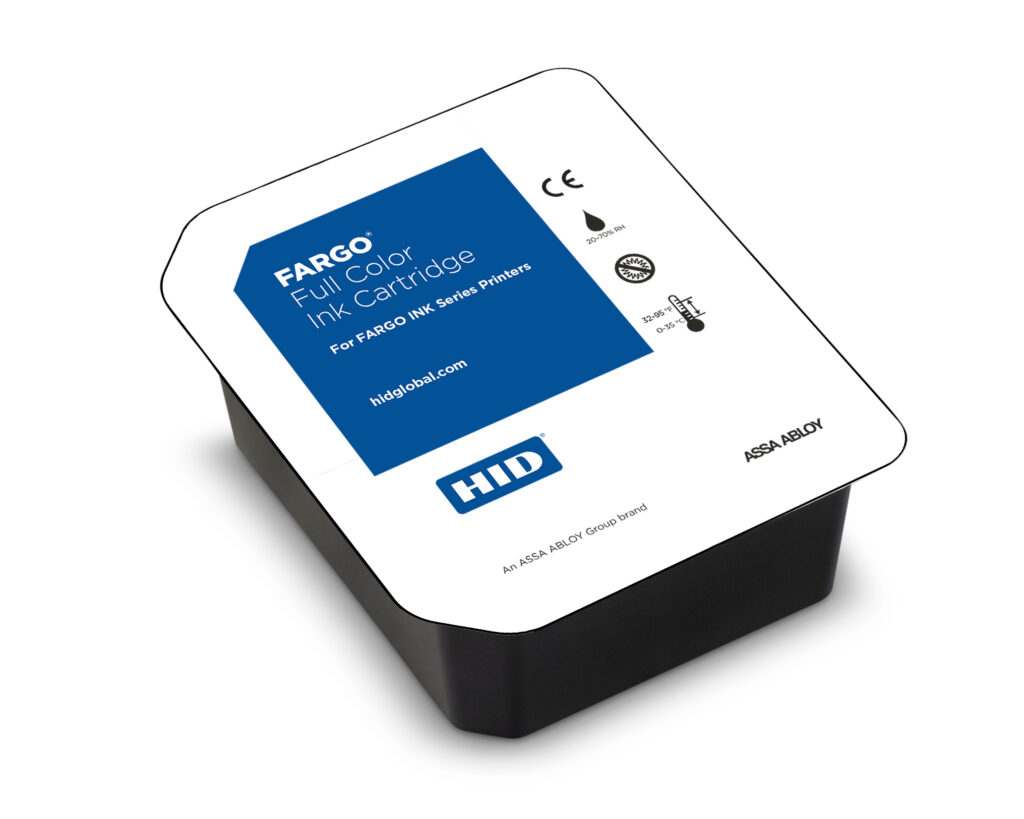 Unlike direct-to-card and retransfer printers, the INK1000 does not use a printer ribbon. If you've used an ID card printer in the past, you'll know that ribbons can cause headaches. They break, they crinkle, they cause printer errors and can affect the quality of the print. All problems you won't have to deal with if you choose the INK1000.
No ribbon also ensures it's one of the easiest printers to operate. The way you install a ribbon varies from printer to printer, but the INK1000 replaces this hassle with a simple snap-in cartridge – just like a regular home-based paper printer.
High-definition edge-to-edge card printing without a costly retransfer printer
Before INK1000, if you wanted a true edge-to-edge card covering, you'd have to opt for a retransfer printer. This is because direct-to-card printers always leave a small white border around the edge of the card. The INK1000 creates a true edge-to-edge card design leaving no pesky white border – just like a retransfer printer – at a fraction of the cost.
Able to print at 600x1200dpi, the INK1000 provides a superior print to the majority of direct-to-card ID card printers, meaning it can handle barcodes with ease and print crisp, detailed cards to an exceptionally high quality.
Because the ink used in the cartridge is inherently UV-stable, images and text are more resistant to fading than direct-to-card printers too, even without overlaminate protection.
Eradicates data breach and privacy worries
The absence of a ribbon means there's no sensitive data or personal details in the printer at all. Using INK1000 leaves no trace of data behind once a card has been printed, ensuring GDPR compliance and making it a go-to choice for those that need protection against data breaches.
Compatible with all cards
The INK1000 is able to print on to a multitude of card types including PVC, press-polished PVC, laminated PVC and eco-friendly ID cards made from composite material too. Unlike a direct-to-card printer, you are also able to print on to access control cards without worrying about damaging the printhead.
Lower upfront and ongoing costs
The INK1000 will cost less to purchase than a retransfer printer. All while offering a comparable level of print quality. Its unique cartridge technology means it is possible to print hundreds more cards than would be possible with a traditional print ribbon (depending on your card design) This will reduce the ongoing costs of consumables too.
Combine this with the fact the INK1000 offers unmatched reliability thanks to its ribbonless technology, it becomes a very affordable proposition. In fact, HID says that the INK1000 offers a lower TCO (Total Cost of Ownership) than most card printers in the industry.
Smaller footprint for improved flexibility
To create high-quality edge-to-edge card designs, your only option was a retransfer printer. Despite their many benefits, retransfer printers are heavy and often larger than direct-to-card printers.
The INK1000 changes this. Weighing just 3.5kg and being the same size as a desktop printer, it's a much more flexible proposition. It's ideally suited to life in an office and can be transported with ease.
Who is the Fargo INK1000 meant for?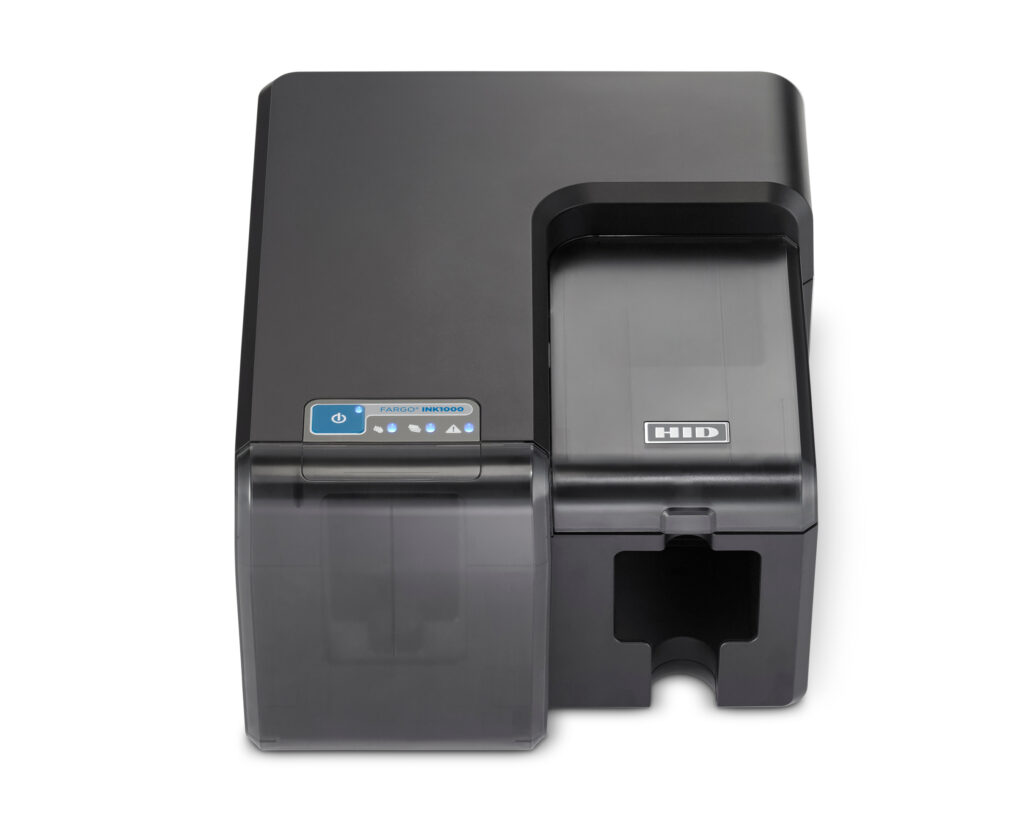 The INK1000 will be a go-to choice for a wide range of sectors and industries. Its intuitive design and simple functionality make it a great choice for those searching for their first ID card printer. You'll never have to experience the potential pitfalls that come with ribbons and older direct-to-card machines.
On the other hand, it is also an excellent choice for those looking for an affordable upgrade. The INK1000 is well-suited to schools and small businesses looking to produce quality ID cards on a budget.
Want to find out more?
Because it's such a unique proposition, we expect the INK1000 to quickly become one of our most popular printers. If you want to find out more, get in touch with us today on 0800 988 2095.
Expect tothe INK1000 to become available towards the end of the year. In the meantime, we'll also be bringing you more content on this exciting new product. Keep your eyes peeled on our blog for a more in-depth look soon.