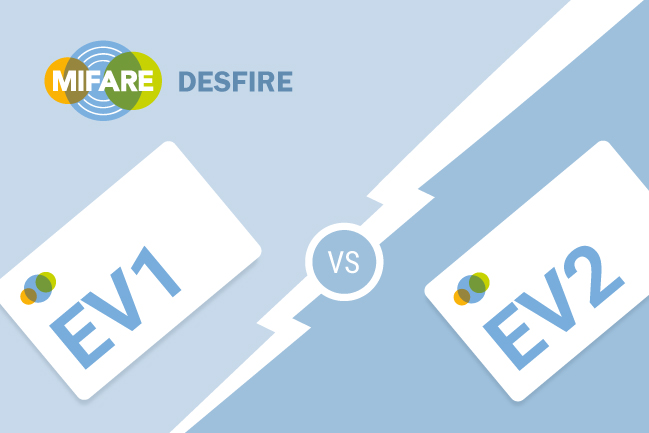 MIFARE DESFire® EV1 vs EV2: it's a decision many make when deciding on the access control solution that best fits them. In this blog, we'll examine the differences between the two and hopefully demonstrate why the latter is the better choice for access control in 2020.
But first…
---
What is MIFARE DESFire EV1 and EV2?
The first MIFARE® cards arrived in 1994 as a product of NXP and have since undergone several upgrades to ensure they remain as secure as possible. The DESFire® contactless range was introduced in 2002 to mitigate the risks associated with low-frequency MIFARE® Classic cards (these cards have been vulnerable to hacking since at least 2007).
The range has since spawned multiple generations including the two we are looking at today: EV1 and EV2. Key applications for these products include:
Access control
Identity Loyalty cards
Public transportation ticketing
Micropayments
If you're wondering what DESFire® means, the 'DES' is indicative of the high-security level the cards use (3DES and or AES hardware). The 'Fire' element represents the cards' key qualities: fast, innovative, reliable, secure.
---
Don't forget to read… MIFARE cards | The 2020 range explained
---
EV1 vs EV2: What's the same?
Despite there being numerous differences in the overall security and performance of the pair, EV1 and EV2 both operate at a frequency of 13.56MHz and use the same highly secure AES-128 encryption. This means they can both be easily configured to work interchangeably. So, those wishing to upgrade to from EV1 to EV2 can be sure existing card readers will work for the newer technology.
---

EV1 vs EV2: What's the difference?
But now what you really want to know: the differences. EV2 introduces many benefits including:
A longer read range
More secure EAL5+ certification
Proximity check
Unlimited application uses
Backward compatibility
Let's look at these difference in more detail.
Read range and speed
To ensure the most convenient contactless functionality, DESFire EV2 features a significantly improved read range and speed when compared to EV1. The exact speed and performance will vary depending on the card type and the size of the antenna, but the official operating distance is 10cm. However, third parties have shown that the actual operating distance is higher than this.
Speed-wise, DESFire EV2 can transfer data rates of up to 848Kbit/s, making it one of the quickest contactless technologies to date.
High-security EAL5+ certification
Thanks to its DES, 2K3DES, 3K3DES and AES hardware encryption, MIFARE DESFire EV2 benefits from a Common Criteria EAL5+ certification, while EV1 makes to with EAL4+. Other security features unique to EV2 include on-chip backup management and mutual three-pass authentication.
Proximity check
EV2's Proximity check feature boosts security further, protecting your cards against relay attacks. It does this by assuring the card signal is being read by a reader in close proximity to the reader and not a remote signal from a hacker. Virtual Smart Card architecture also anticipates future needs of privacy protection.
Unlimited application uses
EV1 cards are limited to 28 simultaneous applications. This all changes with the EV2, with virtually no limits on the applications and processes the chip can run.
Backward compatibility
For those concerned with the compatibility of the EV2 chip, it has been designed to be compatible with previous chips. These not only include DESFire EV1, but older MIFARE technologies too.
---
EV1 vs EV2 Comparison Table
Hopefully the above will have given you a little insight into the difference between EV1 and Ev2. To give you a full overview, however, we've included a comparison chart below. This goes into more technical detail regarding the differences between the two.
| | | |
| --- | --- | --- |
| | MIFARE® DESFire® EV1 | MIFARE® DESFire® EV2 |
| ISO/IEC 14443 A 1-4 | Yes | Yes |
| ISO/IEC 7816-4 support | Extended | Extended |
| EEPROM data memory | 2/4/8KB | 2/4/6/8/16/32KB |
| Flexible file structure | Yes | Yes |
| NFC Forum Tag Type 4 | Yes | Yes |
| Unique ID | 7B UID or 4B RID | 7B UID or 4B RID |
| Number of applications | 28 | Unlimited until memory full |
| Number of files per app | 32 | 32 |
| Data rates supported | Up to 848Kbit/s | Up to 848Kbit/s |
| Crypto algorithms | DES/2K3DES/3K3DES/AES128 | DES/2K3DES/3K3DES/AES128 |
| Certification | EAL4+ | EAL5+ |
| Delegated Application Management (Multi-App) | No | Yes |
| Transaction MAC per app | – | Yes |
| Multiple keysets per app | – | Up to 16 keysets |
| Multiple file access rights | – | Up to 8 keys |
| Inter-app file sharing | – | Yes |
| Virtual Card Architecture | – | Yes |
| Proximity Check | – | Yes |
| Delivery types | Wafer, MOA4 & MOA8 | Wafer, MOA4 & MOB6 |
Ready to order?
Whether you are considering upgrading to newer technologies or simply need more MIFARE® cards, our experts are always happy to help. Call us on 0800 988 2095 and we will find the products that suit your requirements best.