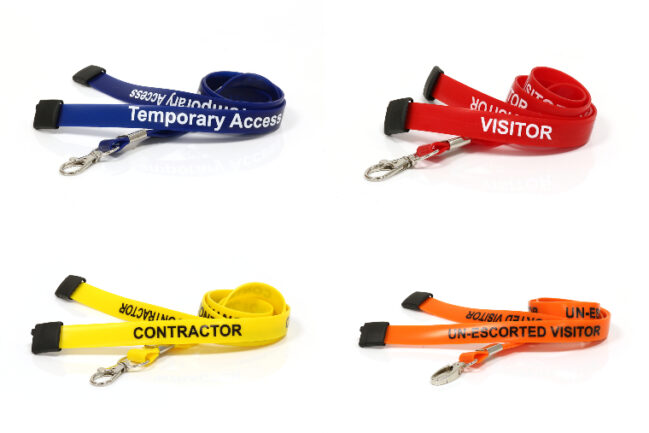 Here at Digital ID, we like to consider ourselves somewhat of an expert when it comes to lanyards. We issue hundreds of thousands across a range of sectors every single year.
Our range for 2020 is changing. Here are our new lanyard products and some info on why we're introducing them.
You may already be aware that we make our fabric lanyards out of rPET material, actively encouraging our customers to go for the eco-friendly option and do our bit for the environment.
In 2020, however, we've expanded our range of plain, stock and personalised lanyard options further. The importance of hygiene and cleanliness in the workplace is well and truly in the limelight.
1. Silicone lanyards
For the first time, we're pleased to introduce personalised silicone lanyards. Long-lasting and durable, these are easily kept clean and excellent for environments that need to be kept as sterile as possible. As you can see from the photos, a number of pre-printed options will be available and the overall finish is much glossier than fabric rPET and polyester lanyards.
Silicone can also be specified as a material when creating our personalised lanyards.  Your logo and design will be applied to the lanyard via a screen print process, which is perfect for those that require only one or two colours. The print transfer actually sits on top of the lanyard, so it will appear embossed as it is not embedded into the material itself.
2. Anti-microbial lanyards
As more and more of us return to work, it'll become crucial that everything we touch and use in a shared environment is kept as clean as possible. Enter the anti-microbial lanyard.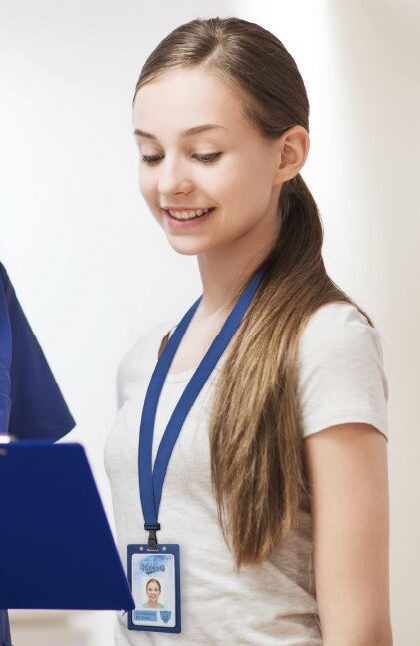 Part of our COVID-19 supplies range, this 5/8″ flat MicroWeave lanyard material contains nanoparticle-coated fibres that inhibit the growth of germs and kill odour-causing bacteria. It's ideal for environments such as hospitals and other health care settings and is the perfect product to accompany our anti-microbial door-opening card holder.
This material is also available for those opting to personalise their lanyards and come as standard with a breakaway clip and a no-twist plastic hook end-fitting. Like silicone lanyards, they are printed using the screen print process so your design will appear slightly raised.
3. Social distancing lanyards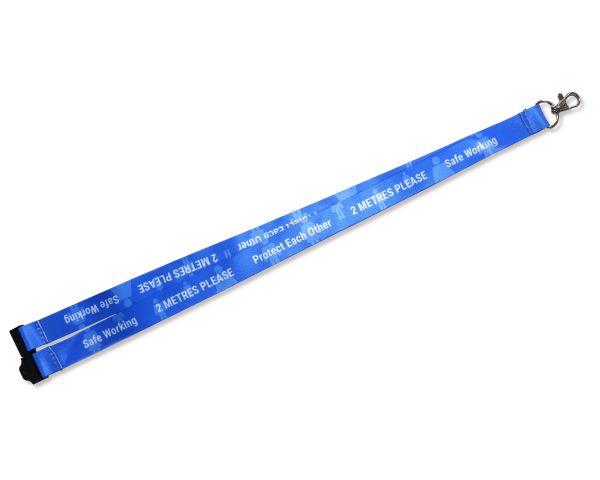 Our social distancing lanyards are perfect for reminding staff about social distancing guidelines. With '2 metres please' and 'Safe Working' printed across both sides, they feature a trigger clip and a safety breakaway.
These 20mm lanyards are available to order now and are made from our eco-friendly rPET material (recycled plastic) that helps to make organisations more sustainable as well as safer.
Ready to order?
You can order social distancing lanyards right now, and both personalised silicone and anti-microbial lanyards are available too. We'll be adding more stock and pre-printed versions of these products in the very near future, and we'll let you know as soon as they're available.