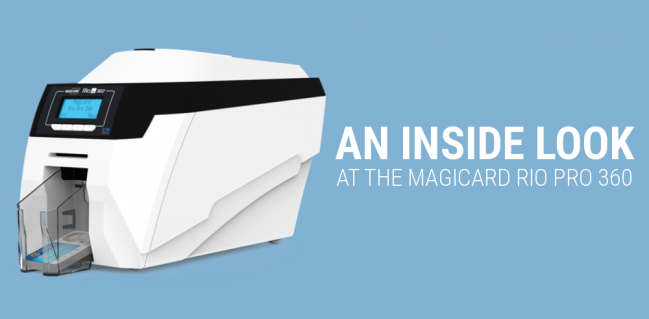 The New Magicard Rio Pro 360 ID Card Printer
In our latest post, we give you a behind the scenes look at the new Magicard Rio Pro 360 ID card printer.
The Magicard Rio Pro 360 ID card printer is everything users love about the original Rio Pro but with faster print speed, increased capacity and improved print quality.
All of this is powered by the all-new LYNK onboard intelligence – for identity with an IQ.
The new ID card printer delivers faster print speeds, increased card capacity and improved print quality.
Take a look at the new 360 promo video to find out more.
Rio Pro 360 Benefits
The Rio Pro 360 is an evolution of Magicard's well-established Rio Pro platform.
Enhancements to the new printer include:
LYNK Intelligence
This is a printer with advanced intelligence.
The 360 is the first desktop ID card printer with an embedded Linux-based CPU. This enables seamless communication and the secure processing of ID data – just imagine it's got a brain onboard.
Connectivity Intelligence
LYNK recognises USB and Ethernet and can easily be integrated with most third-party applications locally or in the cloud.
Optimised Intelligence
The 360 is Magicard's fastest printer to date. The new electronics and software platform has enabled significant performance improvements.
From the moment you hit print, the 360 instantly gets to work. Full-colour cards with HoloKote® print in just 18 seconds click-to-card.
Versatile Intelligence
The state-of-the-art Rio Pro 360 is a cost-effective way to create secure ID cards in high volumes.
The choice of 100 or 200 input card hoppers provides users with the opportunity to batch print large number of cards in one go.
Secure Intelligence
Like its predecessor, the Rio Pro 360 can print an anti-fraud customised watermark on every card.
LYNK now enables the secure online delivery of bespoke HoloKote® watermarks to the printer.
Where previously only one design was available per printer, now users can store up to ten.
Flexibility
The printer is available as a single-sided, dual-sided and a dual-sided lamination module.
Overall the main benefits to the end user will be:
Broader colour spectrum in the onboard CPU to print more vibrant colours
Larger capacity – an increased capacity of input hopper, now improved to 200 cards.
Quicker Printing Speed
Security- anti-fraud customised watermark feature at no extra cost
Flexibility- Upgradeable to dual-sided printing and lamination.
3-year warranty – Ultra-cover manufacturer warranty
Rio Pro 360 In-Depth Review
Prior to its release in late April 2018, we managed to get our hands on the machine and run an in-depth review of the printer.
See what we like, dislike and the machines stand out features below:
Rio Pro 360 Gallery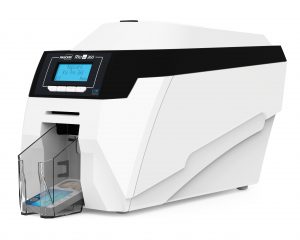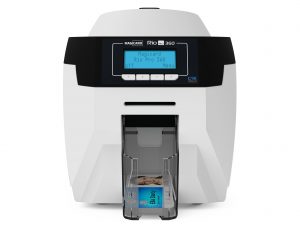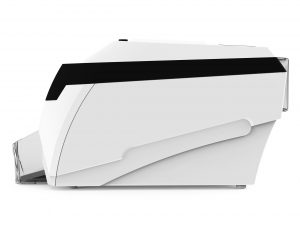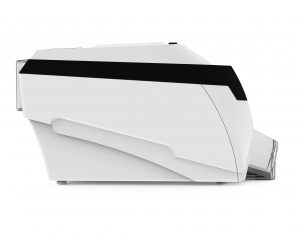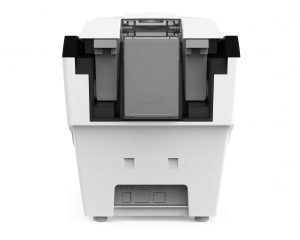 For more information download a free copy of the printer specification below or speak to one of our Magicard experts on 0800 988 2095.