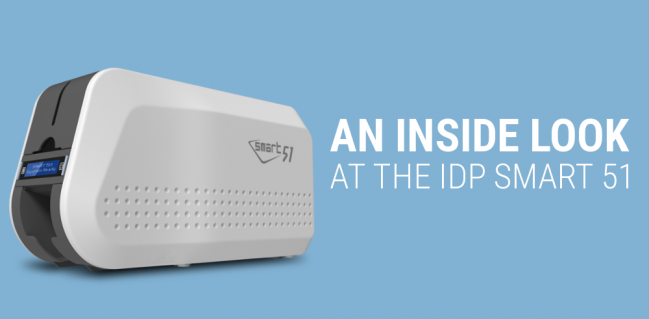 The New IDP Smart 51 ID Card Printer
In our latest post, we give you a behind the scenes look at the new IDP Smart 51 card printer.
Built on the fantastic success of the IDP Smart 50 Printer, we are delighted to give you an exclusive behind the scenes look at the new IDP Smart 51 Printer.
The ID card printer is due for UK release in early 2018, but we wanted to be first in showing you the key features and benefits of this machine.
IDP Smart 51 Benefits
The IDP Smart 51 inherits the proven core elements of its predecessor the Smart 50, which in return gives the end user a higher print quality on all cards.
Enhancements to the new Smart 51 Printer include a new state of the art CPU, user-friendly design, and reliable parts.
The printer will also be available in both a dual sided module (51D) and Lamination Module (51L).
The main benefits to the end user will be:
Larger capacity – an increased capacity of input hopper, now improved to 200 cards.
Quicker Printing Speed- Print speed has been enhanced by 10%.
Security- Lockable hopper to secure ribbons & cards.
Flexibility- Upgradeable to dual sided printing and lamination.
5-year warranty – Unrivalled 5-year warranty on the IDP Smart 51/
IDP Smart 51 Key Features
Improvement of print speed
Enhanced FINE imaging technology
State of the art CPU
Reduced noise levels when printing
All in one lock system
Easy to handle laminate film cartridge
Rear side card stacker which can hold up to 100 cards (optional)
New 200 card input hopper
Removable output hopper
Support of transparent cards
Support of CR79 cards
Front side Magnetic stripe encoding (optional)
For more information download a free copy of the printer specification below or speak to one of our IDP Smart experts on 0800 988 2095.