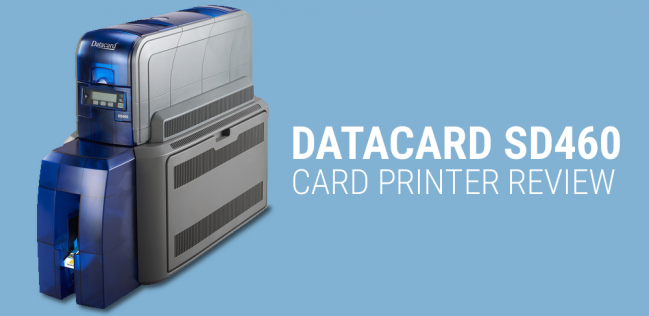 Datacard SD460 Card Printer Review 
In our latest post we give you a full review of the Datacard SD460 ID card printer.
The Datacard SD460 ID Card Printer is a high-performance printer that delivers durable and extremely secure plastic cards.
This printer offers an easy-to-use, comprehensive solution to all your plastic card requirements, whether you want to produce staff ID cards, membership or access control cards, it does it all at a low cost.
The printer also contains an inline card debow feature which flattens the cards after they have been laminated for that sleek, professional look.
Also, the cards produced by the Datacard SD460 are more durable than other similar plastic cards due to the edge-to-edge overlay, which is almost impossible to remove or tamper with.
For an economical way to produce your plastic cards with added security, the Datacard SD460 is the printer for you.
SD460 Card Printer Specification
Printer technology used: Direct to Card
Print Capabilities: Single or dual sided edge to edge printing
Print and Lamination speed:
Up to 200 cards per hour with YMCK print and front lamination
Up to 175 cards per hour with YMCK-K print and front lamination
Up to 185 cards per hour with YMCK print and Lamination with tactile
Up to 150 cards per hour with YMCK-K print and Lamination with tactile
Upgrade options: 200 Card input hopper, second laminator, tactile impression, Kensington security lock, smart card personalisation, magnetic stripe encoding
Input and Output hopper: Standard 100 or the optional 200 card input hopper
Suitable for: Corporate, healthcare or government organisations with a high print volume requirement.
Additional Printer Features 
In addition to producing standard photo ID cards, the Datacard SD460 can also encode your cards with both contact and contactless smart chip technology, as well as printing magnetic strips and barcodes. If you are looking for a reliable, hardwearing ID card printer with innovative security features, the Datacard SD460 is an excellent choice.
Card Security
Want to find out more about the visual security options available?
Watch our short video below which features Datacard's senior product manager Steve Digpaul, where we talk in more depth about the unique tactile impression kit available with the SD460 model.
If you would like more information on the SD460 card printer then simply click the link below.