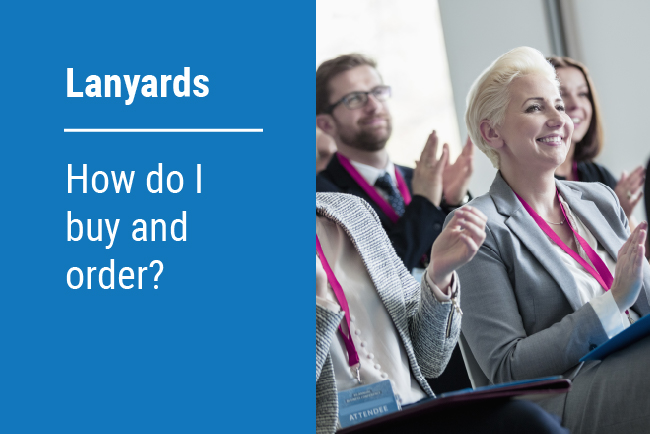 Buying lanyards for might seem like a simple process, but these days there are so many on offer that you might feel a little overwhelmed.
They are one of our most popular products, so we created this guide that will help you decide which lanyard option is best for you.
What is a lanyard?
Let's start with the basics.

Lanyards are a piece of workwear that provides a form of corporate branding and security, and you'll find they are a key component across many sectors.
Whether you need to identify staff, promote an event or simply display a photographic ID card, lanyards are the way to do it. They are part and parcel of professional life these days. Digital ID supplies lanyards to hospitals, schools, public sector bodies, media groups and charities.
There are three types of lanyards: Plain lanyards, pre-printed lanyards and personalised (branded) lanyards. All of them can be printed on a number of materials that we'll examine later.
Compared to access control cards and your ID card printers, choosing and ordering the right lanyards for you might seem like an easy thing to do. However, it's important to make the correct purchasing decision from the off.
Here are the three main types of lanyard:
Plain lanyards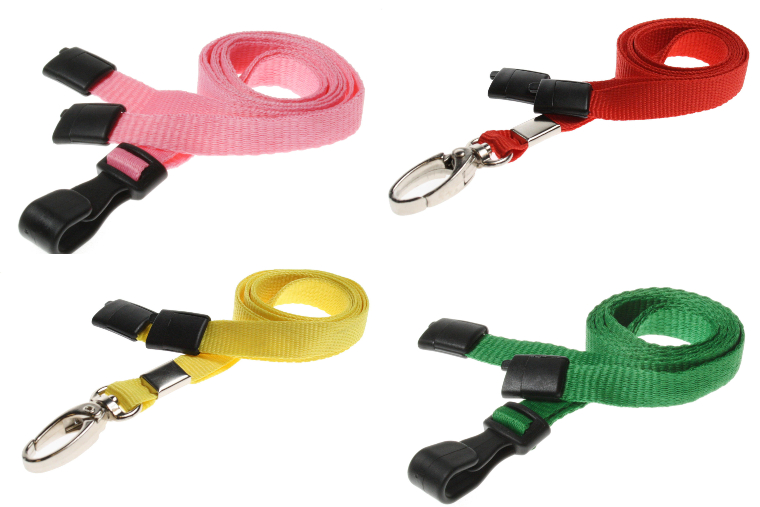 Plain lanyards are made from 100% polyester and are completely unbranded. By that we mean they are not personalised, nor do they have a pre-printed design that makes it easy to identify visitors, contractors and staff members.
While they don't offer any form of visual security, they are designed to keep costs to a minimum and are by far the cheapest option when it comes to ordering lanyards. They are great for marking out specific working groups in settings such as schools though, which can make social distancing easier.
Pre-Printed Lanyards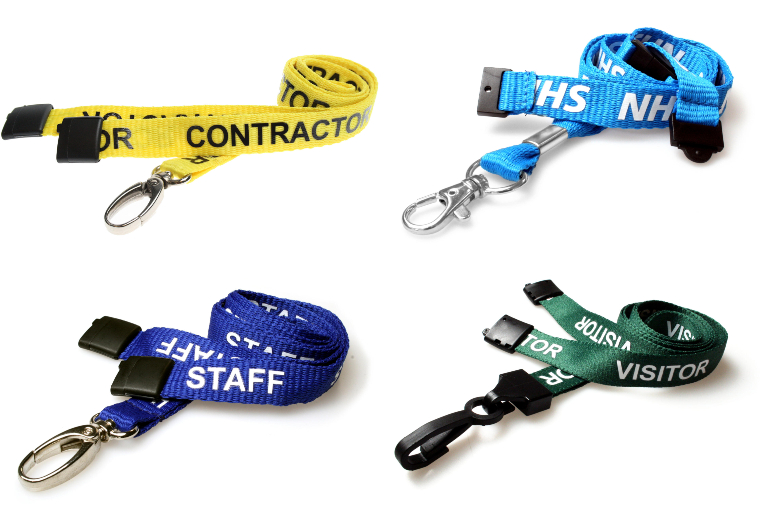 Pre-printed lanyards have popular generic text printed onto their surface, making them incredibly easy to issue and also to monitor usage. Popular types of pre-printed lanyards include visitor lanyards, staff lanyards, student lanyards and contractor lanyards.
If you are a healthcare trust we're one of the UK's biggest supplier of NHS lanyards too, while our rainbow and NHS Heroes lanyards are also popular products.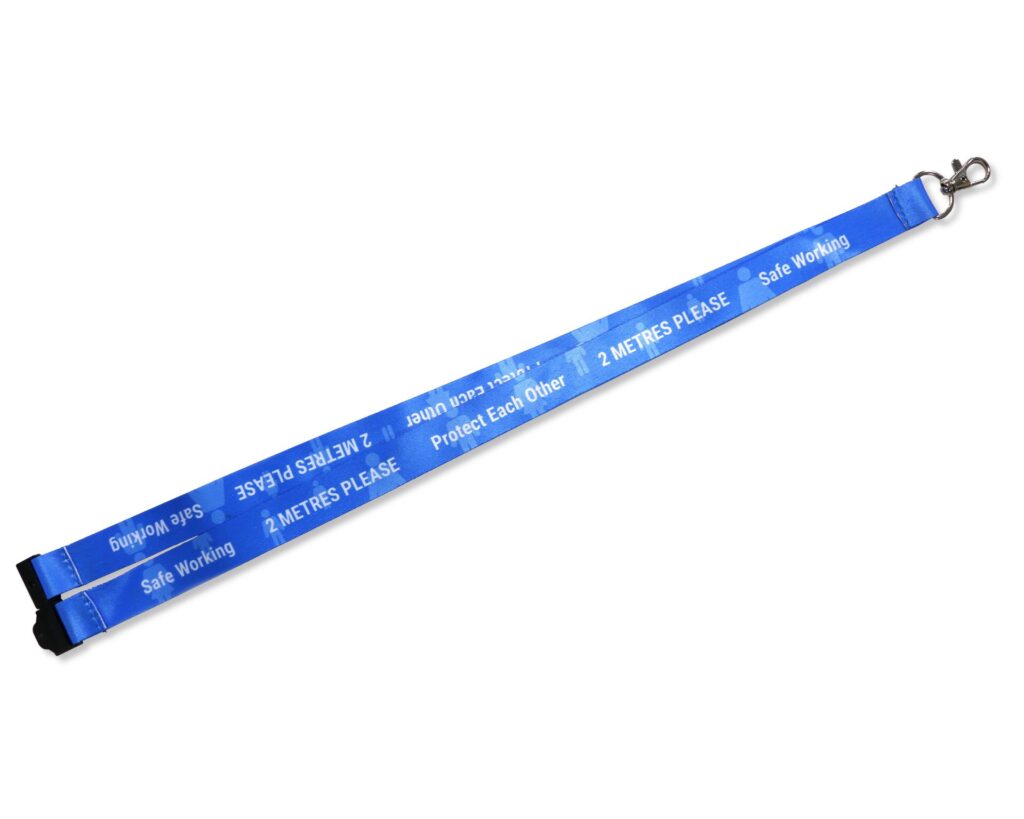 In light of changing regulations as staff and students return to offices and schools, we've also introduced our pre-printed social distancing lanyards. These give those wearing this product a handy reminder to observe social distancing in the workplace.
Personalised Lanyards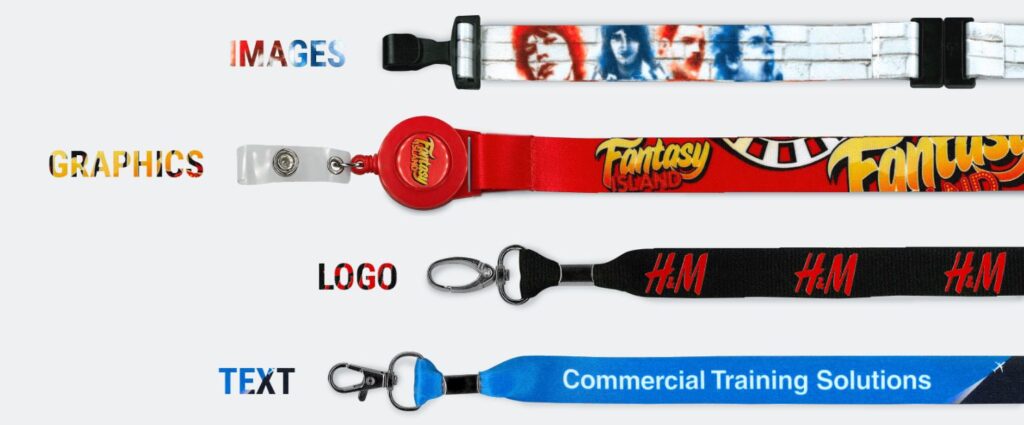 We're the UK's leading supplier of personalised lanyards. On our dedicated configurator page, you can create and order high-quality customised lanyards in just a few simple steps. You get to choose the trigger clip, lanyard material and the size. Personalised lanyards can include images, graphics, logos and text.
Depending on the material used, your personalised lanyards will be printed using a Dye-Sub or Screen Print process. Screen Print is great for printing one or two colours on to a lanyard and leaves a raised finish that gives it an embosses appearance. Dye-sub is the better option if your artwork has multiple colours, and is the only process that can accommodate edge-to-edge artwork and designs.
Personalised lanyards can be specified in a range of materials, with the range expanding for 2020 to accommodate changing buyer requirements.
rPET personalised lanyard material

Recycled Polyethylene terephthalate (rPET) is the material we use to create all our personalised lanyards. As more businesses look for more sustainable products, using rPET as an alternative to Polyester is a huge step forward on the path toward a greener, safer and more sustainable future.
During their production, 59% less energy is used and 32% less CO2 is created. The fact they are made from recycled material helps to prevent single-use plastics from reaching our landfills, oceans and waterways.
Silicone personalised lanyard material
Silicone personalised lanyards are becoming increasingly popular, particularly in environments that need to be kept sterile. They are water-resistant and extremely easy to wipe down ensuring they are very easy to clean. The silicone materials are long-lasting and flexible too, ensuring longevity as well as cleanliness.
Anti-microbial lanyard material
Anti-microbial personalised lanyards are made from a special material containing nanoparticle-coated fibres. These have the ability to kill bacteria and inhibiting its growth making them ideal for sterile environments.
Due to the specialist nature of these lanyards, we recommend pairing them with the anti-microbial door-opening cardholder for an even more efficient solution in reducing the spread of germs and microbes.
Bonus: Bamboo lanyards
Bamboo lanyards are an increasingly popular choice because of their ability to completely biodegrade. They degrade naturally over time when disposed of correctly, and don't release any toxic chemicals or residue into the atmosphere. While they offer many eco-benefits, bamboo lanyards are generally much more expensive than rPET or virgin polyester lanyards.
Lanyard prices and minimum quantities
If you're wondering how much lanyards cost, we've put together a table that gives you an idea of how much you can expect to pay. The price between plain lanyards and custom printed personalised one can differ quite significantly depending on the materials and clips used. The minimum quantity for an order of personalised lanyards is 100 units, while plain and pre-printed lanyards also come in packs of 100.

What about the breakaway?
Each lanyard is made up of 90cm of material, meaning it drops around 45cm when worn around the next. The material of most lanyards is separated by a safety breakaway device.
You'll find this on the back of the lanyard, and it allows the material to split into two separate strands when pulled. They are perfect in environments where safety is a top priority such as factories, building sites and childcare settings.
While it isn't a legal necessity to provide a safety breakaway but we'd always recommend purchasing lanyards that feature one. If you're ordering personalised lanyards, it's possible to add single, double or even a triple breakaway.
Which lanyard clip should you choose?
All lanyards feature a clip that allows you to attach ID cards, keys and other objects. Here is a rundown of the five most popular types.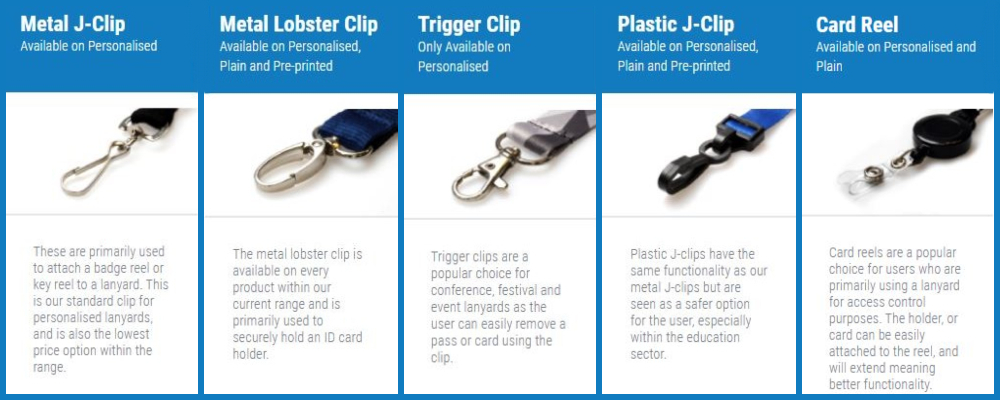 Metal J Clip
These are great for attaching a badge reel or key reel to the end of the lanyard and is the standard clip you'll find on our personalised lanyards. Metal J-Clips are also the lowest price option within the range.
Lobster Clip
The metal lobster clip is available on every product in our current range and is a great option to securely hold and ID card holder in place. This is available on personalised, plain and pre-printed lanyards.
Trigger Clip
If you require lanyards for a conference, festival or event, a trigger clip is a good choice. Why? Because the user can easily remove the pass or card using the clip. These are available only on our personalised lanyards.
Plastic J Clip
Plastic J clips are essentially the same as the metal J clip, but can be considered a safer option. Th for the user, particularly within the education sector. They are available on our personalised, plain and pre-printed lanyards.
Card Reel
Reels are great if you're primarily using your ID card for access control. Its extending functionality makes it perfect for reaching card readers.
Do lanyards benefit your businesses?
Lanyards are good for business. For starters, they boost your security credentials. Displaying staff ID cards clearly enables you to quickly identify who's who and instantly decrease the risk of a security breach by identifying unauthorised people.
But that's a given really, isn't it? If you choose personalised lanyards, they not only boost security but your business itself. They increase your brand's visibility and help you stand out in an ever-crowded world.
When you consider that every person your employees meet could be a potential customer, then you could even see an increase in custom.
First impressions play a big part in any business too, and a first encounter can often become a loyal, returning customer. Using a personalised lanyard will help cement that good first impression that's so important.
Are lanyards recyclable?
Whether or not you can recycle a lanyard will depend completely on the material it is made of. Bamboo lanyards, for example, are completely recyclable. Polyester lanyards, however, can be difficult for recycling centres to process.
Digital ID takes its environmental responsibility very seriously and wants to help businesses become more eco-friendly.
Whether you need a batch of in-stock plain lanyards or need our in-house design team to create a bespoke lanyard for thousands of employees, we'll meet your needs and make the process as simple as possible.
Ready to buy you lanyards?
Choosing the type of lanyard fit for your organisation can be difficult, so we hope this guide has helped you decide which is the best lanyard option for you.
Our customers come to us from a broad range of sectors and industries, so we understand every business, organisation or individual has a unique set of requirements when it comes to the lanyards.
Our team are on hand to guide you through the process – from the design of your lanyard through to delivery. Call us on 0800 988 2095 for the best expert lanyard advice.