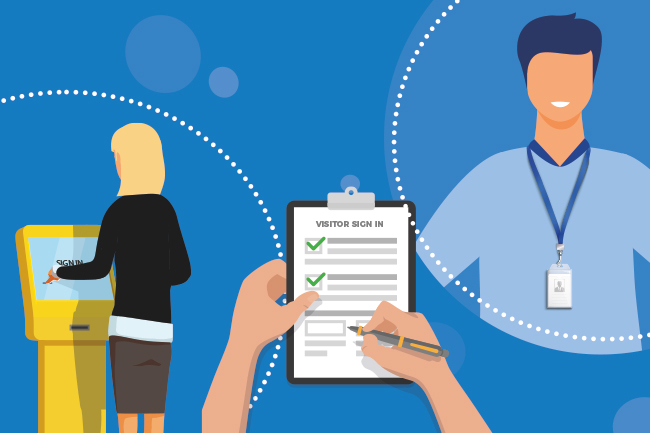 There's no better time to look at the way you manage visitors in your business then today. Using an electronic visitor management system can save you time and enhance your business in a way paper-based systems of the past simply can't.
Here's five reasons an electronic system trumps paper every time.
---
They increase security
Whether you're an SME or a large corporation, knowing who is in your premises and when is a vital element of safeguarding the security of your site and staff – particularly moving forward as workspaces reopen post COVID-19.
The importance of visitor management cannot be overstated – from both a security perspective and accountability too.  The safety of your site and staff depends on implementing the correct system. Is a paper-based system really the best way to guarantee this moving forward?
Opting for an electronic system safeguards security in several ways.Firstly, you can invite and sign your visitors in prior to their arrival. This can be sent as an email and includes key details such as location, date and time. This means that your staff will know exactly who to expect on the day, making vetting easier and ensuring things like temporary ID passes are prepared well in advance.
Electronic visitor management systems also allow you to ensure they adhere to company policies in advance too. The electronic screen guides visitors through documents, and allows them to electronically sign any agreements prior to entry.
---
They make your team more efficient
If your business has a busy reception area, you'll be pleased to hear implementing an electronic visitor management system can free up your staff's time and streamline their processes. Thanks to visitors signing in before they're even on site, it means that your staff can focus on other things and have the appropriate passes/lanyards ready in advance.
It saves time and, most importantly in 2021, it cuts down touchpoints for your staff. This simultaneously protects your team and boosts their efficiency.
---
They improve the visitor experience
The way people expect to interact with a business has changed. While paper signing in book remains a popular method of managing visitors, electronic systems are without doubt the way to future proof your business, improve customer and visitor experience and present your organisation professionally.
This is particularly true if your visitors are potential customers. How will they expect to interact with you? What will wow them most? A smooth and simple visitor management system of course.
---
They enhance your brand
As we said, visitor management is now so much more than just safeguarding your organisation, and improving your visitor's experience goes beyond tech alone. You can personalise your electronic visitor management system with your own branding and even create multiple sign-in processes (depending on the type of visitor).
Combined with photo ID visitor passes and personalised lanyards, it's a great way to give your visitors the VIP treatment. It's fantastic too if you have to deal with multiple types of visitors. For example, a college or school. You can personalise sign-in processes and create different ones for parents, students and even governors.
---
They reduce long-term spend
Choosing the right visitor management system will also significantly reduce overheads in the longterm – particularly if you are regularly purchasing items such as signing in books. Saas-based systems such as the ones we've mentioned above have a comparably huge storage capacity compared to your average visitor book.
That means no more outgoings for new paper. It inevitably cuts down on waste too, while your staff will get a productivity boost. Automated visitor management systems require less attention and time at reception, meaning staff can spend their time on other tasks without worrying about the process of signing visitors in and out.
---
Electronic vs Paper: Key differences
Below, we've put together a table to demonstrate the key differences between electronic and paper visitor management systems. While paper-based systems still have a place, there's no doubt that an electronic system introduces many advantages that will streamline your processes, reduce spend and improve your visitor experience.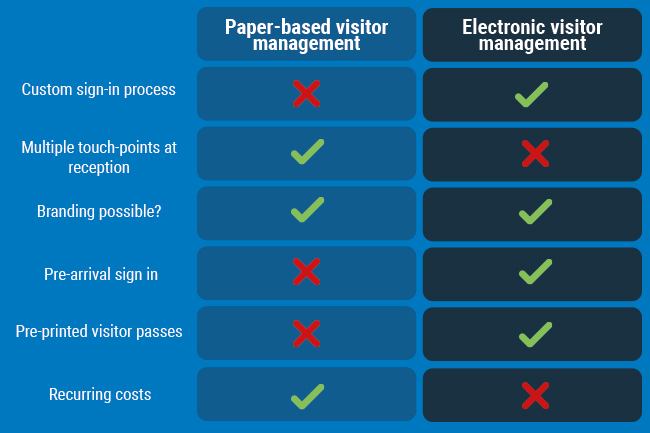 ---
Getting visitor management right in 2021
This list is by no means exhaustive when it comes to the benefits a visitor management system can bring, but it should give you a solid idea of what choosing the right system for you can do in 2021.
We have implemented visitor management systems across sectors including healthcare, governmental and banking, so know exactly what's involved in getting you set up with the right system.
If you're a workplace looking to reopen soon, we've got some great tips in our workplace reintegration checklist. Download your copy via the link below.