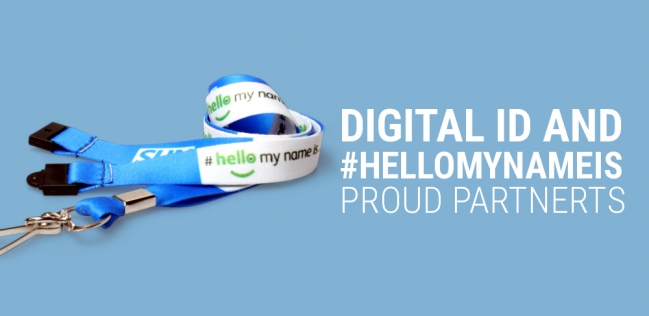 Digital ID Become Proud Partners Of The #Hellomynameis Campaign
If you visited our Twitter page during the last month, you would have seen our new exclusive range of ID card accessories that have been specifically designed and developed for NHS customers and proudly support the #Hellomynameis campaign.
The new products led to a flood of enquiries, with people asking how they could get their hands on them.
The new products led to a flood of enquiries, with people asking how they could get their hands on them.
The best part about our product launch was, 20% of every order we received went directly to our new partners, #Hellomynameis and St.Gemma's Hospice of Leeds.
In today's post, we wanted to tell you a little bit more about our new product range, why we're giving something back, and give you a closer look at why we are proud to support our new partners.
Introducing #Hellomynameis
#Hellomynameis began back in August 2013 and was founded by the late Kate Granger who sadly passed away in July of this year and her husband, Chris Pointon, who is now an ambassador for the project.
During a hospital stay in August 2013 with post-operative sepsis, Kate made a stark observation that many healthcare professionals looking after her did not introduce themselves before delivering care.
As a result, Kate and Chris started the campaign primarily using social media as a way to encourage and remind healthcare staff in the UK about the importance of introductions.
To date, #Hellomynameis has made over 1.5 billion impressions, with an average of 6 tweets per hour.
As Digital ID already cater for the identification needs of 85% of the UK NHS trusts, we wanted to create a solution that was not only cost-effective but meant that Kate's inspiring work and legacy could continue strong.
After initial product research we have created the following products: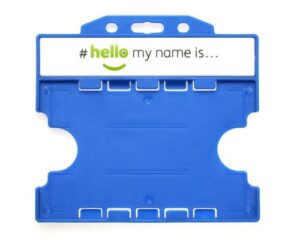 These durable card holders have been purposely designed to maximise the visibility of the #Hellomynameis logo, prolonging the life of your ID cards while saving on re-issuance costs.
Please note the colour of the holder matches the current requirements of NHS branding guidelines for 2017.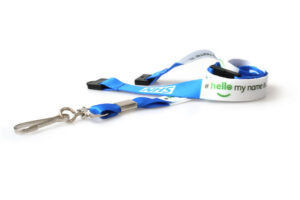 These high-quality lanyards are made from a dye-sub polyester material and, again, match current NHS branding guidelines.
They are fitted with a standard metal j-clip and come complete with a double safety breakaway.
Please note, additional breakaways are available upon request.
How Does Digital ID's Donation Help?
For each order we receive moving forward for #Hellomynameis products Digital ID will be donating 10% of the order value directly to St. Gemma's Hospice In Leeds, at the request of Chris Pointon from #hellomynameis.
St.Gemma's is a dedicated hospice based in Leeds that meets the needs of people living with a terminal illness, and those close to them are met with care, compassion and skill.
The team at St. Gemma's looked after Kate in the later stages of her life and provided exceptional care, so we are very honoured and proud to be able to give something back to such a fantastic organisation.
 Our Meeting With St.Gemma's Hospice
On the 21/11/2016 public sector sales manager, Mike Nash visited the hospice and met with Tracie Harrison who is the Head of Individual Giving, and Chris Pointon, co-founder of the #Hellomynameis campaign to present them with a cheque for £990, which you can see below.
Tracie went on further to say "We are incredibly grateful to the team at Digital ID for agreeing to donate 10% of the profits made on all #Hellomynameis products, via their relationship with Chris Pointon, the husband of the late Kate Granger.
Kate's truly inspiring #Hellomynameis campaign has changed the face of healthcare across the country and a fantastic way to continue this legacy is to wear a product produced by Digital ID that bears the #hellomynameis logo.
All of the money raised from this partnership will be used to fund vital care and support for patients and families at St Gemma's Hospice.
If you would like further information about the range of #Hellomynameis identification products available from Digital ID, then please call our public sector team on 0800 988 2095 or email hellomynameis@digitalid.co.uk.
If you would like to make a donation to St.Gemma's Hospice, then you can do so by clicking here.